SAP S4HANA is a cutting-edge enterprise resource planning (ERP) solution developed by SAP, a market leader in business software solutions. Thanks to its revolutionary architecture and sophisticated functionality, S4HANA has swiftly become a game changer among ERP systems. In this post, we will go deeper into S4HANA, examining its features, benefits, and how it has revolutionized company operations worldwide.
The focus of this blog will be to understand the overview of SAP S4HANA—what is S/4HANA, what is so interesting in S/4HANA that customers are investing, what benefits it makes provision for, and how SAP plans to make it different from its own ERP? Let's begin deep-diving to understand the concept.
What is S4HANA?
SAP S/4HANA is an enterprise resource planning (ERP) system developed by SAP AG. It was first introduced in 2001 and has been used in many different industries, including retail and logistics, manufacturing, healthcare, transportation, and education. SAP S/4HANA is a new software generation that helps companies achieve more with less. It has the ability to analyze and predict business needs, identify opportunities, and create value for the business.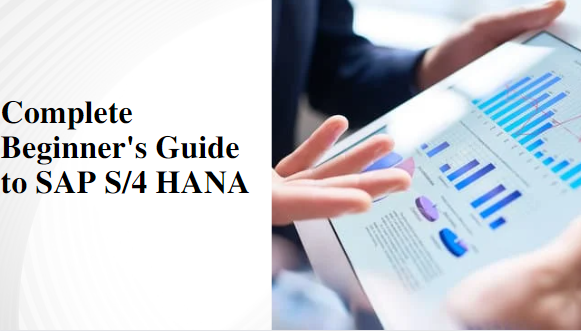 What does S4 Hana do?
SAP S/4HANA (SAP Business Suite 4 SAP HANA) is a real-time enterprise resource planning (ERP) software developed by SAP. It is designed to provide organizations with a digital core that can support the end-to-end business processes of various industries.
SAP S/4HANA includes a range of modules and functionality that can support various business functions, including financials, procurement, supply chain management, manufacturing, and human resources. It is based on the SAP HANA in-memory database, which allows for real-time processing of large amounts of data and enables organizations to make faster, more informed decisions.
Let's explore more details in the articles…
SAP S/4HANA is an improvement based on native SAP HANA that is a streamlined solution to the current SAP ERP. SAP S/4HANA's financial side was fully stable in the initial SAP ECC framework. But duplicates and weaknesses persisted. SAP worked to remove such roadblocks. Therefore, the software SAP S/4HANA was designed with frequent customer feedback and significant change and creativity in the system. The story started in 2015 when a product was launched with the name "Simple Finance," and a few projects were started with SAP's commitment to improvement. The product wasn't as good as anticipated, however. Instead, it was redesigned with the final name SAP S/4HANA and suffixed with release numbers such as 1503, 1610, and 1709 (YYMM). In terms of innovation and features, no product version has been completed until now. To make it easier and more functional for consumers, SAP also integrates improvements into the software. After a long time, this massive innovation from SAP happened.
SAP S/4HANA is designed to run only on the SAP HANA database, and it already has all the features of this powerful in-memory design from SAP. It can be deployed on-premise, on the cloud, or on the hybrid cloud as needed, and it's very flexible. The SAP S/4HANA business model has been streamlined. It has resulted in the removal of several tables. This has reduced the data footprint to a large extent and also simplified the system's design, usability, and extensibility. This has contributed to simpler and quicker financial management. Using Fiori, end-users provide customized information with a specific level of data, which brings them to the transaction line item details. Data analytics is an organizationally diverse process.
SAP S/4HANA isn't a single product; it has many applications. Customers will start using the basic components, which can be attached to the basket based on the need for more applications. The ideal starting point for SAP S/4HANA Enterprise Management is. It is the simplified core and is considered a substitute for SAP ERP. It provides support for all core business processes. SAP S/4HANA Enterprise Management can be easily integrated with SAP S/4HANA Line-of-Business (LoB) solutions. These options can be added anytime and provide best-in-class LoB solutions and connections to SAP business networks. Customers can choose business line solutions that are of the greatest use to their business.
SAP SuccessFactorshttps: Integration of SAP S/4HANA and the SAP SuccessFactors Employee Central Payroll Rapid Deployment System (web service feature module covering completed activities, COBL checks and ongoing cost centre copies have not begun yet)
SAP Ariba: Ariba Invoice Management (purchaser side) and Payment advice and cancel payment advice Ariba Discount Management (purchaser side) and PayMeNow
Concur: SAP S/4HANA implementation with Concur and reuse of SAP ERP add-on (delivery by Concur product)
SAP Fieldglass: SAP S/4HANA integration is planned in a joint project with SAP Fieldglass, LOB PROC, and SAP Master Data Governance (FIN is contributing cost center and replication of internal orders).
SAP CEC: SAP CEC allows highly efficient planning to demonstrate customer journeys within the SAP CEC toolset where Commerce, Order Management, Product Data Management, and SAP Cloud for Customer & Hybris Marketing are combined.
SAP hybris: SAP Hybris Marketing is a HANA-based application that provides central access to marketing capabilities.
SAP S/4 HANA is the latest SAP product based on the high-performance in-memory HANA platform with an enriching user experience using FIORI software. The new method involves significant improvements and substantial simplifications in the transition process. Use FIORI applications to underlying data structures on the new user interface.
Overview of SAP HANA
SAP HANA is a memory-based database management system (DBMS). In SAP HANA, memory is available to the extent that data storage is not a limitation. This makes it different from other databases with memory constraints, even though they have potential in terms of hardware. SAP HANA optimizes access to memory between the cache and primary/main memory. In the present era, the volume of data is a major challenge for all organizations, especially financial organizations, because they have to store the data for a longer duration due to audit requirements and, of course, for planning and forecasting purposes.
The basic concept of SAP HANA includes the following areas:
In-memory data
Optimization of in-memory data
Delta storage
Data compression
Delta storage
Data aging
In-memory data:
the In-Memory Database uses a technology wherein all the data is collated from the source system, instead of being stored in cumbersome hard disks in RAM memory. Within SAP HANA, the In-Memory Database technology is used to store large databases so that the CPUs can access data within nanoseconds whenever needed for analysis or information processing.
Optimization of in-memory data:
SAP HANA stores data in columnar format resulting in efficient compression and reduction of the overall size of the data. It also addresses the data flow problem between the main memory and the cache
Data storage model:
Normally, the data stored in databases is in a table format. A table is a data structure in which the information is organized. It can store data in rows and columns and be used to display data in a structured format. Databases usually consist of several tables, each with a particular purpose. performance is improved by using the columnar model, as it enables efficient projection by accessing only appropriate columns, which decreases the number of memory accesses. Also, it allows for effective compression, especially when column sorting is done
Data compression:
The technique used to reduce the count of bits of data is defined as data compression for the memory. The overall memory is reduced in this technique and, consequently, the cost is reduced, and all data reading is done on the compressed set. Many compression methods, such as run-length encoding, are not available in the row-based layout. This is a really technical issue, so we're not going to go into too much detail here, but it's important to understand the storage scenarios and compression context for now.
Delta storage:
The integration of data into compressed data is usually very slow. This problem is solved with SAP HANA, as it brings the concept of delta storage with it. In this system, columnar table storage contains the central storage and storage of the delta. Any write operation, such as insert, update, or delete, is done in delta storage, which is, again, columnar storage, and any addition is appended to the end of the structure.
Data ageing:
HANA, aging is different from archiving in the sense that cold data is still kept within the SAP HANA database and remains accessible via SQL in the very same table as the hot data. Regular daily queries are on hot data, and the cold data is generally partitioned, The configuration has to be defined once in the setup phase, and, using this solution, data can be restructured by a background task and automatically pushed out of memory if needed.
SAP HANA Live
SAP S/4HANA is powered by SAP HANA, which combines processing of both OLTP and OLAP. The transactional data does not need to be moved to another system for analytics, and they run in the same tables, which results in efficiency and avoids redundancy. SAP HANA Live is a pre-configured, out-of-the-box, and extensible data model. It is an architectural structure that can be used in the SAP HANA database for analytical reporting. This helps businesses build analytics packages based on a semantic data model that enriches the underlying structures of SAP ERP.
To gain market value and an advantage in any competition, it is important for the organization to have its own data analysis. Every decision is driven by data, but that decision can be more efficient if the data analytics is as accurate as possible. With the emergence of technology, there has been a shift in the data models for decision-making. New real-time data has replaced old data with multiple accesses to a single source of truth. Complex systems and data, like OLAP and OLTP systems, may have multilayered structures. let's understand the following concepts:
OLAP (Online Analytical Processing)
this is the technology behind many Business Intelligence applications.OLAP is a versatile data discovery tool, with an unrestricted reporting feature,, viewing, complex analytical calculations, and predictive "what if" scenario (budget, forecast) planning.
OLTP: (Online transnational processing )
Characterized by a large number of fast transactions online (INSERT, Edit, DELETE). The main focus of OLTP systems is on fast query processing, maintaining data integrity in multi-access environments, and measuring efficiency by the number of transactions per second.
Transaction processing in conventional databases is entirely different from analytics processing. The key element to this is the architecture of both frameworks for the database. However, it results in the complex and redundant data processing. Process the transaction now and the same will be available after a day for analytics, which delays the finance department, especially at the time of closing.
This data model has the following attributes:
Optimized for operational reporting
Eliminates data duplication
Ready to be consumed
Extensible
Easy to consume, with true business-like semantics
Simplifications In S4 HANA
Now let's understand the data model simplifications in the SD area. Below are the major simplification points:
Business Partner Approach:
In SAP S/4HANA, Business Partner is the leading object and single entry point to maintain Business Partner, Customer, and Supplier (formerly known as Vendor) master data. This ensures that the above master data are kept simple, and that harmonization is achieved between them. Maintenance of customer and supplier master data through Business Partner has several advantages compared with classical ERP transactions. Others are as follows
Business Partner allows maintenance of multiple addresses with corresponding address usages.
In classical transactions, one customer can only be associated with one account group. But in Business Partner, multiple roles can be associated with the same Business Partner.
Maximal data sharing and reuse of data lead to easier data consolidation.
General Data is available for all different Business Partner roles, specific data is stored for each role.
Maintenance of multiple relationships to the same Business Partner.
Maintenance of Time Dependency at different sub-entities roles, address, relationship, bank data etc.
Transactions that are obsolete: FD06, FK06, MK06, MK12, MK18, MK19, VD06, XD06, XD0, V+21, V+22, V+23, MAP21, FD0
Transactions that get redirected to transaction BP:FD01,FD02,FD03, FK01,FK02,FK03, MAP2,MAP3, MK01, MK02, MK03, V-03,V-04,V-05,V-06,V-07,V-08,V-09, V-11, VAP1, VAP2, VAP3, VD01, VD02,VD03, XD01, XD02, XD03, XK01, XK06, XK07, XK02, XK03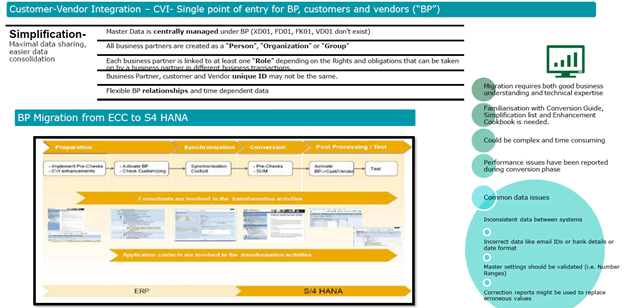 Changes to material master data:
Material master basic transaction code still remains the same as in ECC: MM01 to create MM02 to change MM03 to display However, the length of the material number has changed along with some field-level changes. New fields have been added and a few fields have been removed. This big change is the length of the field with the Material number. This was in high demand from customers because of different industry requirements to have a long number of materials. It was of 18 characters in SAP ECC, and now it's 40 in S/4HANA. Let's look at an example from both systems to see what the Material number looks like

The SAP S/4HANA Material number view looks like this: However, the default SAP S/4HANA system comes with only 18 characters and needs to be extended according to customer requirements.
However, the default SAP S/4HANA system comes with 18 characters only, and it needs to be extended based on customer requirements.
The following is the path to activate this: SPRO – IMG – Cross-Application Components -General Application Functions -Field Length Extension – Activate Extended Fields
Foreign trade :
Another big move in the material master is foreign trade data. This is now a part of SAP GTS and is not available in S/4HANA. The new SERV-type material is added. As the name implies, it is intended to be used for service. The following are the available views for the material type: Basic data Sales view Purchasing view Accounting
Elimination of status table:
S4 Hana the Status Tables VBUK and VBUP are no more needed.The Sales Order Header and Items now available for status table fields are in table VBAK and VBAP itself.

VBFA Primary Key change
SD Document Category VBTYP: Field Length Extension
Removal of Extended SD Document Category VBTYPEXT_V, VBTYPEXT_N
Removal of Column STUFE in S/4HANA 1511/1610, added in 1709
Removal of column CMETH in S/4HANA 1511, added in 1610
Data model changes:
With the introduction of SAP S/4HANA, several changes have been introduced in SAP SD Pricing: Prices were stored in KONV, but now they will be in PRCD_ELEMENTS Status tables: Deleted index tables VBUK and VBUP: VAKPA, VAPMA, VLKPA, VLPMA and VRKPA Tables: VBOX, S066, and S067.
Replacing table KONV with the new table PRCD ELEMENTS as data persistence for the effects of the pricing. KONV can still be used to declarate data. It also determines the pricing result structure within the application code
All condition header tables, including KONH (pricing), NACH (output determination), KOND3 (campaign determination), KONDN (free goods determination), KONHM (portfolio determination), J 3GPRLHD (CEM price list determination), and WIND (document index), were removed from the concatenated variable key field VAKEY of a condition table. The concatenated variable data field VADAT has also been removed
The following DDIC changes and interface changes have been made to the condition technique:
For internal processing, long data elements VAKEY_LONG and VADAT_KO_LONG with length CHAR255 have been introduced.
The content of the new long VAKEY and VADAT can be determined at runtime using methods of the service class CL_COND_VAKEY_SRV
Enhanced field lengths for several fields allow for more flexibility in pricing and condition technique
Advanced ATP:
AATP in SAP S/4HANA is embedded in the SAP S/4HANA core Product allocation (PAL). This is a method for the management of order to prevent "first come, first served" issues.
Backorder processing (BOP):This is a re-ATP process (i.e., carrying out ATP after initial order creation) to confirm high-priority orders and unconfirmed low-priority orders
Aggregate-table for sales order requirements VBBS is removed.
VBBE, where each ATP-relevant requirement is explicitly stored.
The new fashion solution comprising characteristic based ATP is not available.
The concept of basic ATP
ATP quantity = Stock + Planned receipts – planned issues
Credit management:
Credit management has been discontinued from S/4 HANA, and the recommended solution is FSCM. Thus no longer allows transactions such as F.28, F.31, F.32, and F.33. The following are the new transactions in these areas: New transaction Old transaction Purpose UKM_BP FD32 Maintenance of credit limits UKM_MY_DCDS VKM1 Releasing of blocked sales orders due
Demand-driven Replenishment:
The concept of Demand-driven Replenishment contains the following core components (among others),
A focus on real customer demand (i.e. not plan against forecast)
The concept of strategic buffer positioning at selected Decoupling Points (DP)
A continuous buffer (re-)sizing based on real data analytics/feedback loops, to adjust the buffers to the ever-changing reality
Demand-Driven Replenishment helps,
to achieve an improved and smooth material flow with less exceptions by keeping stock at the right spots within the supply chain and in the right quantity.
gaining responsiveness to react on real customer demand, covering it in a demand-driven way (and hence, also avoiding unnecessary production).
the adaptiveness via feedback based on real data analytics, by which the solution's settings/parameters are improved and amended to the "real life".
Settlement management (Rebate processing):
Followed by Settlement Management in S/4HANA, 1709 Condition Contracts is a new solution replacing Rebate management.
Condition contract settlement is capable of centrally managing master and settlement-related data for all kinds of subsequent settlement-related business processes.
Condition contract settlement application is the single point of entry to create, edit, and settle the conditions according to the contractual terms and conditions.
The table VBOX(Rebate Index) is gone now in S/4 HANA because the rebate conditions are applied instantly due to power of HANA.
This significantly reduces data footprint and memory

Fiori Apps for Sales Customer – 360° View:
Overview of one specific customer by reviewing aggregated sales data from the past and the present
Graphical overview of the chain of connected process steps and corresponding business documents (document flow).
Specific sales documents using the Doc ID, the customer reference, or the user ID of the user who created the documents
Display a list of fulfillment issues for this customer or navigate to the issue details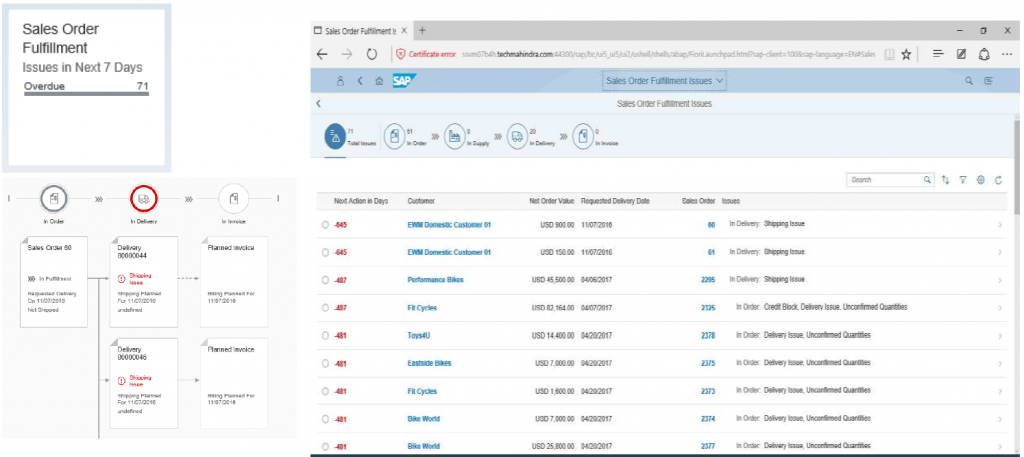 SAP S/4 HANA the simplification list is updated as below
What is the difference between SAP ERP and S4HANA?
SAP ERP was S4HANA's predecessor and used traditional row-based databases. S4HANA, on the other hand, uses the SAP HANA in-memory database for quicker data processing, better analytical capabilities, simplified data models, improved user experiences, and intelligent automation features that distinguish it from SAP ERP.
Now follow these tutorial links to learn more about
Happy Learning ..!!