We're going to understand the SAP Fiori App in this blog.SAP Fiori is an application collection that is a new experience for SAP users. SAP Fiori apps are designed in a consistent way and use a common technical infrastructure. They offer a consistent end-to-end user experience and can be used on all types of devices without adding extra effort.
SAP S/4HANA, SAP Customer Experience, SAP Fieldglass, SAP Concur, SAP Ariba, and SAP SuccessFactors are just a few of the SAP products that Fiori apps were designed to be adopted across.
What is Fiori apps
SAP Fiori is the SAP S/4HANA user experience (UX) application. SAP Fiori is a role-based application that is designed for ease of use across multiple devices.SAP Fiori apps are based on transactional capabilities, which SAP GUI users may be familiar with. These apps are frequently updated in SAP Fiori to include new features such as drill-down capabilities and filters. These apps can be used in conjunction with any database in SAP S/4HANA or SAP ERP 6.0.
Why Fiori apps
SAP customers have previously complained about the outdated look and feel of the standard screen, as well as the fact that SAP can only be accessed via its desktop GUI for most transactions. Based on customer feedback from around the world, and launched a set of HTML5-based applications that include the most widely and frequently used SAP transactions: PO approval, Sales order creation. purchase order approval, sales order creation, self-service tasks, and so on. These HTML5 applications are simple to use on desktops, tablets, and smartphones.
All user interfaces are built using advanced technology such as HTML5 and mobile SAP UI5. You can access the latest back-end version of your data via OData services using Fiori applications. You can specify which applications and which data a user can access via previously defined roles and authorizations.
What does Fiori mean?
SAP Fiori is named after the Italian word for "flower. We all know that flowers are beautiful to look at, and are formed by nature's intelligent design, Inspired by the flower name "Fiori" has been introduced.
Principles of SAP Fiori Design
The five essential design elements that make up SAP Fiori are as follows:
Role-based
The role-based principle is focused on giving an end user all the necessary information. In other words, it is made for users depending on their requirements and operational style. Fiori Apps degrade complex applications into a task-based experience with each user having one central entry point.
Adaptive
Users can access business applications from a variety of devices and form factors, such as mobile devices, tablets, desktops, or huge desktops, thanks to the idea of adaptability and responsiveness.
Simple
The straightforward idea that just the information necessary to complete the activities at hand should be available rules.
Coherent
The cohesive approach offers a comparable, understandable, and consistent UX across many platforms and solutions.
Delightful
The Application and user can connect thanks to the pleasant principle's rich user experience.
SAP Fiori Launchpad
The SAP Fiori launchpad, to put it simply, is a SAPUI5-based application that serves as an application container (also known as a shell) and is used to host numerous SAP Fiori apps (e.g., SAPUI5 components, Web Dynpro ABAP components, SAP GUI for HTML for running SAP GUI transactions, web client UIs, and arbitrary URLs). With an adaptable design approach, it acts as a starting point for all of these application types and associated analytical insights that may be viewed or accessed on numerous devices.
SAP Fiori launchpad is the central entry point to all applications in Fiori, which users access applications by tile. Organized by user role. The launchpad has navigation, customization, individual signup, and search services. The boot pad and tiles are flexible and adaptable to suit your requirements. The SAP Fiori launchpad search can be used to conduct a cross-entities search through key SAP Business Suite applications. The search uses the embedded search technology of SAP NetWeaver on an SAP HANA database. New search models for core business objects are provided for SAP HANA.
Types of SAP Fiori apps
In general, three different types of SAP Fiori apps exist:
Transactional apps
The traditional ABAP transactions available in SAP GUI are similar to these programmes. Both SAP ERP 6.0 and SAP S/4HANA support these apps on any database. The Change Sales Orders app is an illustration of a transactional app with a focus on sales.
Analytical apps
These apps contain incorporated analytics that take advantage of the SAP HANA database's capacity. Analytical apps attempt to quickly deliver business insights through the use of sophisticated algorithms. For SAP S/4HANA and SAP Business Suite on SAP HANA, these apps are accessible. The Sales Order Fulfillment app is an analytical app.
Factsheet apps
To deliver search results in specified situations, these apps make advantage of the SAP HANA database's enterprise-level search functionality. For SAP S/4HANA and SAP Business Suite on SAP HANA, these apps are accessible.
SAP Fiori – Analytical Apps
Fiori app is well acquainted with its rich analysis. Analytical apps are increasingly being used to provide role-based real-time business operations data. Analytical apps integrate the power of SAP HANA with the business suite of SAP. It offers real-time information from a vast volume of data in the front-end web browser.
We will closely track Key Performance Indicators KPIs using the Fiori app. We can carry out complex aggregations and analyses of your business activities and respond quickly to changes in market conditions.
SAP Fiori Analytical applications run in the SAP HANA database and use Virtual Data Models.
There are two types of Analytical Apps −
SMART Business
Virtual Data Models
SMART Business
SAP Fiori Smart Business Apps are used to monitor your most important KPIs in real-time and to make changes immediately as per market conditions.
Note −There are about 84 Analytical Apps under this umbrella, of which 69 are Smart Business Apps and 15 are Analytical Apps.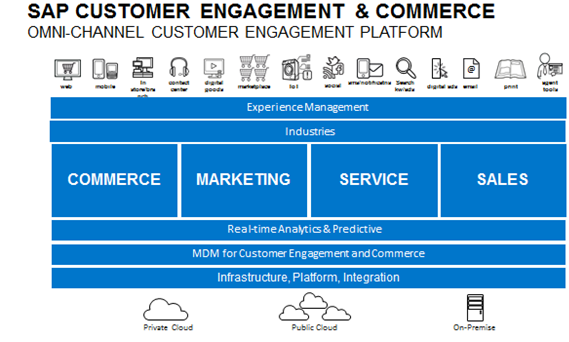 Analytical apps can only run on the SAP HANA database, unlike transactional apps that can run on any database. SAP Fiori leverages the XS engine by using virtual data models and there are 2 components inside the XS engine
HANA Live Apps content for respective business suite
SMART business content
SAP HANA Live offers excellent analytics capabilities for all enterprise suites by allowing industry-standard access to SAP data through data models.Data models are used for analytical purposes using the views in the HANA database. Views are a virtual data model that can be reused by the customer and the partner.
Virtual Data Models
Virtual Data Models provide a way to process massive data quality in the HANA database. These views can be consumed by a rich UI client without the use of any additional software. There are three types of views −
Private View:Private Views are SAP Views and can not be modified.
Reuse views-Reuse views are the core of the SAP HANA model and are structurally exposed and intended to be reused by other views
Query View − Query Views are top views in the hierarchy and are intended for direct use by Analytical Apps and can not be changed.
KPI Modeler
It is a tool used to model KPI and report tiles for the monitoring of business data using Fiori Launchpad.We can define KPIs and reports to which you can apply different calculations and allow you to adjust to changing market conditions.
We can configure drill-down views for more inside .
SAP Fiori Apps Reference Library
What is HTML5
HTML5 is an acronym for the hyper text markup language programming language
What is SAP UI5 Framework?
The SAP UI5 is a web application-compatible framework. Responsiveness is not about performance, but it is an application that can adapt itself to every device. It provides a consistent UX across all platforms (different devices/browsers). The framework is a library collection, classes include each library and methods for each class
What is Odata
Open Data Protocol (OData) is a web-based data access protocol based on core protocols such as HTTP and widely accepted methodologies such as REST. OData interface is an open standard that any application, programme can consume.
Now follow these tutorial links to learn more about