In this article, we will go over the fundamentals of sap transportation and sap shipment.Transport and shipping are crucial elements in the logistics & supply chain, and it impacts both inbound and outgoing products.Shipments will be delivered on schedule and in good condition to the end client thanks to a well-planned transportation strategy. The transportation department is in charge of the planning and processing of outbound deliveries (and inbound shipment) and thus manages and controls the entire process from the warehouse to the client's location. During the shipping process, every delivery decision is made before the start of the process.
Consider the general business agreements you have with your client
Recording requests for unique materials
In the selling order, defining the shipping terms
As a result, the shipping process is fast and mostly automated, with only a few exceptions requiring manual intervention.
Challenges in shipment process
Ensuring that customers are satisfied is becoming increasingly crucial to the profitability, revenue, and loyalty of customers for logistics and transportation service providers. This is especially important in intense competition, the cost is rising, and margins are shrinking.
Employing technology for managing workforces, including advanced dispatch, scheduling mobile, GPS, and dispatch solutions, and implementing ERP software, top companies across the globe are significantly increasing their service capabilities and competitive differentiation and the performance of their businesses.
Transportation Process in SAP SD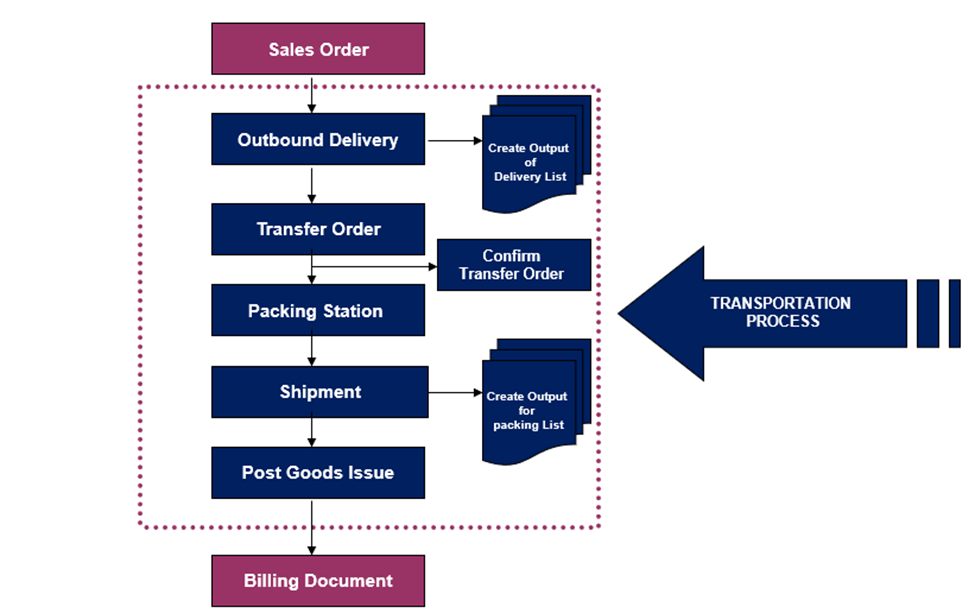 What is SAP SD Transportation Planning Point?
A transportation planning point is a group of employees who are in charge of coordinating transportation-related activities.
The shipment was assigned one specific transportation planning point to facilitate the purpose of planning transportation and completion of the shipment.
An SD organisation code has been issued to a transportation plan point, although it is unique from the other organisational units.
Prerequisites for Transportation
To be considered suitable for transportation, the prerequisites must be the following:
In Customizing, the type of delivery should be identified as relevant to shipment.
Every Outbound delivery should include the route.
The delivery routes should be marked as pertinent to the transportation process in the process of customizing.
The reason for blocking transportation within the header of delivery should be uninspiring.
The status of transportation planning in the delivery is set to 'A'.
Shipping Process in SAP SD
Shipping processing include
Monitoring of dates for reference documents that are due to ship (eg customer orders, customer invoices or PO)
Making and processing outbound deliveries
Monitoring the availability of goods
Monitoring capacity levels within the warehouse
Help for picking (with an online link for the Warehouse Management System)
Packaging the delivery
Printing and sending shipping documents
Processing goods issue
Controlling via the overviews of:
Deliveries are that are currently being processed
Actions that remain to be completed
potential bottlenecks

What is the shipment Type in SAP SD?
In SAP SD, an individual shipment can have multiple deliveries, a single point of departure, a single destination, and only one method of transportation.

Collective Shipment in SAP SD :There can be more than one delivery, several points of departure, and many destinations in a collective cargo, but only one mode of transportation is used.

Transportation Chain in SAP SD:There can be more than one delivery, several points of departure, numerous destinations, and multiple modes of transportation in a transportation chain.

What is shipment in SAP SD?
The essential part of transportation planning and shipment completion is the shipping documentation. It contains all of the information needed to carry out the transportation.We can make use of the shipment documents to:
combining outgoing and incoming deliveries into a single cargo
Define the shipping stages
Legs
Points for border crossings
Points for transfer of load
Transfer goods to handling units
Assign service agents
Indicate the date of your planned transport
Record actual transportation deadlines
Define transport-relevant texts
How freight code determine in SAP SD
The process of determining the freight code is done through two phases:
First Phases :-
The automatic determination of freight codes uses the following factors:
Country of origin
Shipping kind (truck rail, truck, etc.)
Forwarding agent (forwarding agent's freight in vendor's master)
When an outside transportation management system utilized and this set may also be defined using the route.
Second Phase :-
Automated freight code determination employs the following factors:
Freight code set
Materials (material freight group of the master material)
This lets you determine the freight codes for the materials included in a shipment.
Creation of Shipments
Shipping can be made by selecting the delivery according to specific criteria for selection and then assigning their new shipment. Collective shipping is a method of transporting goods from one or more origin points to one or more destinations. Outbound and inbound shipments are addressed differently by different document kinds.
You can send shipment documents for:
Combining deliveries to form one outbound or inbound shipment
Particularize the delivery stages
Legs
Points for border crossings
Transfer points for load
Assign the goods to handling units
Assign service agents
Indicate the date of your planned transport
Record actual transportation deadlines
Define transport-relevant texts
Indicate the output needed to transport (such as shipping documents and EDI messages)
How automatic leg determine
Automatic leg determination is based on the following importation characteristics:
Point of departure
Point of departure
Service agent
Shipping type
Leg indicator
The shipping cost is relevant to the leg.
Based on the type of shipment depending on the type of shipment, the segment will be determined automatically when the overall status of the shipment changes from "Planning completed"
Shipment Stages & Partners For Shipment Stages
Stages include information regarding the geographical aspects of the shipping. Stages of a shipment could comprise:
Legs: A starting point and an ending point are defined. In this case, you can identify the main, preliminary and subsequent legs.
Loading Transfer points:The point at which a shipment is removed from one mode of transportation and then loaded onto another.Points for border crossing
The point at which an item is at the boundary. In the course of a section, the partner acts as the agent for forwarding
The company that provides load transfer services at a load transfer point is the company that provides load transfer services.
And at an entry point for border crossings at a border crossing point, it's that the agent for customs.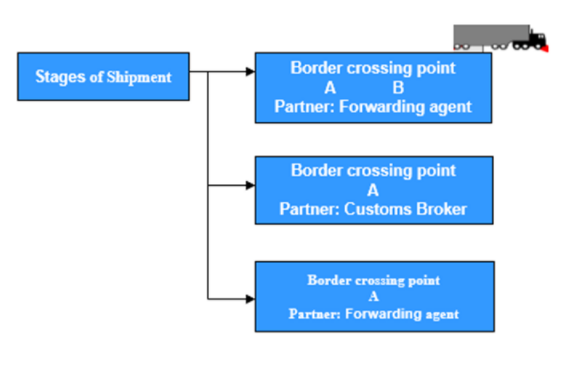 Packing for Shipments
Packaging The process of packing is the method of assigning the delivery items to the shipping materials.This creates shipping units, that can later be outfitted with more packaging materials to be used for shipping. Within the system of standard, there are two output types are set up to print:
Packing list (at delivery level)
Shipping label (at shipping unit level)
Text Determination For Shipment
The procedures for determining text include all text types that are maintained in the text object .The characteristics of the text determination process differ for the customer or document-related text objects.
We are able to determine if the text is copy-paste or referenced. To determine the text of a document, you can also indicate whether it is a
Text is required (incompletion log)
Text should be automatically determined
Text should be displayed within the text area of the document (popup )
Output Determination For Shipments
Output is a method of communicating information between systems and partners.We can establish standards to determine if output is needed and who should receive it, which medium for transmission and which transmission medium. The information that determines the output determination is recorded as master data in the form of conditions records.
Configuration Shipping & Transportation in sap
SPRO ->SAP Reference IMG-> Logistic Execution-> Shipping
SPRO-> SAP Reference IMG-> Logistic Execution-> Transportation
Configuration Shipping Point & Goods Receiving Point Determination
The term "shipping condition" refers to a delivery strategy in which the system suggests the shortest shipment location and route..
IMG->> Logistic Execution->>Shipping->>Shipping Point and Goods Receiving Point Determination
Configuration Define Rule for Determination of Shipping Point :
Shipping Conditions, Loading Group, and Plant all play a role in determining the shipping point. The Shipping Point Rule should be used to specify the Delivery Type.
IMG->>Logistic Execution->>Shipping->>Basic Shipping Functions->>Define Rule for Determination of Shipping Point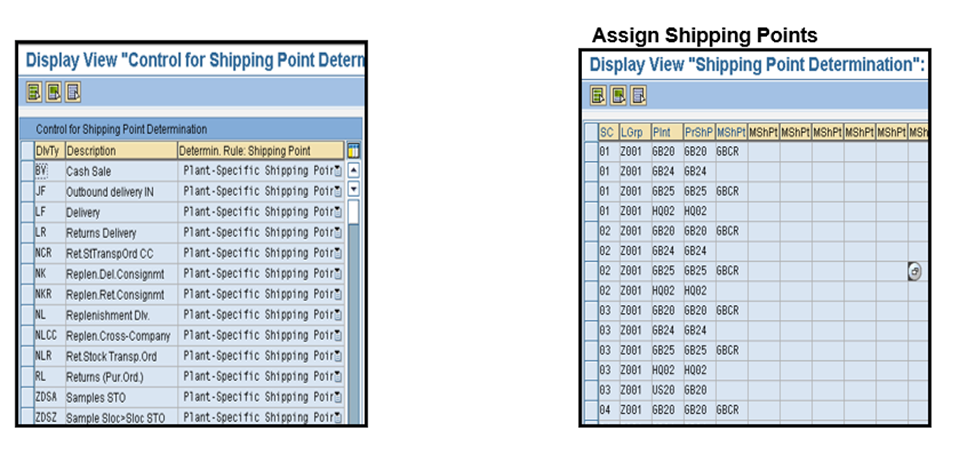 Configuration Define Routes :
A mode of transportation is a mode of conveyance for cargo, such as rail, road, air, or ship. A form of transportation used to deliver products into a customs territory.
IMG-> >Logistic Execution->>Shipping ->>Basic Shipping Functions ->> Routes ->Define Routes
Configuration Transportation Connection Points :
One of the following is an example of a connecting point:
an airport
a border crossing
a railway station
Configuration Text Determination :
SPRO IMG->> Logistic Execution->>Shipping ->>Basic Shipping Functions ->> Text Control for shipment
Choose a text object and set the rules for determining the text for that item.
Define the Text Types that each text object can use.
Access Sequences must be defined.
In the Text Determination procedure, group the text types together.
When we maintain a customer master record or a sales & distribution document, the System recommends the text kinds from the method.
Configuration Route Determination :
IMG->>Logistic Execution->>Shipping ->>Basic Shipping Functions ->>Routes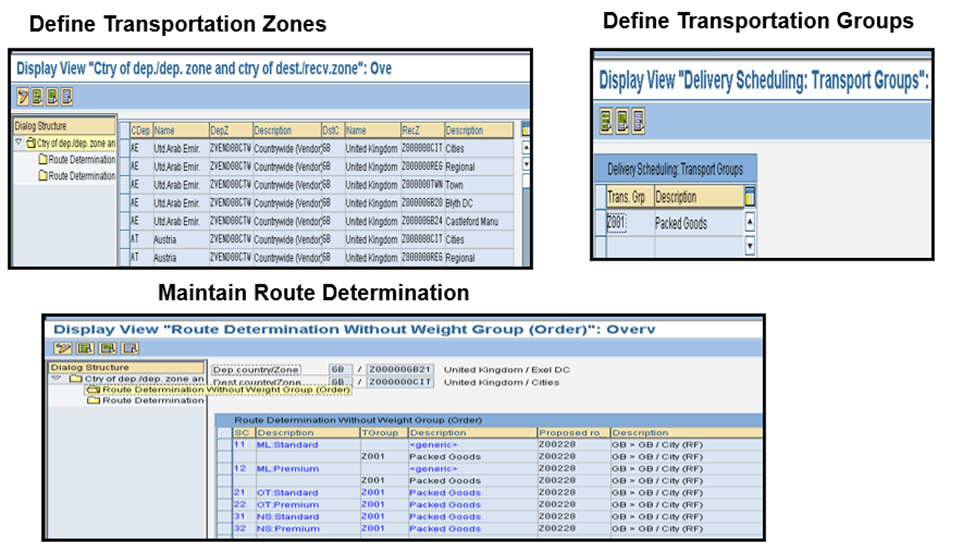 Configuration Shipments:
IMG->>Logistic Execution->>Transportation ->>Basic Transportation Functions ->>Shipments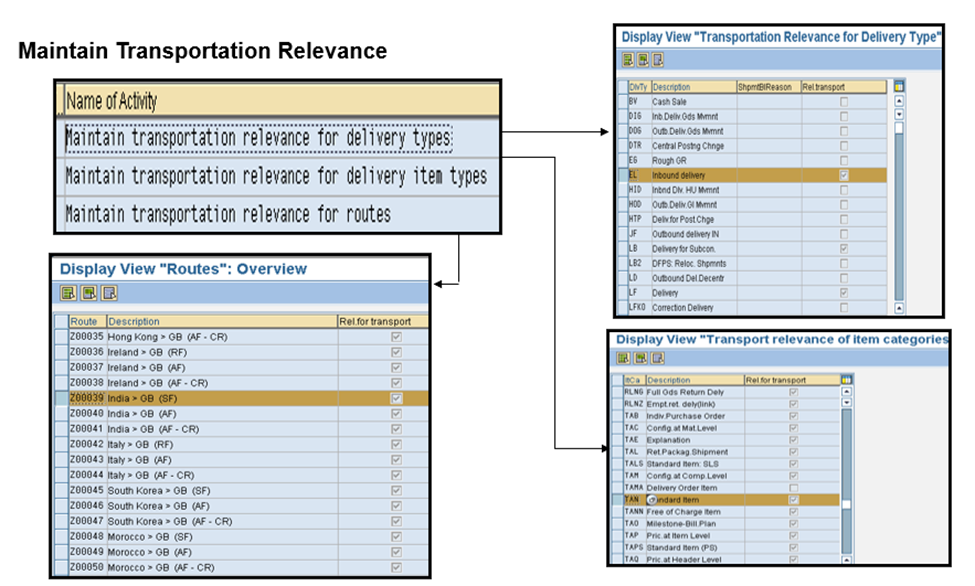 Configuration Define Shipment Types:
IMG->>Logistic Execution->>Transportation ->Basic Transportation Functions >->Shipments ->>Define Shipment Types
All of the main control aspects for the shipment document are contained in shipment types. Selection variant, weight unit, output typeTransportation processing type, service level, and other default values. Procedures for determining text, output, and control specifications for the partner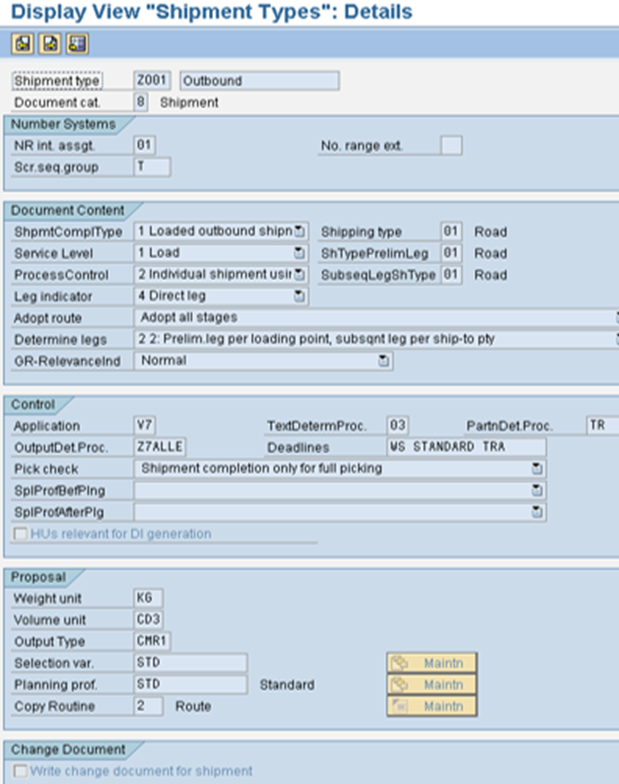 Maintain Transportation Planning Point
IMG->> Logistic Execution->>Transportation ->>Basic Transportation Functions ->> Route ->>Define Routes
A Logistics organisational unit that plans and processes transportation activity. It organises a company's responsibilities by cargo type and mode of transit.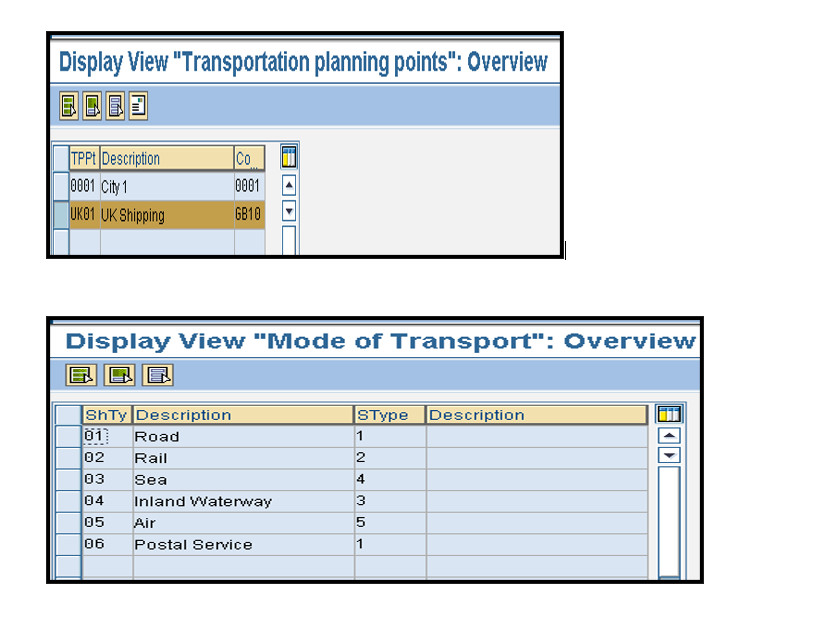 Configuration Defining Shipping Types
IMG->Logistic Execution->Transportation->Basic Transportation Functions -> Route ->Define Routes >Define Shipping Types
You will define the shipping categories as well as the mode of transportation in this activity.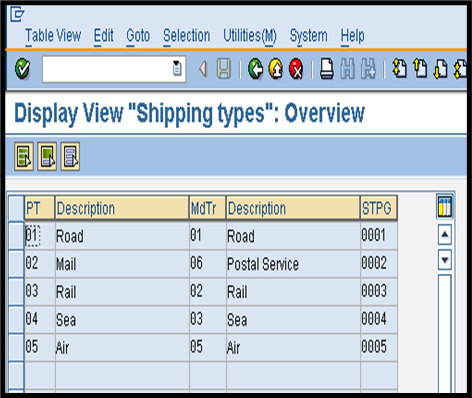 The following are examples of shipping types:
Road Transport
Postal service (such as DHL)
Cargo Ship
Air Cargo
Shipment Execution And Monitoring
The shipment monitor displays the current workload, which is organised by status, time, and date. The transportation planner will be able to react quickly to situations while also maintaining a clear picture of the overall status of all shipments.
Logistics Execution ->Transportation ->Transportation Planning ->Lists and Logs ->Shipment Processing Monitor.

FAQ
What is important shipment table in SAP?
Table VTFA for shipment Document
Table VTTK for shipment Header
Table VTTP for shipment Item
Table VFKP for shipment Costs
Table VTTS for Stage of shipment
Table VFKK for shipment Costs Header Data
You Might Also Like the below articles
You Might Also Like the Blow Books .. Happy Reading …!!!
Check out best Online Books Deal