Today we will be covering the overview of SAP IS Retail. There is various subprocesses available in SAP IS Retail. In this blog, we will try to cover an essential understanding of the architecture and concepts underlying the terminology designed for the retail industry
SAP Retail Solutions play an important role in the retail industry. It plays a vital role in day-to-day operations, effective management, and boosting sales. SAP Retail solutions store and analyze all the retailer's information. Moreover, the solutions ensure proper stock management, accurate costing, and effective customer relationship management.
Despite the advent of the internet, and online shops, the importance of the physical store will remain crucial, and many customers will continue to visit a physical store or retail outlet. The retail industry is shifting like never before. New technology is coming to improve the customer Retail experience.
Digital shoppers of the next generation have grown up speaking to Amazon's Alexa and interacting with touchscreens. With digital shopping cart, Grocery shopping in the store has become a special affair since weekly grocery orders are delivered to the doorsteps at a competitive price.
SAP for Retail refers to the overall SAP solution offering for the retail industry, whereas SAP Retail is just concerned with the SAP Enterprise Resource Planning (ERP) system.
What is Retail means?
The sale of goods directly to the consumer; encompassing storefronts, mail-order, websites, and so on so forth, as well as the corporate mechanisms, branding, advertising, and support them, and which are involved in the business of selling and point-of-sale marketing retail goods to the general public.
What is SAP IS Retail?
SAP Offers a specialized ERP software call SAP IS Retail, IS Stands for an Industry solution. It is a sophisticated ERP system builds for commercial and retail industries that are fully integrated. Retail-specific business scenarios, business processes, and business operations can be mapped to the solution..Let's understand the basics of SAP IS Retail
In the retail industry, SAP software is used to manage various aspects of the business, including financials, supply chain management, and customer relationship management. SAP software can help retailers streamline and automate their operations, improve data accuracy and visibility, and make better-informed decisions. Some specific ways in which SAP software is used in the retail industry include:
What is SAP in retail?
Financial management: SAP software can help retailers manage their financials, including accounting, budgeting, and forecasting.
Supply chain management: SAP software can help retailers optimize their supply chain operations, including procurement, warehouse management, and transportation.
Customer relationship management: SAP software can help retailers manage customer interactions, including sales, marketing, and customer service.
Store operations: SAP software can help retailers manage store operations, including point-of-sale (POS) transactions, inventory management, and employee scheduling.
E-commerce: SAP software can help retailers manage their online sales and customer interactions through e-commerce platforms.
Overall, SAP software can help retailers improve efficiency, reduce costs, and increase customer satisfaction by providing a single, integrated system for managing various aspects of the business.
SAP Retail Overview
SAP Retail is an all-in-one retailing system. It describes the entire range of business processes required for competitive assortment strategies, various retail formats, and ECR-driven logistics and delivery. It includes all of the functions required to simulate business operations in a retail enterprise.
SAP Retail aimed to simulate the entire "Value Chain," or all the linkages in the logistical pipeline from consumer to vendor. Retailers can thereby optimize a wide range of business processes and control checks in order to manage the movement of products and information between vendors, retailers, and consumers.
The acquisition, storage, distribution, and sale of items are within the purview of the business process area of "Retailing." SAP Retail can be used in both wholesale and retail settings. The Retail Information System (RIS) allows for the planning, monitoring, and tracking of goods movements across the supply chain. here is below key retailing processes included in SAP IS Retail
SAP IS Retail Components
Sales Price Calculation
Promotion Management
Allocation
Requirements Planning and Purchasing
Goods Receipt
Invoice Verification and Subsequent Settlement of End-Of-Period Arrangements
Warehouse Management
Picking and Delivery
Store Supply
The retailing procedures allow you to govern and coordinate the whole value chain, allowing you to respond quickly to changes in consumer behavior. New trends, such as electronic commerce, or ECR, infiltrate existing development cycles on a regular basis.
SAP Retail also enables changes in legal frameworks or business operations, such as franchising. This ensures that shops have a future-proof investment and can quickly adjust to a changing market. Your business can grow unhindered by system constraints, and you can quickly and seamlessly incorporate changes to the real world into the system.
Features of SAP IS-Retail
What is retail master data in SAP?
In SAP, retail master data refers to data that is used to support retail operations and is used across multiple business functions, such as sales, marketing, and finance. Retail master data includes information about products, customers, vendors, and other key entities that are relevant to the retail business. Some specific examples of retail master data in SAP include:
Product master data: This includes information about the products that a retailer sells, such as descriptions, pricing, and availability.
Customer master data: This includes information about the retailer's customers, such as contact details, purchasing history, and preferences.
Vendor master data: This includes information about the retailer's vendors, such as contact details, payment terms, and delivery schedules.
Store master data: This includes information about the retailer's stores, such as location, opening hours, and contact details.
Site
Retail terminology for the fundamental SAP modules' "Plants." Sites are the most essential organizational unit in SAP IS-Retail because they serve as Customers and Vendors based on their size category.
Article
An article is a product or material that may be ordered and that cannot be broken down anymore..A Material Master is not the same as an SAP Retail Article Master. It's a lot more than just a Material Master. The article will be followed by the below process.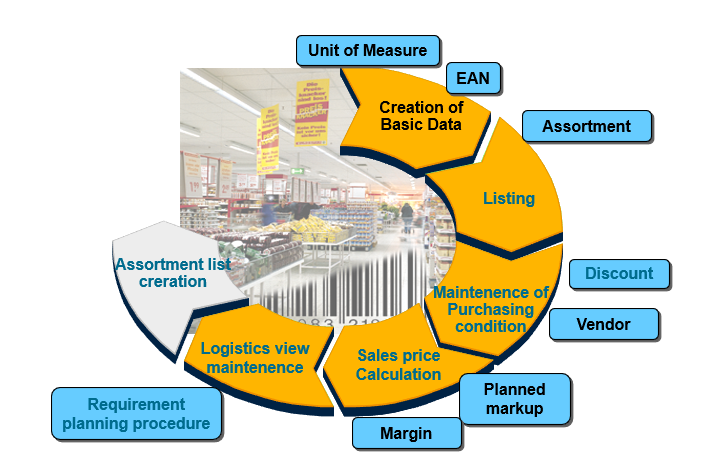 Merchandise Category
Merchandise category hierarchies are formed when individual hierarchy levels are assigned to each other. A merchandise category reference article can be created automatically for each merchandise category; it can simplify the process of creating a new article. when referenced here are two types of hierarchy level:
Merchandise categories (only articles are assigned to them, and characteristics profiles if desired)
Hierarchy levels (merchandise categories or other hierarchy levels are assigned to them)
An article must be assigned to one merchandise category (and only one) and can also be assigned to a characteristics profile. A merchandise category article can also be created automatically for each merchandise category; this makes it possible for transactions at the POS to be carried out at the merchandise category level.
Similarly, a value-only article can be defined for each hierarchy level; this is then called a hierarchy article.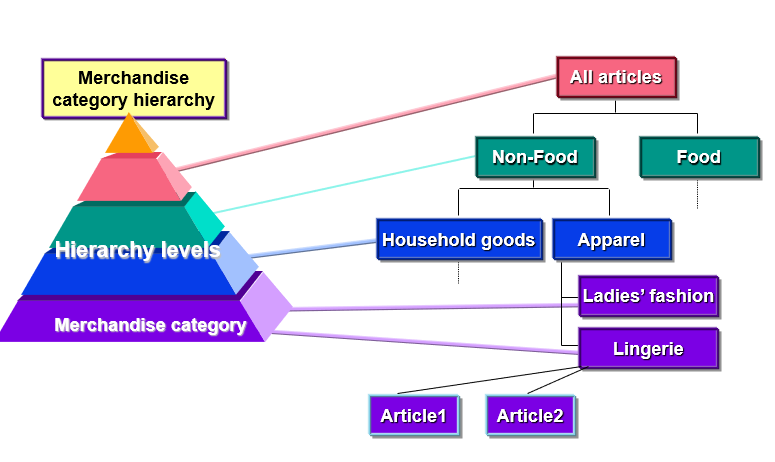 Assortment
ln assortment determines if a store, distribution centre, or customer can receive certain articles at certain times. The assortment is part of a company's merchandise offering to a specified target group. Assortment Management covers –
Articles are assigned to businesses at different periods, allowing for merchandise presentation and sale to customers.
Assignment of articles to Distribution Centers at different times thereby enabling Warehouse management and Merchandise Procurement for stores and customers
Assignment of articles to a particular assortment customers at different times (*Ex – Customer Groups, Catalogs)
Listing
The process of allocating goods to an assortment is known as listing.
The method or listing defines the assortment for each site and each piece.
Only the items listed can be ordered for/from the site or the consumer, or they can be stored on the site.
Pricing
Retail pricing operates in a different manner from "regular" ECC pricing. The most crucial is margins, which are the primary source of profits for trading companies. It can be determined based on Pricing Determine single article, generic article pricing, Pricing with a price list, Customer-specific discount, recommended retail price,§Competitors and Competitor groups pricing.
Markdown
A markdown plan is a special situation in which you wish to apply scheduled price modifications for specific items.
Defining planned price reductions for the merchandise within a specified period (mostly seasonal products). The planned sales quantities and values can be taken into account in the markdown plan. In this the duration of the individual price phases, the percentage price decrease for this period, and the estimated sales share per phase are defined.
Promotions
This feature enables you to make promotions to offer articles at a lesser price than the standard price. Promotions might be for products purchased at a particularly low cost from a vendor, or for stock reductions.
Promotions can be broken down into themes created using assortment structures or marketing strategies ex – homecare, photography, modern living
Themed promotions can be used to categorise content inside promotions.
As retailers, participating stores are designated to promotion. Each retail group has its own promotion validity period.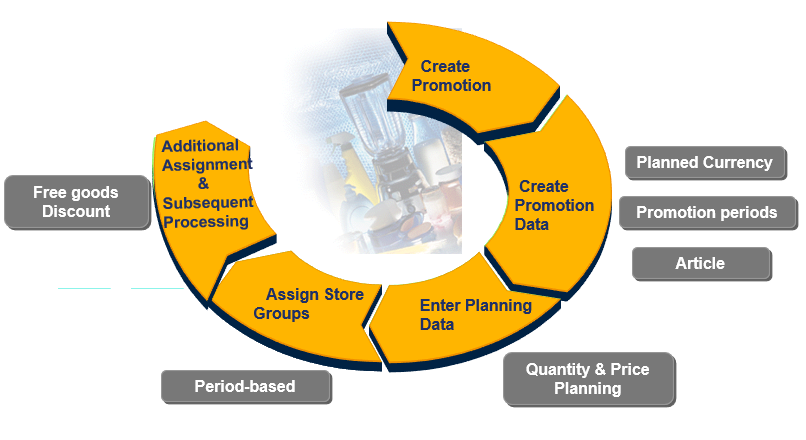 Merchandise distribution
Merchandise distribution is the movement of goods from the vendor to the eventual recipients (Customer or shop) if they are known at the time the products are ordered. This topic is only applicable if goods go through the distribution centre and are not ordered directly to the customer or sent from the distribution centre's available stock.
Point of Sale (POS)
A POS System is the hardware and software that a retail store uses to keep track of its financial transactions. The sales and financial transactions are executed with a decentral electronic system and transfer data from a POS system or a distributed non-SAP retailing system.
SAP for Retail POS DM enables a retailer to capture all POS data and use it in all back-office systems, including non-SAP applications.
Transfer anonymous or named client sales data from the POS to the central SAP system. They can be transmitted as sales as per receipt or aggregated sales, below transaction, is handled by POS system
Settlement of Payment Cards
Transfer financial transactions
Handling of vouchers
We hope this information was helpful in understanding SAP IS Retail. Here are a handful of articles that you should check out.
Looking for good books to read on SAP Retail? try this one