One of the most important decisions you'll make when we're planning a data migration to the SAP S/4HANA system. which SAP S4HANA data migration tools are best for the Data migration. This article discusses the considerations to keep in mind while making this crucial selection decision because there are so many tools available and each has distinct strengths and disadvantages. Making the wrong choice could lead to delays, errors, or additional expenditures in the Migration project
Introduction of SAP S4HANA data migration tools
SAP S4HANA data migration tools is the act of selecting and preparing data before transforming and moving it from one system to another. It may also entail transferring data between different formats and programs. This is generally used when data must be transferred from one system to the next, such as when a new program has to be installed or a newly formed organization wishes to unite its resources. Because data migration is critical to business continuity, it must be carefully planned around aspects such as data destination security, cost, and performance, as well as reliability.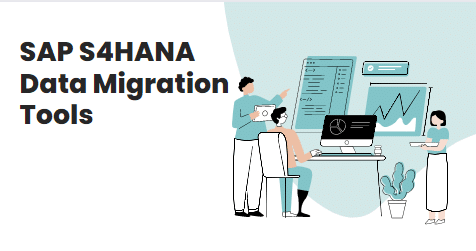 SAP S/4 HANA, which is available in the cloud and on-premise variants, has a migration tool known as Migration Cockpit(MC). It is a tool with two main notions, which are as follows: Migration Projects are used to transfer data from SAP to SAP S/4 HANA, while Migration Objects are defined by SAP for the purpose of moving multiple objects.
What Makes Data Migration Important?
The accuracy, completeness, and accessibility of this newer data for both systems will decide how successful data migration is as it entails moving information from legacy systems to more modern ones. An improper migration could lead to data loss, errors, and additional costs in the future.
SAP S/4 HANA Migration Requirement
The move of data to SAP S/4 HANA requires the transfer of data between SAP and non-SAP SAP systems. A complete solution for migration should be offered that does not require programming from the customer. This solution should be able to map databases between target and source systems, allowing for the easy integration of custom objects, decreasing testing effort, reducing downtime, and being heard.
Key Considerations on Migration Requirement
Several important considerations must be made when transmitting data. Prior to migrating data, data quality standards, mapping, and conversion should all be in place; key stakeholders should be identified before beginning; their participation should also be ensured throughout this project; and finally, a tool that automates mapping, transformation, and quality processes in a structured and sequential fashion should be available.
Initial data transfer and cleaning job planning must prioritize information accuracy in terms of completeness, consistency, and compliance with the business processes it supports. To ensure data entry into an information system, conformance must also be checked against specified standards and norms, with any errors revealed through surveillance reports before amending or remedial actions may commence.
Explore The SAP S4HANA data migration tools
SAP Data Services is an Integration and Transformation tool, that allows enterprises to transform, extract, transform and load (ETL) the data of multiple applications into SAP S/4HANA using its visual data flow creation interface and variety of formats/sources supported.
SAP Rapid Data Migration:
SAP Rapid Data Migration comes preconfigured as a data migration tool to assist companies with moving data from older systems into SAP S/4HANA more quickly and seamlessly. It offers step-by-step migration procedures which include extracting, changing, and validating existing system information.
SAP Landscape Transformation:
SAP Landscape Transformation is an innovative tool designed to help businesses adapt and reorganize their use of SAP systems, from system mergers or splits to system conversions or systemwide migrations.
SAP Landscape Transformation (SLT)
Replication is a real-time data replication tool that allows enterprises to duplicate data in real time from many sources into SAP S/4HANA. There is support for both SAP and non-SAP data sources, as well as configurable replication procedures to match business needs. SLT provides real-time data replication services, ensuring that data is constantly accessible and up to date. Additionally, users get access to an interactive monitoring dashboard where they can track replication progress and spot anomalies early on.
SAP Advanced Data Migration
allows companies to transfer non-SAP system data directly into SAP S/4HANA for analysis and processing. It offers mapping, validation, and quality checks on data that allow companies to easily migrate their non-SAP systems data sets over.
SAP Data Services
SAP Data Services is an integration and transformation technology that aids in data transfer and quality. Users can extract, process, and load multiple source datasets straight into SAP S/4HANA for storage using an extensive range of integration and transformation tools. Data Services provide an easy-to-use interface for data mapping and transformation, quality checks and cleansing for better data correctness, and quality reporting to ensure regulatory compliance.
SAP Cloud Platform Integration
SAP Cloud Platform Integration (CPI) is an integration platform built in the cloud that enables businesses to connect various software and systems to SAP S/4HANA quickly and seamlessly. CPI provides businesses with pre-loaded integration connectors.
SAP S/4HANA migration cockpit
The SAP S/4HANA migration cockpit is a tool that helps customers transfer their business data from SAP or non-SAP software systems to SAP S/4HANA, especially in new implementation scenarios. It has become an essential tool for SAP S/4HANA data migration, assisting customers during the transition to SAP S/4HANA. The two ways to access the migration cockpit, which is available in both SAP S/4HANA and SAP S/4HANA Cloud, are the "Migrate Your Data" app in the Fiori Launchpad (Data Migration Launchpad) and transaction LTMC (to be deleted by SAP S/4HANA 2021).
Customers can use the migration cockpit to migrate both master and transactional data to SAP S/4HANA. By offering prepared migration content and mapping as well as using migration objects to locate and transfer relevant data, the application speeds the migration process. For the transfer of business data to both on-premises SAP S/4HANA and SAP S/4HANA Cloud, SAP recommends using the SAP S/4HANA migration cockpit.
SAP Data Services' Rapid Data Migration (RDM)
Rapid data migration to SAP S/4HANA eliminates the need for multiple systems and data replication by enabling data aggregation, analytics, and transaction processing on a single database. The SAP Rapid Data Migration procedure is divided into three basic steps:
SAP Data Services-powered software is also referred to as Data Services.
By SAP's Rapid-deployment Solution organisation generated migration content
SAP Services and partners offer consulting services.
These components work together to provide quick and efficient data migration to SAP S/4HANA, providing your business the best chance to benefit from a single database.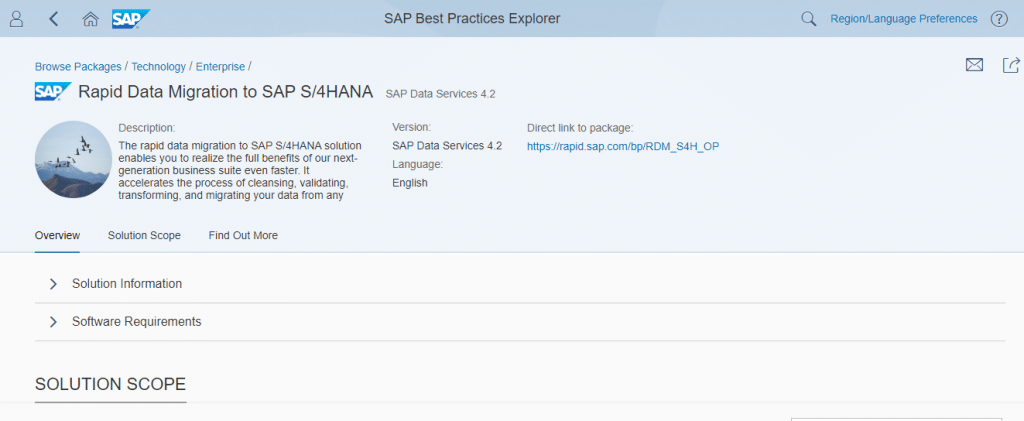 Rapid Data Migration with SAP Data Services (RDM)
LSWM
The Legacy System Migration Workbench (LSMW) facilitates data migration from legacy systems (non-SAP systems) to SAP systems. The SAP system's cross-platform component must be used following installation and when application customisation is complete. The LSMW migrates user-defined datasets, or objects, that are aggregated based on business requirements rather than moving specific tables or field contents.The tool supports standard import techniques and also allows you to generate user-specific objects. The LSMW carries out three fundamental operations: reading data from legacy spreadsheet tables and/or sequential files; converting data from the source into the target format; and importing data into the database used by the SAP application. For more information,
What distinguishes RDM, LSMW, and the Migration cockpit?
Image credit:SAP
Conclusion
Choosing the best SAP tool for your SAP S/4HANA data transfer project is critical to its success. When selecting one, take the time to understand your requirements and timeline before reviewing available SAP S4HANA data migration tools based on functionality, complexity, and support requirements – this way, your migration will go more quickly with fewer errors due to improper selection and quick and efficient implementation of new systems.
SAP S/4HANA Data Migration FAQs
What is SAP S/4HANA data migration?
SAP S/4HANA data migration involves transferring data from legacy systems to SAP S/4HANA. It's a critical process that ensures data accuracy and completeness.
Why is SAP S/4HANA data migration important?
SAP S/4HANA data migration is essential to ensure that data is accurate, complete, and accessible in the new system
You might also like the below articles.