SAP Fieldglass is a cloud-based platform that offers organizations an end-to-end solution for efficiently managing their contingent workforce, service procurement, and external workforce programs. Fieldglass allows organizations to source, engage, and manage their non-employee workforce efficiently.
What is SAP Fieldglass?
SAP Fieldglass, a long-standing pioneer in global talent management and service procurement, is used by companies worldwide to find, engage and handle all sorts of versatile tools. Its cloud-based solution helps companies transform how work gets done, increase operational agility, and accelerate business outcomes in the digital economy.
It became a leader in vendor management systems by developing the first unified technology platform that provides transparency into an organization's contingent workforce program and helps companies optimize program performance and make more strategic labor decisions.
SAP Fieldglass is a software framework used to support the contingent staff management system. When an organization implements a contingent workforce management program that uses the application, the suppliers (or vendors) providing workers will be asked to use the same application to submit candidates, Sign work orders, and request time and payroll expenses.
Introduction of SAP Fieldglass
Its is a web-based application that runs in any internet browser. No installation is required on the computer; only a connection to the internet is needed to access Fieldglass. When a buyer company includes a supplier in their contingent workforce management program, the buyer will invite the supplier to register for the application. This is how it's working!
A supplier company must sign a Fieldglass Contractor Access Agreement (CAA) before creating the supplier's account. After the CAA has been signed, an invitation to register for the SAP Fieldglass application will be sent. Registration emails are sent to the main contact (provider account manager) provided by the purchaser service. The Supplier Account Manager is set up as an Administrator in the SAP Fieldglass framework and can add additional Supplier Users as needed. The Supplier Account Manager, not the Purchaser or SAP Fieldglass, is responsible for adding additional Supplier Users. Once new users are established, they will receive an e-mail with instructions on registering their SAP Fieldglass account. When their SAP Fieldglass user accounts have been successfully registered, they can sign in with their new usernames and passwords.
It is a cloud-based vendor management system software that integrates with HR to deliver a seamless workflow and facilitates compliance cost savings and a paperless efficiency process at every touchpoint in the system. It offers its customers various benefits, such as compliance, cost, visibility, efficiency, and quality.
This platform manages the complete service procurement lifecycle, simplifying the external service providers' engagement and statement of work engagements. It is one of the most competent service contractors with the most comprehensive regional footprint and the most extensive client base that helps businesses navigate the evolving world of contingent workforce management.
The application delivers the tools and talent needed for better workflow decisions. It ensures the compliance of safety and security processes to measure the quality of services offered and drive cost savings. It quickly brings high-quality contingent workers together while improving cooperation with suppliers.
What are the benefits of SAP Fieldglass?
Helps companies to buy and procure external services
Streamlines vendor onboarding
Helps in hiring managers and picking the right candidates
Assists in managing timesheets, deliverables, and payment process
Offers HR functions such as job descriptions, evaluations, and security passes
Adds capabilities to contracts, purchase orders and invoices
Helps in tracking contingent labor spending
Delivers a set of reporting, visualization, and benchmarking tools
Analyzes customer services and procurement activities
Doesn't overlap with any existing SAP products.
Let's understand a high-level overview of the key process flow of the solution
Vendor Management System
A vendor management system (VMS) is a cloud-based application that allows both a buyer and supplier company to keep track of an external workforce. VMS centralizes suppliers and workers.
data to provide visibility into the transaction. Below are the primary functions addressed by the VMS
Enforce contract compliance
Manage costs
Mitigate risk
Ensure quality hires
Create efficient hiring practices
Make better buying decisions
Program Management
Program Management A Program is a combination of processes, people, and platforms that
helps create and maintain efficiencies in the functions necessary to maintain a business.
Specific to the solution, it governs the procurement and management of an external workforce.
The program adopts nine primary functions:
Worker Management
Supplier Management
Transaction Monitoring & Auditing
Spend & Rate Management
Quality & Continuous Improvement
Risk Mitigation
Change Management
Application Administration
End-User Support
Contingent Worker Procurement
The VMS allows companies to bring on high-quality contingent workers
quickly while also improving collaboration with suppliers. Key functions list as below
Job posting
Approving the job posting
Distributing the job posting
Reviewing job seekers
Selecting job candidates
Creating a work order
Approving the work order
Notifying the supplier
The worker registers
Tracking time and expenses
Approving the worker's time and expenses
Generating the invoice
Paying the worker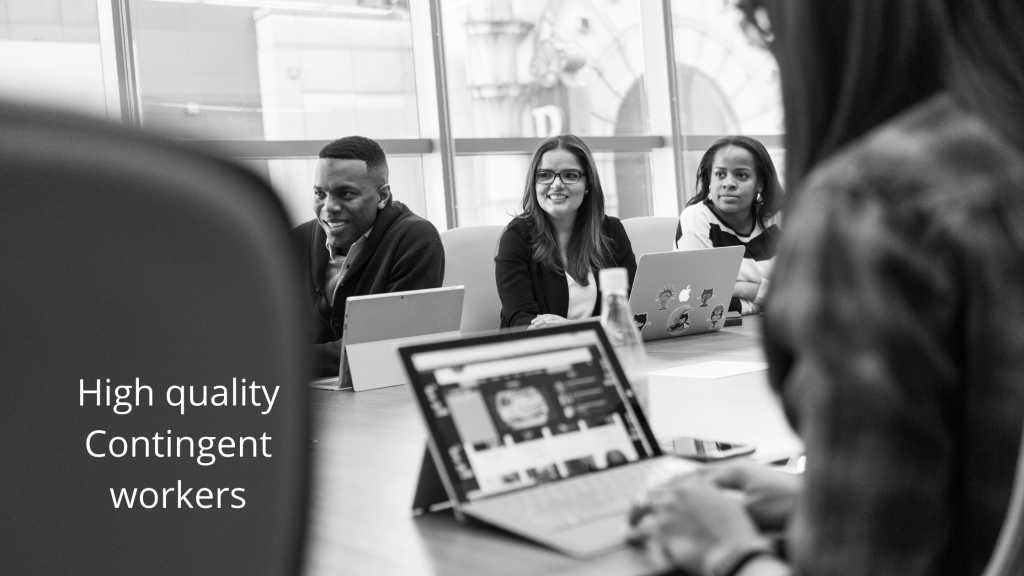 Services Procurement
Services procurement is the acquisition and engagement of external resources to perform certain functions or complete specific projects for an organization. There are many reasons an organization would use external service providers, the most common being that it has a business need that falls outside its core expertise. The organization would then rely on an external provider to deliver that service to remain focused on its primary business. Please find below a list of the core function of service Procurement.
Create the SOW as a Statement of work
Submit the SOW to vendors
Vendor reviews/edits SOW
Buyer reviews edits to SOW
Buyer approvers review SOW
Supplier approves and adds worker(s)
Buyer approves worker(s)
Worker registers in Fieldglass
The worker submits time and expenses
Supplier completes milestone
Buyer approves milestone
Supplier is paid
Worker Profile Management
Worker Profile Management (WPM) bridges the gap between maximum spending under management and decentralized workplace regulation. It allows you to track and manage non-traditional workers not linked to SAP Fieldglass jobs or SOWs.
Such profile employees who do not send timesheets or cost sheets in SAP Fieldglass can now be monitored for header, monitoring, and on-board / off-board activities.
Fieldglass Use Cases
Fieldglass is widely utilized by organizations from diverse fields—healthcare, retail, and financial services are just some examples—with use cases such as those listed here for Fieldglass:
Staffing: Fieldglass can help organizations source and manage temporary staff efficiently to fill critical roles quickly and cost-effectively.
Services procurement: Fieldglass allows organizations to efficiently navigate their services procurement processes from initial sourcing to payment.
Statement of Work (SOW): Fieldglass offers an effective platform to manage Statement of Work projects, helping organizations track project progress while effectively controlling costs.
SAP fieldglass pricing
For medium-sized companies and large companies, scaled solutions are available. For price information, please get in touch with SAP directly.
Conclusion
SAP Fieldglass is the leading cloud solution for managing your work orders, employee hours and field workforce management.In essence, SAP Fieldglass is a cutting-edge solution for personnel management and sourcing. This blog examined the key features and benefits that make SAP Fieldglass such a valuable resource for firms trying to maximize their workforce management for contingent labor and vendor management.
Happy Learning ..!!
What is the pricing model of SAP Fieldglass?
A: SAP Fieldglass' pricing model offers subscription-based plans tailored specifically for individual organizations depending upon user numbers and desired functional requirements. Pricing options can also be customized based on organizational-specific needs.
Is SAP Fieldglass easy to use?
SAP Fieldglass was created with simplicity in mind, being both user-friendly and highly adaptable so as to meet organizations' individual requirements and workflow processes.
What types of support and training options exist for SAP Fieldglass?
SAP offers numerous support and training services for their Fieldglass software solution, such as online documentation, user forums, training courses and an available customer support team.
Now follow these tutorial links to learn more about