This Blog outlines the basic principles of SAP inventory management, by clarifying the most important aspect of inventory management and describing the main activities of planning/adjusting, implementation, and analysis stages of inventory management. Physical inventory represents the actual dimension equivalent to dimensions that are defined in SAP MM.
Let's start by explaining how inventory is integrated into the SAP MM Module.
What is SAP inventory management?
In SAP inventory, it is the material inventory on both quantity as well as a value basis. It is transferred (received or issued and transferred) to fulfil the purpose of supporting and fulfilling an overall demand plan. Inventory helps to ensure smooth processes within an organization and gives it the ability to change and adapt to the changing needs of an organization.
As per Supply Chain Definition, Supply chain management is the administration of the movement of goods and services in addition to managing and integrating these flows between and within companies. Although inventory is thought of as an asset in accounting for inventory, however, on the supply chain aspect the inventory is typically regarded as a liability, particularly in the event that stock levels are excessively high. The more inventory you have the greater the expense of managing and holding it. If the cost of the inventory is higher than the expense of replacing it the inventory, it could be necessary to cut down on the amount of inventory.
In the management of supply chains inventory is managed according to a value and quantity basis. From a quantitative perspective in order to ensure an efficient flow of products and a smooth supply chain, inventory needs to be placed in a way that a satisfactory level of service can be offered anytime and in changes in circumstances. From a perspective of value, it is essential that inventory be managed properly, in order to ensure that there is no overstating of any target inventory levels.
We will look at the management of inventory in SAP Procurement and the Prospective process begins by gathering requirements, and concludes with the purchase of items from vendors. After the goods have been purchased from vendors, they must be stored in the company's premises in a proper location in order to be consumed as and when needed. This brings us to the concept called inventory management. Inventory management is the process of managing and arranging stock that is purchased from vendors in the right location within the company's premises.
Inventory management business process overview
Inventory management is a part of the SAP Material Management module. that allows the procure to pay process the inventory management to manage the process to replenish inventory to your warehouse. It also moves stock in your plant, and then removes items from the inventory. It also allows you to document the way in which the stock was utilized. The financial document is then passed to accounting. Keep an eye on where the inventory is kept physically and put aside for future use
inventory management. Stock can be controlled by both value and quantity inventory can also be managed by batches as we'll see in the second unit. Put the special reason for fish like consignment from a vendor or stocks designated for the particular customer's sales order
Inventory management is a key component of the other module within the module for material management as well as the other financial and logistics module. Material purchased through the purchasing procurement is planned with material requirement planning the material master's setting and other data like consumption plans or forecasting techniques.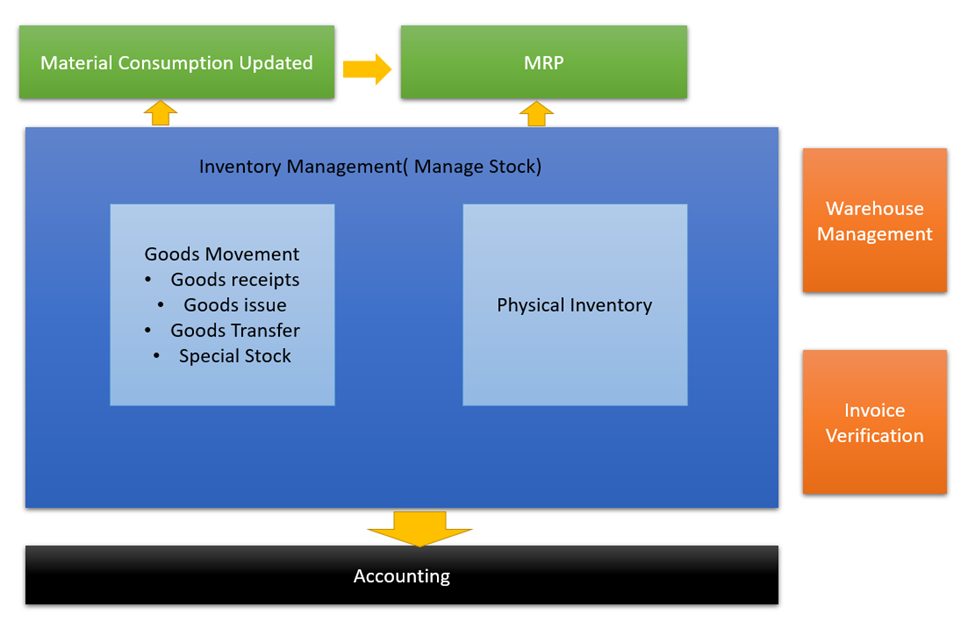 Inventory Management Deals With The Management of Material inventory on a Quantity and Value Basis, Inventory Management is the evidence of Goods movement within SAP.
Inventory management is a component of a MM. It is, therefore, integrated into logistics according to the requirements that are determined by the material planning material. It can be purchased either from an external source or internally
Inventory management is directly associated with the partitioning of materials and invoice verification. In the normal procurement process. You buy a product from Bender. Bender and when it is it is delivered to you after they have delivered the items are the property of your business
In special procurements, the products do not have to go from the vendor customers. R3 can support different types of special procurement like consignment pipeline subcontracting handling
The main points to remember about the management of inventory are as follows:
Management of inventory is managing stock on either a value or quantity basis.
Entry, planning and keeping track of all goods movements come under the management of inventory.
Goods movement creates an updated document for the quantity and value of stock in the inventory. This document is known as a material record.
Documents of material will be identified by a document number as well as the year of the document.
Management of inventory is a term that refers to the following phrases:
Goods Receipt
Goods Issue
Stock Transfer
Special stock
Sub Contract acting
What is the Stock type in SAP inventory management?
Stock can be briefly categorised as valuated stocks, Non valuated stocks & Special stocks, however an inventory management perspective it can be sub-categorised as
Unrestricted stock
Quality inspection stock
Block stock
Restricted stock if batch management has been activated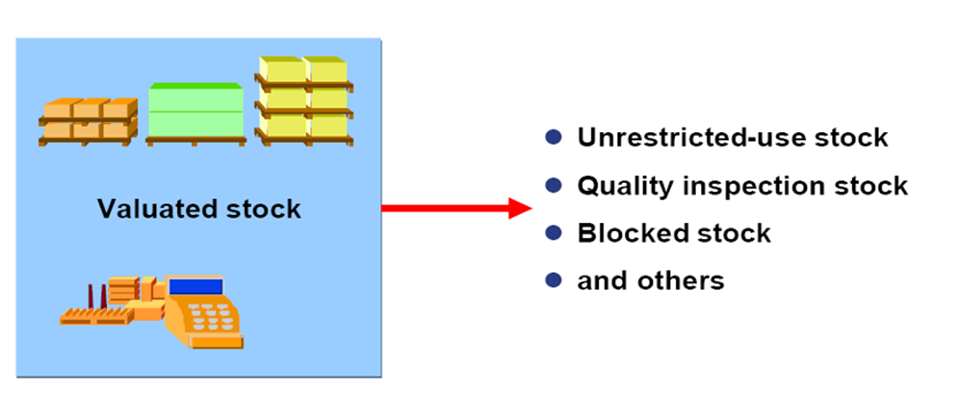 Unrestricted stock :
Company-owned stock is physically located in the warehouse is valued and it's not subject to any restriction on the users.
Quality inspection stock:
a company-owned stock that is in quality inspection stock is valued but it's not for unrestricted use
Block stock:
Company-owned this stock is valued and it has been placed in the block stock because of some technical defect
Restricted stock
The majority of Restricted stock is utilized to treat materials that fail quality control or if materials require special care and the stock can not be utilized by anyone then you may transfer this stock to Restricted stock, and determine the best way to move forward.
What are goods receipts?
A receipt for goods in The Warehouse Management system (WMS) is the physical transportation of material or goods to the warehouse. It is a process which is used to report the goods that are received from external vendors or in-plant production. Every receipt of goods results in an increase in stock at the warehouse.
goods receipts mean the inward movement of goods at the time of doing the GR system check whether the material delivered is the same as the material order and whether the GR quantity is matching with the PO quantity or not
As soon as goods movement is posted a quantity of material movement type organizational label can no longer be changed if you want to change the correct error you must create a new document you can reverse and cancel the incorrect document
Transaction code for goods receipts transaction code to Do GR is MIGO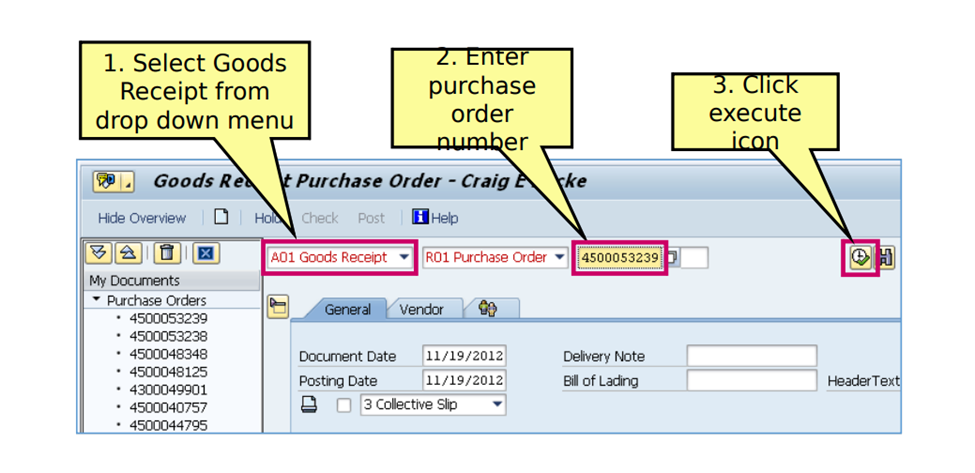 We can do GR in a possible way
GR with reference to an order
GR with reference to a reservation
Other GR
Function possible through MIGO transaction, We can do the following function through the MIGO instead of separate
GR for known PO using MB01 transaction
GR for unknown PO using MB0A transaction
Enter return delivery using the MBRL transaction
release Block stock using MBSF transaction
Cancel material document for GR using MBST transaction
change and display material documents for GR(MB02 &MB03) transaction
The effect after goods receipts
Stock and value updated in the material master
Purchase order history updated in the purchase order
Generation of material and accounting document
Stock and consumption account updated
GR SLIP generated
Making an inspection lot to initiate a quality inspection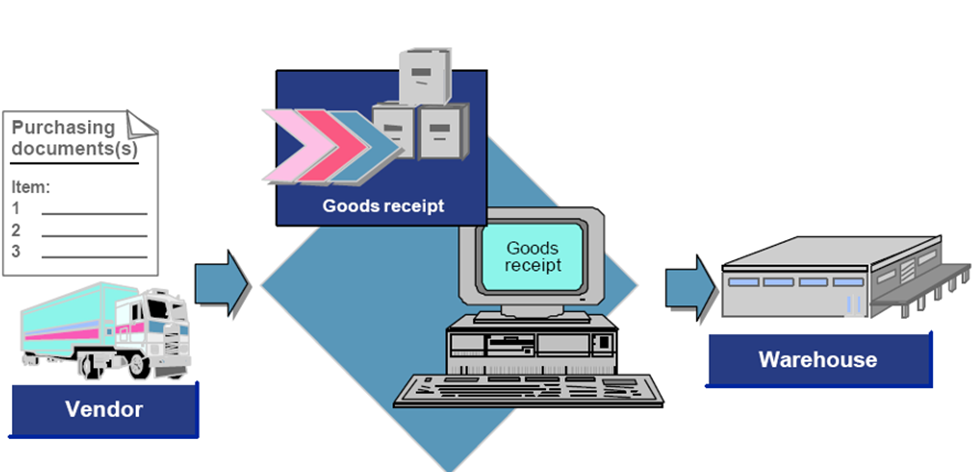 What is a material document?
In the system of Inventory Management, whenever the movement of goods is recorded an itemized document is created that acts as evidence of the movement, as well as an information source for any subsequent applications.
A header and at least one item make up a material document.
A header and at least one item comprise the material document.
A header contains general data about the movement date and each item described the one movement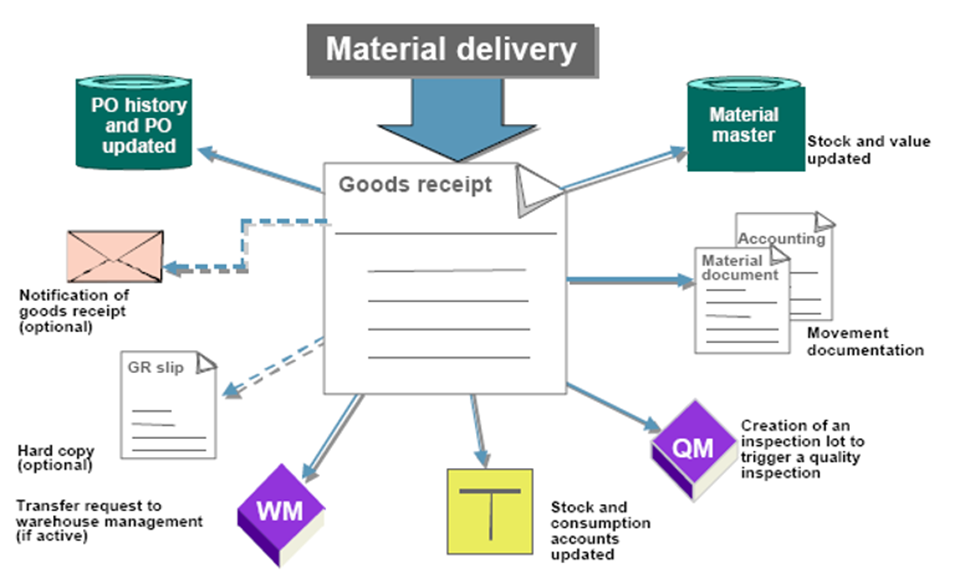 What is an accounting document?
if the movement is relevant for financial accounting (that is if it is lead to an update of a GL account) an accounting document is created parallelly to the material document the GL account involved in the good movement is updated through an automatic account assignment
The accounting documents document variations in the values of the company's code, resulting in accounting transactions. They comprise one or more line items (postings) each one representing one transaction, which is which was posted on an account.
Its Financial Accounting (SAP FI) module within SAP has been designed to document businesses' business transactions in a way that will meet external reporting requirements …
What is GR Block Stock
GR block stock goods that have been received subject to the same conditional acceptance like damage or unexpected delivery are posted 2GR block stock movement type is 103
Quantity is posted to stock
Material is not valued
Updating of PO history in PO
Difference Between block stock & GR Block Stock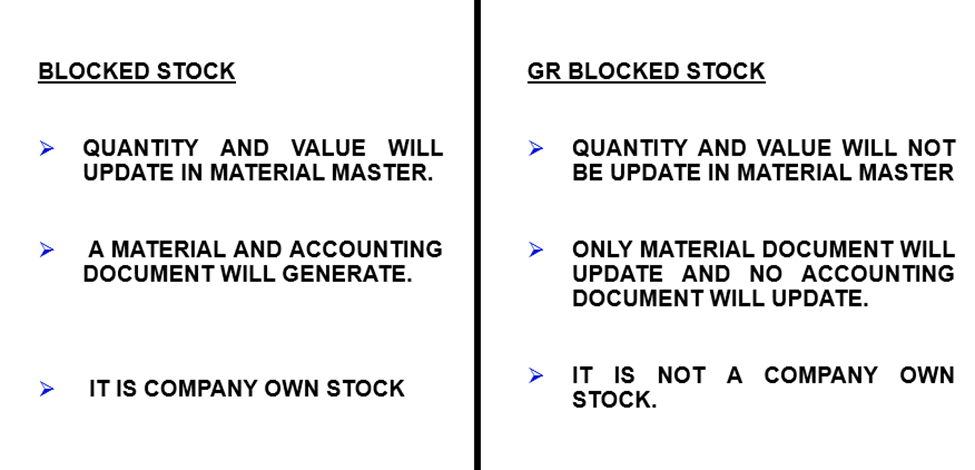 Release GR block stock
Once the acceptance of the conditions for delivery are made the material can be released for the goods receipt block stocks it's good recipe can be posted into the stock or the consumption movement type would be 105. we can use either the following two documents as a reference for return delivery
Material documents with which posted to the goods into the receipt block stock
Purchase order to which goods receipts are preferred
The effect after releasing GR block stock
Creation of material and accounting document
updating of stock
updating of GL account
updating of PO history
The prerequisite to send material directly to Q quality inspection stock, quality inspection indicator is set on the following
Material master purchasing view
Purchase order delivery tab page
Good receipts stock type
Delivery complete indicator
Setting the delivery complete indicator in the following
Purchase order delivery tab
Goods received PO data tab page
The delivery complete indicator specifies whether the PO item is regarded as a close this means that you cannot expect any more GR for this item the open quantity is 0
if you change the quantity of delivery after it has been posted R3 does not cancel the completion indicator automatically it issues a warning message that you have to cancel it manually
What is the tolerance limit
There are two types of tolerance limits we can define based on Business Scenarios
Over delivery tolerance
Under delivery tolerance
Over delivery tolerance value specified by the user that expresses the percentage by which quantity deliver maybe exceed the Quantity order or procure and yet still be accepted by the system maintaining material master record through the purchasing value key
Under delivery tolerance value specified by the user is expressed as the percentage by which quantity delivered may fall below the quantity order or procure and yet still be accepted by the system to maintain material master record through the purchasing value key
Reversal & return delivery
Return delivery
Delivery returns goods that are part of your stock to an external supplier. return delivery reference a purchase order goods receive a reason for movement is mandatory with return delivery slip
Reversal movement
Reversing material document
Without GR and GI slip
the reverse of movement is not mandatory
Automatic generation of PO after GR
After doing R you can customize whether PO automatically has to generate it or not you can set automatic PO for particular movement types also in the customization
What is the goods issue?
A Goods Issue can be defined as the physical movement outbound of goods or other materials out of the warehouse or the problem of physical goods or materials out of the warehouse. It causes a drop in inventory from the warehouse.
the term is inventory management to describe a reduction in a warehouse stock due for instance a withdrawal of a stock or the delivery of goods to a customer
Transaction code for goods receipts transaction code to Do GI is MB1A or MIGO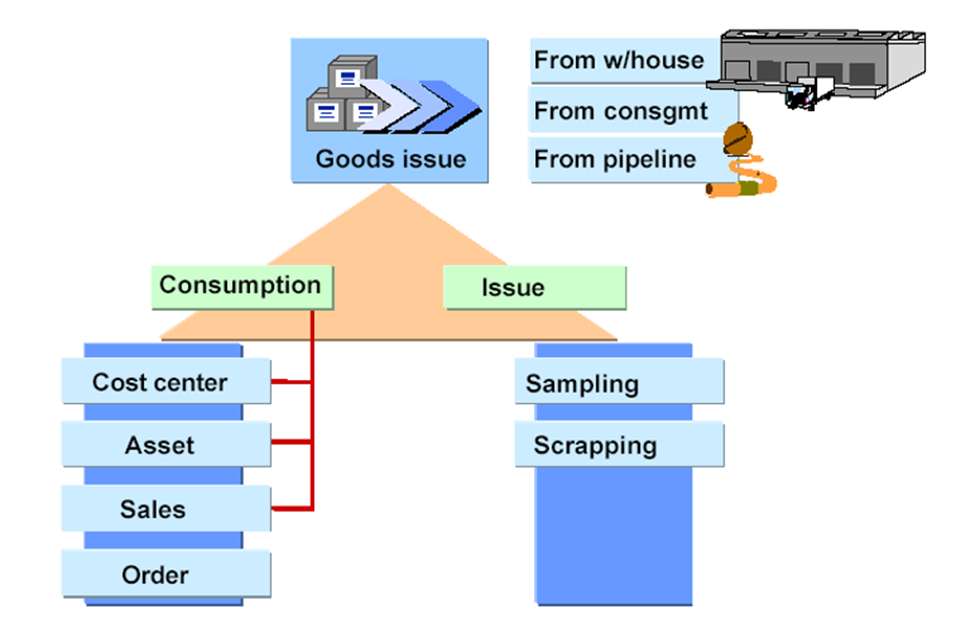 Effect of goods issue
Stock will be reduce
Stock Account will credit
Consumption will update
The consumption account will debit
What is Negative Stock
The temporary stock situation that may occur if a material has already been physically received into stock but the relevant GR postings have not yet been made. If a Stock withdrawal is reported prior to the receipts being posted the stock value could turn negative.
What is the Stock transfer?
In inventory management, stock transfer orders are created in the below business scenarios. The removal of items from storage facilities at one point before their relocation to storage in another.
Stock transfers can happen in a single plant or between two plants. The removal of inventory from storage at the initial storage location and its transfer to storage at the second location can be recorded in the system in one go or in two steps.
What is a type of stock transfer?
Stocks Transfer carried out at different levels
Stock transfer between one company code to another company code
Stock transfer between one plant to another plant
Stock transfer one storage location to another
Stock transfer procedure
One step procedure
Two-step procedure
One step procedure
when using the one-step procedure you only have to record one transaction in the system to pose the removal from storage at the point of issue and the placement into the storage at the point also receipt. The system creates just one material document and one accounting document for the stock transfer
Two-step procedure
if you can see the two-step procedure, you can monitor stock transfers while they are in transit once you have posted goods issues from the issuing plant the stock is located in stock transfer at receiving plant and is managed in the system.
The system creates two material documents and one accounting document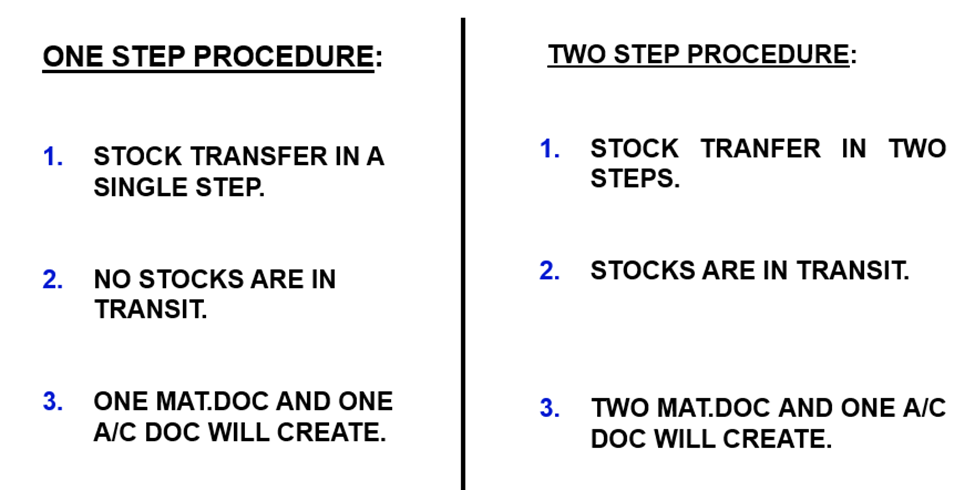 What is a Transfer posting
a generic term covering both physical transfers of stock and changes that affect book records only that is which do not involve a physical movement, such as a change in identification or classification of stock
What is a special stock
special stock or stock that is managed separately as a result of their not belonging to your company or Bing store at a particular location some of the special stock is followed as consignment stock, subcontracting stock, third-party processing stock transfer using STO
Consignment processing is where the vendor will supply the materials and then stores the materials in your facility. The vendor is legally the owner of materials until you remove the materials from the consignment store. The vendor will then demand payment. Invoices are due at specific intervals of time like each month. You can also agree with the vendor to transfer control of the remaining consignment after a specific duration.
What is Subcontracting
SAP Subcontracting involves sending components to a supplier where the assembly is made. The vendor then returns the finished assembly and, upon goods receiving, the components are released from subcontract inventory. Subcontracting is a purchasing-controlled process.
Sending a 'A' material to vendor and the vendor will convert the 'A' material into 'B' material and he will send it back to you
What is third-party processing?
When you use third-party processing, you can place a purchase order with a vendor in order to deliver items or provide an activity to a third party (for instance, for the benefit of a client).It means that your company doesn't deliver the product. The order is sent to an external vendor and they then deliver the product directly to the client and invoice you.
Conclusion
Management of inventory is vital in every business and is especially important for manufacturing firms. The management of inventory is an integral aspect of running a profitable business which is why SAP MM can be the software which can assist you in keeping the track of your inventory. We've put together a basic understanding of SAP inventory management and the most commonly used terms used in SAP Inventory Management
You might also like the below articles.
Here are some interesting training videos you can watch on YouTube.