The SAP Activate methodology consists of five phases, each offering business and IT working teams different activities, tools, templates, and accelerators. Each phase is a milestone to monitor the project's status and capability to meet the go-live date. In this article, we will be going cover sap activate methodology phases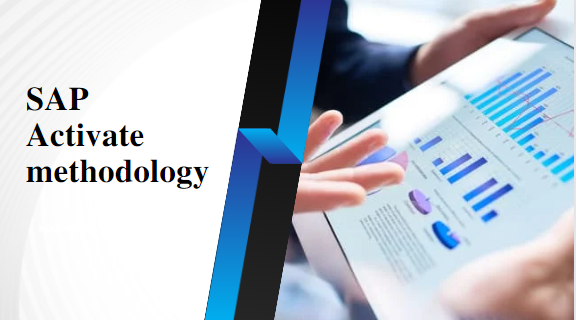 What is SAP Activate methodology?
SAP Activate is a four-to-six-step technique designed to help organizations transition to S/4HANA and guide them from preparing to going live. At its core, Trigger focuses on three main pillars: guided configuration, best practices, and methodology. The driven configuration is a series of tools that help with implementing SAP best practices.
Activates is the fastest way to simplify and streamline your SAP S/4HANA business operations. This approach helps customers create smarter, run faster, and start faster in their respective landscapes. The successor to the Accelerated SAP (ASAP) and SAP Launch Approach. It also provides comprehensive content and feedback to each team involved in your project.
What is the purpose of SAP Activate?
SAP Activate is a methodology and set of tools that help organizations implement SAP software. It is designed to provide a structured and efficient approach to planning, building, and deploying SAP Hana solutions. SAP Activate aims to help organizations achieve a successful SAP implementation in a shorter amount of time, with lower costs and reduced risk.
SAP Activate consists of best practices and tools that guide organizations through the implementation process, from planning and design to testing and deployment. It includes a set of pre-configured templates, accelerators, and tools that can be customized to meet an organization's specific needs.
SAP Activate also includes a set of methodologies and tools for continuous improvement, which can be used to optimize and evolve the SAP solution over time. This includes support for agile development and rapid prototyping, as well as tools for monitoring and measuring the performance of the SAP solution.
What are the three most important components of sap activate?

Activate has three components:
SAP Best Practices
Guided Configuration
Methodology.
SAP Best Practices
SAP Activate Enable includes complete and clear pre-configured best practice scenarios and functionalities that speed up the migration path. Good Practices shall contain the following:
Company process system with technological measures.
It accelerates the execution of the idea.
Integrated knowledge with other cloud solutions, such as Ariba Network, SuccessFactors Employee Central, etc.
Migration documents that help to migrate the SAP or non-SAP systems.
A graphic representation of the entire company's operations
SAP S/4HANA Test Automation Operation.
Predefined test scripts.
Guided Settings
It is a collection of tools, accelerators, and assets that help to implement SAP S/4HANA. Depending on the landscape (On-Premise or Cloud), different tools are available.
Cloud Edition
The Self-Service Configuration User Interface and expert Configuration allows the best practice processes to be updated, while the expert configuration allows the new process to be applied to the current collection.
On-Premise Edition
SAP Implementation Guide and Solution Manager offer configuration tasks for in-depth custom configuration. SAP Best Practices include a set of guidelines and best practices for efficient and successful data migration and SAP S/4HANA integration, along with many other best ways to customize your SAP standard processes. The method fills the gap between the IT community and the company for effectively implementing S/4HANA.
SAP Enable Methodology
Above two, it gives real value to the company. The methodology is, in my view, the main component for initiating any SAP S/4HANA implementation. In this blog, we will understand the SAP Enable Methodology
Activate tools included in this technique, including a large range of documentation templates, accelerators, and other resources, will help make your S/4HANA project much easier and can all be found through links to the Roadmap Viewer and Best Practices Explorer on the SAP Trigger Technique JAM groups. It also Enable will support both Brownfield and Greenfield migration to S/4HANA. Although SAP recommends a Greenfield approach by re-implementing S/4HANA and using a 'fit to the norm' approach, many organizations feel that a Brownfield approach best suits them.
There are various collections of methods available. For Cloud Version, Consumer Self-Service Setup and Expert Configuration enable the best practice processes to be modified. In contrast, the professional configuration enables new processes to be applied to the current collection.
For an on-site solution, the SAP Implementation Guide (IMG) and Solution Manager provide configuration tasks for in-depth custom configuration. SAP Best Practices includes a set of recommendations and best practices for effective integration and data migration to S4, along with the best way to configure your own processes or develop SAP-standard processes.
SAP best practices to explore options for a company's unique business situations and to recommend the most appropriate options. Instead of planning a business roadmap document to cover all business situations, SAP Activate is performing fit-gap research (known as Fit-to-Standard in Activate) and is using SAP best practices and rapid implementation strategies to see how the SAP framework best tackles features and functionality gaps.
Implementation, redesign, migration, or conversion projects will benefit from SAP Enable Implementation Methodology – an agile way for organizations to adopt SAP software.
SAP Activate is the successor to the ASAP (Accelerated SAP) approach that has been widely used for SAP ECC deployment and update programs. SAP Activate deployment methodologies are not only applicable for SAP S/4HANA cloud or on-premise but also for SAP BW/4HANA, SAP SuccessFactors, SAP S/4HANA, SAP Hybris, and SAP Ariba.
SAP Activate Methodology deployed
This depends upon different starting points, such as the client is new to SAP, still using legacy SAP, or has a mature SAP landscape that you need to simplify and transform. There are three major adoption roadmaps.
New Implementation
In this situation, you are installing a completely new S/4HANA framework and migrating your data. Many clients will benefit from the latest implementation of the Industry-leading Business Suite, and process simplification focused on ready-to-run business processes.
System Conversion
In this case, you can already use SAP Business Suite on the SAP HANA in-memory platform and want to migrate your current system to a S/4HANA system. Customers can leverage the Rapid Deployment Approach and benefit from migration without any interruption or re-implementation of current business processes, re-evaluation of existing business processes, and time-frame customization.
Landscape Transformation
In this situation, we may want to use S/4HANA as your central finance framework or transfer an application to S/4HANA, or you may want to simplify your current system landscape by merging multiple business processes into one new S/4HANA case. Based on your SAP Landscape Transformation Replication Server, updates to the new enhancement kit and migration to SAP HANA are provided by services. It has several other benefits, as it will progressively switch to S/4HANA with existing business processes, can also carve out S/4HANA from a single company entity, and simplify the operation.
SAP Active Implementation Methodology
SAP Activate implementation methodology consists of the following six phases:

Source: SAP
The Discover Phase
During this process, the project teams will discover the capabilities of the SAP solution in order to better understand the business value and benefits of the S/4HANA implementation. It also helps the team identify the target technology architecture and the implementation plan to be pursued. This process also enables business users to prepare the business case for the implementation of SAP S/4HANA and the deployment roadmap for the digital transformation journey.
The Prepare Phase
In this process, initial project planning and preparation take place at the project management stage, which includes the preparation of the project plan for the implementation of the S/4HANA as well as the assignment of the team. Other critical activities of this process are the specification of the goals of the S/4HANA project and the identification and quantification of business value goals for the implementation of S/4HANA. Executive sponsorship is ensured, and project standards, governance, and organization are developed. Reporting and monitoring the progress of the project is finalized. The project team's tasks and responsibilities are finalized at this point.
The Explore Phase
At this point, business users will explore SAP best practices and standard business processes (known as Fit-to-Standard) such as order-to-cash, purchase-to-pay, or hire-to-retreat mapped out for S/4HANA. Sample data from a fictional company is also available to allow business users to run end-to-end processes to determine how closely a standard solution suits the company's business needs. Here, business users and the consulting firm SAP agree on the configurable artifacts needed for the company. The fit-gap strategy will determine if the redesign, tailored program, or business add-in will resolve the defined gaps. Additional but important tasks of this process include master data load planning, where MS-Excel data models are shared with business users so that they start working on and planning clean, accurate, and detailed master data for loading into the S/4HANA framework. In addition, initial SAP testing and training needs are also underway at this point.
The Realize Phase
During this step, a series of activities will progressively develop, evaluate, and validate the business scenarios and processes defined in the previous step (the discovery phase). Master data is loaded to verify and validate consistency and completeness to ensure smooth, error-free transactions and business processes are running. All custom development is also tested during the realization process. Key business users are trained as 'trainers' with the goal that these SAP trainers can ultimately train end-users (train-the-trainer approach). End-user training is often designed so that appropriate end-users can be engaged at the right time and trained only in their particular fields of work.
Business users and SAP consultants will dive extensively into the end-to-end integration testing of various SAP modules to ensure they are completely integrated. The data and information flow are complete and accurate.
The Deploy Phase
In this process, the master trainers are training the end-users. The cut-off operations in which the company switches from legacy systems to S/4HANA occur. Some essential cut-off tasks include planning the SAP development system with final master data uploads, uploading the cut-off or closing financial and inventory balances from legacy systems to S/4HANA, and checking and validating all functions and authorizations for business users and end-users. Change management activities culminate in the coordination of all stakeholders to ensure the transition to S/4HANA is not only embraced but is also smooth.
The Run Phase
In this step, the SAP system is further stabilized by ensuring that any potential problems, errors or incorrect entries that may have occurred within the first few days of live S/4HANA are quickly corrected. Establishing a dedicated IT or SAP helpdesk to fix these issues goes a long way toward the smoother operation of S/4HANA. Here, business users again play a vital role in ensuring trouble-free collaboration with the company's internal SAP helpdesk and SAP consultants to address problems efficiently and comprehensively. Efficient and timely financial closure of the first month within the timeframe, verifying the accurate and effective functioning of the business processes.
Conclusion
Overall, the purpose of SAP Activate is to provide a structured and efficient approach to implementing SAP software, with the goal of helping organizations achieve a successful SAP implementation and realize the full benefits of their investment.
Happy Learning ..!!
What is the difference between Agile and activate methodology?
Agile is a project management philosophy that emphasizes flexibility and speed. It is based on the Agile Manifesto, which outlines principles for iterative and incremental development. Agile approaches, such as Scrum and Kanban, are designed to be responsive to change and to allow for continuous improvement throughout the project.
 
Activate is a project management methodology developed by SAP. It is a structured approach focusing on effectively planning, executing, and closing projects for S4Hana implementation. Activate is designed to be adaptable to different types of projects and organizations and emphasizes the importance of aligning projects with business strategy.
 
Overall, the main difference between Agile and Activate is their focus. Agile is focused on flexibility and rapid iteration, while Activate is focused on structured planning and execution. Both approaches have their own strengths and can be useful in different projects.
Now follow these tutorial links to learn more about