Introduction
When it comes to managing sales and distribution processes, the SAP SD module stands out as a potent enterprise resource planning (ERP) tool, giving firms extensive capabilities to boost customer satisfaction and sales operations. In this essay, we will analyze its significance in business management and emphasize its salient characteristics, advantages, and implementation issues. This blog post goes deeper into the functionalities of the SAP SD Module.
SAP SD Module: An Overview
Sales and Distribution (SD) is one of the most important application areas in the SAP Application.The SAP SD (Sales and Distribution) module is a component of SAP ERP's enterprise resource planning system and includes a number of features to help firms manage all facets of sales and distribution operations, from order management and pricing to shipping and billing. Business organizations can benefit from an end-to-end sales and distribution solution thanks to SAP SD's seamless integration with other SAP modules, including MM (Material Management) and FI (Financial Accounting).
Introduction to SAP Sales & Distribution Module
SAP SD covers the entire chain of processes (order-to-cash) from customer inquiry, Sales orders to the delivery of the product to the customer's destination of choice through billing and payment collection. The module of logistics execution is also heavily integrated and includes picking, packing, and shipping activity
SAP SD is used to execute all of the everyday operations of sales and distribution in a company. A company can plan and execute the collection of steps involved in taking sales orders; performing availability checks; passing the requirements to the supply chain, including those from the sales forecasts; and then converting them to master production, scheduling, production planning, production scheduling, and purchasing. Then the materials are moved through inventory management and warehousing to the distribution end of the sales activities logistics chain that's involved in shipping, transportation planning, and yard management.
What is the Sales and Distribution (SD) Process?
The SAP ERP Sales and Distribution functionality (SAP ERP SD), with the help of integration with other functionalities such as SAP ERP Materials Management (SAP ERP MM) and SAP ERP Logistics Execution (SAP ERP LE), covers the entire order-to-cash process of any organization.
The SAP ERP SD software package is designed to capture almost all business activity, and if the standard functionality isn't available, it allows you to create custom solutions to close the gap between the prepackaged application and the desired state. Out-of-the-box SAP ERP SD functionality covers most of the standard business functions that are universal for most industries. Here is the High-level overview of the process flow.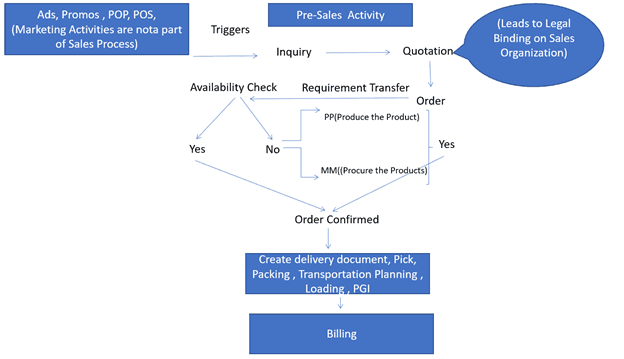 SD Module Key Components
SAP SD module integrates with other R/3 applications such as FI, CO, MM, PP, and so on. Here is a brief list of these:
Basic Functions and Master Data in SD Processing (SD-BF)
Pricing and Conditions (SD-BF-PR)
Availability Check and Requirements in Sales and Distribution
Credit and Risk Management (SD-BF-CM)
Material Sorting (SD-BF-AS)
Output Determination (SD-BF-OC)
Sales (SD-SLS)
Scheduling Agreements for Component Suppliers (SD-SLS-OA)
Customer Service Processing (SD-SLS-OA)
Foreign Trade/Customs (SD-FT)
Billing (SD-BIL)
Payment Card Processing (SD-BIL-IV)
Sales Support: Computer-Aided Selling (CAS)
Electronic Data Interchange/IDoc Interface (SD-EDI)
Shipping (LE-SHP)
Transportation (LE-TRA)
Reports and Analyses (SD-IS-REP)
Pre-sales Activity
In real-life scenarios, before the sale takes place, the business needs to collect basic data and create master records in the system for either existing or potential customers, or create data for people, sales prospects, and existing customers. Once this is has been created, the actual contact or sales deal the sales prospects can be recorded as an SAP ERP SD document in the form of an inquiry or quotation. We can also specify important sales-related data that can be accessed for reporting purposes, to evaluate sales activities, and marketing funds, and finally, to convert to sales orders. all those activities fall under the Presales activity in SAP SD.
Sales Order Processing
Order processing starts with recording the actual sales order or sales request, Sales orders are recorded either by Back office staff or the sales team or directly.it could be by the customer via a web application, or electronic data interchange (EDI). or XML interface. The sales order contains customer, partner (sold-to, ship-to, bill-to, payment terms), material, quantity, pricing, delivery date, and shipping and transportation information required for delivery. A Product availability check is performed at the time of the order creation triggering the potential procurement requests as needed. The requirements created by the sales order can be filled from available in-house stock inventories procured by the replenishment team.
Delivery Processing
On the shipping due date, the delivery documents are created, and the route is determined & the process of picking. packing. staging. and loading started in Warehouse Management. The transfer order includes data copied from the delivery document. Standard SAP functionality provides grouped deliveries, wave picking, and two steps. Transfer orders can be processed as printed pick tickets or in electronic form using radio frequency (RF) devices on the warehouse floor with confirmation of the transfer order completing the picking activities in the warehouse. If transportation management functionality is activated, We can start collaborating with freight service providers, start the tendering process, and finish up by creating the shipment cost document, which captures the payable activities related to the delivery of goods to your customers. Delivery packing list and bill of lading output are initiated picking. The posting of the goods issue completes the process and results in stock movement or a confirmation of service that changes your on-hand inventory balance, reducing it and updating the balance sheet accounts in SAP ERP Financials (SAP ERP FI).
Billing & Revenue Recognition, and Reporting
The last step before collecting a customer's payment is creating a billing document or invoice that is sent to the customer's bill-to-party for the payment request. Just as with the delivery document, data is copied from either the sales document or the delivery document and other billing documents, creating credit or debit memos. When we create the billing document, account determination is performed, and appropriate SAP General Ledger (G/L) account postings are executed that debit the customer's receivables and credit the revenue account.
The material documents recorded when the goods issue was posted, as well as a subsequent accounting document, stored the stock movement data. The transportation service provider purchase order ended up as an entry for accounts payable, and the incoming payment from the customer was also posted against the invoice or billing document.
Lastly, All activities in the SAP SD process end up reflected in the system as documents, master data, and pricing records, and they are used as a foundation for the Sales Information System (SIS) or SAP BW for reporting for further analysis.
Happy Learning ..!!
Now follow these tutorial links to learn more about