SAP Leonardo is a business intelligence software that provides forecasting and planning capabilities for better operations management. SAP Leonardo was released in 2009 as part of SAP HANA, yet it was not a release with just one product. Instead, SAP Leonardo includes many different components and aspects that provide an integrated solution that can be used across the enterprise.
In this blog, we will understand SAP Leonardo. We learn about digital transformation using intelligent technologies from Leonardo and the SAP Cloud Platform. Any organization that evolves as intelligent is helped by the Internet Revolution further on digital transformation with the latest innovations & SAP Leonardo Solution. Help the organization achieve fast and scalable business model innovation.
What is SAP Leonardo?
Businesses using cutting-edge technologies like blockchain, AI, big data, and IoT can use SAP Leonardo, an intelligent platform for innovation, to enable digital transformation and development as an integrated collection of technology services, products, and solutions for customer value creation.
it is named after Leonardo da Vinci, an articulate Renaissance painter, and a strong forum for integrating new digital technologies and profiting from them in advance. Leonardo, named after the Italian polymath, was designed to bridge the gap between man and machine and create a smart, intuitive, natural user experience for business. It is optimized for large data sets and can analyze and learn from the data and present it as a human being would. Leonardo has been under development for the past 18 months and is SAP's most important product launch in a decade.
The modern digital addition to the SAP family is Leonardo. This new system provides various utilities and microservices to companies using the latest technologies.
The application can be paired with state-of-the-art intelligent technologies such as IoT, blockchain, big data, analytics, and more.
Technology and components
A core group of technologies based on the Internet of Things (IoT), Machine Learning, analytics, big data, blockchain technology, and artificial intelligence, cloud computing is a technique that allows for rapid innovation and digital transformation. Different services and APIs running on SAP Cloud platforms can collect real-time analysis, automation, and decision-making data to integrate Leonardo's better features with the same framework, system, and capable sensors (IoT).
Leonardo Technology consists of
The Internet of things.
Data Intelligence
big data
Analytics
Machine learning
Blockchain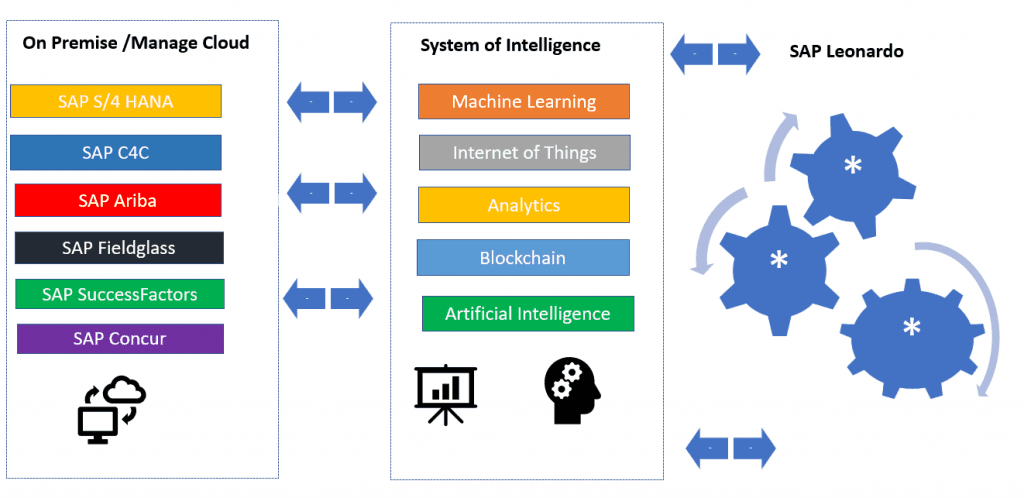 Leonardo components
Design Led Innovation :
Its Design-Driven Innovation Management methods, market, and users. The central mythology is the exploration, discovery, prototype design, and execution of a multi-phase approach.
Intelligent Technology:
Smart technology by Leonardo enables artificial intelligence & cloud computing, including the Internet of Things (IoT), analytics, big data, and blockchain technology. Integrated technology as a platform for the automation of business processes,
SAP Cloud Platform :
The SAP Cloud platform offers seamless networking as a basis of Leonardo infrastructure, integration, and processing applications are tightly integrated through Leonardo. data processing, and multi-cloud infrastructure support.
Benefits of SAP Leonardo
In line with a current problem statement, Leonardo's solution allows for synchronizing intelligent people, staff, and business processes.
Core intelligence spreads across the enterprise, thinking people are connected to business processes. Digital transformation, backed up by SAP Leonardo, results in an insightful, agile, effective organization ready to disrupt the present business process and build ready-made future opportunities.
Intelligent technologies such as machine learning can make data from the business available from supplier to customer to produce real-time analytics in a collaborative environment, allowing machines or employees to make real-time decisions.
Deployment option
According to sap recommendation, it can be deployed in three ways below.
SAP Leonardo Embedded in the sap solution portfolio –
The embedded sapphire product is a big benefit of SAP adoption. SAP Leonardo Technologic, including Blockchain machinery. AI, analytics, analytics. The SAP S/4 HANA, SAP Ariba, and SAP digital supply chain management are seamless tool.
Open innovation
Open innovation choice uses Leonardo's transparency and versatility to build customer-specific solutions to market challenges and exploit cutting-edge technology.
SAP Guided outcome
It offers a definite collection of market results using SAP application portfolio items & capacities. It allows any organization to choose the desired result easily.
Conclusion
Businesses may optimize internal business processes and guide technological innovation with SAP Leonardo, a cutting-edge platform for technology innovation. With state-of-the-art features and technological capabilities, SAP Leonardo gives businesses the tools to stay ahead of the competition and satisfy customers, providing an edge and accelerating their growth. SAP Leonardo may be the answer to speed up development while staying on top of technical advancements.I hope this blog helps you to understand the application. Check out these tutorial links to learn more about SAP. Happy Learning ..!!
You might also like the below articles.