In this blog, we'll talk about SAP HANA Hardware. Any company's decision to invest in SAP is significant. There are many factors to consider when selecting the right system for your company, and it is not always easy to know what you should be focusing on. An essential factor in the hardware selection process is performed. You want to ensure that your system can operate at maximum capacity and efficiency so that you can get the most out of your investment with the least amount of downtime. Here are some top tips for maximizing your SAP HANA hardware investment.
Introduction of SAP HANA Hardware
Thousands of firms around the world have implemented SAP HANA, and it has become a significant part of corporate operations in a variety of industries, but there are many misconceptions about its use and deployment. Before you dive into the world of SAP HANA and start making decisions on SAP HANA Hardware, it's important to first understand what SAP HANA is, what its potential benefits are, and how to choose the best SAP HANA Hardware for your company's needs. In this guide, we'll discuss several factors that come into play when selecting the appropriate hardware to power your SAP HANA deployment.
What is SAP HANA
SAP HANA is an in-memory database platform initially developed by SAP AG, and this database solution is offered by SAP AG to its customers. SAP HANA can be deployed either on-premises or in the cloud; however, the hardware selection process is fundamentally different between these two scenarios. In this article, we'll talk about how to select the best hardware for your SAP HANA deployment, and we'll also explain what you should consider before you buy any hardware at all.
SAP Hana certified hardware
SAP HANA Cloud Platform offers certified hardware that is designed to run on the SAP HANA platform. This hardware is designed to provide the most efficient access to SAP HANA and ensure that it can keep up with the demands of modern-day business.SAP has a wide range of tools for measuring and monitoring cloud performance, including SAP HANA Cloud Platform, which includes certified hardware. The platform can help companies improve their cloud performance by providing insights into their cloud environment and helping them reduce risk by identifying areas for improvement.
SAP HANA Hardware Capacity Planning
The first step in an SAP HANA hardware selection process is to determine what capacity requirements you need. When selecting a new system, start with the capacity levels you desire and work backward to determine which configuration will best meet your requirements..
You must examine the type of data you will be processing when selecting a system with sufficient capacity. If your firm works with a lot of unstructured or huge data, you'll probably require a powerful system with a lot of storage. If your SAP system is simply supporting basic transactions and processes, then your hardware needs will be much less extensive. How many business users are going to go about their daily tasks ?
A good tip when choosing a new SAP HANA system is to make sure that it has at least twice as much processing power as your largest application instance. This should ensure that there are plenty of CPU cycles left over for other operations.
Let's take a closer look at the SAP HANA Hardware component, which will provide you with some useful information.
SAP HANA Hardware
SAP HANA is a limited version of the system. SAP HANA is restricted to be installed and managed only by certified partners. IBM Hp, Ciscp, Hitachi, Fujitsu, Dell ,are among the most prominent Hardware partners for SAP HANA. Explore SAP HANA, which can accelerate the process of implementation hardware for drives, as well as assistance to systems that are not entry-level storage solutions, as well as appliances .There are a few items on the list that are absolutely necessary.

With regards to hardware, it is no surprise that there are over 45 certified hardware devices. If you'd like to take an in-depth study of the list of SAP HANA Hardware that is certified, Additionally, with these appliances, they can verify a sane configuration using Enterprise Storage such as EMC VMAX and Violin. It is also possible to make use of every Intel server for non-production scenarios using any configuration. By obtaining these certificates, users have a lot of flexibility. They can pick the vendor, storage and networking that best suits their preferences. For certain situations that are not production-related, they are creating systems that are cost-effective. The main benefit is the ability for customers to ensure that their production hardware is properly provided. It is clear that a poor hardware provision could cause costly errors.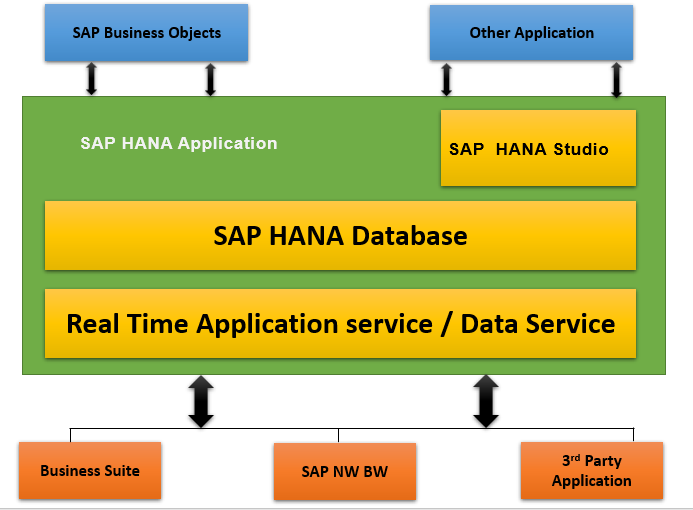 Technical Architecture Of HANA Hardware
The technical structure of this highly efficient framework is relatively easy to understand. These are just a few of the parts of the framework:
Server
It is built on Westmere EX platforms or the Nehalem EX platform from Intel. Because HANA is a massive rack-mount device, it can accommodate up to eight CPUs and 80 cores. It's a hardware service that you can buy from the web. For instance, you can purchase the DELL PowerEdge R910 and 1TB Random Access Memory costs around $65k on their official site.
Random Access Memory
There are a variety of RAM choices that can be paired with the processor of the HANA system. For instance, twenty cores can support 256GB of Random Access Memory. 1TB of RAM is about $35k.
Fast Log Storage
The best option can be the Fusion-io ioDrive Duo, although it's expensive. In specific settings, log and data storage is shared. The most recent version of log storage is called Fusion-io ioDrive 2. It is cheaper and more efficient in comparison to ioDrive.
Data Storage
It has a capacity of 4x RAM. In comparison to other single-node configs that are certified, it is the most affordable SAS directly storage. With this storage for data, it's possible to shut down the usage and carry out tasks such as backups. 1TB storage systems cost around $15-20K. In the case of multi-node configuration, it makes use of some sharing storage.
In addition to the price of hardware, it is also essential to take into account the cost of the installation service and support contract for the pre-built system that is provided by SAP HANA certified partners. SAP HANA.
SAP HANA Auxiliary Servers
Index Server
Every component of SAP HANA architecture has a distinct role to fulfill and also a service that aids in the operation in SAP HANA.
Index Server Index Server serves as the primary server of the SAP HANA architecture which has the storage of data (having real data) and the processing engine. queries in various languages such as SQL and MDX are received by the index server and are processed through various servers and components within it. The transactions and authentications are handled by the index server. The index server also includes an element that handles transaction logs and records information. The parts of the server include: Relative Data Engine Relational Data Engine This engine is responsible for the mechanism used for in-memory storage. Incoming data is organized into columns or rows. It also manages table relationships with respect to one another.
Name Server
The name server within the SAP HANA architecture maintains the details on the topology or the landscape that is the SAP HANA system environment. It provides information about the names and locations of components. The server is responsible for monitoring and managing the topology of the connected servers, or nodes. It speeds up the processing process by reducing the need to re-index because it stores information about the type of data is stored on which server
Pre-processor Server
The pre-processor server within the SAP HANA architecture is a text-analyzing server that processes textual information. The service offered via this module is utilized in text search. Every time a request is initiated this server is able to process textual data and then provides it, users, with the information they need.
Statistical Server
This server evaluates the health and performance of the components that comprise the SAP HANA structure. It gathers, stores, and analyzes information related to the consumption, allocation, and status of the system's resources. This data is stored and utilized to analyze the performance of the system in the future.
Document server
The document store repository requires this server. The document supports native JSON document operations as well as joins with other column or row store tables. This server is optional, and it must be manually started.
Script server
The script server is used to run C++-based application function libraries. The script server is an optional feature that must be manually started.
SAP HANA Services
XS Engine
XS Engine in SAP HANA architecture allows communication between outside applications ( Java and HTML-based) as well as the SAP HANA system via HTTP/HTTPS using the web browser. The XS Engine converts the system's state of affairs from the persistence model that is stored in the database to the consumption model that clients can use
Planning Engine
It creates SQL processing plan. The engine creates a specific plan that is specific to each request to the database. For instance, if a user asks for two database objects then a plan for loading the objects into the engine is generated. The engine that develops and regulates request execution as well as the filters that are applied during the process. It also manages the various levels of aggregations applied to data. It achieves maximum performance by using parallel aggregating processes.
Calculation Engine
This engine generates particular calculation models for each object and then applies them to the data in order to achieve desired outcomes. Calc engine also keeps the accuracy of the data.
SAP HANA Studio Repository
The SAP HANA Studio repository SAP HANA Studio stores information regarding the latest updates. It is possible to update the older version to the most recent versions by using this
Sizing in SAP HANA
"sizing" within SAP HANA refers to determining the hardware requirements needed for a specific SAP HANA installation requirement. The most important hardware components include CPU and memory (RAM) and hard disk. The most critical task in size estimation is to determine the size of the server that is for the business users' requirements. For SAP HANA, sizing is performed by making use of:
Quick sizer tool
DB script
One of the three methods for determining the size will execute the following three computations in the following order:
Calculating the most crucial memory need, i.e., performing a memory sizing process, is accomplished by estimating the amount of transaction and metadata data needed.
Calculating the CPU needs.
Calculating disc space requirements based on the user's data durability and logging expectations.
Top 10 Ways to Get Optimal SAP HANA Hardware Performance
The SAP Performance will depend upon solid hardware infrastructure and some planning. You should be able to optimize your SAP installations for the best performance. SAP systems are very powerful, but they require lots of infrastructure. In many cases, you can optimize performance by monitoring your system's performance and tweaking it as needed. It's important to keep on top of your SAP environment at all times; fortunately, there is numerous tools/Oss note that can help make system monitoring easier than ever before. If you want to know what tools can help keep your SAP hardware running smoothly, check out the below book details which you should know.
Now, in a nutshell, here are some ideas to help you maximize your SAP HANA hardware investment.
Provide the appropriate information to the appropriate individuals at the appropriate time to the Basis guys or subject matter experts (SME) that manage the system day in and day out.
Gain comprehensive visibility into each system to identify and avoid potential performance issues before they spiral out of control.
Eliminate bottlenecks and lengthy processes.
Monitoring system workloads and optimizing SQL statements to detect performance issues in ABAP programs, Examine your ABAP code's performance.
Monitor the application log
Analysis of database access
Keep your SAP system up to date by installing the most recent support pack.
Maximize system analysis, and develop a holistic understanding of your system architecture, including hardware, database, memory configuration, and work processes.
You Might Also Like the below articles
Frequently Asked Questions (FAQs)
Can virtualized environments work with SAP HANA?
While virtualization offers flexibility and resource optimization, SAP HANA was designed to be deployed on dedicated hardware to provide best performance. Using dedicated hardware for SAP HANA eliminates resource contention while offering direct access to system resources, resulting in optimal performance.
What are the effects of hardware failure on SAP HANA?
System outages, data loss, and disruption can be brought on by hardware faults. We advocate deploying fault-tolerant solutions, such as redundant power supplies, mirrored storage configurations, and high-availability clusters, to reduce such risks. These precautions protect your SAP HANA environment by enabling seamless failover.
How Can I Scale my SAP HANA System?
You have two options for expanding resources when growing your SAP HANA system: vertical scaling or horizontal scaling. While horizontal scaling refers to the addition of nodes to the system to disperse load among multiple servers, vertical scaling refers to upgrading specific components, such as boosting CPU cores or extending RAM. Decide on the best scaling approach, implement it, and then base it on the unique needs of your firm and expert consultation.