SAP MII is a standardized, highly flexible, and scalable IT platform built on NetWeaver (Java). As the central information interface, it ensures that all production data, including orders, materials, machine status, quantities, costs, and product quality, is visible in real time.
SAP MII was originally named lighthammer CMS( Collaborative Manufacturing suite ) owned by US Based company called Lighthammer software. Which was acquired by SAP in 2005 & re-branded as SAP MII, which was running on a Microsoft internet information server (IIS) . Later, SAP MII has been renamed to SAP Manufacturing integration and intelligence.
Introduction of SAP MII
Change is unavoidable in the twenty-first century, both in daily life and in business. Specifically, in the manufacturing sector, enterprises today face enormous challenges that force them to change the way traditional manufacturing processes operate in the industries. To address these issues, Sap is promoting a new concept known as adaptive manufacturing.
The SAP definition of adaptive manufacturing is simple. Adaptive Manufacturing is the ability to replenish the supply chain profitably while dynamically responding to unpredictable change. This means that manufacturing operations must be flexible enough to be modified when necessary in a cost-effective manner.
Manufacturing integration and intelligence lets you integrate your plant and enterprise systems using SAP NetWeaver and display integrated data. Manufacturing integration and intelligence measures and compares plant and asset performance with various automation system infrastructures. SAP MII lowers the cost of synchronizing plant and enterprise business processes by employing the following techniques:
Plant system connectors
Business logic services
Integration scenarios
Major integration components of SAP MII are as follows
Data Service for manufacturing plant floor connectivity
Message service for enterprise connectivity
SAP MII as a Manufacturing integration Platform
Manufacturing synchronization is a key enabler of adaptive manufacturing and is supported by SAP MII as a primary feature, enabling you to synchronize your enterprise business application with manufacturing plant floor application in real-time.
SAP MII – Flexible Standardized & Scalable
SAP MII is a scalable IT platform based on a NetWeaver (Java), standardized, and very flexible. It ensures that all data from the production sector is visible in real-time, including order information, materials, machine status, amounts, costs and product quality, as the central information interface. All relevant data sources and data recipients can be networked without integration gaps by connecting existing manufacturing control systems, MDA/PDA, touch screens, scanners, and other mobile input devices.
Visualization with SAP MII
In order to improve understanding and to make faster choices in production, visualization is an important prerequisite. User-dependent information can be easily and in real-time presented with SAP MII in material flow monitoring, monitoring systems, control rooms, dashboards and cockpits, and KPIs, for instance in OEE reports. SAP SSCE is a powerful environment for creating dashboards for drag and drop in SAP MII. The SAPUI5 technology, which is based on HTML5, is the basis for rapid interface development and mobile MII applications.
SAP MII Architecture
SAP MII has been developed and optimized for the application in the process industry, and serves as the basis in discreet production for seamless integration into SAP ERP for all the SAP Manufacturing Execution (SAP ME) applications. SAP MII provides a foundation across all industries and is both the SAP ME to SAP ERP interface and the SAP MII to UI interface. SAP MII is NetWeaver-based and Java-based. SAP MII is the basis of applications such as SAP OEE or SAP batch fabrication.
SAP MII 12.0 runs on sap NetWeaver 7.0 Java Webas as web application.It uses the standard service of SAP NetWeaver, such as identity management and logging, and provides its own functionary, including dada service , Business logic service, Visualization service, message service by various modules development using J2EE and Deployed in the Java Webas.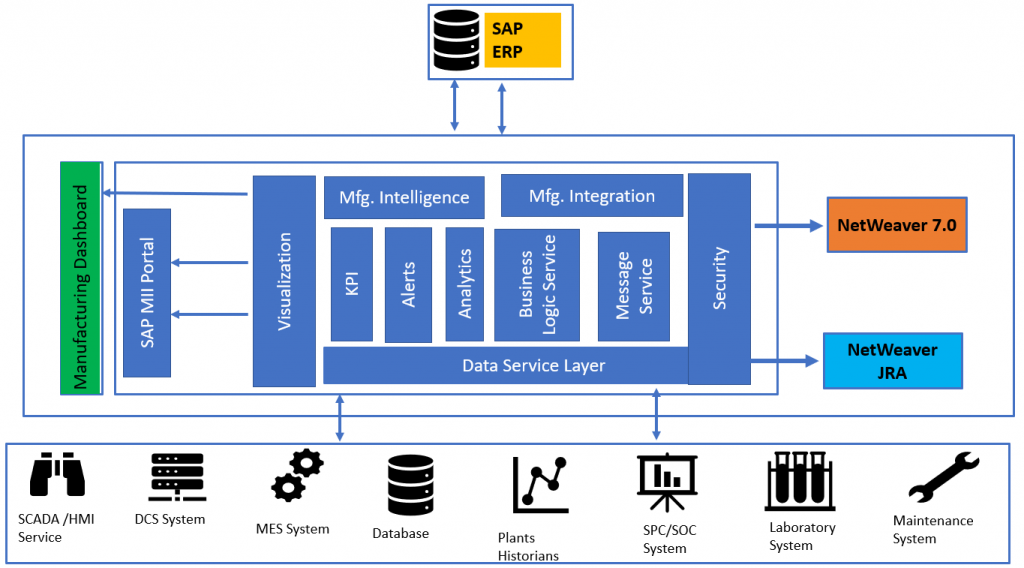 SAP MII is an Open platform that integrated the various system used for manufacturing execution operation
SAP Overall Equipment Effectiveness Management
As part of the SAP Manufacturing and Intelligence App, you can evaluate the performance of your plant in real-time and historically, with SAP OEE (Overarching Equipment Effectiveness) management application. To obtain metricians that measure accessibility and performance of equipment and quality of goods produced by that equipment, SAP OEE employs common sources of manufacturing information.
The following features are provided by SAP OEE:
Allows the collection of all manner of production losses and data gathering which can extend beyond the traditional KPI definitions of the OEE.
The dashboards of the OEE allow the collection of production data relevant to OEE such as downtimes, quantities, codes of reason, etc.
Provides integration of SAP ERP, shop floor (SAP MII), and analytics systems (SAP HANA) out of the box.
Analytics and charts focusing on OEEs and KPIs associated with production loss. Extract the ability to allow root cause of loss analysis provides you with an overview of the reasons for losses.
Customization of analytical report flexibility.
SAP Manufacturing Integration and Intelligence Self Service Composition
A robust and lean, standard-based platform for creating, designing, configuring, and displaying dashboards based on your needs. SSCE is a strong SAP Manufacturing Integration and Intelligence (SAP MII) drag and drops environment for the creation of dashboards.
Create dashboards with all SAP MII content, UI elements, and Plant Information Catalog Tags (Display Templates, MDO/KPI objects, and resource files).
SAP MII Provide bi-directional data access both in synchronous and asynchronous mode to enterprise and manufacturing plant floor system.
Its integration capability is unique because is provide specific data connector to various standard manufacturing plant floor system, as well as seamless connectivity to SAP ERP using standard protocols such as SAP Java Connector, ALE and Web service, unlike the application and system such as the process historian LIMS, SCADA, DCS and MEES, which have a specific purpose such as maintain process data, quality information, execution scheduling and so on,
Key Feature of Manufacturing integration and intelligence
Universal Connectivity to real -time plants floor data
Provide an extensive library of plant system and application connectors
Exchanges data with virtually any plants floor level
Utilized standard APIs , Communication standards ( for example OPC) and data access methods to connect to these system
Require no modification to the existing plants floors system
Perform transactional exchange of information with SAP ERP
Offer real time accessibility accessibility to transaction data the plant and enterprise level.
Synchronization of SAP ERP and Plants Floor system and process
Extends the models, rules, and processes of sap manufacturing (ERP) for use in plants floors process
Uses standards-based communication structure to simplify the processing and interface requirement
Provide easy development tools to helps address requirements, information, and process specific to particulars manufacturing sites
A portfolio of data service
Provide single manufacturing data service for other composite application
Provide local data caching for vital information as needs to support 24X7 Operation
Exposes all integration level process to enhance manufacturing intelligence application
Additionally SAP MII includes the following business scenarios as below
Shop Floor Production Integration
Shop Floor Quality Integration
Content Versioning
Ad Hoc Reporting
Transactions for BAPI Consumption
Trend Chart Visualization
KPI and Alerts
Plant Information Catalog
Energy Monitoring and Analysis
Business Objects Integration (Dashboards and Crystal Reports)
Joined MDO, Join mode on MDO Queries
OData Services
Self Service Composition Environment
OEE Management with HANA
OEE Management without HANA
Latest versions of installation and upgrade guides
FAQ's about Terminology use in the articles
How do I install SAP MII?
Go to SAP Market Place. Choose Download Software Support Packages and Patches A-Z Index X SAP XMII. Select the option SAP MII.
Download SAP MII and OEE Software Components
What is PDA & MDA
PDA Means Process data acquisition (PDA) & MDA means Machine Data Acquisition
What is OEE report?
OEE (Overall Equipment Effectiveness) is a report identifying a true productive percentage of the time of production planned & Effectiveness of Equipment
Here are a below couple more articles to help you improve your knowledge.