In this blog, I'll attempt to provide an overview of SAP Integrated Business Planning, or SAP IBP for short.SAP Integrated Business Planning (IBP) is a supply chain planning and execution software solution developed by SAP that is cloud-based. It is intended to assist businesses in improving the accuracy and responsiveness of their supply chain planning by integrating data and processes from various functions such as demand planning, inventory optimization, supply planning, and response and supply management.
IBP SAP provides real-time visibility into demand, supply, and inventory using advanced analytics and machine learning algorithms, allowing businesses to make data-driven decisions to optimise their supply chain. It also provides tools for collaboration and communication among different teams and stakeholders, assisting in ensuring that all relevant parties are on the same page when it comes to supply chain goals and objectives.
Where can we apply SAP IBP?
Companies in a variety of industries, including consumer goods, high technology, and pharmaceuticals, use IBP to improve supply chain efficiency and effectiveness. It can be integrated with other SAP systems as well as non-SAP systems to provide a comprehensive view of supply chain operations.
Introduction of IBP
Digital transformation changes the way we buy, sell, distribute, store and plan, communicate, coordinate, collaborate, and, in general, the nature of how we run businesses. The availability of many tools and methods that enable digital technologies to be more efficient, faster, more flexible, more customer-oriented, less expensive, innovative, etc. is a major influence on the success of businesses. To meet customers' high expectations and fulfil their needs
Businesses and supply networks are among the best examples of digital transformation and some of its most important movers. Their complex environments are the main reason for higher profits through increased sales and lower costs. Digital transformation is starting to pay off for businesses. There are still many opportunities for improvement through the use of emerging technologies and products.
What is the difference between SAP IBP and APO?
SAP APO was once the best planning tool for PP. But it has changed. SAP IBP was deprecated These are the core components of SAP APO:
Demand Planning
Planning for Supply Networks
Production Planning and Detailed Scheduling are now part of SAP S/4HANA
Global Available-to-Promise (GATP)
Transportation Planning/Vehicle Scheduling
SAP Integrated Business Planning (SAP IBP), a cloud-based SAP HANA solution that helps companies manage their strategic, tactical, and operational goals in an integrated environment, is SAP SAP Integrated Business Planning.
SAP IBP's key features include real-time simulations that simulate business scenarios in order to bring together demand, supply and financial models.
Collaboration is key to reaching agreement on business decisions
The user-friendly interface is possible while still making use of the immense data processing power of SAP HANA.
What is SAP Integrated Business Planning (IBP)
The Integrated Business Planning (IBP) approach focuses on merging inventory, sales, supply, and financial planning together into a single, consistent plan that is beneficial to all employees. The plan is approved by all executives and management. This makes it easier and faster to align supply and demand, strategic and tactical planning, and execution.
SAP Integrated Business Planning, a cloud-based solution that is part of SAP S/4HANA Business Suite comprises five modules. It's designed to help companies manage complex supply chains and plan their operations. Each module uses a standardized data model to give real-time supply chain visibility.. The integrated planning environment with no silos, and thus reduced effort for data synchronization allows users to run multiple simulations and perform what-if scenario analysis in a faster planning cycle. SAP JAM allows social collaboration and makes it easy to handle exceptions with tasks and alerts. SAP IBP management can accelerate planning and decision-making. SAP IBP makes use of two user interfaces (UI) to optimize the User Experience (UX). Fiori Web Interface (for planning) and Microsoft Excel (for decision-making).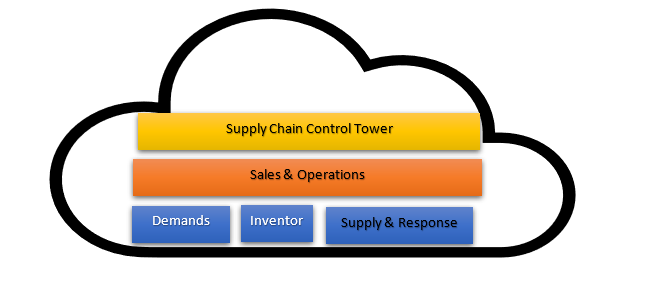 What is SAP IBP used for?
In the SAP IBP solution, the following applications are included:
SAP IBP for Supply Chain Control Tower:
The Supply Chain Control Tower allows users to monitor, analyze, and manage all aspects of the supply chain planning process in real time. Planners can quickly spot and fix problems in the supply chain, by reviewing KPIs and revising dashboards. This module has multiple functions that allow you to effectively visualize large amounts of data, create smart alerts, and drill down on aggregated information for more analysis. It includes built-in task and case management to help you solve problems efficiently and collaboratively. This module is connected and managed using SAP JAM.
SAP Extended Warehouse Management, (SAP EWM), and SAP Transportation Management are just a few of the many options available.
Key Advantages:
Provide dashboard and an analytics tool that provides real-time visibility into the entire supply chain.
it can use to set up alerts for potential disruptions in the supply chain but also drill down to the bottom level to determine the root cause of supply chain problems or disruptions.
This is compatible with other SAP supply chain and logistics solutions
SAP IBP for Sales and Operations:
IBP for Sales & Operations is the heart of SAP Integrated Business Planning. It is essential for seamless integration of Sales & Operations Planning. It includes the steps of supply and demand review, their balance, and integration. Users can also perform What-if analyses, which allow them to model alternative scenarios. This module allows stakeholders to align their long-term strategic supply chain planning with operational short-term planning in order to increase capacity utilization, inventory levels, and on-time delivery.
Key Advantages:
This is synchronized with operations (production, procuration).Logistics planning. we can use multiple forecasting models in conjunction with the ability to simulate different demand, supply and financial models is a key feature of this software.
This apps provide a comprehensive view of the entire supply network that includes suppliers, customers, manufacturing units and distribution units. For a fast and efficient process.
This SAP IBP application is easy integrated with Microsoft Excel interface
SAP IBP for Demand:
IBP for Demand aims to provide a more precise demand plan, which can be used to forecast more accurately and allow for more efficient execution. It provides the ability to cleanse and clean historical data, calculate statistical forecasts using advanced algorithms, adjust short-term adjustments through demand sensing, and compare different scenarios. A fully integrated demand planning process can result in lower inventory and higher service levels.
Key Advantages:
This application can only forecast the demand to an extent; the key is to predict it better.
Demand forecasting and working backwards to assure timely supply is based on a collaborative, consensual approach.
Supply chain planners can quickly use signals such as confirmed sales orders to help them. we can adapt supply strategy accordingly .
SAP IBP for Inventory:
This module provides advanced inventory planning solutions for complex supply chains. After reviewing the input data, planners can perform single- and multiple-level inventory optimizations as well as What-if analyses. This results in a standardized inventory target setting for each tier of the supply chain. An optimized inventory plan can improve delivery service, reduce working capital, and increase efficiency in production and distribution.
Key Advantages:
SAP IBP inventory allows us to model the entire inventory network from the raw material supplier to the customer, and all the logical supply chains links in between.
The SAP IBP application uses an advanced algorithm that balances inventory investment with service level at each supply chain link. This allows for the creation of optimal inventory and service levels for each product or physical location combination.
This SAP IBP application is able to determine where and how much product inventory should be available in multi-sourcing environments.
SAP IBP for Response and Supply:
Planners can use IBP for Response and Supply to perform rough-cut capacity planning and analysis using constraint and unconstrained supply plan algorithms. They also have the ability to work on priority-driven planning
Response and Supply Planning application simulates capacity planning and evaluates various planning scenarios. It considers the cost of production, procurement, inventory and warehousing.
Response planning takes into account demand variability. It also considers how to best allocate constrained supplies to ensure the highest level of service and fill rate, while keeping costs low.
Please check these tutorial links in order to learn more about SAP…..Until then Happy Learning…!!!