SAP FSCM stands for financial supply chain management. It is the management of demand and supply for cash/cash equivalent. This suite of applications, FSCM functionality, helps companies manage their costs better. This blog will discuss the features and functionality of SAP FSCM, and how they can be used to benefit businesses.
The SAP FSCM is one of the hottest modules in the SAP ECC. It is an excellent feature of SAP. But it is not that easy. SAP FSCM is a vast module. The scope of this module is from managing the cash flows from the customer order to the money received from the customer. It is also used for forecasting the cash flow for the manufacturing order by checking the availability of funds and funds needed. It is also used for common tasks like budgeting and planning. It has a lot of importance for the finance department of the organization.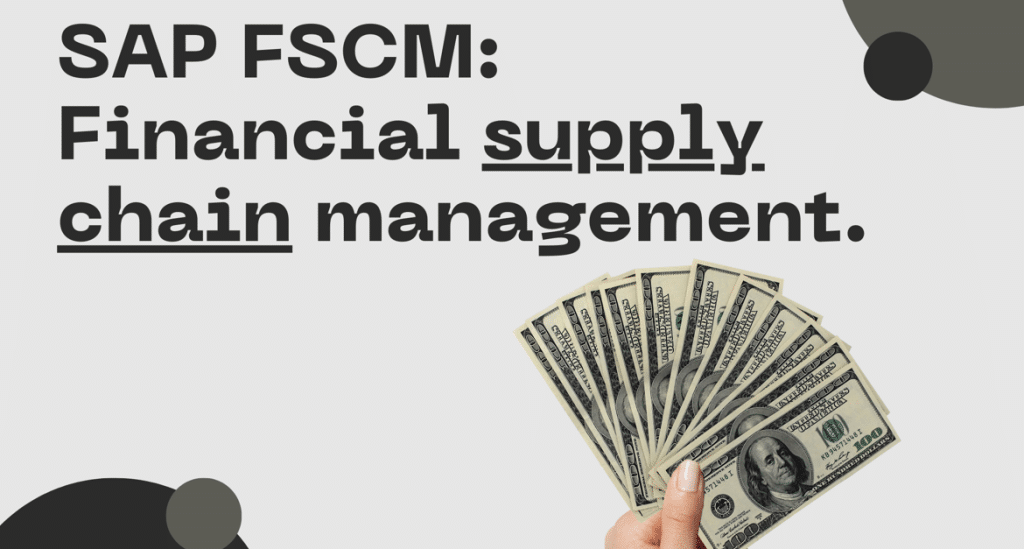 SAP fscm Concepts
SAP Financial Supply Chain Management (SAP FSCM), a suite that provides a complete solution to customer billing disputes, receivables, and collections management, is SAP FSCM. SAP FSCM allows us to efficiently manage our company's accounts receivables and ensure cash flows through online billing. Customers can also use this FSCM module to view and pay bills via the internet or make inquiries, comments, or disputes which can be used by Business Online, which you can reply to or resolve.
SAP FSCM can be used to enhance business processes in key areas such as receivable management, working capital management, and cost management of payments. SAP Net weaver technology enables SAP FSCM functionality to increase the reach and improve integration – both within SAP ERP and with other application
SAP FSCM Benefits
Integration with customers/Vendors with minimal customer or supplier infrastructure needs, resulting in a higher rate of adoption
Manual activity reduction
Reducing efforts in communication and coordination leads to overall ownership costs
The multiplying functionality of business partners provides greater flexibility and integration
The information available in real-time
SAP FSCM Functionality :
Collections Management
Dispute management
Credit Management
Biller Direct/Electronic payment
in-House Cash management
What is SAP FSCM collection Management
If accounts receivables are not dealt with in a proactive way, they can impact a company's cash flow. This can increase the risk of customer default as well as the cost of running the receivables department. SAP Collections Management assists businesses to proactively managing their receivables. Receivables can improve the overall financial performance.
SAP FSCM Collections Management is a SAP FSCM module developed to help firms manage their accounts receivable (AR) collection process. It provides enterprises with a variety of tools for tracking late payments, prioritizing customer accounts, and successfully coordinating the collecting process. The key features of this software include worklist management, contact management, dispute resolution management, and reporting.
Worklist management enables businesses to prioritize client accounts based on a variety of criteria, such as time of receivables, payment history, and credit score. Contact management allows you to track all customer communications, including as emails, phone calls, and letters, whereas dispute management supports businesses in resolving invoice disputes. Reporting can provide useful insight into AR collection operations, such as past-due payments.
Companies that use SAP FSCM Collections Management can improve their AR collection process by effectively managing and prioritizing late payments, communicating with customers about late payments, resolving invoice disputes quickly, and learning how to best handle AR collection processes.
SAP FSCM Collections Management can provide a number of benefits to collections management procedures, including increased AR collections, lower expenses, increased efficiency, and improved compliance. It aids in the automation of AR collections by sending reminder letters or making phone calls. This helps to lower the associated costs. Furthermore, because it automates a range of collections activities and assures compliance with financial regulations by automating these collection-related processes, its centralized view of AR data will provide improved efficiency.
Companies wishing to optimize their AR collection process, save expenses, and assure compliance should explore SAP FSCM Collections Management.
What is SAP FSCM Treasury Risk Management
An integrated set of tools called SAP FSCM Treasury Risk Management (TRM) helps firms manage their treasury operations and financial risks. It gives a thorough overview of treasury duties such risk analysis, compliance reporting, and cash flow forecasting. Organizations can select from optional modules like commodity risk management, liquidity management, and compliance management in addition to required modules like transaction manager, market risk analyzer, credit risk analyzer, portfolio analyzer, and accounting analyzer. SAP Treasury Risk Management (TRM) reduces financial risks, ensures compliance, boosts visibility, and facilitates improved decision-making to enhance treasury operations. For efficient treasury operations management and streamlined financial operations, take into account SAP FSCM Treasury Risk Management; it is scaleable to meet businesses of any size.
What is dispute management FSCM?
Disputes can be a nightmare for receivables functions across the company. Inefficient and inappropriate dispute management processes not only impact the financial performance but also negatively affect the customer relationship over the long term. SAP Dispute Management is a tool that can be used by businesses to improve the management of short payments.
SAP Dispute Management helps customers resolve disputes quickly and efficiently. Managing disputes can involve many departments such as finance, logistics, and sales. SAP Dispute Management allows for integration between these departments, along with the tracking of dispute cases and management in a centralized platform. Automating the entire process of managing dispute cases can reduce human intervention and facilitate collaboration between different departments.
SAP Dispute Management facilitates the resolution of a receivables-related dispute. Many vendors have to deal with large numbers of payment derogations or delays due to customers not informing suppliers about payment reductions and nonpayments in advance. This results in declining cash collection percentages and decreasing day sales outstanding (DSO).
SAP Dispute Management is a market-leading solution for integrating dispute resolution into the order-to-cash cycle.SAP Dispute Management reduces collection costs by allowing us to resolve disputes sooner in the settlement process. It can also help facilitate Collaboration across departments increasing operational efficiency and cooperation. SAPDispute Management allows us to process these disputes using a unique reason code for each type. Any business transaction that could result in a complaint. These codes can be used to identify the reasons for a complaint.
There may be differences in the price, quantity, quality, or delivery time. The status of a dispute is recorded by the system as either open or closed. This status along with the reason codes controls any subsequent actions related to the dispute, such as notifying employees through workflow processes or sending an e-mail message to the customer.
SAP Dispute Management consolidates all information related to a dispute in one business object: The dispute case. This SAP object acts as an electronic folder that consolidates all information related to customer disputes. We can view the reason code, processor, and disputed amount in one place. You can see the reason code, processor, disputed amount, and amount paid in one view. Our finance department can analyze a dispute case using SAP Dispute Management.
Review the invoices, notes, and accounts associated with a certain client. The drill-down capabilities of this application allow users to view information from other SAP FSCM applications – such as SAP Biller Direct, SAP Credit Management, and SAP CollectionsManagement.
Credit Management
Credit management reduces the potential for sales loss and increases the risk of receivables portfolio administration. In difficult economic times, a more efficient credit management process is essential. SAP Credit Management is a tool that can be used by businesses to help them manage their credit. Credit managers are effectively able to implement credit limitations effectively via close integration between SAP Credit Management and key ERP modules like sales and distribution.
Biller Direct/ Electronic Payment
Electronic Invoice Presentation and Payment (EIPP), which helps businesses cut costs by moving towards a paperless process, improve customer services by providing customer self-service, and decrease billing errors, is a great way to reduce costs. SAP Biller Direct integrates with the SAP ERP backend system to eliminate redundancies and inconsistencies.
In-House Cash management
If our company has multiple corporate accounts spread throughout its global organization structure, we may be paying an additional fee or giving away money to the banks by keeping minimum cash balances. We may also be taking.
We can have extra cash in our company, but we don't need to borrow money for certain parts of our business. We want to maximize the cash position across many company codes, geographies, and product lines.SAP In-House cash can be used.
SAP FSCM Credit Management Configuration
Pre-requisite :
Parallel support is not provided for the FSCM and the classic credit management.
SAP credit management is the S/4HANA system's standard credit management feature but can be triggered already in lower releases.
FSCM is using BAdIs of the UKM R3 ACTIVATE and BADI SD CM which are the most important. You can search for active implementations in transaction SE18. Please refer to OSS note 2760814 if no implementation is active.
Sales and distribution (SD) and SAP Credit Management (FSCM) system components must also be configured to communicate. The UKM PI008 error indicates technical errors when sending data between systems. This mistake is defined technically by the BAdI BADI SD CM SD system when using the BADI BADI GET MASTER DATA method.
Business partners with role UKM000 defined Credit master data by credit management. Settings will be kept on 'General Data' -> 'Credit Profile' and' tab 'Credit Segment Data' in the UKM BP transaction (pre-selected for Role UKM000).
The Credit segment shall be the FSCM organizational unit. Create and assign the credit segments to the credit-control area of equivalence. Make the following IMG path configurations: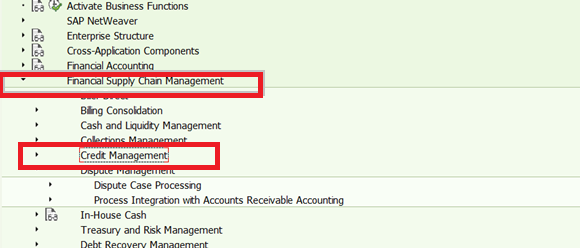 The important OSS notes released for SAP Credit Management activation are available (FSCM)
OSS Note -2706299.
OSS Note-2690237
OSS Note-2207394
OSS Note-2761313
OSS Note-2616393
OSS Note-2656921
OSS Note-2708680
You can also look at the following articles