The SAP SD integration with other modules is a major focus of this blog. SAP SD is usually built into the component. This has resulted in a holistic approach to sales and delivery processes. The SD module is incorporated into various transaction processing systems,
How is SAP SD integrated?
The central module within SAP software is SAP Sales and Distribution (SD). The unified modules of SAP consist of funding and managing (FICO), material management (MM), project systems (PS), production planning (PP), warehouse management (WM), and quality management (QM). SAP is the integration of various modules.
SAP Implementing SAP is a process rather than a functional approach, thus requiring close coordination among all implementing modules, which is key to successful implementation.
Let's move ahead and understand those points,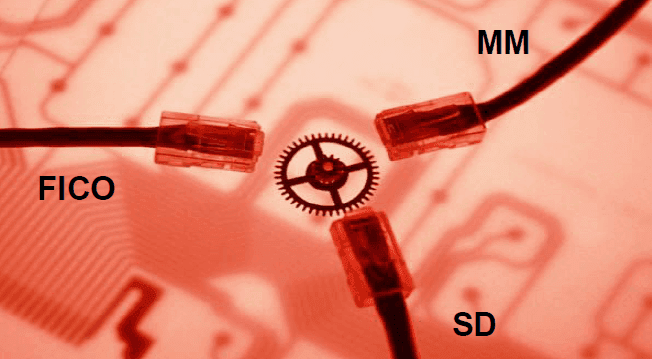 Sales Order –Integration points
Delivery & Goods Issue –Integration Points
Availability Check (MM)
Credit Check (FI)
Reduces stock (MM)
Updates stock valuation (FI/ CO)
Requirement Elimination (PP/ MM)
sap fi-sd integration Billing & Invoice -Integration Points
Debit A/R (FI/ CO)
Credit Revenue (FI/ CO)
Updates G/ L (FI/ CO) (Tax, discounts, surcharges, etc.)
Milestone Billing (PS)4) Return Delivery & Credit Memo -Integration PointsDebit A/R (FI/ CO)
Credit Revenue (FI/ CO)
Updates G/ L (FI/ CO) (Tax, discounts, surcharges, etc.)
Milestone Billing (PS)
Return Delivery & Credit Memo -Integration Points
Increases Inventory (MM)
Updates G/ L (FI)
Credit Memo (FI)
Adjustment to A/R (FI)
Reduces Revenue (FI)
lets deep drive to the below relationships
What is SD Integration with MM in SAP?
SD Integration with MM
When we create a sales order in SD, all the details of the items are copied from the material master of MM.
MRP and availability check-related data is also taken from MM, although you control this data in SD also.
While you create inbound/outbound delivery with reference to a sales order, the shipping point determination takes place with the help of the loading group, plant data, shipping conditions, etc. This also refers to the Material Master.
The material which you are entering into a sales order must be extended to the sales area of your sales order/customer; otherwise, you cannot transact with this material.
What is SD integration with PS in SAP?
SD integration with PS
billing plan, at each WBS element, network, and activity level.
A DIP profile is assigned to an item category. DIP for resource-related quotation works only with ECP ( easy cost planning).
General Sales Pricing: Generally, there are 2 types of sales pricing in PS: lump-sum contract and unit rate contract.
BOS -bill of Services. which has to be activated. It is an industry-specific solution. If BOS is activated you also have integration for vendor RFQ and Analysis.
Resource Related Billing
What is SD integration with MM & FI in SAP?
SD integration with MM & FI
When you create a delivery and post goods issue, goods movement occurs in the background. E.g. In the case of a normal goods issue, movement type 601 takes place. This movement type is configured in MM. Also, this movement type hits the "Cost Of Goods Sold" G/L account in FI. Every such movement of goods hits the relevant G/L account.
The accounts posting to FI are done with reference to the billing documents (invoice, debit note, credit note, etc.) created in SD. Values are posted to the relevant Revenue & Receivable G/L accounts.
All Billing transactions in the sales & distribution module will result in FI Posting. All accounting entries with respect to the billing will have one side of the account as a customer or receivable & another side to be a revenue account
What is SD integration with PP in SAP?
SD integration with PP
When a sales order is created, material requirements (Transfer of requirements) are generated, which are then transferred to production planning.
We need to configure the specifics of how we want to pass the specifications to production planning in the requirement class.
When we implement the MRP (Transaction Code MD02) program, production planning is produced based on the sales requirement.
When a sales order is created, say for finished goods we produce in-house, planned orders are generated for the line items in that order. With T-code MD04, we can view the list of stock requirements. The list we see there is attributable to running the MRP. This can be done on T. Coding MD02.
These requirements, i.e., planned orders, are now converted into production orders. Whatever raw materials are needed to produce those line items will be tested if available. Otherwise, the requirement will go to MM, and from there to a vendor. After they come, production takes place, and after quality inspection, the stock is put into unrestricted use. And the loop keeps running.
What is SD integration with WM in SAP?
SD integration with WM
Once the operation has been launched for the outbound distribution,
The respective deliveries are updated when cross-docking transfer orders are created and confirmed.
transport order (the outbound delivery serves as a request for transportation), transfer the goods from containers to temporary storage form 916, and finally confirm the TO.
What is SD integration with QM in SAP?
SD integration with QM
A final inspection will be randomly carried out before the final goods are dispatched to the customer.
When the products are delivered to the end consumer and in that if there are qualitative issues and the consumer returns the item, even at this juncture, quality inspection will be carried out on the customer's query. For this SD a required quality notification will be raised through which, the message will be passed on to quality.
Now follow these tutorial links to learn more about
Happy Learning ..!!