This FAQ continues from the last articles, We have tried to address the concerns of SAP MM students and professionals which are very frequently asked by the interviewer on SAP MM interview questions in the SAP MM Module.
SAP MM Interview Questions and Answers
What are the essential components in SAP MM?
Determine requirements
Source determination
Vendor Selection
Order Processing
Order follow up
Goods receipts and Inventory management
Invoice Verification
List out the important field in purchasing view?
The critical fields in purchasing view are
Base unit of measure
Order unit
Purchasing Group
Material Group
Valid from
Tax indicator for the material
Manufacturer part number
Manufacturer
What are various procedures for counting Physical Inventory?
Periodic Inventory (all stocks are counted on a set date)
Continuous Inventory (stocks are counted continuously throughout the fiscal year)
Cycle Counting (counting is done at fixed intervals)
Inventory Sampling (On the balance sheet key date, randomly selected material stocks are physically counted. If the differences are small enough, it is assumed that the other stocks' book inventory balances are correct.)
What is the use of 'Split Valuation'?
Within a valuation area, we may need to separately value various stocks of material. It could be due to differences in origin, quality, status, and so on. In such cases, we use split valuation. Material is managed in this case at several partial stocks that are sub-stocks of the main material stock. Any valuation-relevant transaction is carried out at this partial stock level. We define whether we need a split valuation for any material from an accounting standpoint.
What are the various stock valuation methods?
Stocks can be revalued using one of three methods:
LIFO (Last In First Out): Materials received last are consumed first. Consider the elevator, where people enter the last exit first!
FIFO (First In, First Out): Materials are consumed in the order in which they are received.
Stocks are valued using the lowest value method, which uses the original price or the current market price, whichever is lower.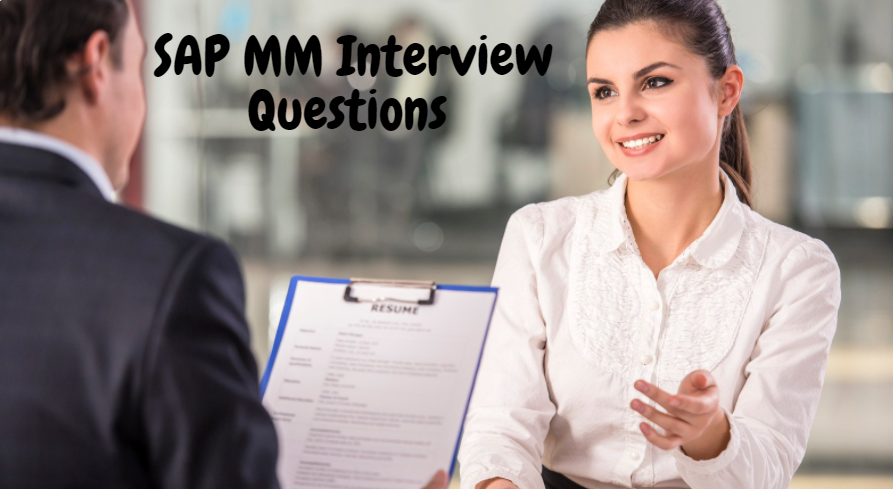 What are the requirements for an MRP Run?
MRP should be activated in that plant Master Data for MRP should be maintained (Planning Calendar, etc.) MRP data for materials should be maintained MRP1 view should be maintained (e.g., Reorder point, Safety stock, etc.) MRP2 view should be maintained (e.g., Planned delivery time, etc.)
What is a MRP Area?
MRP Area is an organizational unit that allows material requirement planning to be done independently. MRP Areas are classified into three types: Plant MRP Zone MRP Locations for Storage Subcontractor MRP Areas are assigned to materials in the material master after they have been defined.
What is MRP list?
During the planning run, the system generates MRP lists. The MRP list always shows the future stock/requirements situation as of the last planning run. The MRP list is kept in the system until it is manually deleted or replaced by a new list from a later planning run.
What MRP procedures in Consumption-Based Planning?
CBP's MRP procedures are as follows: Point Reordering Planning Forecast-driven Planning Material planning on a time scale
What is a 'Return Delivery?
Return Delivery is used when we need to return goods to a vendor for any reason, such as poor quality or poor packaging, and so on. In most cases, movement type 122 is used for return delivery. The reason for return is a required field when creating a return delivery.
What is the difference between goods receipts and post-goods receipts?

Goods Receipt: In SAP MM, product receipt is the physical inbound transfer of products or materials into the warehouse. It defines the transfer of products used to ship commodities purchased from outside vendors or created in-house. All product receipts result in an increase in warehouse inventory.
Post Goods Receipt: The Post Goods Receipt includes a reference to the purchase order from which the goods were ordered. It is used to document the receipt of products ordered with reference orders. If the material is supplied for a specific purchase order, the goods receipt item in the system must reference this purchase order.
How do I deactivate a vendor so that it can no longer be used in future transactions?
A vendor can be blocked at the following levels: All Company Codes Single Company Codes All Purchasing Organizations Single Purchasing Organizations Single
What is EAN?
An article can be transported in a variety of units of measurement. A European article number (EAN) is assigned to each of these units of measurement as a unique identifier. The most common application of EANs within a business is to identify articles at the point of sale (POS) using barcodes.
What are basic tables used for Material Master?
MAKT: Material Descriptions
MARA: General Material Data
MARD: Storage Location Data for Material
MARC: Plant Data for Material
MVKE: Sales Data for Material
MAST: Material to BOM link
MARM: Unit of Measurement
MBEW: Material Valuation
MVER: Material Consumption
MVER: Material Consumption
MVER: Material Consumption
MVER: Material Consumption
MVER: Material Consumption
MVER: Material Consumption
MVER: Material Consumption
MVER: Material Consump
Hear is the Complete list of SAP MM Table
Mention what are the major purchasing tables. List the transaction codes for them ?
Purchase requisition > EKBN
Purchase requisition account assignment > EBKN
Release documentation > EKAB
History of purchase documents > EKBE
In SAP, how do we create new transaction codes?
Using t-code SE93, new transaction codes can be created.

How can we know the moving average price of a item as on last month or before two months?
In the MBEWH table, enter the material number and year, and it will display the MAP of the material for that previous period.
What are settings required for GST implementation?
Maintain tax indicator for material in purchasing view like Taxable under GST, Tax-exempt under GST, Excisable under GST
Maintain GST registration number of the vendor in vendor master record
Maintain vendor tax classification like Registered or Not registered
Create condition types for condition-based tax procedure TAXINN

JICG – IN: Central GST
JISG – IN: State GST
JIIG – IN: Integrated GST
JIUG – IN: Union Ter. GST

Assign the condition types to Access sequence JGSI Access sequence for input tax
Create condition types for Non-deductible State, Central, and integrated GST and assign them to Access sequence JGSI – Access sequence for input tax
Create Account keys for the various condition types
Assign the condition types and respective account keys to tax procedure TAXINN in OBQ3
Maintain condition records in FV11
What are the phases of a new SAP project implementation?
Below are the phases of a SAP project implementation
Project preparation (As-is and To-be understanding. Here we understand the existing business process and how best to fit this client's business process into SAP. Also, we need to see if we need some customizing for any process or reports.
Business Blueprint Here we prepare a document on As-is and To-be process. This document will be used for configuration in the realization phase.
Realization Here we do the configuration in the development server. We also give FS for forms, reports, etc to the ABAP team which will work on the forms, reports, etc.
Final Preparation Here the Unit testing is done in the Development system and the configurations are transported to the Quality System and Integration testing is done in the Quality system by the Business process owner and end-users. This is done to check if there are any integration issues between different modules. Once everything is ok then the configuration is transported from quality system to Production system.
Go-live Preparation The collected master data is checked and uploaded into the Production system
Go-live and support Finally the Production system is ready to use. IT support is provided by the implementation partner.
What is a Cost Center?
Cost Center accounting is used for controlling purposes. It is an organizational unit within a controlling area that represents a defined location of cost incurrence. For example, any department can be designated as a cost center for the purpose of recording all expenses incurred by that department.
What is a Profit Center?
Profit Center Accounting assesses the profit or loss of individual, self-contained areas within a company. A profit center is an organizational unit in charge of recognizing profits. At the plant level, the profit center is linked to the material master.
What is a Business Area?
Within financial accounting, a business area is an organizational unit. It corresponds to a defined business segment or area of responsibility to which financial accounting value movements can be assigned. As it is linked to other organizational units, it is usually derived automatically. As an example, T-code OMJ7 manages the business area for a plant and division combination.
What is a Material Ledger?
A material ledger records all transactions involving the purchase and use of materials for the production of goods. Material ledger data is valuation and control information for a material in a plant for a given posting period. The material ledger contains data for material movements that are relevant to the material's valuation.
Recommended books to read
Here are a below couple more articles to help you improve your knowledge.