SAP Functional consultant evaluates the business requirement in speaking with the client's representatives transforms the business process into an abstract and algorithmic. enterprise Structure. Therefore, he identifies the use of circumstances and transforms them into logical and technical views.
What does SAP functional consultant do?
Then the primary job of the Functional consultant begins with Configuration & Customizing the respective enterprise structure and making SAP system as per the client business requirement.
Prepare Functional specification ,which describes technical details for the development that enables technical consultant (ABAP) to start developing custom objects or enhancements for the specific requirement from client.
The functional consultant also takes care of training to business users or end customers so that Business user can perform they are day to day activities without having an knowledge on sap functionality
The functional consultant assists the technical consultants (ABAP) by testing the behavior of the specific enhancement or development of new objects.
The post Go live, functional consultant ensures that the Business Processed (To Be scenarios ) remains usable, Operational as per the proposed solution agreed with the business
functional consultant's primary responsibility is to pass their expertise to the client. Knowledge, process comprehension, a sense of faults, handling common issue & troubleshooting.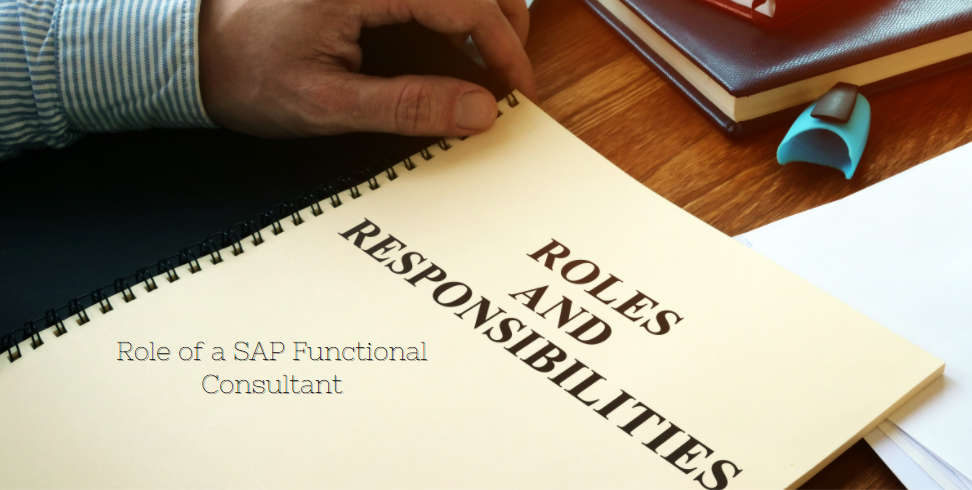 Role & Responsibility of a Functional Consultant in an End To End Implementation
it would be impossible for anyone to describe the role of a functional consultant in an end-to-end implementation based on real-life experience. It depends upon the project, role & responsibilities assigned to the consults. Anyway we will try to summarise it
A functional consultant's job started with requirements gathering in implemation projects. Know about current business processes, designing to be business flows, studying current business processes and their complexities, and,
in general, Functional consultant understand current business process by conducting workshops with the clients resprentative. Define data flow chart diagrams and Data Flow Diagram will generated along with AS IS & TO BE.
Everything configured must be fully documented categorically in the form of predefined templates call Business requirements statement , blue print ing .which must then be approved by the business leads or whoever the consultant reporting authority.
Mapping and GAP analysis are performed for each module. I've seen people define integration after mapping, gap analysis, and configuration, but in my experience, it is a simultaneous process.
This documentation is called TO BE, which can be used as a resuspense for mapping and gap analysis before starting to configure future business processes in SAP.
Functional consultants should also prepare test scripts to test the configured scenarios at times.
Functional consultants are also expected to provide final user manual and user training.
Provides users support, support and training.
The project will usually be launched by a Kick-Off meeting, during which the size of the team, team members, reporting system, tasks, methodology, dates and timetables are formally defined.
SAP implementation standard methodology that SAP prescribes but is not obligatory for any company to follow, such as IBM to use some Blue Methodology. Certain companies follow typical SDLC steps, ASA PS stands for Accelerated SAP.
What is the meaning of Functional and Technical Consultant's?
SAP Functional means functional knowledge that can be used with Business processes. E,g SAP SD Consult's having deep understanding as functional processes like Sales, Distribution etc
In contrast, SAP technical consultants may be ABAPER who also has a little bits functional skills and can carry out technical tasks, such as report development, customer requirements, system changes, enhancement etc.
How do I become a SAP functional consultant?
The expected skills of an SAP Experience require in functional consultants. Comprehensive knowledge in Domain as well as in SAP (specific module).like Sales & Distribution, Material Management.Good communication skills and ability to present. SAP consultants often have to interface with customers and understand the needs of customers. An SAP consultant should be good at explaining to non-technical persons technical information
What are functional roles?
A functional role is a set of skills and activities performed by the functional consultant within an organization, such as a Business analyst, Change manager ,Business Process expert, Data migration leads etc

Here are a couple of other articles that you may check out.