Today we'll discuss SAP MM or material management modules. It plays a vital role in procurement, which is known as Materials Management (MM). This will help you understand how the SAP Purchasing component integrates into the SAP Landscape. SAP Material Management is an exciting area for SAP consultants and for anyone with an interest in the supply chain process. Quest Consultants is looking to expand our SAP Material Management practice, and we're looking for bright individuals who want to work in this area.
As you must be aware, the SAP ERP system is divided into various functions called modules or components. Each functional area a tightly integrated with one or more core modules. Materials Management (MM) is the SAP ERP component that contains most of the purchasing, or procurement, activities.
sap material management Module of the Logistics components of the SAP ERP system executes several different processes within a company including materials planning, purchasing, inventory control, and inventory valuation. It manages the orders to vendors, including individual orders, contracts, and scheduling agreements. The topics discussed in this book reside in this component under the Purchasing, or Procurement, subcomponent.
What is a SAP MM?
SAP MM (Materials Management) is a module in the SAP software system that provides functionality for managing the procurement and inventory of materials and supplies. It is used by organizations to plan, execute, and monitor their procurement and inventory management processes, including purchasing, goods receipt, and invoice verification. Some of the specific functions that SAP MM can perform include:
Material master data management: This includes creating and maintaining data for materials, vendors, and pricing.
Purchasing: This includes creating and managing purchase orders, requesting quotations from vendors, and monitoring delivery schedules.
Goods receipt: This includes receiving and inspecting incoming goods, and posting goods receipts to the SAP system.
Invoice verification: This includes verifying and posting vendor invoices, and reconciling them with purchase orders and goods receipts.
Inventory management: This includes managing stock levels, conducting physical inventory counts, and generating reports on stock levels and movements.
SAP MM is often used in conjunction with other SAP modules, such as SAP Production Planning (PP) and SAP Sales and Distribution (SD), to provide a complete end-to-end solution for managing the procurement and inventory of materials and supplies.
The SAP MM Module can plan and execute the entire process of steps involved in its supply chain, from the sales forecasts, master production scheduling, production planning, purchasing, and inventory management, to warehousing-along with the logistics chain that is involved in the distribution of the company's products, shipping, transportation planning, and yard management. Procurement plays an important role in most of these activities.
There are two key elements is SAP MM Module.
Procurement
SAP MM Module Procurement is a functionality that describes the activities and processes required to acquire goods and services. This includes defining the requirements for goods and services, establishing a source of supply, negotiating contracts, performing vendor evaluations, and purchasing, which crowns these activities with purchase orders, brings the goods into the warehouse and finishes with payment to the supplier. Purchasing refers to the buying and receiving of goods and services. It is a subset of the broader procurement process.
Before we discussed more purchasing process-related SAP MM Module, let's understand Material Requirements Planning. this is an important part of Procurement
What are Material Requirements Planning in SAP?
Material Requirements Planning (MRP) is the submodule that monitors monitoring all of the needs of the different materials that any organization either buys or sells. It can start off with the Planned Independent Requirements or collective Requirements (PIRs) generated during MRP execution or from sales forecasts to generate procurement proposal materials (BOM) and generate the pegged or inherited requirements for each of the components that form that finished good. Planned production orders are generated for manufacturing depending on the lead times for making or assembling the product and on the purchasing lead times of each of the components before you have stock for sale.MRP is tightly integrated with  Production Planning and Control (PP) when we produce goods in our plant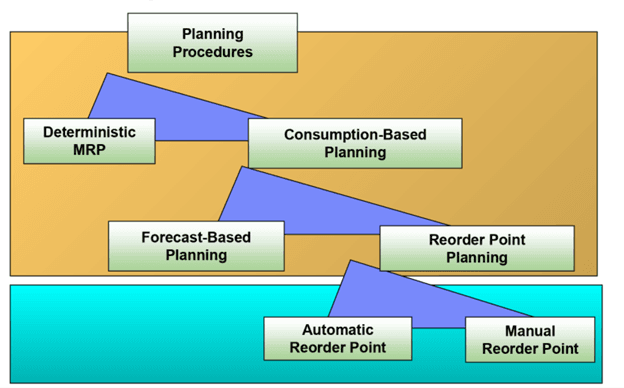 Purchasing
Now if we are not producing goods in the plant, then we need to procure goods from a vendor or supplier, here MRP comes into the picture. MRP runs linked, triggering purchase requisitions for those components that are either missing or that have to be replenished after consuming the quantities taken by manufacturing.
Or initiate the purchase process, SAP MM can either create individual purchase orders or have agreements with the vendors that help a company secure lower prices, have quantities of materials available on certain dates, or both. These agreements also serve as a way to communicate to the vendors the consumption forecast for some materials and to arrange deliveries of smaller quantities more often to reduce the inventory to a manageable minimum by issuing various documents.
Let's say purchase order document l is a long-term purchase agreement with the supplier. Purchasing decides whether we can place orders using existing quotations or if we issue additional requests for quotations (RFQs). To a large extent, the system can automatically create purchase orders based on the strength of existing data. For example, if we allocate items to outline purchase agreements, the system can automatically create purchase orders. In addition, the system can perform the below processes with the SAP MM Module, such as Vendor evaluation, Vendor selection volumes (regarding material or a vendor), Monitoring ordering activities, Buyers and material planners, Stock levels, stock availability (locations and time), vendors, Purchase order histories, delivery dates, open-order quantities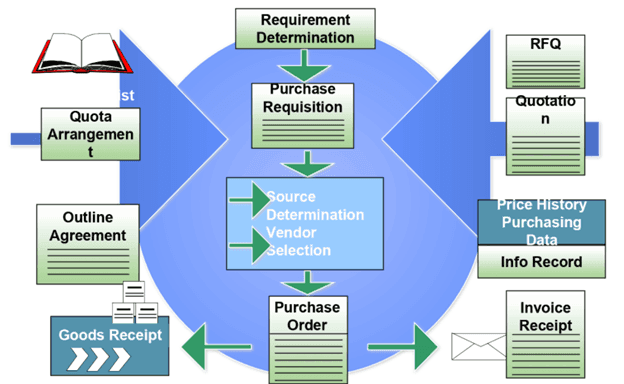 Manage Inventory & valuation
SAP MM Module keeps track of all of the receipts and all of the issues of materials. At the same time, it maintains the real-time stock quantity for each material and, if necessary, of each batch. These stock quantities are valued based on the individual value set in the material master. Goods receipt, Return deliveries, Planned and unplanned stock withdrawals, Stock transfers, Reservations Stock adjustments, Using real-time entry, checking, and correction of goods movements, the system, keeps data up-to-date and minimizes errors. This is an essential prerequisite for accurate and efficient materials planning and control.
Hope you understand the SAP MM Module process flow, Check out these tutorial links to learn more about SAP ..Happy Learning ..!!