In this blog, We will understand about Hybris Marketing. it is an application based on HANA which provides central access to all customer-related information.
it is a HANA-based program that provides central access to all customer-related information. it can be deployed as an on-premise or cloud-based solution.It allows the organization to run marketing functions and provides a variety of dashboards and analytics to understand and improve customer interactions.
SAP CRM, SAP C4C & SAP CEC provide marketing functions like Segmentation, creation of target groups, campaign Management and can be easily integrated with the data warehouse and analytic applications. The solutions can be integrated with social media channels but the current business scenario has been transformed completely.
The customers are connected to social media and it influences their choices strongly. Also, organizations need real-time analytics nowadays to gain a competitive advantage in the market. The need to reach out to customers and have the right way to target them is a must in today's business requirement. Organizations might have different applications for different functions and need an Hybris Marketing that provides a consolidated view with strong analytical capabilities
it provides different functionalities which allow the user to perform below activity
Visually analyze customer behaviour patterns.
Access high-performance customer segmentation
Reduce the time and effort needed to consolidate customer data
Gain a deep understanding of customers
Provide customer profiles from all interactions and sources to track
context, interests and predictions for a real-time 360° customer view.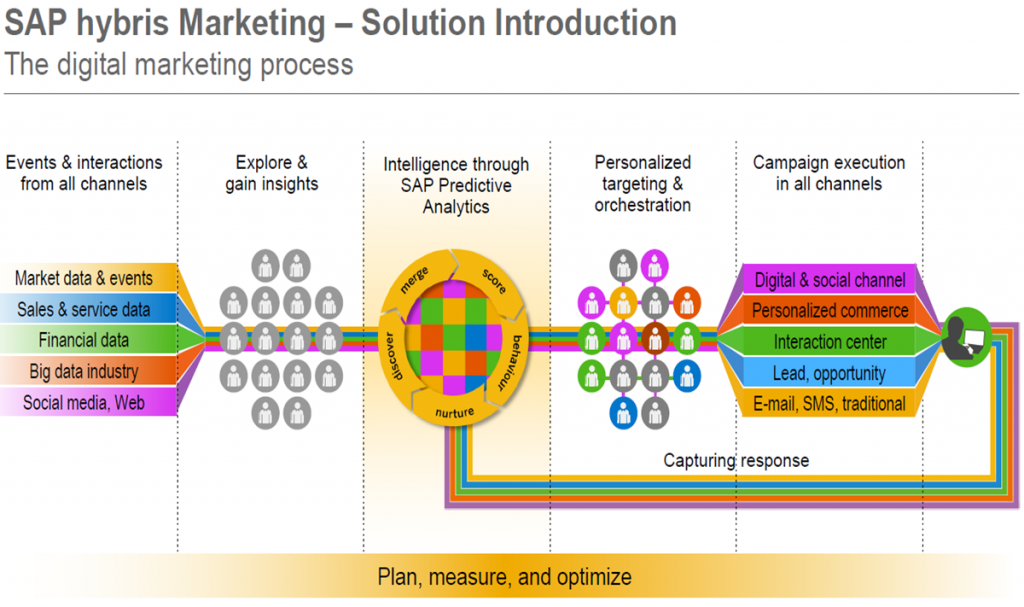 Following functionality is provided in Hybris Marketing:
Customer Data Management
it has different work sets that support all customer-related data and activities. It also provides insight into the data relating to sales from various systems.
Hybris Marketing provides Up-to-date insight into revenue, margin, lifetime value, churn rate, engagement, and customer satisfaction. It also provides the ability to rate customers on different criteria and enables the company to focus on the right areas. Transactions such as leads, events, prospects in the CRM system are integrated and viewed on a single screen.
Audience Discovery and Targeting
Hybris Marketing revolves around the marketing functionalities provided by the SAP CRM and enhancing it further to the next level.
it has very strong segmentation capabilities which allows filter from SAP CRM as well as ECC and even social channels. Users can display segmentation models in geographic maps that provide a clear view of the distribution of customers across the globe.It gives users the ability to analyze data and create segments, create target groups, display account details, and export target group members.
It enables the users to analyze data and create segments, create target groups, display account details, and export target group members.
Campaign Management
Hybris Marketing allows the creation of marketing campaigns by email or SMS that are based o predefined templates. The campaigns can be posted, and campaigns can be sent out to a pre-selected contact list (target groups). The calendar view is also available that allows gaining an overview of current campaigns with regards to time. It also helps the marketing manager to get an overview of emails sent to KPIs, clicks, open emails, etc.
Marketing Planning
Hybris Marketing can be used to prepare budgets, initiatives and expenses.Marketing managers can evaluate marketing investments in the Marketing Effectiveness program.
Predictive Intelligence
The Predictive Models workset allows user to create, train, and maintain predictive models for use as predictive Key.SAP Product Recommendation Intelligence allows the creation of recommendation models that provide consumers with relevant product recommendations in real time
Sap hybris marketing architecture
Hybris Marketing can be deployed in different options. Below three option are widely used in the industry
Hybris Marketing is centrally integrated with multiple business applications (e.g. SAP ERP, SAP CRM, NON-SAP). hybris Marketing is deployed in the cloud or on-premise on a separate system. All required business data is replicated to the SAP HANA for Hybris Marketing system
Hybris Marketing is integrated with multiple business applications (e.g. SAP ERP, SAP CRM, NON-SAP). Hybris Marketing is co-deployed with other application(s) like SAP ERRP on same SAP HANA system
Hybris Marketing co-deployed with SAP HANA system of SAP CRM, which is which is not recommended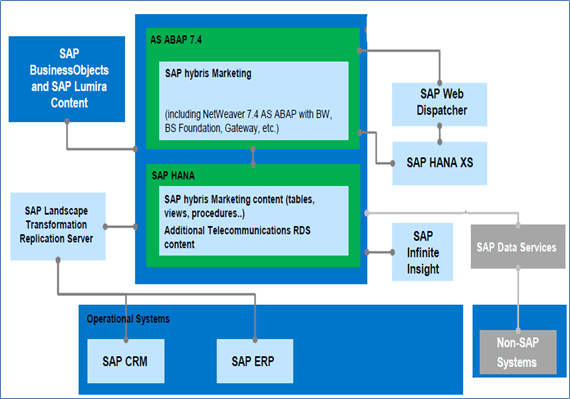 With SAP Hybris, you will get a marketing automation software that is flexible,
powerful and makes the complex simple.SAP Hybris marketing is designed to help you boost your business by optimizing your marketing spend.
Happy Learning ..!!
Now you may follow these tutorial links to learn more about