SAP Production Planning (SAP PP) is an SAP ERP submodule. The SAP Production Planning Module is used to control in-house production planning efficiently. SAP Manufacturing. Controlling employee resources, establishing and implementing production processes, and optimizing supply chain management (SCM) enable businesses to increase profits and efficiency. SAP PP module was developed to assist businesses in improving their manufacturing processes and planning, thereby increasing their manufacturing efficiency and competitiveness.
Controlling the production process, coordinating production, and ensuring production processes run efficiently and effectively. Businesses that use SAP PP Module can optimize their processes for business. This article will overview SAP PP and focus on its primary advantages, features, integration of various SAP components, and implementation options.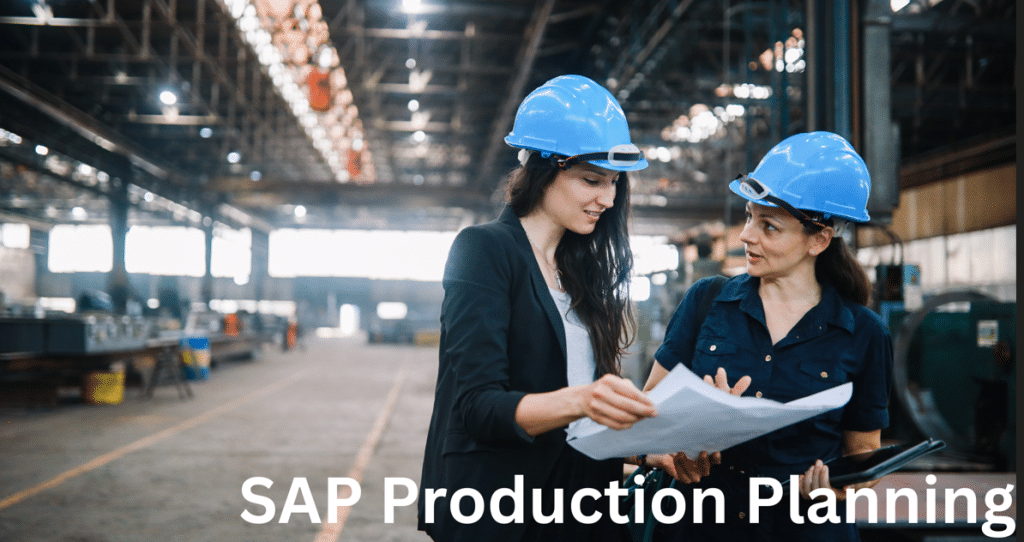 Understanding SAP PP (Production Planning)
SAP PP (Production Planning), assists companies in streamlining their production processes to meet customer demands while maximizing efficiency and profit. SAP PP is a comprehensive SAP ERP solution that assists businesses in controlling production planning and execution. It has a variety of Business functions and transaction codes that assist businesses in optimizing their manufacturing processes, such as capacity planning, materials requirements planning (MRP), and manufacturing order production. SAP PP also provides real-time information visibility, allowing businesses to make informed decisions about their manufacturing processes and ensuring that all departments within an organization are on the same page with their activities.
What is SAP Production Planning (PP)?
SAP Production Planning (PP) It is an SAP ERP module. It is a component of SAP ERP. It is a module within the SAP ERP program that provides businesses with the tools to control and manage every aspect of production, starting with planning and scheduling before moving on to controlling and performing. It allows businesses to control and plan product and service production in real-time and ensure that resources are efficiently utilized and that deadlines for production are achieved.
What is SAP PP and How Does it Work?
An effective tool for organizing and executing production processes is SAP PP. It is a comprehensive tool for planning the manufacturing process, including capacity planning, demand management, and production efficiency. The program was created to boost output, reduce the probability of production interruptions and enhance manufacturing efficiency. SAP PP interfaces with other SAP modules such as Material Management (MM), Sales & Distribution (SD), and Financial Accounting to provide a comprehensive picture of the procedure (FI). This integration updates timetables and plans immediately and with greater precision.
For the most efficient production schedule based on material resources, capacity, and availability, SAP PP uses a blend of MRP and capacity planning. With this data, precise production schedules may be adjusted in real-time to consider shifting environmental conditions.
Key Features of SAP Production Planning
The SAP PP module offers numerous effective sub-processes to help companies streamline and improve their production processes. SAP Production Planning components are Material requirements planning(MRP), demand planning, Capacity Planning, production planning, Production scheduling, production execution, production monitoring, etc. The combined features can provide a comprehensive solution for Production planning. These consist of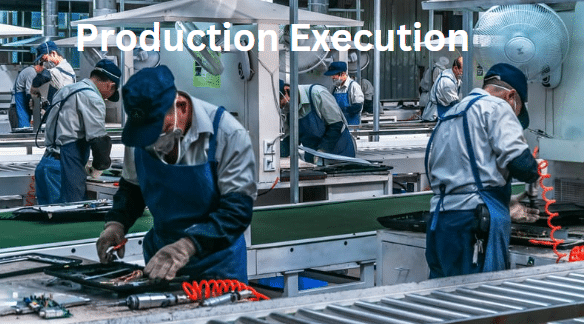 Materials Requirements Planning (MRP)
MRP is an essential element that is an integral component of SAP PP that helps businesses effectively manage and organize production processes. Users can utilize it to calculate the needed production schedules, capacity for materials and capacities for every batch of manufacturing.
Demand Plan
Businesses that use SAP PP for demand planning can forecast customer demand for their goods. It offers precise data analysis and reports to aid in precise demand planning. It ensures that businesses have the right products in the right quantities at times. Businesses can use the module to monitor production and make necessary adjustments to boost efficiency.
Capacity Plan
Advanced capacity planning features in SAP PP enable businesses to optimize capacity utilization and lessen bottlenecks. With SAP PP capacity planning, business organizations can plan and enhance their production capacity. It helps companies design production schedules that increase productivity and decrease downtime because it is based on the production capacity of resources like machines, labour, and material. SAP PP to manage the available resources, including labour, machinery, and supplies. By doing this, businesses can ensure that resources are used wisely and that production schedules are followed.
Production Planning
Production planning entails developing intricate production schedules considering lead times, demand forecasts, and production capacities. The module is integrated with other SAP modules, such as Materials Management (MM), to guarantee that all necessary materials are on hand in the event of a production need.
Production Scheduling
SAP PP Module lets companies plan production processes and ensure all resources are available. This can help businesses reduce production disruptions and delays while improving production process efficiency.
Production Order Management
Production orders can be used to specify the components that will be used to make the product, the location of the factory where production must occur, the date and time of production, as well as the number of components needed. The Production Order details which components are needed, in what sequence they must be received, and how to pay for an order's expenditures.
Production Execution
the production's execution The real manufacturing procedure is covered by SAP Production Planning. Businesses may use the module to monitor production and make necessary adjustments to increase efficiency. The module provides real-time information regarding the production process.
Production Monitoring
Production tracking Production monitoring in SAP PP provides businesses with real-time data about manufacturing processes, allowing them to track production and make necessary adjustments to increase efficiency. The module is integrated with other SAP modules, such as Sales and Distribution (SD) and Financial Accounting (FI), to provide an overall manufacturing process picture.
Optimizing Supply Chains
SAP PP is integrated with several SAP ERP modules. It integrates with other SAP ERP platform modules such as sales and distribution (SD), material management (MM), and plant maintenance (PM). This allows businesses to optimize their supply chain, ensuring supplies are available when needed, production schedules are met, and resources are used efficiently.
Shop Floor Control
SAP PP Module includes shop floor control, which enables businesses to track and manage their manufacturing operations in real-time, ensuring that processes are efficient and smooth.
Companies that use these features have access to real-time information about their manufacturing processes, making it easier to identify bottlenecks, change production schedules, and adapt to customer demand shifts.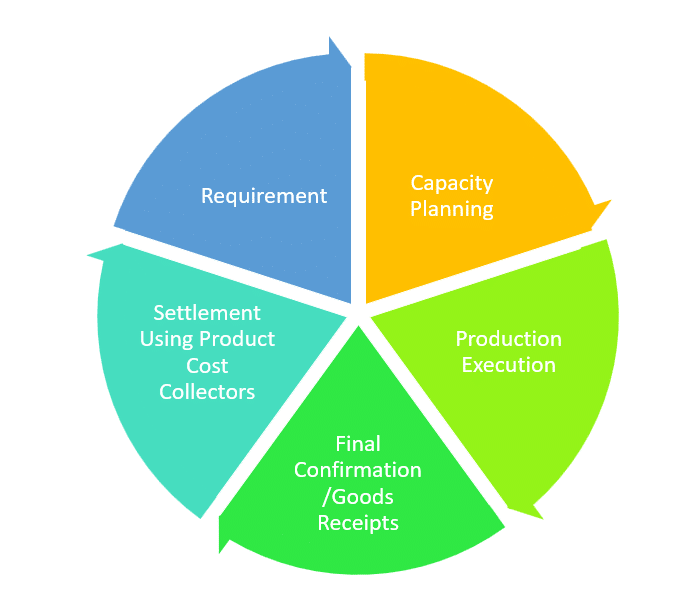 Benefits of Implementing SAP Production Planning
SAP Production Planning offers numerous advantages to organizations, including, Let's look at those.
Improvements in Production Planning:
SAP PP module assists businesses in more effectively designing their production processes and ensuring they have the necessary equipment, materials, and resources to meet demand.It helps businesses plan their production operations more efficiently, resulting in shorter lead times, better production schedules, and increased production capacity.
Improved Resource Utilization Better Resource Utilization:
Companies can use SAP Production planning to optimize resource usage, reduce downtime, and increasing the effectiveness of their manufacturing processes.
Improvement in Cost Management:
Having said that, organizations can lower the cost of production by improving their production processes, reducing waste, and increasing efficiency once resources are well-optimized.
Integrated manufacturing Planning
Reduce manual processes and improve the accuracy of production information by integrating SAP PP with other SAP modules like SAP MM (Material Management) and SAP SD (Sales and Distribution). This allows businesses to manage their manufacturing processes.
Improved Resources Planning
SAP PP, which streamlines the scheduling and planning of production processes, allows businesses to centralize their resources. As a result, resource planning becomes more precise and effective, potentially reducing production delays.
Improved Visibility and Control
SAP Production Planning allows for real-time data monitoring. Real-time monitoring of manufacturing processes enables businesses to track and monitor how they produce.
Improved Profitability
Businesses can increase productivity and efficiency by using SAP Production Planning, which could lead to higher profits. Furthermore, SAP PP assists companies in lowering production costs and increasing profits by offering an integrated platform for managing resources and production.
Enhance Supply Chain Management
Production Planning communicates with other SAP ERP modules. Businesses can view the entire supply chain using the SAP ERP system. As a result, businesses can optimise their supply chains to increase efficiency while reducing disruptions.
Increased Competitiveness:
Businesses can gain a crucial competitive advantage in the market by increasing the efficacy and competitiveness of their manufacturing processes.
Production planning, in general, enables businesses to monitor and manage the production process in real-time, ensuring that resources are used effectively and production schedules are followed. This increases effectiveness and reduces production pauses.
SAP PP in Action: Use Case Scenario
Let's examine a business that creates a range of consumer goods. This company uses SAP Production Planning to control the manufacturing process and ensure that resources are used effectively. The process is as follows:
Its schedules and plans production processes and guarantees that all necessary resources are available when needed.
Organize the acquisition of components and supplies and ensure they are accessible when required.
To ensure the production schedules are met, monitor the production process in real-time and make any necessary adjustments.
Businesses increase productivity, decrease production delays, and streamline their production processes. Profits rise as a result of everything.
Integration with Other SAP Modules
Other modules, such as SAP MM (Materials Management), SAP SD (Sales and Distribution), SAP QM (Quality Management), and SAP PM, can be connected to SAP PP (Plant Maintenance). Process automation, information exchange, and the real-time flow of information can be made more efficient by integrating additional modules.
MM Integration SAP
The management of materials supply and inventory is managed with the help of SAP MM. Because of its connection to SAP PP, production orders and bills of materials, as well as material requirements planning (MRP) are all automatically created according to the level of inventory and forecasts for demand. The connection ensures quick supply and also reduces the cost of managing stocks.
SD Integration for SAP
SAP SD handles the distribution and sales of the final product. With the integration of SAP PP, it is possible to develop orders, delivery schedules, and shipping alerts, all based on the orders of customers. This connection will ensure the timely delivery of items and increase customer satisfaction.
SAP QM Integration with PP
The management of quality control is managed through SAP QM. As per the production order and BOM, creating checklists for inspecting, inspection lot, and quality notices is possible through an integration with SAP PP. The integration guarantees consistent quality and conformity to guidelines and industry standards.
SAP PM Integration with PP
Maintenance of plant and machinery is controlled by SAP PM. Thanks to the integration of SAP PP, maintenance notifications and orders can be created in the event of production orders or breakdowns of machines. The best equipment utilization and reduced downtime can be assured through this integration.
SAP PM Integration with PP
SAP PM manages the maintenance of plants and machinery. The integration with SAP PP enables the automatic production of maintenance notices or orders in reaction to orders for production and breakdowns on machines. This integration ensures minimum downtime as well as efficient utilization of equipment.
SAP PP vs Other Production Planning Solutions
There are much of software available for production planning. Still, SAP Production Planning stands out because it is compatible with other SAP modules, has many features, and can provide real-time insight into the production process. It is also highly customized, enabling businesses to adapt to their requirements and work processes.
Deployment Options
Depending on the requirements and needs of a business, SAP PP can be deployed on-premises or in the cloud. Businesses can benefit from cloud deployment options' security, scalability, and flexibility. On-premise deployment, in contrast, gives businesses more control over the production data they store.
Conclusion
SAP Production Planning is a crucial tool for companies that need to control the manufacturing and distribution of their products. SAP PP provides businesses with the resources they need to improve the process and ensure it can be as productive and profitable as it can be thanks to its unified platform for resource management, the integration of Supply Chain Management, and live monitoring. With its various capabilities, SAP PP can help organizations enhance their production processes to increase efficiency and reduce production disruptions. No matter how big or small your firm is, SAP PP can help you manage your manufacturing operations and accomplish your business objectives. Examine the potential.
You might also like the below articles.
.