SAP FICO stands for Financial Accounting and Controlling. It's one of the core modules of SAP R/3. SAP R/3 program. which oversees all aspects of a company's financial operations. the SAP FI program is responsible for the day-to-day financials of an organization. Transactions are processed in real-time, and reports are generated for use by third parties. The SAP CO module is used to manage real-time transactions and generate reports. Internal reporting is an organizational function that provides management with the information they need to make sound decisions. In this article, we'll give you an introduction to SAP FICO Functionality.
Introduction SAP FICO Module
SAP FICO is a critical functional element that is a vital functional component SAP ERP Central Component that allows an organization to manage all its financial information. SAP FICO allows a company to save a full backup of the financial transaction data. Particularly, the goal to use SAP FICO is to help businesses create and manage financial statements to aid in analysis and report-writing, in addition to aiding in the course of business planning and decision-making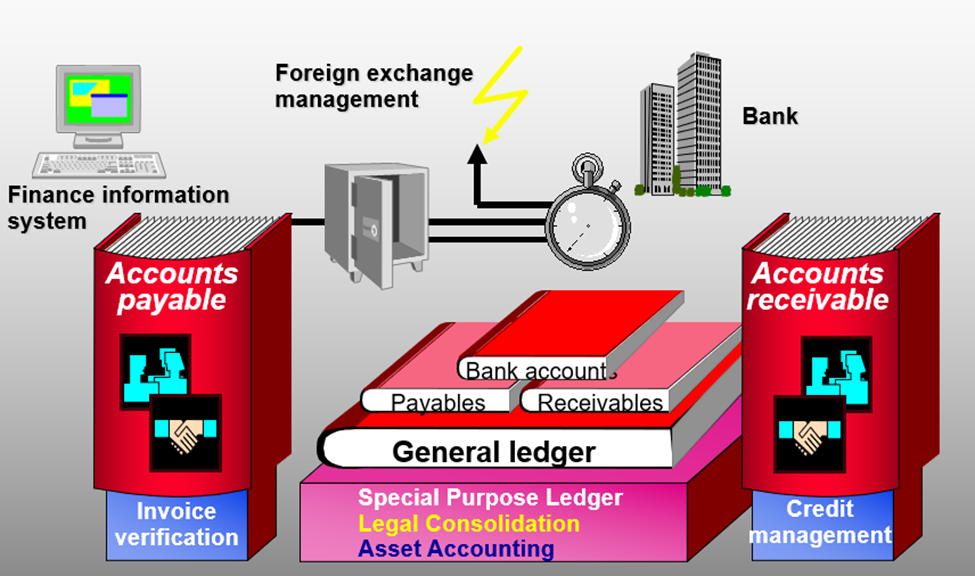 SAP Financial Accounting (FI) is a key module that is live-time and allows financial processing. Every transaction is recorded to form the base of data that will be used to produce external reports. This SAP FI Module is integrated with a variety of parallel modules which allow companies to integrate processes that might have required the use of a variety of software programs. Other modules of SAP that typically have an integral role with FI include (but are not restricted to) Material Management (MM), Sales & Distribution (SD), Human Resources (HR), Product Planning (PP), Controlling (CO), etc. Within these, CO Controlling, an important area of focus for people who are from the
SAP FICO consists of two sections: SAP Finance (FI) and SAP Controlling (CO). Each one is used to manage a specific financial procedure. SAP FI is responsible for general accounting and financial reporting, while SAP CO is more focused on monitoring expenses and planning. SAP FI and SAP CO were originally launched as distinct modules, however, they've become so interconnected that many consider them to be an integrated system.
What is Financial Accounting (FI)?
This SAP module is used to streamline the reporting of financial statements required by legal organizations. Accounting and Management Accounting as well as Management Accounting are both parts of the SAP-integrated application. They are specifically created to monitor and provide reports about General Ledger (General Ledger) (General Ledger) and ARR (Accounts Receivable) and The AR (Accounts Receivable) and Accounts Payable (Accounts Payable) and Assets
What is included in the legally mandated reporting?
A balance sheet is a report of the assets, liabilities, and equity (value) for a business Profit and loss statement is a report of expenditure, revenue, and profits/loss for the year up to the date. At the end of the fiscal year, all the accounts on the P&L are reset to zero, and the loss or profit is transferred to equity in the balance sheet. Tax Reports BAS statements Other reports include company cash flow
What exactly is the function of the FI module?
It is used to report on the company's financial situation and activities to statutory bodies as well as other external entities For instance company balance sheet (B/S) and Profit and Loss (P&L) and tax reporting
Important sub-modules of SAP FI
SAP FI allows businesses to generate financial statements for analysis and reporting. Balance sheets, profits as well as loss accounts are some examples of the financial statement. SAP FI is comprised of several modules dealing with various accounting procedures.
General Ledger
Contains all the transactions data in an accounting chart. It lists all the accounts that are in the system. The transactions are recorded as submodules, which are recorded in real-time using general ledger information.
Accounts receivable
tracks the customer's transactions and controls account for customers. Transactions include posting invoices credit memo posting, the posting of payments for a down payment, invoice payments, and executing reports for customers.
Accounts payable
it encompasses the transactions between vendors as well as accounts controlled by vendors. The transactions could include posting of invoices, credit memos posting down the payment, invoicing and payments automated payments programs, and reporting for vendors.
Asset Accounting
handles all transactions involving the firm's fixed assets, including buildings, land as well as heavy machinery. Transactions comprise acquisitions of assets retirement transactions, sales, transfers, depreciation, and revaluations.
Bank Ledger
Deals with all bank account transactions of the company and information. It is able to reconcile the transactions that are recorded on bank statements and then compare them with transactions that are in the system.
Consolidation
allows the business to integrate financial statements for several entities, giving an overall view of financial position in overall.
Funds Management
manages the budgets of the company's revenue and expenses.
A Special Purpose Ledger
Describes the ledgers that SAP FI uses to report on. Travel Management is in charge of all transactions associated with travel processes, such as booking trips and handling travel-related expenses
What is the purpose of the CO module?
CO is used for internal company reporting (for example, showing which areas/departments within the company make money and where the money is spent (controlling expenditure)) for example, the difference between actual and budgeted Department expenditures. SAP CO supports processes to organize, monitor, and monitor the cost of business operations. SAP CO can be instrumental in boosting the profitability of a company. SAP CO is composed of sub-modules that manage particular processes:
The key sub-modules in SAP Controlling (CO)
Cost Element Accounting
In Controlling all costs and revenue are represented using cost elements. All costs elements specify the nature of income and expenditure. The various types of elements that cost are called Primary cost elements as well as Second cost components. This provides a comprehensive overview of the company's revenues and costs, which are based on the profit and loss statements, also known as income statements. The basis of costs is cost element accounting. Cost elements are specific expenses incurred by the business.
Profitability Analysis
Allows the business to evaluate the financial viability of its goods. For instance, Profitability Analysis can be beneficial in making decisions regarding issues like product pricing, distribution channels, and the market segments targeted. It also allows you to analyze the level of detail of profitability, such as for each country, region, or product type, distribution channels, or a customer's individual profitability.
Profit Center Accounting
The Profit Center is accountable to manage and monitor the company's profit and loss. Control all costs associated with the business lines of the company. It manages both revenues as well as revenue, as opposed to Cost Centers, which deal only with costs.
Cost Center accounting
Offers details on the expenses that the company incurs. Cost Centers address the costs that are associated with divisions or departments within a business, such as production, sales, marketing, and human resource. Cost Centers focus solely on the cost of expenses, not revenues.
Internal Orders for Accounting
It is used to keep track of the costs associated with a specific task, service, or job Internal orders are used to correct the costs and business transactions associated with this task..
Products Cost Controlling:
Product cost allows the manager to analyze the product's costs and makes it possible to make effective choices regarding prices for
Internal Orders
This can be used to monitor the costs for smaller initiatives within the business or to manage non-fixed assets like an advertising campaign that has a limited duration.
The Product Costing
provides information about the cost of producing the products and services of the company. Costing analysis of products can assist in managing manufacturing costs and improve efficiency.
Here are a few more articles you might enjoy reading.