In this blog, we will be covering sap afs solutions. SAP AFS stands for apparel and footwear solution. These are the essential points that every SAP AFS consultant should keep in mind when designing a system for apparel and footwear. The simplest systems will run longer without much intervention. Any consultant will gain a better understanding of the customer's needs by identifying the key reporting requirements and key process requirements.
Simple systems are easy to upgrade and maintain. They can be easily automated and are flexible.
SAP AFS : Introduction
In 1997 and the SAP Apparel and Footwear, Solution was born. This new solution was created in collaboration with industry leaders such as Reebok International Ltd. and VF Corp. Today, more than 60+ SAP AFS customers around the world are using it
SAP Apparel and Footwear is an SAP e-business solution that caters to the apparel and footwear industries. In conjunction with industry leaders, SAP AFS has been established to meet the specific needs of both the clothing and shoes industry. In particular, the solution was developed to illustrate industry-specific processes based on the SAP e-business platform that offers the possibility of effective collaboration – anytime, anywhere.
SAP AFS allows you to take advantage of the most recent SAP technology and infrastructure improvements. For companies in the apparel and footwear industry, it is the best choice.
The apparel and footwear industry is extremely competitive. Companies must meet constant challenges in a global environment. There is constant pressure on cost, lead time, and price. The industry must adapt quickly to new trends as they are constantly changing. Complex value chains can become inefficient and difficult for monitoring due to the combination of global procurement and contract production. Fashions often change quickly and without warning.
In the clothing and footwear industry companies must deal with the fluctuations of the season, the proliferation of design variations and the low volatile demand information that leads to the projections. Lack of stocks and uncertainty can lead to costly downsizing.
As their core competencies shift from production to planning, controlling, and monitoring textiles throughout the value chain, apparel and footwear companies are becoming more of a coordinator role
This industry has long used outsourcing and multilevel division of labor. Companies have always had the ability to reduce costs by optimizing production processes. Shoe and clothing production can only be automated to a certain extent.. This means that the savings potential is limited. Next was to transfer production to low-wage nations, which meant that the production process would be less transparent and high-quality. The production sites are dispersed worldwide and the monitoring and control of the process and the length of the roads and the failure to meet the delivery dates is difficult.
Product development, planning for raw materials and finished goods, planning for production, coordination and control of transport optimization and monitoring, quality assurance, and product planning are all becoming more important. The success of apparel and footwear companies is dependent on the collaboration and information flow among all partners in the textile supply chain (logistics service provider, textile manufacturer, contractors, agents, etc.). In the apparel and footwear markets, fundamental changes are occurring and there is a lot of restructuring
The apparel and Footwear industries mainly have the following critical requirements.
Material handling in different colours and sizes (handle with characteristics of an article).

To sell the products only in specific periods (seasonal products).
To categorize the products based on its quality.
To have size wise pricing, date wise pricing (price will be high only during the seasons).
Mapping the customer's requirement to the available stocks (eg:product of quality A is not available; then, sell the product of quality B if the customer agrees).
SAP AFS: Functionalities
AFS Master Data
AFS Grid functionality
Provides size capacity, and the complexity associated with the manufacturing, procurement, sales & distribution, and material management in an Apparel environment has been conceptualized. In the system, this is defined as grids. AFS grids are in nature three-dimensional.

Three variables are maintained in the grid value ( e.g.: size, Color, inseam length).
Material master maintenance for this industry involves a huge amount of data, for which the concept of categories has evolved to logically segment materials. These categories are usually maintained in the AFS Industry based on the quality level, type of customer and regional requirements Defines the characteristics of the products.
Categories AFS materials are built on large volumes of data. AFS uses categories to organize this data volume. AFS uses categories to organize materials. A schedule line can be entered for each material's grid value. For example, you can identify a material by its color or size. You can order grid values for different quality levels, customer segments, or countries of origin by using categories.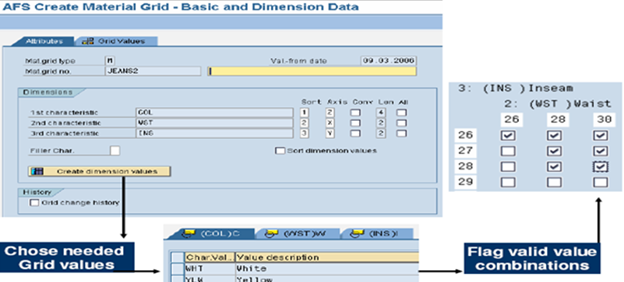 SAP AFS Seasonality
Season plays a very important role in the product life cycle of the apparel industry and planning and production carried out needs to be aligned with the demand of the individual seasons.
Seasons are an integral part of the fashion industry's business processes. Seasons were previously only available in Sales & Distribution (SD). You can now have a season on the stock side of SAP AFS. It can be used for Material Management, Production Planning (PP), or Inventory Management (IM).
SAP AFS Allocation Run – Arun
Program used to assign stocks to requirements in an optimal manner even in shortage of stock.
Better control of stock allocation .
ARun distributes the currently available stock to sales orders according to certain calculation logics at a specific time.
Key Benefits
Allocation tools will allow for more flexibility in managing the allocation process.
Proactive identification of orders requiring exception management.
Ability to view the sequence of orders allocating prior to force allocation.

In Sales & Distribution
Services with Value Added
Customers might ask you to add customer-specific services before the goods are delivered. Customers often request special labels and packing that meet certain criteria or other services to their goods.
You will require materials, knowledge, and/or additional personnel depending on the type of service you provide. Your customer may request an additional service. However, it is not free. It will increase the value of the goods you deliver. To reimburse you for the materials and resources that you used, you can calculate the price markups your customer must pay. The AFS system can map these requirements along with their costs.
Multi-store orders
Multi-store orders (MSO) allow you to map business processes that a company requires goods for. You can process all of your stores in one order. The following steps will allow you to explore the MSO file. The system generates individual sales documents. This allows you to make clear and specific changes to order quantities for certain stores.
Available to Promise (ATP)
In order entry, an AFS availability check is performed to determine if the desired AFS material is in stock for the requested delivery date. This can be used to verify that the chosen size or color is available. You can check the stock availability during the order entry to ensure that the order is fulfilled by the deadline. If an order is not possible to deliver immediately, the ATP will specify when sufficient goods are available and confirm this date as the delivery day.
Allocation Run
Because of its unique situation, the allocation of stock must be optimized to meet open requirements. The allocation run is used to ensure that stock is allocated optimally to open needs in the event of a stock shortage. According to certain calculations logics, the allocation run distributes stock that is currently available to sales orders at a given time. It ensures that your customers are happy with your product if the quantity of the order exceeds the available stock, a distribution run can be used.
In Production
Lots of Markers Production
Combination Orders This function allows you to group multiple production orders. You can combine multiple production orders using the same component or the same routing operation. For combined production orders, we can fulfill the following functions:
Release of combined production orders simultaneously
Posting the goods issues for all components of the combined orders simultaneously
Confirming operations simultaneously for both the combined orders

What is SAP FMS?
SAP Fashion Management Solution (FMS), is the next-generation solution for AFS customers.
SAP AFS was originally designed for use as a manufacturing system. Companies with a business that spans retailing faced a challenge: managing the entire chain, from manufacturing to selling products in the Retail Store. It was difficult to see the whole picture of data flow. SAP Fashion Management is a solution that SAP developed to address this challenging business situation.
SAP Fashion Management is an integrated solution that combines the capabilities of SAP AFS with SAP Retail. This solution combines the manufacturing and retailing business processes into one vertical solution. Companies can manage their business processes across one (larger) system landscape. This is made possible by the Big by Business Suite powered with HANA. SAP Fashion Management Release 1.0 was released on June 2014.
SAP Fashion Management is a solution that assists fashion companies in managing and optimising their end-to-end business processes, which range from design and development to production and distribution. Built on the SAP S/4HANA platform, the solution integrates with other SAP solutions such as SAP Ariba, SAP Customer Experience, and SAP SuccessFactors.
This solution is available as an add-on for SAP ERP Retail and is based on SAP Components Material Management, Sales and Distribution, and Logistics General. SAP FMS has many functionalities that are familiar to fashion customers, as well as some new functions. It is sure to support the multi-channel global business. Customers will enjoy lower inventory, higher customer satisfaction, and fewer chargebacks. This is possible because of the sharing of key processes across a global inventory. In the next weeks, I will be discussing AFS functionalities that are implemented in Fashion Management. This may help you get a high-level overview of the product
SAP Extensive Warehouse Management for Fashion allows fashion customers to optimize warehouse processes by using the SAP Apparel and Footwear Solution (AFS) with the best SAP Extended Warehouse Management application (EWM).
Fashion companies can improve their efficiency and productivity, reduce costs, and increase customer satisfaction by utilizing SAP AFS/FMS. The solution also assists businesses in meeting regulations and industry standards, such as those requiring sustainability Hope this article helps you to understand what is sap afs solutions and why the FMS re-forms the fashion industry. Refer to these tutorials for more information about SAP…Happy Learning ..!!