SAP Plant Maintenance (SAP PM) is a module of SAP ERP. It is a module in the SAP Enterprise Resource Planning (ERP) system that assists businesses in managing repairs and maintenance of physical assets like machines, buildings, and equipment. We will try to cover some fundamental concepts that will assist beginners in understanding this module.
In addition to managing work orders, alerts, and maintenance plans, SAP PM includes features for keeping tabs on the costs and supplies associated with maintenance operations. To provide a complete solution for managing asset repairs and maintenance, SAP PM can be connected with other SAP modules, such as Materials Management (MM) and Production Planning (PP).
Introduction of SAP PM
The SAP ERP software has a module called SAP Plant Maintenance (SAP PM). It is a component of the SAP ERP system that aids organizations in managing upkeep and repair activities for technical assets and machinery. SAP PM Module creates and manages work orders for scheduling maintenance work and tracking the inventory of spare parts and other materials. The general maintenance procedures and processes are conducted by Plant Maintenance. Plant Maintenance enables a maintenance-focused business to
The document, identify and rectify any failures or degrades of assets for which they are responsible.
Schedule and plan activities to anticipate or prevent failures, and to keep the processes and assets running in line with the specifications of the design.
The Plant Maintenance module employs both preventative and corrective maintenance techniques. Corrective maintenance describes the work done by the Maintenance Organization to fix any type of equipment that is under their direct supervision. A technique called preventive maintenance uses protocols and practices aimed at stopping failures or performance degradation before they occur.
SAP Plant Maintenance Overview
Many companies are moving away from the old belief that the maintenance of plants is a necessity or merely a cost-cutting factor. Plant maintenance is now more important than ever on a company's list of priorities due to the mounting pressure on businesses to be effective in terms of quality and efficiency. This is because companies can market their maintenance services to the market and therefore help increase revenues and lower costs.
Machines and plants are constructed in a more modular fashion than in the past. This means that maintenance is applied differently to specific components of the systems (component maintenance) and no longer refers to the whole system. Other objectives could include
Utilization at its maximum for the longest time of the lifecycle of technological systems and devices.
The finished product's quality is improved.
Safety improvements in operation
Optimized operating procedures
Cost planning that is geared toward the future
Lower costs for restarts
Conformity with the law, In particular, environmental regulations
Conformity to manufacturer guidelines means that you can submit a claim under warranty should you need to
SAP PM (plant maintenance) is a crucial functional module that aids organizations to manage their operations. The primary functions that this SAP PM module is:

Inspection
Notifications
Corrective
Maintenance preventive
Repairs
Other measures are employed to ensure the integrity of the system.
The SAP plant maintenance applications provide the company with a variety of tools. With the help of these tools, maintenance work can be carried out. Due to the interrelated nature of all SAP plant maintenance module functions, they tightly interact with functional modules including production planning, material management (MM), sales, and distribution (SD). This SAP PM module also permits users to report issues within their SAP system, labor planning, material activities, and even settle costs. The Plant Maintenance module is made up of the following sub-modules to complete all of the aforementioned tasks..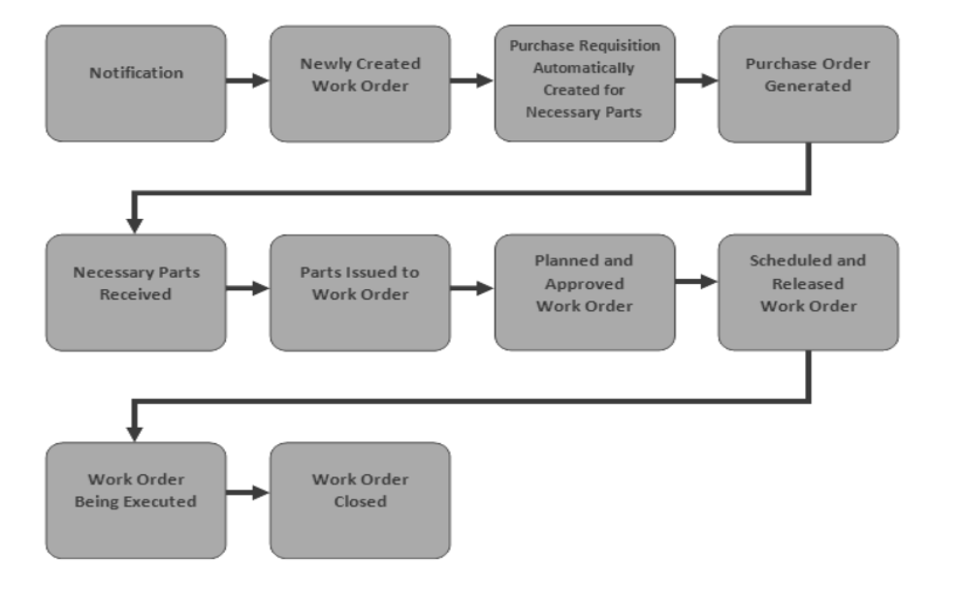 The management of technical objects as well as the master records for equipment.
The task manager's plan of action.
Management of workflow notifications, as well as the management of work orders.
History of SAP Plant Maintenance
As far back as 1986, SAP Plant Maintenance has a history. The initial iteration of SAP Plant Maintenance, known as RMINST under the R/2 platform, was released to the public in 1986. In the years 1988 (4.3) and 1991, more RM-INST versions became available (5.0). The first release of R/3 PM (Plant Maintenance) hit the market in 1994. The R/3 Releases went through several name changes, including R/3 to R/3 Enjoy and mySAP.com to R/3 Enterprise. Up until and including the debut of mySAP.com, the term "plant maintenance" (PM) remained constant. The concept of asset lifecycle managing was implemented with the release of R/3 Enterprise SAP (ALM).
When SAP introduced its first ERP After its release on the market in 2005, the business added the word "EAM" to define plant maintenance (Enterprise Asset Management). The titles of the releases have undergone various name changes since then: The first name of the version was mySAP ERP 2005. Later, my was dropped, and SAP ERP 2005 was the new name for the release. Then, SAP substituted a new release number for the year. Since that time, it has been referred to as SAP ERP 6.0.
SAP PM Components
SAP PM module is comprised of the following components: SAP PM module includes the following elements:
Manage work tasks:
This feature aids you in scheduling and planning maintenance tasks, making as well as managing your work order, and monitoring how maintenance tasks are progressing Projects.
Notifications and alerts
This feature lets you manage and create maintenance alerts, create alerts for major events and monitor the progress of maintenance work.
Management of materials:
This module assists you in managing inventory levels, monitoring the movements of your material, and producing reports on the usage of your material.
Planning and scheduling maintenance
This tool assists you in creating and managing maintenance plans, planning maintenance tasks, and improving maintenance tasks.
Quality Management:
This feature assists you in managing quality processes, monitoring quality-related issues and making sure that maintenance activities are in line with high standards of quality.
Planning capacity and resource planning
This feature aids you in planning and allocating resources to maintenance tasks and monitoring the utilization of resources, and improving the utilization of resources.
Document management.
This module assists you in storing and managing maintenance documents, including Technical drawings and specifications.
Master data in SAP PM module
Master data in the SAP PM (Plant Maintenance) module refers to information used to carry out maintenance tasks within a company. It contains information on different technical objects (such as functional locations, equipment, and maintenance plants) and information about the processes of maintenance and the personnel that are involved.A few examples of master data stored in SAP PM are:
Data master for equipment: The master data includes information regarding the equipment that must be maintained, like its specifications for technical equipment serial numbers, and the location.
Functional master location data: This includes details about the physical location of the equipment, for example, the building's address, floor as well as a room number.
Master information for the maintenance plant The master data includes information on the maintenance agency accountable for equipment as well as information about personnel working centres, the work center, as well as spare components.
Master data for the maintenance process The master data contains information regarding the maintenance tasks required to be completed by the machine, as well as information about the frequency of work, the duration, and the required materials.
Master data for maintenance items This contains information on the components of the equipment which need maintenance, like gears, bearings, and motors.
Master information in SAP PM can be utilized to plan, plan and carry out maintenance tasks and is an essential component of the overall maintenance procedure. It assists in ensuring that maintenance tasks are executed when they are needed and with the proper tools and resources.
Maintenance plan in sap pm
The term "maintenance plan" is used in SAP Plant Maintenance (SAP PM). A maintenance plan is a set of scheduled maintenance procedures that are planned in advance to prevent equipment breakdown or extend the life of technological assets. For certain assets or groups of assets, maintenance plans are developed. These plans may include different maintenance chores, such as inspections, repairs, and replacements.
What is CMMS SAP PM
A computerized Maintenance Management System (CMMS) is a computer software program that assists businesses in managing their repair and maintenance operations more effectively. CMMS generally comes with features like the management of work orders and inventory and asset management.
SAP Plant Maintenance (SAP PM) is a CMMS module in SAP ERP. SAP ERP software. It offers tools to manage repairs and maintenance for technical equipment and assets, such as managing work orders and materials maintenance scheduling and planning quality management, capacity, and resource planning and document management. Utilizing SAP PM, companies can boost the efficiency and effectiveness of their maintenance processes by streamlining and automating maintenance processes, tracking the materials or spare parts inventories, and optimizing their use of resources. SAP PM can also help companies reduce downtime and extend the longevity of their assets through proactive maintenance scheduling and planning
Conclusion
In the end, the SAP PM module can help businesses increase the effectiveness and efficiency of their maintenance processes through tools for planning schedules, monitoring, and scheduling maintenance tasks, and also managing the use of materials and resources.
You might also like the below articles.