In the fast-paced business environment of today, organizations face a variety of challenges when trying to manage their supply chains efficiently. Innovative software called SAP Digital Supply Chain Management (DSCM) makes use of recent technological and digital advancements to increase the efficiency of supply networks. In this post, we'll examine the SAP DSCM concept, its key elements, and how it can transform supply chain management for all enterprises.
Introduction SAP Digital Supply Chain Management
Processes within corporate organizations become more intertwined and hectic, therefore, businesses must effectively govern their supply chain activities in order to be responsive and open to client needs. In this article, we'll look at the idea of SAP Digital Supply Chain Management (DSCM), which offers businesses a number of instruments and procedures intended to simplify and improve supply chain operations.
SAP SCM modules can be connected with other SAP applications, including Financials and CRM, to create a comprehensive view of operations, enhancing the efficiency of business operations. This SAP SCM component can also be connected to other programs that improve supply chain management software's effectiveness.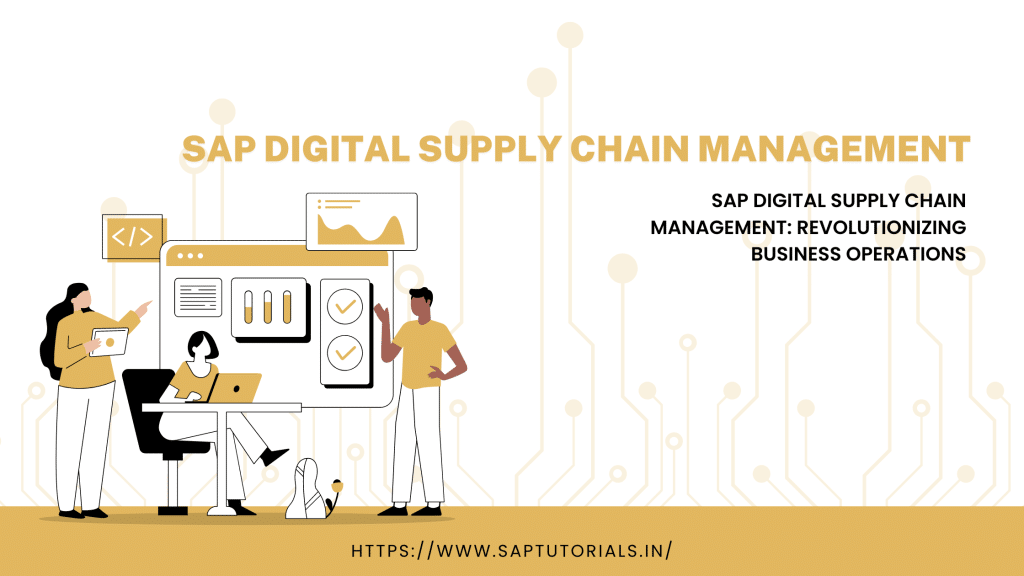 The SAP SCM Modules come in two different versions. Both on-premises and cloud installations of SAP SCM modules are possible. While cloud implementation offers more capacity, on-premises deployment offers better data management protection. Using SAP SCM applications will be advantageous for companies of all sizes. They can be altered to satisfy the unique needs of each business.
What is Supply Chain management?
SAP SCM modules can be connected with other SAP applications, such as Financials or CRM, to provide a thorough perspective of corporate operations and boost the efficiency of business processes. Additionally, this SAP SCM module can incorporate outside programs to improve the software's capacity for managing supply chains. Both on-site and cloud installations of these SAP SCM modules are available. While cloud implementation gives better scalability, installation on premises provides higher protection for data management. SAP SCM components can be used by businesses of all sizes. They can be altered to suit the needs of any business.
SAP APO (Advanced Planner and Optimizer)
APO is a business planning and optimization tool used to increase supply chain efficiency. APO helps manufacturers, inventory holders, and transportation networks manage production, inventory levels, logistics systems, and various aspects of supply chains in general.
SAP IBP (Integrated Business Planning)
SAP IBP is a strategic planning strategy used by businesses to improve supply chain integration and meet corporate objectives. IBP is capable of producing production plans, defining resource requirements, and allocating them correctly.
SAP Supply Network Planning (SNP):
SNP is a supply chain design application. It assists businesses in successfully managing their supply chain operations as well as developing ideas to make supply chain management easier.
SAP Transportation Management (TM):
SAP TM allows businesses to efficiently manage their transportation operations and activities, while also monitoring carrier actions and transferring freight. Furthermore, this instrument aids in the reduction of shipping expenses.
SAP Extended Warehouse Management (EWM):
By streamlining warehouse operations with technologies like slotting, wave management, and labor management, SAP Extended Warehouse Management (EWM) increases efficiency. It makes sure that products are available when and where they are needed.
SAP Ariba:
procurement solution that integrates buyers and suppliers on a single platform, SAP Ariba streamlines procurement processes and improves supplier engagement.
Introduction of SAP Digital Supply Chain Management
Understanding SAP Digital Supply Chain Management:
SAP DSCM's primary aim is to enhance supply chains' effectiveness and efficiency through innovative methods that increase efficiency, transparency, and coordination of processes. The platform should help increase efficiency as well as transparency by creating tools that work better than ever before by employing AI (Artificial Intelligence), machine learning (ML), IoT technology (Internet of Things), and advanced analytics techniques.
Digital Supply Chain Management (DSCM) uses digital technology to increase transparency in supply chain processes while increasing flexibility and effectiveness. This approach encompasses various techniques, such as Blockchain.
Artificial Intelligence (AI): AI assists with tasks like optimizing inventory levels and forecasting.
Big Data & analytics: offer insight into customer behavior as well as supply chain performance, among many other aspects.
Blockchain: :Blockchain technology is used to record and protect supply chain transactions in an auditable fashion.
Internet of Things (IoT): Sensor data and other devices within the supply chain may be collected using IoT.
Robots can automate specific tasks like packing and unpacking by performing them automatically.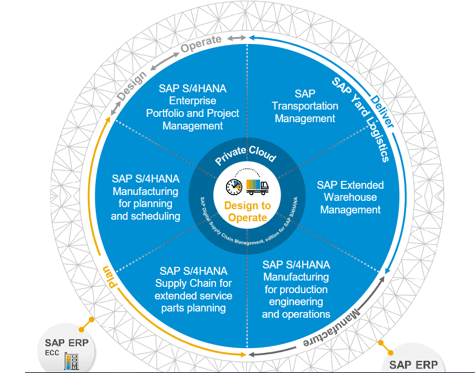 Image source: SAP
Key Capabilities of SAP DSCM:
Integrative Planning and Execution:
SAP DSCM integrates planning and execution actions to provide a comprehensive view of your complete distribution chain, allowing firms to better coordinate supply and demand while adapting strategies to changing market demands. Companies can boost efficiency and speed by coordinating their planning and implementation processes.
Demand-Driven Operations
SAP DSCM helps enterprises become demand-driven by rapidly spotting patterns, predicting consumer needs, and meeting them more precisely. Real-time information from marketplaces, combined with AI and algorithms powered by machine learning (ML), enables organizations to raise or decrease inventory levels to more effectively meet client demands.
End to end Supply Chain Visibility
Companies can instantly examine and manage logistics, manufacturing, and inventory processes using DSCM's comprehensive perspective on all areas of their supply chains.This allows businesses to immediately detect problems or bottlenecks so that they may be resolved as soon as possible, as well as boost communication between suppliers and partners, enhancing productivity while simultaneously minimizing risk through collaboration and data sharing.
Intelligent manufacturing
SAP DSCM's intelligent manufacturing and operations offering makes use of IoT for automated production and advanced analytical services, connecting devices such as sensors, machines, and machines in realtime to capture realtime data and automate maintenance in order to meet quality control and optimize processes. Companies can improve efficiency while reducing maintenance time.
Enhanced Visibility & Agility
Long-term viability Resilience, Sustainability, and Longevity SAP DSCM contributes to a more sustainable and resilient supply chain by incorporating environmental, economic, social, and corporate governance (ESG) concerns into decision-making. It supports businesses in measuring the efficiency of their usage of carbon emissions and resources, as well as guaranteeing resource sustainability. Businesses that embrace sustainable methods boost their consumer reputation, comply with the law, and provide a positive ecological and social benefit.
Improved Customer Satisfaction:
Deliveries that are made on time and orders that are filled precisely increase client satisfaction.
Inventory optimization:
SAP DSCM ensures product availability while assisting in the reduction of extra inventory.
At the DSCM At DSCM, we strive to reduce risk. Companies may ensure that their operations are secure while still meeting client needs by assisting them in reducing interruptions in their supply chains and identifying the main reasons
Benefits of SAP Digital Supply Chain Management
DSCM will help businesses to:
Reduce costs: The DSCM services assist firms in lowering costs by automating wasteful procedures and minimizing lost time.
Enhance Customer Service: DSCM helps organizations improve customer service by providing an instant picture of the supply chain and ensuring that products arrive on time and in correct packaging.
Increase Agility Businesses can boost their agility with the help of DSCM, allowing them to respond swiftly to changes in supply and demand, among other factors.
Increased effectiveness Businesses: efficiency improves. DSCM firms can help to ease the myriad processes related with supply chain management, such as placing and managing orders, as well as inventory transportation and storage. Automation has the potential to save money while increasing productivity.
Enhance the user experience: DSCM assists businesses in offering excellent customer service by giving up-to-date information on their orders and how delivery is moving, thereby raising customer trust and satisfaction levels.
Conclusion:
Businesses can use SAP Digital Supply Chain Management to strengthen their supply chains and increase competitiveness in the digital age. SAP DSCM helps enterprises improve supply chain planning, transparency, and collaboration by utilizing modern technologies that update in real-time with data updates – something businesses must implement if they want to stay ahead of competitors, expand and grow effectively, and provide superior customer service.
Which industry are the most benefited by SAP DSCM?
How long does it usually take to implement SAP DSCM?
Implementation timelines will vary depending on the size, complexity, and requirements of an organization's supply chain; implementation may take several months to a year on average.
Will SAP DSCM connect smoothly with existing systems?
Yes, SAP DSCM was designed expressly to connect seamlessly with various existing systems for a smooth transition process.
You might also like the below articles.