Are you looking for an SAP Planner and Optimizer solution? In this article, we will look at the features and benefits of the SAP APO solution.
Understanding SAP APO
SAP APO is a powerful software suite designed to enhance supply chain management procedures. SAP APO enables businesses to improve supply and demand scheduling, production planning, transportation logistics management, and other areas of interest within their supply chains by providing advanced functions and analytic capabilities.
What is SAP APO
SAP APO is an abbreviation for Advanced Planner and Optimizer. SAP APO is a supply chain planning tool that assists businesses in managing their supply chains. SAP APO primarily consisted of four modules: DP (Demand Planning), SNP (Supply Network Planning), PPDS (Production Planning and Detail Scheduling), and GATP (Global Asset Tracking) (Global Available to Promise). Learning SAP APO ideally requires some domain knowledge, but this is not required. If you want to learn SAP APO but are new to supply chain and SAP, it is recommended that you first learn basic supply chain concepts. In comparison to other SAP modules, SAP APO is a very interesting and enjoyable tool to learn.
SAP has expanded its planning footprint beyond SAP APO in recent years with the addition of SAP Sales and Operations Planning, SAP Demand Signal Management, and SAP Enterprise Inventory and Service-Level Optimization. Based on the business drivers discussed at the outset of this article, SAP envisions a cutting-edge demand network that places the customer at the center of everything.
SAP opted to streamline the overall planning platform with this new approach, focusing on speed, customer-centricity, and response.
What is the benefits of SAP APO
Increased revenue from supply chains
Improved profit margins by creating business value
Lower purchasing expenses
Lower production and logistics costs
Better inventory management
Better management of Supply chain
SAP's strategy is based on SAP HANA technology, which allows for a common data model and real-time data across supply chain planning systems. Customers will have more deployment alternatives moving ahead if they switch from on-premise technology to a purpose-built, cloud-based platform.
Companies can use the new technologies to turn their supply chains into demand networks by:
By deploying SAP Cloud, you can reduce the complexity and time it takes to deliver business value.
A redesigned user interface with incorporated collaboration technologies and the opportunity for planners to work within Microsoft Excel simplifies and coordinates the planning experience for users across functions.
By integrating SAP HANA to provide demand networks with real-time monitoring and an emphasis on short-term planning, demand networks may react more swiftly to changes in demand and capture more sales.
By minimizing any latency caused by data transfer between separate planning systems, more frequent planning cycles can be achieved.
Ensure that plans are implemented in operational systems by combining predictive analytics (such as demand sensing) algorithms with optimization (such as multi-echelon inventory optimization) to transform plans into operational systems.
SAP APO is an advanced planning component for optimizing production or procurement strategies. All the way up to and including Release. APO was a stand-alone system until release 4.0 when it was merged with the other systems mentioned above to form SAP SCM. SAP SCM7.0, which contains SAP APO 7.0, is the most recent release.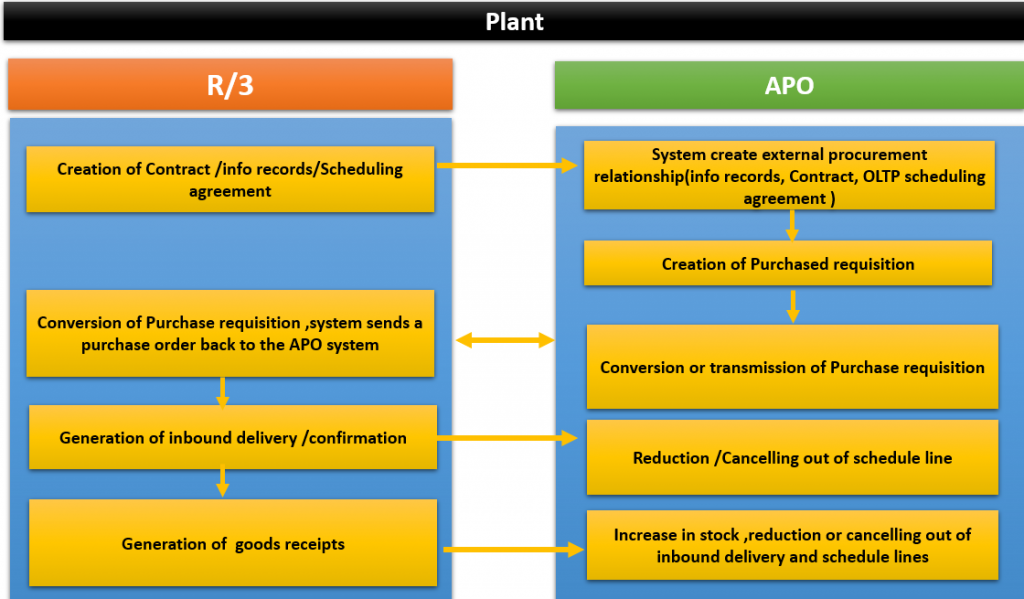 SAP APO Functionality
APO -Demand Planning
Demand Planning offers extensive option for forecasting based on aggregated historical data SAP Advanced Planner and Optimizer (SAP APO) Demand Planning (DP) component is a complicated, high-performance, and versatile tool that supports your company's sales/requirements planning process. User-specific planning layouts and interactive planning books enable the forecasting process to include not only different departments but also other enterprises. The configuration of demand planning is critical to the system's successful implementation. This is done, as it is for the Supply Network Planning component as well.
APO -Supply networks planning
For medium to long-term cross-plant procurement planning, supply network planning is used. Typically, this is done with aggregated data (master data, Period based planning)
SNP ensures the most efficient use of resources in manufacturing, distribution, and transportation to fulfill forecasted and real demand while taking into account all supply chain restrictions. SNP uses optimal and heuristic methodologies to organize production, procurement, and transportation across the whole supply network.
During the SNP Optimization run, a number of constraints are taken into consideration, including resource capacity constraints. The SNP Optimizer profile is typically used to describe which restrictions you want the optimizer to take into account throughout the optimization process. However, it may be required to define time-based limits in certain cases.
APO production planning / Detailed Scheduling
Production planning and comprehensive capacity scheduling are used for short-term, plant-specific capacity planning. It determines how Production Planning and Detailed Scheduling (PP/DS) reacts to events that are relevant to the planning process. Determines the number of client requests that can be pegged across all apps.:
Determining the reactions to planning-relevant events:
This is a PP/DS-specific usage. You indicate the action Production Planning and Detailed Scheduling (PP/DS) should automatically execute when each planning-relevant event that can occur for a location product occurs in the PP planning procedure. This is a planning-related event. SAP provides standard planning techniques that it suggests you apply in specific situations.
You can, however, create your own planning techniques. Because only particular event-action combinations may be employed effectively inside a planning method, you need to carefully reconcile these with your planning processes.
You must have entered a planning procedure in the location product master to be able to plan a product using PP/DS. Customizing for Production Planning and Detailed Scheduling (PP/DS) allows you to define planning procedures.
Determining the pegging-relevant quantity for customer requirements
You decide whether the desired amount or the proven quantity of client requirements is relevant for pegging during the planning stage. This setting applies to all SAP APO planning apps.
SAP PP/DS, commonly known as Production Planning and Detailed Scheduling, is widely used in industries where complicated manufacturing and scheduling are required. Production Planning and Detailed Scheduling are currently carried out in a separate supply chain box known as SAP APO, which is integrated to SAP ECC or S/4 HANA via Core Interface until SAP S/4 HANA 1610 is released. S/4 HANA on PP/DS has surmounted a number of challenges.
Master data Redundancy.
Continuous CIF Monitoring is required to Fix inconsistent data
In the case of MRP reliance between APO, ECC, and S/4 HANA, there is a significant impact on planning.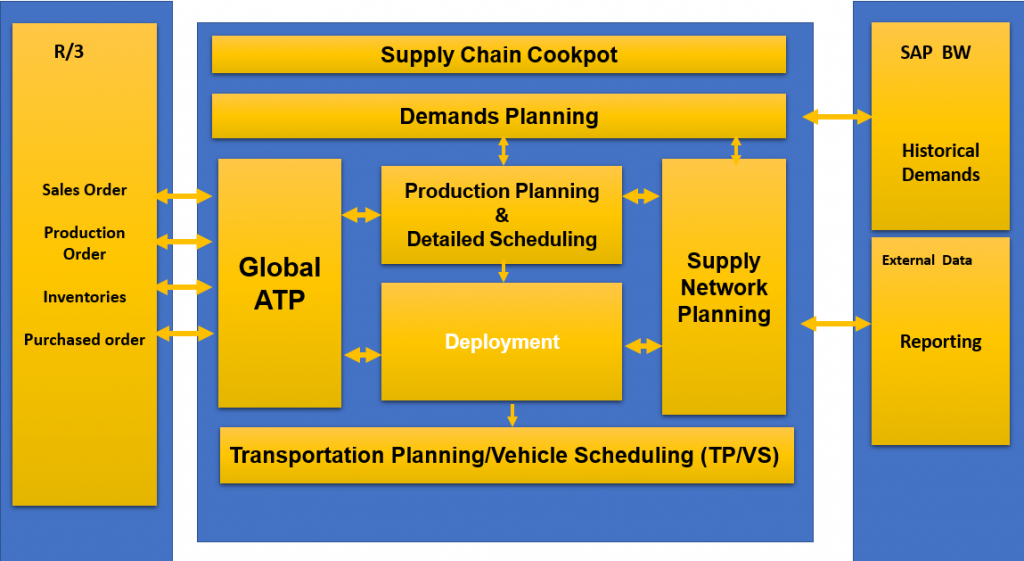 APO Global ATP
In SAP APO, the Global Available to Promise (GTAP) check allows you to check availability across all plants or materials. Global Available to Promise (GATP) is an acronym that stands for "Global Available to Promise." It's a feature of the SAP SCM-APO tool.
GATP is the equivalent of guaranteeing to meet client expectations based on some preset availability checks on your current supply. It employs ATP criteria to determine whether the customer's needs can be met given the available resources.
It is a tool that allows you to use several GATP approaches to try to maximize your customer servicing capacity. For example, if a customer requests product A, you can provide him B, C, D, or ALL (Functionality product substitution); if these items are not accessible at the requested location, the system will search for other locations (Functionality product substitution).
If nothing is available, the system starts the production process (using Available to Promise).In a nutshell, it helps by lowering customer demand loss while also improving serviceability.
APO -Transports planning / Vehicle scheduling (TP/VS)
TR/VS is used to plan and optimize shipments for orders (sales orders, purchase orders, refunds, and stock transport orders) and deliveries, as well as to optimize routes and modes of transportation. You achieve this by assigning orders and delivery to vehicles for which shipments are planned. You might consider a variety of constraints, such as requested delivery.
Outbound delivery, incoming delivery, and cross-docking, EWM are all supported by TP/VS. Outbound delivery, incoming delivery, and cross-docking are all supported by TP/VS.
Conclusion
Optimizing your supply chain is crucial to staying ahead of the competition in today's increasingly competitive business world. SAP APO delivers a collection of tools and features designed to assist businesses in unlocking new levels of supply chain efficiency using SAP APO. Contact us today to begin the process of developing a simplified and optimized supply chain!
We hope this article clarify about SAP APO Overview Functionality. You should read some articles
Looking for SAP APO books. Check out the below link