The purpose of this article is to explain the SAP billing processes. We'll explain how billing works, discuss certain important scenarios and demonstrate the setting options for the configuration.
Introduction of SAP Billing
The billing process is the most vital step of an entire sales cycle. customers are charged for the goods or services they have received during the sap billing phase. If there are any errors in the amount billed or if the buyer returns the item for any reason, the difference will be resolved by issuing subsequent credit or debit memos or return credit. All of these documents are referred to as bills in SAP.
In the course of billing, you may choose to do the final repricing process for one or all pricing conditions before you create the invoice. The invoice documents are sent to the accounting department for the billing process.
When business transactions are set as complete, all relevant information related to billing is sent into the sales and Distribution (SD) for invoicing; Automated billing allows you to create billing documents for these list items by hand or set it to run on a regular basis without user intervention. These methods generate billing documents that are then posted to the financial accounting system and then sent to customers.
Within SAP it is possible to creating a bill document or an invoice for the client without actually incorporating it available to Financial Accounting and being updated. Therefore, it is essential to reconcile and use SAP report to make sure that every order and delivery is added to the FI module.
SAP Billing is completely integrated with the Financial Accounting (FI) module and allows real-time financial accounting for an organization.
Billing process flow
A sales document is due for billing when an item has been received or a service performed. Things like posting items issued (or an acknowledgment of service) in delivery may cause the document to be billed. Billing for orders is another scenario. when you create the item categories, you can choose the billing options such as order-related bills and delivery-related billing. The list goes on. These settings determine the items that appear in the list of billings due. Another aspect that determines the items due to be billed can be found in the Billing Date field in the sales invoice. The item is not billed until the date for billing is completed.
Billing facilitates the following functions:
Invoices and Pro-forma invoices are created based on deliveries or services.
Transferring data from postings to financial accounting
Credit and debit memos are created based on requests
Cancellation of business transactions
Invoice creation
Making credit and debit memos
Cancellation of business transactions/invoices
Invoice for self-billing
Collective invoice
Transferring data from posting to financial accounting. This is usually done when the billing document has been created. For more complex billing documents, such as credit and debit memos, you may need to include a blocking block. After this block is removed, the accounting document that corresponds to the billing document can be created.
How to create billing document in sap
There are many ways to create a bill document.We can also use the following methods to create an billing :
By indicating the documents to be invoiced (Sales order, Delivery).
By manually processing the bill duelist
As a background Jobs , the system will automatically process the billing due list.
Interface to Financial Accounting
The billing data is sent to financial accounting during billing and posted to the appropriate accounts. These accounts are automatically determined based on the account determination criteria contained in the billing document. The billing document is a request for payment that is sent to the customer, and the billing document is a demand for payment. These accounts are automatically determined based on the account determination criteria.
When creating a billing document, the system forwards relevant data to Accounting. The system uses the 'Account determination technique' to post data to the appropriate General Ledger accounts.
These are the steps to create an error-free accounting document.
Customer master must be updated with the Account assignment group of customers.
Material master must maintain the Account assignment group for the material.
Pricing procedure must be included in the sales order header.
From the billing type, you can identify the type of FI document.If the system is not maintained, it automatically determines the document type'
The system uses the following G/L accounts: Revenue, General Ledger, Customer account receivable. Sales Deductions, Accruals.Ensure that FI recognizes all documents about a single business transaction(e.g., Credit memo to invoice). This can be achieved by customizing the reference number and allocation number Transferring partner functions into Accounting: This indicator can be used to determine which When billing is maintained, the partner function (Payer), should be transferred to the accounting
What are billing types in SAP SD?
F1 :Order Related Invoice
Invoices regarding sales orders can be used to request money before the goods are sent to customers. These are common billing documents.
Credit memos
Debit memos
Invoice correction request
F2: Delivery related invoice:
To ensure that the goods have been sent before an invoice is generated, create an invoice based on delivery. An invoice can be created with either reference to the order or delivery.
IV :Intercompany Sales
Transactions occur when the selling organization is a different company code from the delivering company. It is different from the standard bill type in the following ways. The customer number is considered an 'internal customer.' Assignment of order type to Intercompany billing type IV. Material to be sold must be in the Receiving and Supplying plants. Copy control for "F2" to "IV." Pricing procedures have special condition type "IV01".
BV :Cash Sale
In one step, order and delivery are created. These details may differ from the standard billing type.
Order-related billing
No output determination (carried in sales document).
There is no new price determination (pricing differs from the printed invoice).
Posting to FI for cash settlement not to the customer
Cancellation is possible by using e. Billing Type 'SV'
S1:Cancellation Invoice
The system copies the reference document data into cancellation and offsets the accounting entry.
We can retain the cancellation type in the billing type control "F2" (billing document type). Individual items within a billing document can be cancelled.
L2 :Credit/Debit memo
You can create w.r.t. Credit/debit memo request, or billing reference
The system creates a billing block for you automatically.
Employee can then release the request and determine the amount credited/debited. Reject the item and indicate why.
F8 :Pro forma Invoice :
It is used primarily for export transactions.
It's used only for information purposes.
You can create pro forma invoices as many times as you need.
Data is not transferred into Accounting
Control parameter for copying To avoid this, Quantity/Value Pos./Neg cannot be entered. Possibility of updating the amount already billed
RE:Credit for Returns
You can return goods that the customer has returned.
Returns will be processed the same as credit memo requests.
The credit memo is applied to the order, not the return delivery.
RK:Invoice Correction Request :
It is a combination of debit and credit memos.
Items are duplicated by default.
The resulting item categories must have pos/neg values.
You can make a memo to indicate a price or quantity difference.
It must refer to the corresponding billing document (not order or output).
Special Billing Process
The following types of billing are available
F5 – Sales Order
F8 Delivery
It is different from invoices in the following way,In delivery-related pro forma invoices, goods issue is not required. As long as your billing status has not been updated, you can create multiple invoices. Pro forma data is not sent to the FI accounting system.
SAP Billing Controls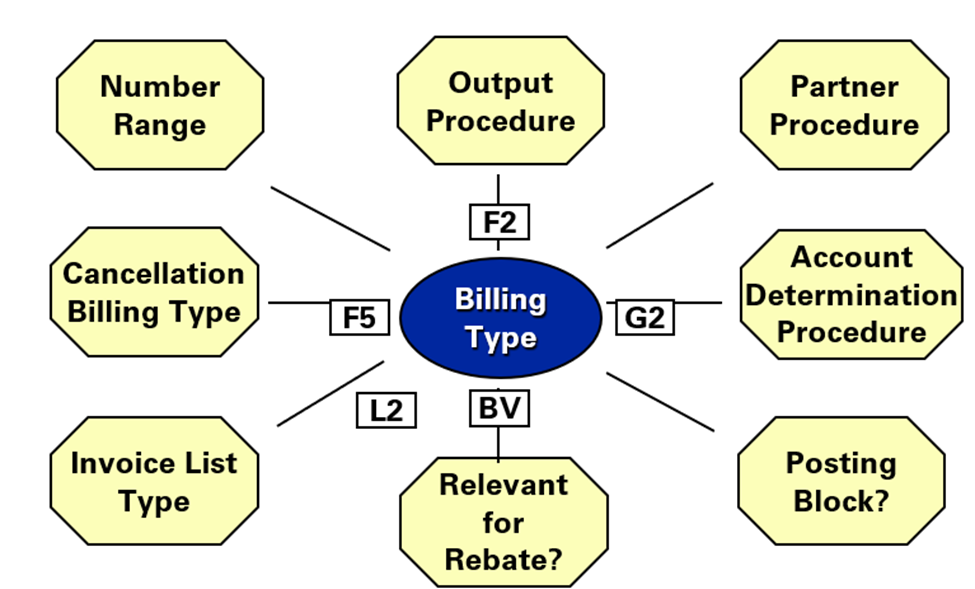 Billing Type governs the billing document's behavior.The billing type determines whether or not the generation of a billing document causes accounting entries to be immediately posted. Each type of billing has its own set of functions. These functions are controlled by the billing type:
What number range is being used?
Cancellation can be made
What is the type of invoice list?
What billing type is relevant for rebate processing?
Should the general ledger accounts be automatically updated at billing document creation?
Which procedure should financial accounting be performed?
What partner functions are permitted at the item and header levels?
What output is permitted for the business transaction? And for what procedure is it proposed to be used?
Copy the item category from the sales order item that is the basis of the billing document.
Billing document types definition IMG>>Sales and Distribution>>Billing >>Billing Documents>>Define billing types
SAP Billing Copy Control
Copy Control is described as a procedure in which the crucial transactions of documents for sales are transferred from one document to another. It is comprised of routines that decide the system's rules in which way the data has to be copied from the document source to a final document. The SAP system includes a range of these routines. You may also develop additional routines that meet the demands of the business. When creating an entirely new routine, you could use an existing sales document to serve as an example. You can define billing controls for every transaction and store them in the system. These can be found in the configuration under Document flow for billing types using routines to copy requirements and transfer data.
How data is transferred in SAP Order to cash cycle process ?
What requirements must the order be a fulfillment to the bill?
What circumstances allow deliveries to be combined in one invoice?
What items can appear together in the billing document (criteria to invoice split)?
The system will attempt to combine deliveries for one customer in one invoice. However, you can set conditions that prevent it from doing so. You can, for example, specify that deliveries from a specific division cannot be invoiced together.
For Example :Billing Document (F2) to Delivery Document (LF) e.g. Sale of Goods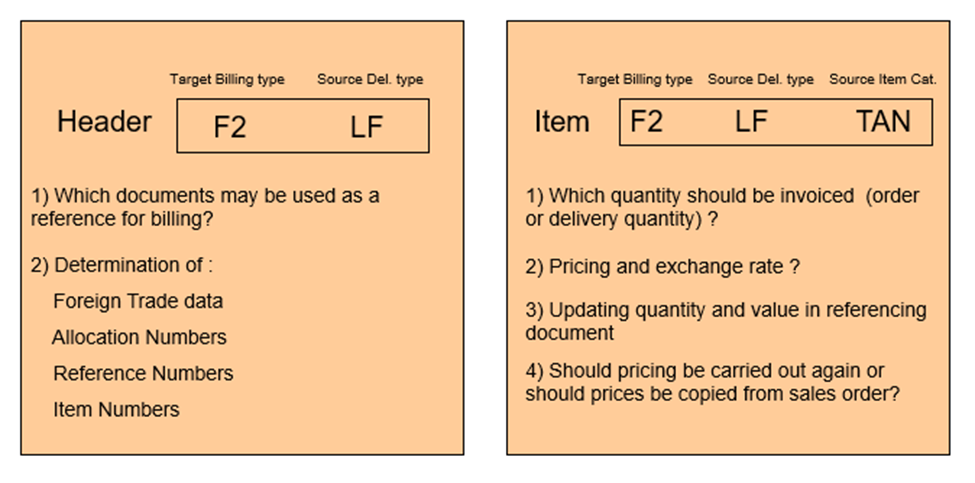 We hope that this article has covered all aspects of SAP billing documents. . Here are a few more articles you might enjoy reading.
What is periodic billing in SAP billing?
The term "periodic billing" refers to charging the total amount for each day of the plan. This billing plan can be utilized in situations such as leasing agreements, cycle billing, and so on.
What is Milestone billing?
Milestone billing is the process of billing the customer for the total project cost. Or, the customer may be charged a percentage or a predetermined amount.
How to do SAP SD Billing Configuration?
VOFA- Define Billing Types setting
VN01- Define Number Range for Sales & Distribution Billing Document
VTFA -Maintain Copying control for Sales Document to Billing Document
VTFF -Maintain Copying control for Billing Document to Billing Document
VTFL- Copying control: Delivery Document to Billing Document
SPRO-Define and assign Blocking Reasons
SPRO-Define Internal Customer number by sales organization (for Intercompany Billing)
How to proceed with the TCODE in billing
VF01-Create Billing Document
VF02-Change Billing Document
VF03-Display Billing Document
VF11-Cancel Invoice
VF04-Process Billing Due List
VFX3-Blocked Billing Document
VF21-Create invoice list
VF22-Change invoice list
VF23-Create invoice list
VF26 Cancel / Reverse