SAP Intelligent Robotic Process Automation (IRPA), a type of artificial intelligence, enables SAP software to automate business-process tasks. Intelligent Robotic Process Automation (IRPA) offers several benefits, including faster processing speeds and higher efficiency. It also allows us to scale up or decrease depending on the demand.How to maximise robotic process automation will be covered in this post on SAP Intelligent Robotic Process Automation.
As a way to improve efficiency and streamline processes, robotic process automation (RPA) has gained popularity. RPA is a way for organizations to automate complex tasks. Intelligent Robotic Process Automation (IRPA) can bring many benefits, such as reducing costs and increasing efficiency. It also creates a customer-centric environment.
Introduction of Intelligent Robotic Process Automation (IRA)
Automation is a simple concept. Automation is using technology to make it easier to do some work. It can be anything from a simple task or a complicated procedure. As long as there have been things to do, humans have tried automating them. It sometimes went differently than planned. You can do a quick Google search for automation failures to find different results. Many are very entertaining to watch.
Despite its many difficulties, automation has the potential to bring about significant benefits. Automated enterprises often experience substantial and tangible benefits. Automation provides a competitive advantage through increased agility and scalability in today's fast-paced business world.
Automation can come in many forms. It could be personal productivity apps or full-scale automated manufacturing of complex products with physical robots.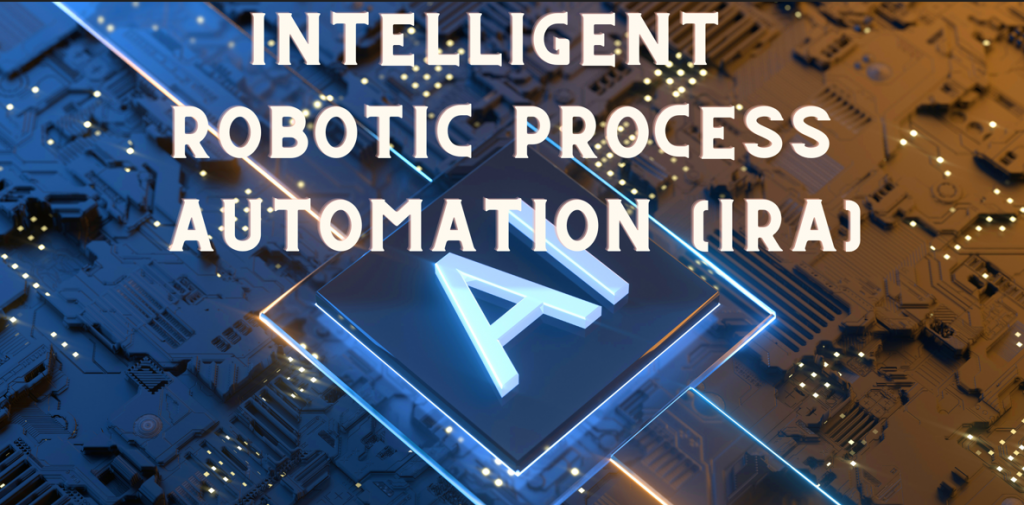 As a solution that focuses on improving the core processes of businesses, robotic process automation (RPA) has emerged. This artile will examine the importance of automation in enterprises and why Intelligent Robotic Process Automation (IRPA) was created to meet this need. We also discuss the terminology and benefits RPA brings to the process automation field.
The Role of Automation in Enterprises
Enterprise processes can be complex and often involve multiple players at different technological maturity levels. A large manufacturer might be thoroughly equipped to integrate its supply chain with an application programming interface (API).
Automation has many benefits. Automation offers many potential benefits, as shown in the examples of manual tasks. If humans have to manually copy data from attachments or emails hundreds of times daily, automation can dramatically increase efficiency and reduce errors. These are some of the high-level benefits for business:
Enhanced operations efficiency
Service quality has improved
Reduction of human errors
Increased compliance
Automation is not only about automating manual tasks. Automation is only half of the value that can be realized. Implementing automation allows workers to focus on more practical, transformative activities like improving customer experience, strengthening supplier relationships, and imagining new revenue streams or business models.
What SAP Process automation ?
The SAP Process Automation toolset is a complete platform that automates the entire SAP process. This platform provides tools for process mapping and process flow analysis as well as process automation and business rule management. These tools make it easier to automate and manage SAP processes such as Marketing , Sales , Procurment.
What is Intelligent Robotic Process Automation (IRPA)
SAP Intelligent Robotic Process Automation allows you to automate workflows and combine data from different systems in real time. SAP Intelligent Robotic Process Automation can learn from past experiences and make better decisions to accelerate business processes. This allows employees to concentrate on more valuable activities, such as developing customer relationships and defining business strategies. SAP Intelligent Robotic Process Automation (SAP IRPA) is a hybrid solution that consists of three components.
Create automation processes using the Cloud Studio and for the on-premises desktop Studio.
Automate automation processes using the cloud Factory, Which provide various used case.
Use the on-premises Desktop agent to automate the processes using BOT.
What Are the Benefits of Robotic Process Automation?
Numerous industry analysts have studied the potential impact RPA has on their businesses. McKinsey conducted a study comparing the cost savings of automating only tasks a few years ago. The results were astonishing. According to their study, "Intelligent Process Automation – The Engine that is the Core of the Next-Generation Operations Model," automating 50% to 70% of the tasks will result in an increase of 20–35% in operating costs, a reduction of 50%–60% in execution time, and a triple-digit return on investment. Intelligent Robotic Process Automation (IRPA) offers a number of advantages that could help businesses succeed and add value.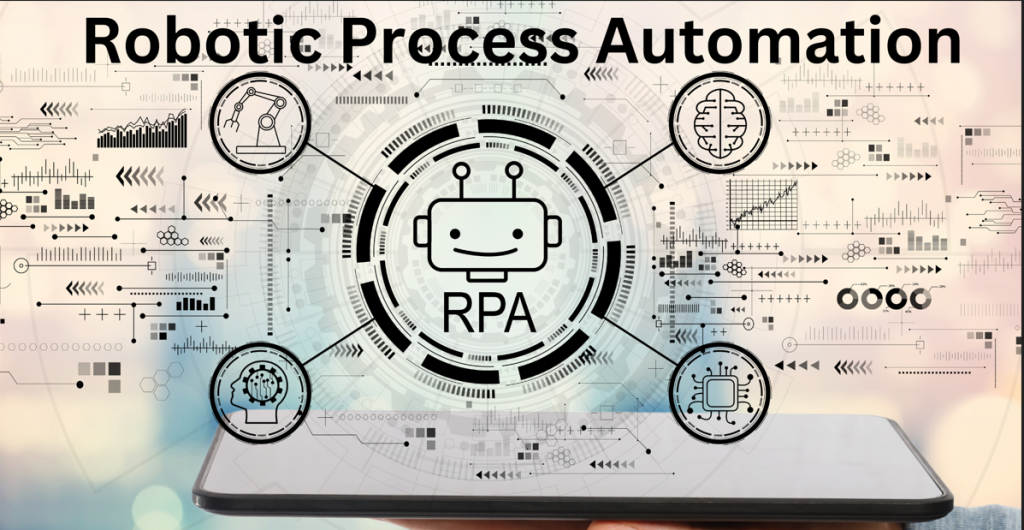 Advantages of SAP Intelligent RPA
Artificial intelligence is gaining popularity in the business world at an alarming rate. This is partly due to the many benefits AI can bring businesses. One such benefit is SAP Intelligent RPA.
For many years, artificial intelligence has been used to automate tasks in businesses. Sap intelligent rpa is a new way to automate data management. It can also help to identify and fix problems quicker.SAP intelligent rpa, for example, can be used to identify and fix errors in customer orders. It can also be used to improve the quality of customer surveys and call center information. This allows businesses to reduce the costs of poor data and service delivery.Let consider below the impact of automation on any organisation.
SAP along with RPA Integration Use case
The integration of SAP with RPA can offer many benefits, such as:
Automating Processes: RPA can simplify repetitive work within SAP, including data entry, validation, and report creation. This frees personnel to concentrate on more important and valuable tasks.
Increased Efficiency: Automating manual processes and combining SAP and RPA can enhance efficiency, reduce cycle times, and reduce the risk of mistakes. This results in increased efficiency and savings in cost.
Data Synchronization :RPA bots can assure data consistency and accuracy by synchronizing data across various systems and applications integrated with SAP. This ensures the integrity of the data and eliminates the necessity to manually enter data or reconciliation.
The ability to scale: RPA allows for scaling automation in SAP. As the number of processes or transactions increases, bots can be created to manage the workload, ensuring consistent and efficient processes.
Process Integration: RPA can connect the gap between different platforms and software by making it possible to seamlessly exchange data along with process integration. It can access data from non-SAP apps and then import this data into SAP systems, and reverse the process, allowing complete automation of business processes.
Improvement in Compliance: RPA can help ensure conformity with standards and regulations by automating rules-based compliance checks and validations in SAP systems. This decreases the chance of human error and improves the ability to audit.
Impacts of Robotic Process Automation
Intelligent Robotic Process Automation (IRPA) automates a variety of business functions and tasks across the organization.
Financial impacts
Lower labor costs
Process-wide execution costs reduced
Reduction in financial risk from human-related errors
Reduction in paper usage and the resulting waste
It doesn't require a physical workspace
Organizational Impacts
Focus on tasks with a higher value will increase employee morale
Audit trails that are more thorough for compliance and governance
For transparency and traceability, detailed operation logs are available
Increased responsiveness to market conditions changes
Operational Impacts
Consistent execution leads to improved operational quality
Process execution times are reduced, which results in increased overall throughput
Reduction in errors and associated rework to rectify errors
Any location, 24/7 operation
Scales quickly up or down according to changing conditions such as peak transactions periods or seasonal demand
Utilizing existing UIs helps to minimize the impact on existing systems.
Benefits of Intelligent Robotic Process Automation
These impacts result in Intelligent Robotic Process Automation (IRPA) generating significant business value for the enterprise. These benefits can give you a competitive edge in an ever-evolving business world.
Increased business agility
Intelligent Robotic Process Automation (IRPA) is a way to ensure the right data is accessible to the right people at all times. This can lead to better decision-making and faster response to changing business environments, and improved decision-making.
Improved operational efficiency and scalability
Automating tasks allows businesses to do more with less. This improves process execution efficiency and accuracy. It also allows for the rapid scaling of existing resources.
Improved customer experience
Customers and stakeholders get faster, more accurate information and responses, regardless of the time or place, without waiting for follow-the-sun call centers. This boosts client satisfaction and enhances the client encounter.
Driving new business models
Employees can now focus on analyzing and implementing new revenue streams and business models to support corporate strategic objectives.
Innovation is possible
Intelligent Robotic Process Automation (IRPA) allows workers to concentrate on the innovation needed for digital transformation and business differentiation. Humans are great at creative tasks.
Increased productivity
The resilience of bots that use APIs rather than UIs is improved by using them as backend systems and application UIs are updated or patched. They can continue to function without having to be updated for modified UIs. This directly benefits business productivity.
Implementation SAP Intelligent RPA
In recent years, SAP Intelligent RPA has gained popularity. SAP Intelligent RPA is capable of automating most tasks normally performed by humans. This can help companies save a lot of money and time.
SAP Intelligent RPA can help reduce employees' workloads. This is one of the greatest benefits. Imagine a sales rep who has to sell products to customers. SAP Intelligent RPA allows you to have an automated system that does all the selling. This would allow your sales reps to concentrate on more important tasks like customer service and lead generation.
SAP Intelligent RPA can also improve your overall business efficiency. Imagine customer service that takes care of complaints and returns.
How does SAP iRPA work?
Companies often use RPA to automate tasks and not processes. While this approach is undoubtedly valuable, it might not live up to the expectations of RPA. Moving forward, more attention will be given to how RPA can bring value across entire processes.
Implementing RPA presents a challenge in that it is difficult to find and analyze the processes that can be automated. There is now a greater awareness of the interrelationships among RPA and other process-centric tools like process mining, discovery, process design and integration, and process monitoring. These tools can be combined to provide a complete process lifecycle solution. The process mining process can help identify and document the actual execution of the process, as well as any bottlenecks. The architecture tools can be used to create and document better process flows throughout a landscape. This allows for clear identification of RPA automation opportunities. To measure overall effectiveness, process monitoring tools are useful.
RPA tools can automatically adapt using AI. They will provide prescriptive or predictive feedback about process improvements. They can even learn dynamically based on human interactions throughout the process.The next section will discuss the benefits of RPA as well as how it can be used to help enterprises move through digital transformation.
What are IRPA tools for AP Intelligent Robotic Process Automation?
Machine Learning
Machine learning is a domain that has been around for many decades. It has seen varying degrees of success in different organizations. Machine learning is a complex field that requires technical knowledge, advanced tools, and lots of training data. With the advent of new tools and access to massive amounts of data, both public and private, machine learning has become more complex. As you can see, machine learning has many benefits that are specific to RPA.
SAP Conversational AI
SAP Conversational AI allows humans to communicate with websites, applications, and devices via natural language, voice, typing, and other inputs. SAP Conversational AI, which is viewed from the SAP Intelligent RPA perspective, provides a channel of user interaction in an automated scenario that requires human interaction and offers multiple benefits.
APIs
Rapid growth of the API Economy is evident. APIs are a key way to quickly connect functionality from multiple sources and provide value. For example, you can embed the ability to call ride-sharing services within multiple apps ranging from travel apps to dining apps. SAP Intelligent RPA leverages APIs to create robust bots that offer multiple benefits.
Bot Development and Testing
SAP's Intelligent RPA solution allows companies to enhance the user experience, both technical and non-technical. Automation can be created on the server or local workstation, making it easy to use the screen declaring process.The integrated development environment (IDE), one of the three components of SAP's solution, is the Desktop Studio. It is used to connect apps to the bot, define and declare screens, fields for data and action maps, create workflows and test the bot.
Project Deployment & Configuration
It's now time to put the bot into action. To ensure a successful deployment, there are many steps involved. The Cloud Factory, a component of SAP Intelligent RPA, is responsible for the following.
To execute fully automated processes, agents must be coordinated
Triggering desktop/virtual machine processes remotely
Monitoring and scheduling the bot execution
The Cloud Factory can be organized according to environments such as PROD, DEV, TEST and TEST. The Cloud Factory is organized by user and machine hierarchies. This allows for the limiting of bot execution and utilization. To ensure successful automation, users can monitor the bot while it is running.
SAP intelligent robotic process automation factory
A SAP automated intelligent robot factory (IRPA) is production facility that makes use of robotics as well as artificial intelligence to automate processes. This kind of facility is commonly utilized in production lines to make goods like aircrafts, cars or pharmaceuticals. Robots help the factory operate more efficiently and speedier which could result in lower expenses for businesses.
Execution and Monitoring
SAP Intelligent RPA Solution is the Desktop Agent. It is used to automate jobs.teaches you how to create automation bots with the Desktop Studio. teaches you how to manage projects, deploy and configure packages in Cloud Factory. This section will explain how SAP Intelligent RPA jobs can be executed and monitored with the Desktop Agent or Cloud Factory. It also addresses the issue of job scheduling.
How to manage API attended and unattended jobs
How to create job notifiers
How can you monitor the jobs in different areas of the landscape?
How to manage and monitor connected agents
SAP Process automation discovery center
SAP Cloud Platform Discovery Center enables you to start projects quickly and innovate more quickly. You will be influenced by case studies and guided from the beginning of your project through solution implementation within the planned mission within the Discovery Center.
Conclusion:
In conclusion, SAP Intelligent robotic process automation (RPA) is a disruptive technology that can dramatically improve the efficiency and accuracy of business processes. The benefits of RPA are clear, but implementation can be difficult. Organizations should consider RPA as a tool to streamline their operations and increase profitability. Its also reduce time-to-market and improve quality through increased accuracy and productivity. Implementing RPA can be a cost-effective way to boost organizational efficiency and create a competitive edge in the market.
Where can I find SAP Process Automation Store documentation?
You can view predefined automation use cases by visiting the SAP Process Automation Store.
SAP Process Automation vs IRPA
Each process automation solution has advantages and disadvantages, but which is best for your organization?
 
1. Benefits of SAP Process Automation
SAP process automation is first and foremost a comprehensive solution that covers all aspects of business process management (BPM). This means it can automate many different types of processes in an organization, from customer interactions and sales processes to system maintenance and project management. Additionally, SAP process automation is flexible and customizable, so it can be tailored to your specific needs.
 
2. Disadvantages of SAP process automation
In contrast, automating SAP processes can be costly upfront. Additionally, it can be difficult to set up and maintain at scale.
You might also like the below articles.