SAP ALM (Application Lifecycle Management) is a field of increasing interest within SDLC. The SAP Information Lifecycle Management (SAP ILM) component lets SAP customers control the entire process of data management in a well-organized, efficient, automated, and compliant manner. We utilize SAP ILM extensively to deliver efficient archiving, decommissioning, and GDPR-related projects. Certain aspects of this component come as standard, and we will determine the requirements specific to our system during our initial research phase. In this article, we'll provide details on the fundamental functions of SAP ILM. Are we able to make use of these capabilities to monitor the completion of the lifecycle of data specifically (regardless of whether the data is archived and/or not)
What is SAP ALM
Application Lifecycle Management (ALM) from SAP offers methods, tools, best practices, and services for managing SAP or non-SAP solutions. SAP provides three ALM products for on-premises hybrid or cloud solution landscapes.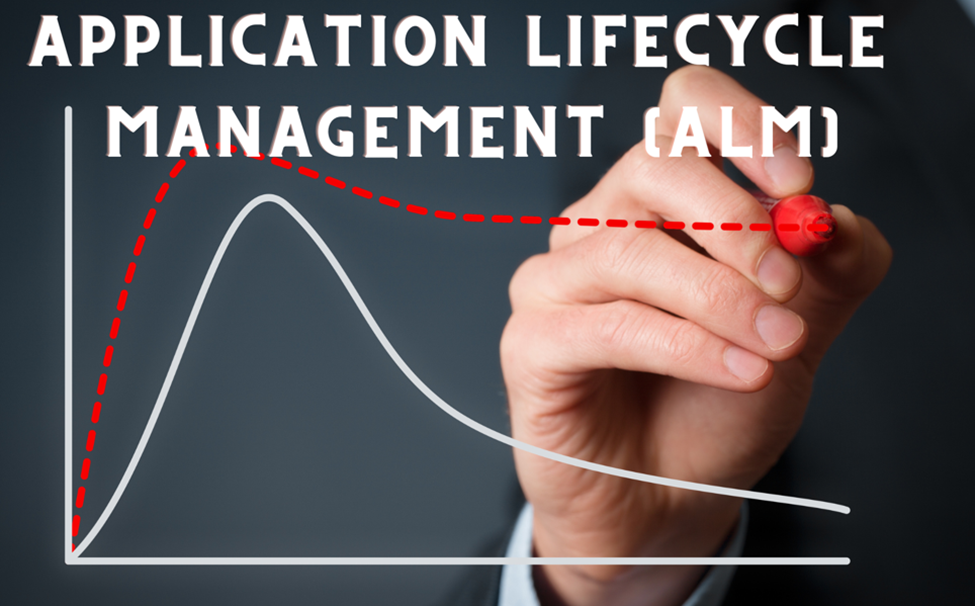 What Is SAP Cloud ALM
SAP Cloud ALM was designed to place you back in control of the seat, not just in cloud-based environments, but as well in hybrid landscapes, which is the new norm. A few of the advantages of SAP Cloud ALM are outlined. In the sections below in this article, we'll look at SAP Cloud ALM and its features and the possibilities of using it to implement operations, implementations, and other services. The benefits of shifting to cloud computing are numerous, including greater simplicity and flexibility, as well as less overhead for infrastructure.
What is SAP ILM
SAP Information Lifecycle Management (ILM) is a set of tools and processes for managing a company's data lifecycle. It assists businesses in lowering the cost and complexity of managing large volumes of data by providing a framework for categorising, storing, and disposing of data based on its value and importance.
SAP ILM assists organisations in making better use of their storage resources and lowering the risk of data loss or corruption. It also aids in compliance with data retention and privacy regulations by allowing for the proper handling of sensitive data. SAP ILM can be used to manage data both within SAP systems and in other systems. It includes tools for data archiving, data migration, data retention, and data deletion, and it can be tailored to an organization's specific needs and requirements.
To provide a comprehensive approach to data management, ILM is frequently used in conjunction with other SAP solutions such as SAP S/4HANA and SAP Ariba. Companies in a wide range of industries use it to improve the efficiency and effectiveness of their data management processes.
Why we are using SAP ALM
The issues of managing data and protecting data have become more crucial as the General Data Protection Regulation (GDPR) was made legally binding across Europe on May 25, 2018.
Since then, businesses are now required to handle the personal information of their customers, employees, suppliers, and business partners with the utmost care. That means it's no longer only a matter of storing information in an efficient system in a systematic way, but also of making sure that the data is deleted after its legally-defined life cycle expires.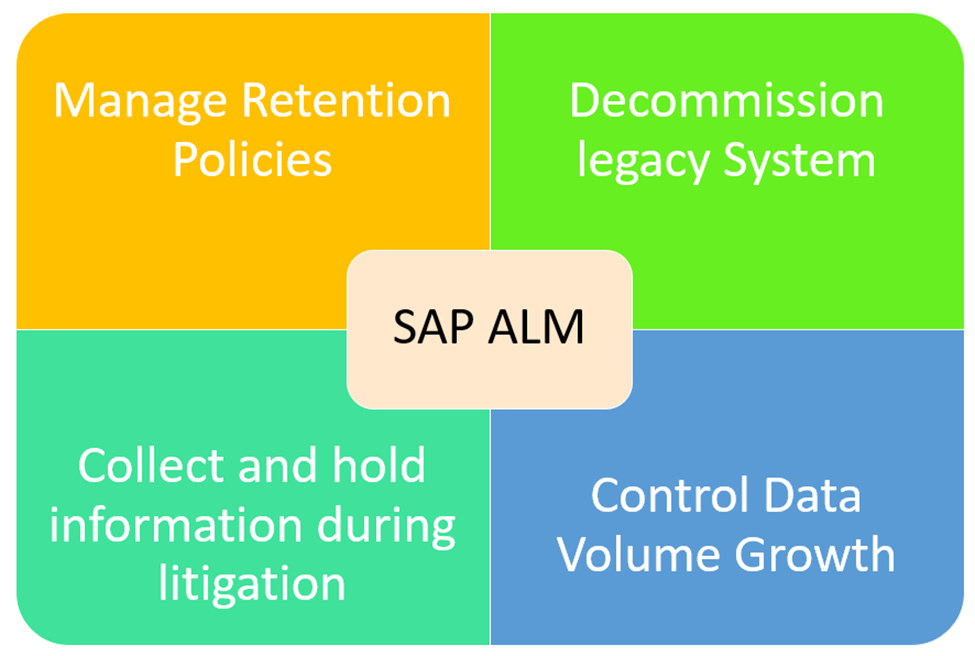 Data management and privacy are of paramount importance to companies of the present. The processing of personal information to ensure compliance with the regulations on data protection and the general processing of all data required to be retained in accordance with the law pose a number of issues on both a legal and a technical level
There are various laws that regulate the storage of data and the duty of companies to destroy the information at some point or, more accurately and precisely, to erase it. It is essential to ensure that the information is not required on one hand and that the legally-required times are followed on the other hand.
ALM aids in the archiving of data within complex systems landscapes, and also the management of personal information from a protection standpoint and also of data that is derived that have been removed from systems.
It's in the context of these new requirements for the legally compliant and data-protection-compliant administration of data that SAP has developed an entirely new solution, SAP Information Lifecycle Management (SAP ILM). SAP ALM has grown into an extensive management system for data that is collected and/or produced in a company, and its lifecycle
Introduction to SAP Information Lifecycle Management(ALM)
What's the secret in the concept of information lifecycle management (ILM), and why is it being discussed more frequently in connection in conjunction with the General Data Protection Regulation (GDPR) and the ease of blocking and destruction within SAP Business Suite and SAP S/4HANA? Maybe you're seeking an answer to this issue inside this publication. Maybe you're familiar with a few aspects of this concept and you're looking for more detailed information and specifics. In either case, There are plenty of things to be found. Let's start with the fundamentals and the development history of SAP ILM.
Data Archiving to Information Lifecycle Management
A few years ago, SAP's main working group that was responsible for an archive of data at SAP was constantly confronted by the issue of whether SAP ILM could be beneficial and what the benefits of it could bring. These issues were discussed in meetings with SAP's customer consultants, and partners. The external reasons behind SAP's implementation of ILM may be as follows:
Legal retention obligations
Product liability
Legal proceedings actions (blocking due to legal cases, e-discovery)
Tax notifications, audits
Innovative technologies
There are also several internal issues within the company where the implementation of SAP ILM might provide a solution, such as in the following manner:
High costs for hardware and administration
Guidelines and Service Level Agreements (SLAs)
Harmonization/centralization of the system landscape
Mergers and acquisitions
SAP ILM, as a solution for the preceding requirements, can lead to the following positive results for your company
Reduced data volume
Legal compliance
Fewer risks
Reduced overall operating costs
It appears that the main reason for the increased demand from customers was the increasingly stringent legal demands concerning the retention time and storage location of the data. Customers want to save the retention period of their data within the SAP system too, and they also want the system to notify them that it has expired. Archive files are able to be deleted, or, based on the situation in law, may have to be removed. The increasing number of legal cases, and consequently the necessity to know the data that is which are affected by them, and to ensure that it is not deleted until the legal proceedings are completed (especially after the standard retention period is over) has led to an increase in curiosity about SAP ILM
Data Retention & Data Archiving
Data retention refers to data that has been assigned retention periods on the basis of the following:
Legal guidelines (e.g., concerning tax audits or product liability)
Company-internal regulations
Other legal, statutory, or contractual provisions
The retention period can be a minimum or maximum retention period.
Another possible reason is the growing trend towards the harmonization and consolidation of systems landscapes and the common desire of customers to lower the overall cost of ownership (TCO).
Yet, SAP didn't have a solution to these problems at the time. Data archiving was in high demand but didn't have the option of setting retention periods for the records. Also, it was not possible to incorporate archived data in a legal proceeding and to instruct the system to hold off on the destruction of the data after the retention period had ended until the legal matter was concluded.
In the end, SAP Data Archiving couldn't be used to integrate and reduce the number of your systems if you wanted to eliminate some. This wasn't available for mergers, acquisitions, or when coordinating and consolidating systems landscapes. This was the reason we started to search for an answer. In the hope that data archiving could aid in this regard, SAP wondered exactly which new capabilities were required and what they could look like in more detail.
It was clear that data archives were required, possibly more than previously because SAP's customers are always looking for solutions to their most urgent questions right there in the palm of their hands.
Apart from data archiving, there are new features in SAP Information Lifecycle Management (SAP ILM). Please find the below-listed ALM functionalities available.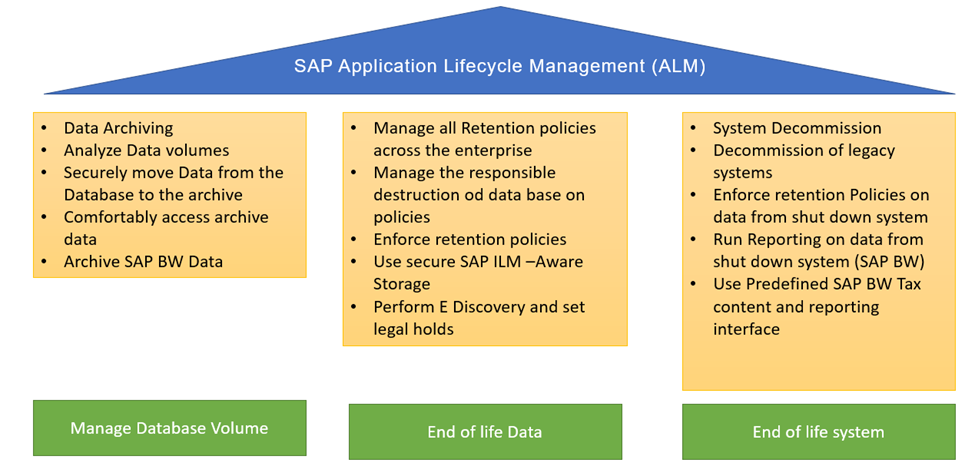 Conclusion
Data archiving is a crucial element of ILM but it's only one component. Making use of ILM to ensure control over your TCO for the SAP environment is something every company must strive for, along with archives. Implementing a continuous ILM strategy in the early stages of the process, particularly in the event of moving to S/4HANA can reduce the cost of migration and will also limit the growth of data in the future and help ensure continuous compliance.
What is the difference between SAP ILM and ALM?
SAP Information Lifecycle Management (ILM) and SAP Application Lifecycle Management (ALM) are two different SAP solutions that are designed to help organizations manage the different stages of their data and application development and deployment processes.
 
SAP ILM is a solution that helps organizations manage the lifecycle of their data by classifying it according to its importance and defining retention and archival policies for it. SAP ILM enables organizations to optimize the storage and retrieval of their data, improve data quality, and reduce data-related costs.
 
SAP ALM, on the other hand, is a solution that helps organizations manage the different stages of their application development and deployment process. SAP ALM includes tools for project management, version control, testing, and deployment. It helps organizations streamline their application development and deployment processes, improve collaboration, and reduce errors.
 
While both SAP ILM and SAP ALM are solutions that help organizations manage their data and applications, they are designed for different purposes. SAP ILM is focused on managing the lifecycle of data, while SAP ALM is focused on managing the lifecycle of applications. Both solutions can be used together to provide a comprehensive approach to managing an organization's data and application assets.
You might also like the below articles.