In today's digital age, business process management plays a pivotal role in the success of an organization. SAP Signavio is gaining popularity as one of the most futuristic solutions for business process management. This article will explore the benefits of SAP Signavio and shed light on how it is leading the way for future business process management.
Introduction of sap signavio
Business process management (BPM) is a critical component of organizational success, and it entails managing and optimizing processes for maximum efficiency and productivity. In this article, we will explore why SAP Signavio is the future of BPM and why it is becoming increasingly popular among organizations.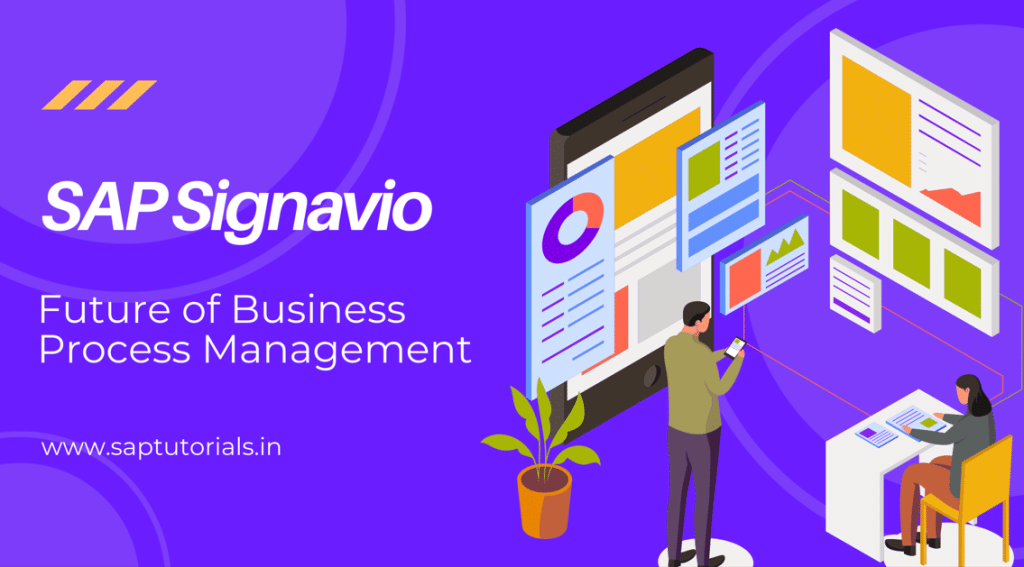 What is SAP Signavio?
A cloud-based application that offers a straightforward and user-friendly experience for building, administering, and improving business processes is known as Signavio. It has previously demonstrated its worth as a dependable BPM solution that provides a number of important advantages and features like A few benefits include real-time monitoring and reporting, enhanced team collaboration, increased efficacy and effectiveness, predictive analytics capabilities, and artificial intelligence/machine learning capabilities.
How SAP Signavio Provides a Competitive Advantage
Integrating SAP systems with Signavio gives its customers a competitive advantage. The integration of real-time monitoring is made possible by this link, which also promotes seamless data flow. Reporting features improve transparency to support better decisions and teamwork for effective processes.
The Integration of SAP Signavio with SAP Systems
Signavio integration into SAP systems is crucial and offers a host of benefits. Direct integration enables direct data maintenance and synchronisation with diverse SAP systems, such as the SAP SuccessFactors HR system, by granting direct access to information from numerous SAP applications.
The Future of Business Process Management with SAP Signavio
Since predictive analytics AI, machine learning, and artificial intelligence technologies continue to be a dominant influence within the industry, the future prospects for BPM remain promising. In order to stay at the top of its game in the business, Signavio offers these capabilities, and it is anticipated that it will continue to be one step ahead of the competition with AI-assisted process design, intelligent performance monitoring, and predictive analytics services.
Implementation of SAP Signavio
Organisational readiness, business requirements, and user approval should all be thoroughly examined before starting the Signavio deployment process. Additionally, a thorough implementation schedule must be developed, followed closely, and modified as needed.
Choosing the Right Edition of Signavio
Each Signavio edition has unique capabilities and features, so companies must carefully consider their options to select the one that best suits their needs as a company. When choosing their chosen version, they should take into account the price, the functional requirements, and the size of the business.
SAP Signavio vs. Other Business Process Management Tools
Signavio stands out from traditional BPM tools by providing real-time reports, easy integration into SAP systems, Machine Learning capabilities, artificial intelligence features and cloud-based architecture that facilitate collaboration among teams reducing downtime while increasing productivity. Signavio stands out against online BPM software because it can integrate into various SAP systems seamlessly compared with the competition.
Case Studies
Signavio is being used by a variety of organizations who have seen significant improvements in BPM processes after implementing it which have resulted in increasing revenues by 23%, a reduction in manual work time by 6 hours per week and a general reduction in cycle times by 25 percent. One of these organizations has reported positive results after incorporating the Signavio technology into their processes speed to reduce the time it takes for the process cycle process by 25 percentage!
Security in Signavio
Signavio offers cutting-edge security options, such as roles-based access control, encrypted communication channels and measures to safeguard data storage. In addition, Signavio meets several security and data protection standards such as ISO 27001, SOC 2 and GDPR.
The Cost of SAP Signavio
Signavio offers a variety of pricing options that include per-user, per process and enterprise licenses. The cost of ownership varies based on the type of license model you choose and also on the number of users and the functional requirements of the company.
How to Measure the Success of SAP Signavio Implementation
Companies looking to assess the success of Signavio implementation can measure its implementation through various key performance indicators (KPIs). KPIs include increased process efficiency, decreased completion times and overall stakeholder satisfaction levels as measures of Signavio's success.
Getting Started with Signavio
Companies looking to start quickly using Signavio can benefit from a variety of sources, such as its community on the web as well as documentation and videos for tutorials. In addition, Signavio provides onboarding support for new users to ensure the smooth transition process.
Training and Certification for Signavio
Signavio offers comprehensive training and certification programs that aid users in optimizing their use of its program. Benefits of becoming certified through Signavio certification include improved employment prospects, higher brand recognition and greater skills and knowledge acquisition.
The Importance of Change Management in Signavio Implementation
Change management strategies are a key element to Signavio's Signavio installation process, to make sure that it is aligned effectively with the company's goals and that users receive the appropriate education. Some examples of practices for managing change include communications plans including stakeholder involvement projects and measures of performance.
Common Challenges and Solutions in Signavio Implementation
Common problems that occur in Signavio implementation include the lack of user acceptance, poor education, inadequate awareness as well as inter-functional communications. Solutions to overcome these challenges include stakeholder involvement in training, extensive programs for training, and effective strategies to manage change.
Conclusion
Signavio is a robust solution with advanced features that are revolutionizing BPM implementation. Its benefits include improved organizational efficiency, increased collaboration, and enhanced productivity. With Signavio, organizations can achieve streamlined business processes that align with their objectives and drive sustainable growth.
FAQs
Some frequently asked questions regarding SAP Signavio include:
What are the pricing models available for SAP Signavio?
SAP Signavio offers various pricing models designed to meet the requirements of companies of any size, such as:
Customers of SAP Signavio often choose a monthly subscription model as their preferred pricing structure. Each user pays a set monthly fee to access the programme; the cost per user varies depending on the number of users and the features included in their subscription package.Annual Purchase Discount for Subscription Companies can benefit from a customised pricing system that provides reductions when paying for a complete year's worth of access up front by paying in advance.Additionally, SAP Signavio can be set up and run on a company's own servers, allowing management control over how the software is used and how much it costs to licence, based on the number of users and the features that are enabled.
What are the security features available in SAP Signavio?
SAP Signavio provides numerous security features to safeguard your data, such as:
Data encryption: SAP Signavio makes sure that all data in transit and at rest is completely encrypted to safeguard user privacy and guarantee compliance.
Users only have access to the capabilities they need to do their jobs thanks to role-based access management.
Two-factor authentication: Two-factor authentication can be enabled to add additional security measures and provide additional protection.
Every user action is logged for audit purposes so you may spot any questionable activity. Vulnerability Scanning: Security upgrades are occasionally applied as patches, and SAP Signavio is routinely checked for vulnerabilities.
How long does it take to implement SAP Signavio?
SAP Signavio implementation time is determined by a variety of criteria, including the size and complexity of your organisation, the number of users, and the level of customization required. However, implementation can take anything from a few weeks to a few months in general.
You might also like the below articles.