Companies must ensure that their employees have the capabilities and know-how to manage complicated software systems in today's more competitive business world. SAP Enable Now, an effective training and support tool, offers a comprehensive platform for managing, generating, and delivering high-quality training resources. In this post, we'll look at the advantages of important features, use cases, the importance of implementation, and best practices for Enable Now.
SAP Enable Now increases user acceptance and effectiveness of your software across your organization by enabling the creation of employee-beneficial online learning content. Using SAP EnableNow, you can provide your staff with the information they need to succeed. Advanced capabilities have the potential to improve effectiveness, user satisfaction, and the user experience. All while generating, maintaining, and disseminating educational materials, performance support, and so on.
SAP Enable Now is a new cloud-based service that allows organizations to quickly and easily deploy SAP applications in their environments. The service was created to help organizations reduce the time it takes to implement SAP applications and the associated costs.Cloud deployment or on-premise
Rapid authoring capabilities
Single-source recordings
Learn customizable content
What's SAP Enable Now?
SAP Enable Now is a software program that allows users to create, control, and distribute training material. This could include instructor-led learning that includes 24/7 online support and online interactive learning. Additionally, Sap Enable Now provides online learning environments and assistance for performance.
SAP Enable Now lets users to access the most recent technologies, including SAP/4 HANA Cloud, as well as SAP SuccessFactors. SAP Enable Now is more than just a tool for creating content. It also provides documentation, demonstrations of E-Learning, process guidance, and quizzes.It provides online access online to the latest educational resources and step-by-step instructions for online processes.
Introduction of SAP Enable Now
SAP Enable Now is SAP's Digital Adoption Solution designed to guarantee full integration and realization of a customer's SAP investment while improving efficiency and supporting best practices in implementation.
The consultants' expertise is crucial to maximizing the benefits of SAP Enable Now, driving more revenue from license and service streams, reducing project risk, and creating the chance for new customer-facing projects. Certified consultants will help you showcase your skills and abilities, increase your visibility, and highlight your company's unique advantages.
To help you develop the required capabilities and assist your consultants in completing their consultant SAP Enable Now certification pathway, we welcome you to join the complimentary blended assistance and supporting program.
It is also known as SAP Enable Now. It claims to be the most comprehensive and effective enablement system' which offers an 'adaptable, efficient, and flexible training program for everybody's needs, for all SAP and other SAP systems.
A training tool built within the system promises speedy, easy, and inexpensive user training solutions. But a more thorough examination exposes the shortcomings of these tools and suggests that there may be better alternatives.
We'll review the significant features of SAP Enable Now to help you decide if it can give your employees sufficient training following the job they need to utilize this new ERP system efficiently. Without this training, your business is unlikely to reap the advantages for deserves or the potential ROI you've been hoping for.
According to SAP, SAP Enable Now is a collaborative content writing and sharing tool that allows instructors to lead learning, self-directed learning, and online assistance to improve performances. The software was previously known as SAP Workforce Performance Builder; The program has a range of components.
SAP Desktop Assistant gives end users a toolbar with access to customized on-screen assistance, including LMS content, contacts, and others.
Its it's SAP Quick Producer EnableNow is an easy-to-use software that can record the system's operations. The recorded data can be edited and transformed into various outputs, such as step-by-step Word documents, interactive e-learning modules, or videos.
Why is SAP enabled Now?
SAP Enable Now is important in reaching Digital transformation, that is crucial to the overall performance of any company.SAP Enable Now ensures that employees can securely use this program. The success or failure of the primary software program is dependent in the caliber of instruction given.

SAP Enable Now is a highly effective tool, as the program's assistance is available to users. Users do not have to search for directions on how to use SAP since they can access their support in the application.
Uses of SAP Enable Now
It provides formal training like Classroom Training, Courseware for LMS Assessments, Courseware, and Quizzes.
Informal Learning like Reference Library as well as User-generated Content and videos.
It also offers 24/7 real-time On-the-Job support, in-app push Notifications, and reference materials.
It lowers the price of developing content by using one source of creation.
Installation is straightforward for desktop and server, and no installation is needed to use Cloud Edition.
It provides interactive workshops to facilitate classroom training and the ability to learn on your own.
It also provides interactive installation manuals as well as process documentation.
The tools available in SAP Enable Now help you create personal training resources for diverse areas.
It allows you to create certificates to print after the tests.
What are the benefits of using SAP Enable Now?
Learning can be done anywhere and at any time while travelling or working. Training materials are easily accessible through Tablets, Smartphones or any other device.
It lowers the cost of training and the amount of time
It improves the effectiveness of training programs by reducing the number of mistakes the user makes.
It comes with ready-to-use content, attractive templates, as well as images. Content creators is able to use it to create content.
It permits the reuse for the contents.
It is able to create different output formats using one recording.
It can be used for cloud-based, on-premise, and hybrid deployment choices.
It will automatically translate the content to many languages. It can support over 40 languages.
SAP Enable Now Features
Dekstop assistance
It provides the user with a map of their desktop. It categorizes files such as tutorials courses, courses, and tutorials in a manner designed to make the information easy to access whenever needed.
Web assistance
It provides in-app support for web-based applications like SAP S/4 HANA and SAP SuccessFactors. In addition, it offers instant help to users whenever they experience problems.
Content creators
let users create a variety of types of content by using tools such as Avatars, Book Page Templates, books filled with actions, books that include questions and bubble Styles Illustrations, Glossaries, Glossaries, Libraries Questions Templates, Questions, and Scenes Template, Memory Games, Workspace "Toolbox, Prototyping Toolkit Text Style.
Content Manager
It lets users become acquainted with the basic concepts of installation and the notion of roles and permissions. Interface and Workflow Managed Workspaces Publishing Contents, Reporting, and Migration.
Content Translation
Sap Enable Now provides the option of translation of content. Users can translate content into any language in less than one minute. There is no need to start any other program. To use this feature, you'll need the SAP Translation Hub license.
Simulator recording
Make recordings to ensure that you can avoid the post-editing process. Examine your recordings with the most appropriate settings and then examine the most efficient methods to achieve satisfactory results. Record simulations with the Producer or in the web-based lesson editor that is available by The Manager (see the tile that allows editing simulations).
Simulation editing
Explore the essential editing options for advanced as well as basic editing. Learn how to set the necessary parameters for all objects within the simulation. Utilize all functions in the online editor for lessons contained within Manager.
Books and pages (courseware)
Explore the concept of books and pages. Learn how to edit pages of books by using Producer and Editor online for courses. Please explore the essential editing options and learn how to incorporate them into your work. Learn some tips for how to avoid the most common errors when editing.
Text Units
Utilize text-based information like images, hyperlinks, or text in various contexts. Since text units are employed in simulations and page layouts, they allow you to segregate information from design. Learn to make glossaries, for instance, and glossaries with text units. Text units can also serve as structural elements, comparable to groups, for example, they.
Quizzes
Tests and quizzes are an aspect of the learning experience. Learn how to make authentic and valid quizzes and give your students feedback. It is possible to distinguish between the different types of quizzes in those projects and quizzes on book pages. Learn how to make quiz template templates and obtain pre-configured quizzes that are available as SAP Enable Now content.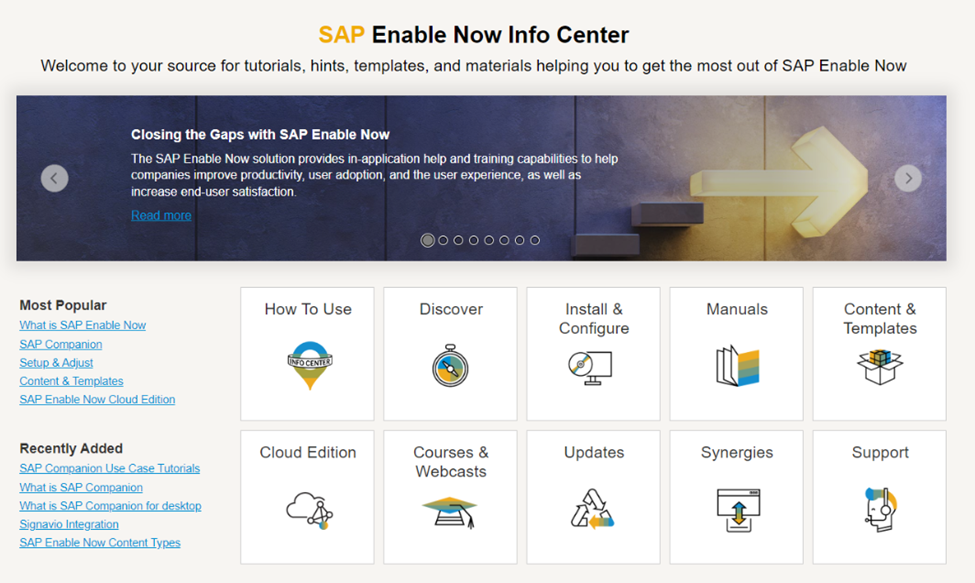 Image:SAP
Pros and Cons of SAP Enable Now
Although SAP Enable Now provides several benefits for SAP customers, it has its limitations and issues that you must note. Here are a few advantages and disadvantages that come with SAP Enable Now, based on our experiences and research:
Pros
Flexibility: SAP Enable Now can handle large quantities of user training material and training materials, and it can scale up or down according to your business's requirements. For an integrated and seamless learning ecosystem, you can connect it with other SAP software and tools, including SAP SuccessFactors and SAP Learning Hub.
Performance: By removing pricey classroom training sessions, SAP Enable Now can reduce the time and labor required to create and distribute information. By offering up-to-date information and instructions, it can also assist in lowering support calls and errors.
Flexibility: SAP Enable Now offers a variety of training options, including self-paced, on-demand, and blended learning, to meet different learning preferences and pedagogical approaches. Additionally, fast personalized advice and direction are provided, promoting user participation and information sharing.
Cons
Price: SAP Enable Now can be costly.
Conclusions
In conclusion, SAP Enable Now is an excellent resource for anyone looking to learn more about SAP and how it can benefit their organization. If you're not using SAP, now is the time to start. With the upcoming 2020 deadline looming, it's more important than ever to switch to the world's most popular business platform.
Is SAP enable now free?
SAP Enable Now is not free, and try the interactive demo.Customers can purchase directly and have an SAP Enable eNow license through SAP and then create the content alone. They can also contract to lease this license to SAP Enable Now, the partner-managed cloud service provider. Users who do not have a permit cannot design the training materials using the software. The terms of the license applicable to SAP Enable Now are different for the On-premise edition as well as the Cloud edition. For the On-Premise edition, creators and consumers will be charged differently. For the Cloud edition, both the creators and the consumers are priced simultaneously.
Where can I find the documentation for SAP EnableNow
Since the launch of Version 10.0.0, SAP Workforce Performance Builder was renamed SAP Enable Now, and the documentation link has been updated.
On-Premise customers will find the documents with the installation download. To all clients, to get the most current documentation to, visit SAP Marketplace to access information on the SAP Help Portal. If you are using SAP Enable Now for your search term, you will find access to SAP Enable Now Page.
SAP enables now installation & Configuration guide
Please refer SAP NOTE -2715476,2766623 & 2765322
You might also like the below articles.