Welcome to this in-depth look at SAP ECC, an Enterprise Resource Planning (ERP) program that has revolutionized company processes. In this post, we'll look at its essence, significant features, benefits of implementation, implementation procedure, challenges encountered during implementation, and plans. Furthermore, we will compare it to other ERP systems, evaluate any limitations, and provide information on moving to SAP S/4HANA; real-world examples and answers to commonly asked questions (FAQs) will be provided. Learn about ECC and its significance!
What is SAP ECC
SAP ECC, also known as SAP ERP Central Component (ERP Central Component), is an enterprise software solution developed by SAP SE that acts as the backbone for many organizations by assisting in integrating multiple business operations and streamlining procedures. ECC includes modules for finance, human resources, sales, and production; comprehensive features and functions enable enterprises to optimize productivity, improve decision-making processes, and drive growth.
What is sap ecc 6.0?
SAP ECC 6.0, often known as SAP ERP Central Component 6.0, is a SAP SE enterprise resource planning system. It is a suite of integrated software that was released in 2005 to help firms manage their essential business activities such as finance, accounting, human resources, manufacturing, and sales and distribution. SAP ECC 6.0 is a robust and stable platform with substantial capabilities, built on the SAP NetWeaver platform and leveraging the ABAP programming language.

SAP ECC 6.0 highlights integrated business operations, real-time data access, scalability, and security. It enables efficient information flow by integrating fundamental activities into a single system. Real-time data availability enables consumers to make more informed judgments. The system's scalability enables it to adapt to the changing needs of expanding enterprises, while its security features safeguard critical data from unauthorized access.
Features in SAP ECC
Many factors contribute to ECC's effectiveness as an ERP system, including:
Integrated Business Processes: ECC combines diverse departments and services inside an organization to facilitate smooth information flow while removing data silos.
Real-Time Data Processing: ECC can provide organizations with real-time data access, enabling speedier decision-making and enhanced operational agility.
Financial Management: ECC includes accounting, financial planning, budgeting, and controlling tools, as well as comprehensive financial analytics.
Human Capital Management: The ECC HR module helps organizations manage their workforces more efficiently by handling personnel data, payroll processing, talent acquisition, and performance evaluation.
Supply Chain Management: The ECC Supply Chain Management module streamlines procurement, inventory management, production planning, and distribution operations to optimize the entire supply chain.
Customer Relationship Management (CRM): ECC helps businesses to successfully manage client interactions, including sales, marketing, and service operations, to maximize customer satisfaction and loyalty.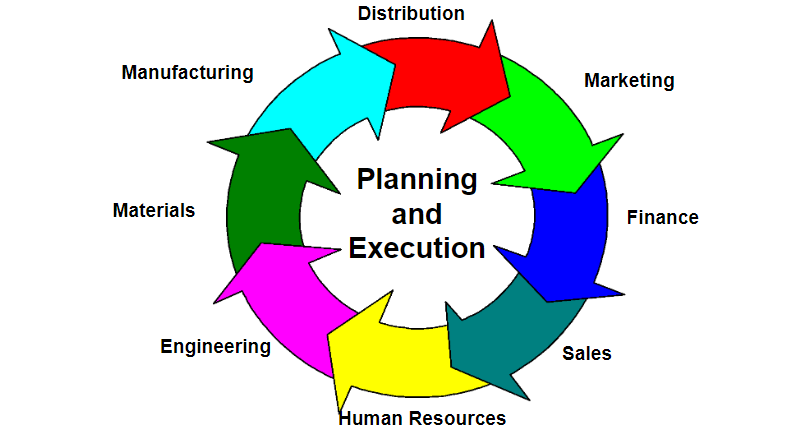 ECC provides powerful reporting and analytics functionalities, allowing businesses to gain insight into key performance indicators (KPIs) and make data-driven choices. These are only a few of the things that SAP ECC offers. Its modular nature enables organizations to select the modules that best meet their requirements, resulting in a customized ERP solution.
ECC Modules
ECC includes a comprehensive range of modules that address every element of business operations. Here's a closer look at some of these notable modules:
Controlling (CO): Focuses on cost accounting, profitability analysis, and internal reporting.
Material Management (MM): manages procurement, inventory control, and material planning to ensure an uninterrupted supply chain.
Production Planning (PP): Oversees production processes such as capacity planning, material requirements planning, shop floor control, and production scheduling.
Quality Management (QM): coordinates quality assurance processes such as inspections, tests, and nonconformance management.
Human Capital Management (HCM): HCM encompasses employee data management, payroll processing, talent acquisition, performance appraisal, and organizational structure administration.
These modules, together with others such as Plant Maintenance (PM), Project Systems (PS), and Warehouse Management (WM), offer a comprehensive solution to address the different demands of enterprises across industries.
Benefits of ECC
Implementing ECC brings many advantages for businesses. Here are a few key benefits:
Streamlined Processes While ECC allows seamless integration of all business processes, eliminating data inconsistencies and redundancies while increasing operational efficiency – it's clear why many organizations choose it over alternatives such as legacy ERPs like Oracle, Lotus Notes, or IBM Lotus Domino (an older, traditional system), it still improves operational efficiencies significantly by streamlining processes end-to-end and streamlining operations with ECC.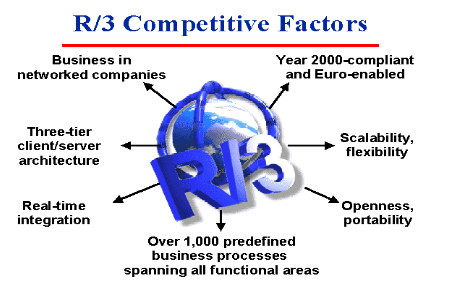 Improved Decision-Making: ECC equips businesses to make timely and accurate data-driven decisions by making real-time data availability and advanced analytics readily accessible.
Improved Collaboration: ECC fosters enhanced collaboration across departments by providing seamless communication channels and encouraging cross-functional teamwork.
Improved Customer Service: ECC's customer relationship management module allows businesses to offer customized experiences to customers, increasing satisfaction and loyalty.
Optimized Inventory Management: ECC's material management module optimizes inventory levels to reduce costs associated with excess or obsolete stockpiles.
Compliance: ECC ensures compliance with regulatory requirements, helping businesses meet legal obligations and avoid penalties.
Due to these advantages, organizations often choose ECC to maximize operational efficiency, improve customer satisfaction, and achieve sustainable growth.
Implementation of ECC
Implementing ECC requires careful planning and execution. Here are the key steps in its implementation process:
Planning Phase: Define project scope, objectives, and timelines, and assess current business processes to identify areas for enhancement.
System Design: ECC system architecture considering your organization's specific requirements and industry best practices.
System Configuration: Customize SAP ECC by creating master data sets, outlining organizational structures, and tailoring functionality to align with business processes.
Data Migration: Move existing data from legacy systems into SAP ECC while maintaining the accuracy and consistency of its contents.
Testing and Training: Conduct rigorous testing to validate the system's functionality while training employees on utilizing SAP ECC best.
Go-Live and Support:
Implement SAP ECC into a live environment.
Provide post-implementation support services.
Continuously assess and optimize system performance.
Successful implementation of SAP ECC requires teamwork between internal teams and experienced SAP consultants or implementation partners.
Challenges
Although SAP ECC can bring many advantages, its implementation and adoption may present unique organizational complexities. Here are some common issues organizations might experience:
Complexity: SAP ECC can be a complex system to implement successfully, requiring expertise in SAP implementation and knowledge of an organization's individual requirements.
Costs: Implementation costs associated with SAP ECC implementation can include licensing fees, infrastructure setup expenses, and training expenses.
Change Management: Transitioning to SAP ECC may involve changes to your business processes and employee roles that necessitate effective change management strategies.
Data Migration: Migration from legacy systems to SAP ECC can be complex and time-consuming, necessitating careful planning and data cleansing processes.
User Adoption: User acceptance and adoption requires thorough training, communication, and ongoing support services.
Organizations can maximize the benefits of SAP ECC by taking proactive steps to address implementation partner expertise and effectively using them to overcome challenges that might impede its use.
Comparison
Businesses often compare SAP ECC with other ERP solutions, such as those available from alternative vendors like Infor and Oracle. Let's take a look at this comparison between ECC and some popular options available today:
SAP ECC and Oracle ERP: Both ERP systems offer robust functionalities with advanced integration features, while Oracle ERP stands out with its user-friendly interface and powerful analytics features.
SAP ECC and Microsoft Dynamics 365: SAP ECC is tailored for larger enterprises, while Microsoft Dynamics 365 targets businesses of all sizes. Dynamics 365 offers seamless integration with other Microsoft tools and flexible pricing and deployment options.
SAP ECC vs. NetSuite: NetSuite is a cloud-based ERP solution with access and scaling benefits. At the same time, SAP ECC provides more customization capabilities and is often preferred in industries with complex needs.
Businesses should carefully assess their specific requirements, budget, scalability requirements and industry-specific features when comparing ERP systems.
Limitations of ECC
While SAP ECC is a unique ERP system, it does have certain restrictions. These include:
Complexity: SAP ECC features extensive functionalities, which may create complexity during implementation and ongoing maintenance activities.
Cost: Implementing and maintaining SAP ECC can be expensive for small and mid-sized enterprises, especially when customized extensively for their specific business requirements.
Customization: Significant customization can make system updates and upgrades more difficult and time-consuming than expected.
Legacy Systems Integration: Integrating SAP ECC with legacy systems requires careful planning and data migration.
Businesses should consider any limitations to SAP ECC when making implementation decisions, looking at whether their specific needs and resources align with it first.
Future of SAP ECC
The future of SAP ECC lies in its transformation into SAP S/4HANA, the next-generation ERP software. SAP S/4HANA boasts enhanced capabilities like in-memory computing, advanced analytics, and artificial intelligence – organizations using ECC are encouraged to plan a migration as SAP has announced that support for ECC will end.
Migration to SAP S/4HANA offers many advantages, such as enhanced performance, real-time analytics, and simplified user experience – not to mention integration with emerging technologies like IoT and machine learning.
Companies should develop a clear migration plan, considering elements like system readiness, data migration, customizations, and employee training. Working with SAP experts and consultants can greatly assist businesses in easily transitioning to SAP S/4HANA.
Case Studies
Real-world case studies offer invaluable insight into the successful implementation and usage of SAP ECC. Here are a few examples:
Case Study 1: Company X Increases Efficiency With SAP ECC: To enhance efficiency across its operations, Company X implemented SAP ECC across its operations. By streamlining production planning, inventory management, and financial processes with one another, Company X experienced reduced operational costs, better resource utilization, and faster order fulfilment – leading to significant cost reduction and order fulfilment savings.
Case Study 2: Company Y Increases Customer Satisfaction With SAP ECC: As a global retailer, Company Y adopted SAP ECC to unify customer data management, sales operations, inventory control, and real-time visibility into customer preferences and product levels to deliver personalized customer experiences with optimized product availability and increased customer satisfaction.
These case studies demonstrate SAP ECC's positive influence on organizations by increasing operational efficiencies and customer-centricity.
Conclusion
Its SAP ECC is an all-inclusive ERP system helping organizations integrate and streamline their business processes. With its key features, a wide range of modules, and myriad benefits, it has proven an indispensable asset to businesses of all sizes and industries as companies transition towards SAP S/4HANA systems for greater capabilities than SAP ECC offers. Organizations should plan to migrate as soon as possible to take full advantage of their enhanced features.
FAQ on ECC
What does SAP ECC stand for
SAP ECC stands for SAP Enterprise Resource Planning (ERP) Central Component. It is an enterprise resource planning (ERP) software system developed by SAP SE. ERP systems integrate all the core business processes of an organization, such as accounting, manufacturing, sales, and customer service. SAP ECC is one of the most popular ERP systems in the world, with over 400,000 customers in over 180 countries.
SAP ECC stands for SAP ERP Central Component
SAP ERP Central Component is also known as SAP ECC. It is a vital part of SAP's ERP software package. For a variety of business operations, such as accounting, production, sales, and customer service, ECC provides a basis. Since it has been in use for so long, SAP ECC is an established and reliable platform. With more than 400,000 users globally, it is a platform that is very widely used. This makes it a suitable option for businesses that require a dependable and tested platform for their ERP requirements.
Is SAP ECC suitable for small businesses?
Small organizations that want a scalable and adaptable solution may find SAP ECC to be an excellent fit. The cost of purchasing and implementing SAP ECC might be high, and it might necessitate a sizable investment in support and training.
You might also like the below articles.