Today's topic will be a brief comparison between Salesforce vs sap. When you have to choose between the two best CRM software for your organization. Special if there are so many online options that best suit your business needs.
Salesforce vs SAP are two common options when it comes to choosing the right software for your company. Both platforms include a variety of features and functionalities aimed at streamlining operations and increasing efficiency; yet, selecting between them can be difficult; each platform has its own set of strengths and drawbacks that must be carefully considered when making this selection. In this post, we will deconstruct the Salesforce vs SAP dispute by examining important differences, advantages, and downsides of both systems – let us see which is best suited to fulfill your business goals!
Salesforce vs SAP: An Overview
Prior to comparing Salesforce vs SAP head-on, let's first take some time to fully comprehend each platform individually.
Salesforce is a cloud-based customer relationship management (CRM) platform that provides tools for businesses to handle sales, marketing, customer service, and other functions. It has lead management, opportunity tracking, workflow automation, analytics, and integrations with third-party apps, as well as being user-friendly and having a large ecosystem of apps and integrations.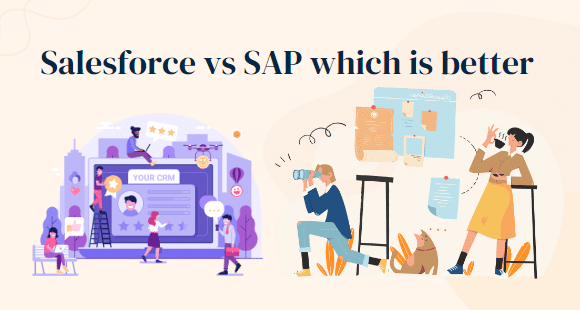 SAP, on the other hand, is enterprise resource planning (ERP) software that helps organizations manage many parts of their operations such as finance, supply chain management, human resources, and manufacturing. SAP is well known for its robustness, advanced reporting capabilities, and complete suite of enterprise solutions, with modules dedicated to specific business operations and functions across departments for integration and streamlining procedures between departments.
Introduction of Salesforce vs SAP Solution
Customers are now bombarded with promotional content every day because of digital marketing. You can manage your customer and prospect contact from one central point of view, uncover sales possibilities, track service problems and manage marketing initiatives. All this, plus information about every customer interaction, is available to everyone at your company.
There are many CRM software options available. However, the main competitors remain SAP & Salesforce. Salesforce and SAP are the leaders in CRM, being among the top 10 market vendors. While Salesforce has the largest market share, SAP aims to fill the gaps that are left by current CRM suppliers and to provide customers with software services.
Both Salesforce and SAP offer CRM systems to customers. What services do Salesforce and SAP offer to customers? How can you choose the right CRM among the many options available? Although Salesforce and SAP offer the same CRM software, they are very different.
Both SAP and Salesforce are enterprise-based CRM systems that are geared towards large businesses with many salespeople. Both systems are too complex and are sold to managers and not to salespeople (who often claim that they are not suitable for their needs).
Salesforce was one of the first cloud-based companies that offered CRM software. SAP, however, has started SaaS CRM. Before
This topic will discuss the services offered by each company and the pros and cons of each to help you make an informed decision.
What is salesforce
Salesforce is a SaaS (Software as a Service) which means that there's no need to install any software or servers to use it. Salesforce.com users can sign up immediately and get started running their business.
The Salesforce Marketing Cloud is a one-stop solution for marketers who want to hyper-personalize their messages, provide a seamless over-the-counter commitment, and support high-quality lead sales. This scalable, agile, and supported solution enables sellers to establish long-term relationships with customers.
Salesforce features and benefits
Salesforce mainly uses the Cloud-based deployment model. On-premise may not work. SAP CRM supports both cloud-based and on-premise deployments.
It is flexible and easy to use.
Salesforce CRM is rated 4 stars out of 8819 customer reviews.
It supports Apple OSX and Windows Operating Systems.
Provide strategic advisory services
Analytics technology in real-time is fast and efficient.
Available in Clould
Salesforce CRM pricing is a monthly subscription that is charged per user each month.
Diversify tools are available to support bulk email marketing, lead scoring, and segmentation.
You will need to pay an additional amount in order to access the Salesforce CRM's premium features.Web Activity Tracking, sms Marketing, personalizes web content,predictive Analysis
Event management, Bulk social media posting, Mobile app
Create an interface for easer usrs and more engaging social selling capabilities
Packages which are highly economical and provide added value
By calling the toll-free number, customers can receive 24/7 help.
Salesforce support fee is part of your subscription.
Salesforce provides the "Get Started" guide to customers as part of the subscription fee. The user must purchase the guide to access other customization training or guides.
AppExchange allows seamless integration of software and apps.
What is SAP CRM
SAP is an acronym that stands for Systems Applications and Products in Data Processing. One of ERP's most commonly used data processing software. One SAP system can manage and execute all business activities such as sales & distribution. Material management & Finance etc.
With its integration into SAP CRM, CEC, and several other third-party applications, SAP Cloud for Customer (C4C) is becoming increasingly involved on the CRM market.
Hybris Marketing is a tool for managing marketing activities and customer relations (marketing automation). The solution from SAP AG allows you to collect and process data on customer participation and interaction in real-time (involvement level).
SAP CRM features
It is not user-friendly and takes a long time to get used to.
SAP cloud CRM has rated 3 stars out of 107 reviews.
It supports the operating systems for Apple OSX, Windows and Linux.
Its industry-specific capabilities are available.
It is available in could and on Premise
It is not cost-effective. It is not possible to have multiple users.
SAP-CRM offers a monthly subscription per user for its cloud-based system.
The customer must however pay the amount of the licence in advance for the on-site system
Integrates seamlessly with the sap ecosystem
Free Support is available in SAP. You must, however, pay for maintenance and support of perceptual licences each year.
SAP offers 24/7 support via toll-free numbers. This support is only available for non-technical problems.
The online training module must be purchased and the certification for CRM must be obtained by the user.
SAP CRM offers yearly support, based on the license agreement.
Integrations between SAP software and third-party software could be problematic.
Based on customer reviews, these are the main differences between Salesforce and SAP today:
Conclusions.
Your choice between Salesforce vs SAP is ultimately determined by your company's needs, budget, and long-term ambitions. Salesforce is a robust CRM platform with strong sales and marketing capabilities, whereas SAP's ERP solutions cover a wide range of corporate operations. Before researching demos or trials, carefully evaluate each platform and take note of any advantages or disadvantages they present to make an informed decision that matches your unique business requirements. There is no one-size-fits-all solution, so be sure it completely matches your requirements.
Both Salesforce vs SAP is highly respected in the CRM market. we believe that is because they are constantly innovating and adapting to customer needs & requirements. there are three key differentiators in terms of choosing the correct CRM solutions :
Pricing.SF demands a higher premium than SAP.
User experience :Customers feel that SF is more user-friendly and efficient than SAP.
Integrations: Salesforce integrations are key to enhancing Salesforce functionality.on other hand, SAP provides end-to-end solutions, as demonstrated by its complete ERP/CRM package. For your business software needs, this makes it an all-in-one store.
Can Salesforce and SAP be used together in a hybrid environment?
Yes, some businesses opt for a hybrid approach by using Salesforce for CRM and SAP for ERP, integrating the two platforms to meet their specific needs.
Does Salesforce offer industry-specific solutions like SAP?
While Salesforce is primarily a CRM platform, it does offer industry-specific solutions and apps through its AppExchange marketplace. However, SAP has a wider range of industry-specific modules and functionalities
Please check these links to find out more about new technologies