In today's fast-paced corporate world, firms must discover ways to streamline operations, increase efficiency, and complete projects swiftly. ASAP (Accelerated SAP), a technique to project management and SAP solution installation that embodies project success for enterprises, has significantly gained in popularity in recent years. We will look at its essential components and how ASAP may help them succeed. In this post, we will delve deeper into the ASAP technique and its capacity to promote organizational success.
Introduction of ASAP Methodology
Asap full form is as soon as possible, it's shorthand. It reflects the importance of completing a mission in a short time buts today we will be discussing ASAP Methodology in sap & Phases of ASAP Methodology. ASAP Methodology (Accelerated SAP) has been developed and revised by consultants engaged in the implementation of SAP software products, as a standard SAP-related planning and system implementation tool. This approach is also useful for administrators and other project managers who incorporate business process support systems.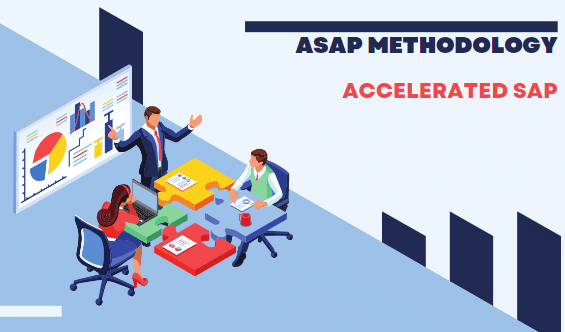 It is a methodology for managing IT infrastructure for business operations. It aims to speed up the process of designing applications, deployment of infrastructure and continuous delivery of operation and maintenance.
What is ASAP Methodology ?
ASAP stands for Accelerated SAP. Its goal is to help design the execution of SAP in the most successful way possible. Its aim is to maximize time, people, output and other resources efficiently, using a validated ASAP methodology for implementation. ASAP focuses on preparation, bundled up in a five-phase process-oriented road map for implementation guidance for the project manager, Consultants.
Phases of ASAP Methodology
There are five well-known consecutive phases make up the ASAP road map successful. Lets deep drive to those Phases one by one .
ASAP Methodology: A Breakdown of the Steps
Phase I: Project Preparation
Initials phases begin with information and resource retrieval. It is an essential time for the necessary components for implementation to be assembled. Some major milestones that need to be reached for phase. Below the following activity is performed during the project preparation phase.
Decision-makers clearly identify the priorities of the project
Define the structure of tasks /subtask and functions & scope of implementation needs to be completed
Infrastructure (Interfaces/Hardware)
High-Level client
Strategy Archiving, Document retention period
Any other external variables that need to be considered
Phase II: Blue Print Phase
In the Blueprinting Phase,it helps extract valuable information about the client business process that is important for implementation, SAP has described a business blueprint phase. These blueprints are in the form of questionnaires designed to test for data that uncovers how the client is doing business. As such, they also help to record the implementation of the. Client future business processes and business specifications are basically outlined in each business blueprint document. The below list of activity mainly involved in this phase.
Scope Of R/3 implementation is described.
Business Blueprint is created Tools used for this is ASAP Implementation Assistant
Brief Business process query and answer documented with the core business users
R/3 System Construction initiated
Conducting Status Meeting for Project Task /sub-task completion
Addresses the issues like Organizational Change Management
Developing The system environment to Defining Org Structure Define
Other Tasks Like Project Team Training
Phase III: Realization Phase
Together with the completion of Project Preparation & Blue Print Phase, Then Realization phase started In this phase consultant are now ready to start baseline configuring SAP.The Realization stage is broken Into two subcategories, SAP consulting team helps configure the baseline setup, called the configuration of the baseline. then as part of the fine-tuning setup, the implementation project team fine-tunes the process to satisfy both the business and process demands.
During the baseline setup, the initial configuration completed is based on the details you presented in Client blueprint document. During the fine-tuning setup, the remaining roughly 25 % of the configuration that was not addressed during the baseline configuration is completed. The exceptions that are not covered in the baseline configuration are generally dealt with by fine-tuning. This final tweaking bit reflects the job needed to suit your special needs.
Baseline Configuration Testing
With the help of the SAP consulting team, Client business processes transform into cycles of business flows, such as Order to cash, procure to pay etc. The cycles serve as independent units that enable the client to test specific parts of the business process. Consulting team use to configure the SAP implementation guide (IMG). A tool used to assist in configuring SAP system in a step by step manner.
Knowledge Transfer
It is important for the project team to be self-sufficient in their awareness of the design of the SAP system as the configuration stage comes to a close.It is necessary to complete the transition of information to the configuration team charged with system maintenance (that is, maintenance of business processes after Go-live) at this time. Furthermore, the end-users were charged with using the actual.
list of high-level configurations perform during this phase
Configuring the SAP ECC System as the client requirement
Defining the Roles & authorizations in projects
Defining the process flow
Developing the System unit , integration test plans
Creating user documentation, Training documentation
Define the Service level agreement ( SLA)
Establishing the System Administration function
Setting up the Quality Assurance environment similary to production


Phase IV: Testing and Final Preparation
Now we are the midst of SAP Go-live preparation but also in the midst of extensive functional and stress testing as phase 3 merges into phase 4. Step 4 also focuses on the pre-Go-live fine-tuning of client system setup and, more significantly, the transfer of data to SAP from the legacy old system.
To ensure the consistency of Client data and the reliability of SAP system, workload testing (including peak volume, regular load, and other types of stress testing) and the integration or functional testing are performed. We don't have that much to go before Go-live, because we should have started testing back in phase 2.
Now is a vital time for the SAP system to carry out preventive maintenance checks to ensure optimum performance. Take time to prepare and document a Go-live approach at the end of step 4. Go-live planning means preparing for questions from clients end users when they start actively working on the latest SAP system. Below following activity is performed during this phase.
Integration Testing, User acceptance test, Training, System management and Cutover activities
Testing the conversion procedures and programs
Total Interface, programs and stress testing
Final User acceptance testing Developing a Final Go-Live strategy
Redirection to Go-Live? Preparation of End-user documentation
Training for the End Users
Technical environment installation on the Production system and testing
Transfer of Legacy data and preparation plan for Go-Live

Phase V: GO-Live Phase
It is easy to hit the Go-live mark itself now, a smooth and uneventful Go-live is another matter altogether. Preparation is the key, including attention to what-if scenarios are not only relevant to the individual business processes introduced, but also to the operation of the technology underpinning these business processes and preparation for ongoing support, including maintenance contracts and documentation
Production support facilities are carried out
Validations of Business process and their configuration
Follow up training for End Users
Sign–Off.
Here are a couple of other articles that help you understand SAP Relate information: