Businesses rely on data visualization tools like SAP Lumira to transform raw data into meaningful insights in today's data-driven environment, quickly making informed decisions through easy data visualization capabilities. We will explore its features and benefits here and its potential effects on transforming analysis processes.
As we begin our discussion of SAP Lumira, let's first define it. SAP Lumira is an advanced data visualization tool developed by SAP that allows users to easily explore, transform, and visualize data from various sources, helping organizations quickly make data-driven decisions with an intuitive user interface that suits business users and data analysts alike.
Introduction of SAP Lumira
SAP Lumira is an advanced data visualization software created by SAP that enables users to explore data from multiple sources, providing organizations with invaluable insights. Lumira boasts an intuitive user interface and features designed for intuitive exploration, allowing users to explore data while producing compelling visualizations interactively.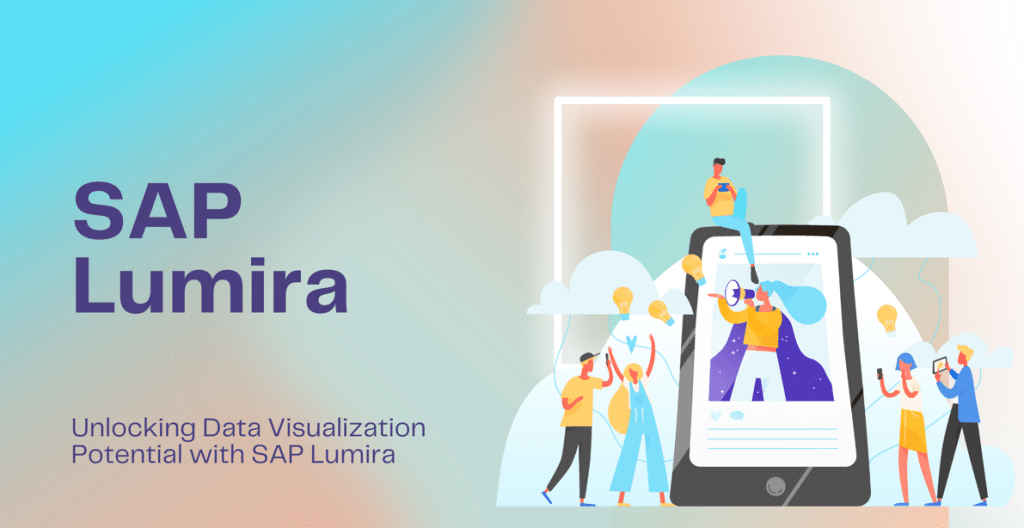 SAP Lumira is the latest version of SAP BO Design Studio and SAP Lumira, providing users with tools for building self-service and management dashboards. which facilitates collaboration among departments as dashboards or analyses developed by departments may serve as bases for more advanced dashboards or feature enhancements by IT.
Recently, self-service business intelligence (BI) has grown increasingly popular. Instead of waiting weeks or months for IT departments to fulfill new reporting requirements or minor modifications to existing solutions, users prefer immediately exploring their data, creating reports independently, and making any necessary modifications without delay.
Microsoft Excel has become an indispensable self-service BI tool, enabling users to pull data from various sources and combine it using formulas or macros within Excel to perform analysis and reporting. Unfortunately, however, this approach has its limitations over time: updating datasets becomes cumbersome and time-consuming; there's an increased risk of errors; as workbooks expand, they become harder to comprehend and maintain; moreover, reports become further disconnected from governed data than before each iteration of pieces is delivered.
What is the purpose of SAP Lumira?
SAP Lumira and Power BI are two highly effective business intelligence (BI) and data visualization tools capable of helping organizations transform data into insights. However, each has some distinct differences that should be kept in mind. Lumira allows users to gain valuable insights, make informed decisions, and drive business success by boasting an intuitive user interface, extensive visualization options, and advanced analytics capabilities. By tapping into expert consultants' support resources, businesses can maximize their benefits and elevate their data visualization capabilities even further.
SAP Lumira serves as a powerful business intelligence and reporting solution, enabling users to create interactive dashboards and reports with comprehensive views of KPIs for stakeholders to monitor business performance and identify areas for enhancement. Lumira makes data exploration and discovery simple with its visually engaging and intuitive environment, where users can explore data by interacting with it, diving deeper into details, and gaining new perspectives through interactive visualizations, making it easier than ever to uncover hidden patterns, correlations, or outliers within their data sets.
SAP Lumira and SAP's Business Intelligence Portfolio
SAP's Business Intelligence portfolio has seen a substantial transformation in recent years, integrating new tools and cloud-based solutions that enhance data analysis and reporting capabilities.
Since SAP acquired Business Objects in 2007, its business intelligence (BI) frontend portfolio has seen dramatic change. Before, limited options existed for presenting data from SAP BW systems to users, but with the introduction of BusinessObjects' portfolio, SAP completely revamped its BI enterprise environment.SAP Crystal Reports, SAP BusinessObjects Web Intelligence, Dashboards and Analysis were added to the portfolio and integrated into a web-based platform called BI Launchpad for report creation, storage and execution.
SAP expanded its analytical product suite further after its purchase of Business Objects in 2012. They unveiled SAP Lumira (formerly SAP Visual Intelligence) and SAP BusinessObjects Design Studio (formerly SAP BusinessObjects Analysis edition for Application Design), both part of which now form part of their product suite along with SAP Lumira discovery edition and designer edition products.
In 2015, SAP introduced SAP Analytics Cloud (formerly SAP BusinessObjects Cloud and SAP Cloud for Analytics), a cloud-based BI software-as-a-service offering. This comprehensive solution delivers reporting, analytical, predictive, and planning features in one environment hosted and managed by SAP on the SAP Cloud Platform. Furthermore, in 2016, they acquired Roambi – a mobile BI solution designed to make reporting simpler on various mobile devices.
Key Features and Benefits of SAP Lumira
Lumira provides an expansive library of visualization options, such as charts, graphs, maps and infographics. Users can create interactive visualizations by dragging and dropping data elements onto a canvas, enabling dynamic exploration while drilling down into specific data points for deeper analysis.The advanced capabilities of Lumira's analytics enable companies to improve the quality of their decision aid and predictive analytics capabilities by employing statistical capabilities and predictive modeling to make data-driven decisions and forecast the future. Companies can optimize their processes more quickly, minimize risks rapidly, and recognize opportunities earlier than ever before.here are some key feature and benefits listed below
Data Connectivity: SAP Lumira offers seamless connectivity to a broad array of data sources, such as databases, spreadsheets, enterprise systems and cloud services. This enables users to integrate and analyze data from multiple sources within one interface without requiring manual consolidation.
Storytelling and Collaboration: Lumira enables users to craft compelling data stories by combining visualizations, text, and annotations into engaging data narratives. This storytelling approach promotes better insight sharing and facilitates collaboration within teams. Furthermore, users can share their Lumira stories with stakeholders so that everyone is involved in understanding or contributing to its narrative.
Advanced Analytics: Lumira's advanced analytics features allow users to perform complex calculations, predictive analysis and statistical modeling without programming skills – giving business users more power than ever to uncover hidden patterns, identify trends and make data-driven decisions.
Collaboration and Sharing: SAP Lumira facilitates collaboration among team members by enabling users to easily share visualizations, stories, insights, and more. Furthermore, this tool supports exporting visualizations in different formats, including PDF, PowerPoint and HTML, making sharing findings across an organization easy.
Sales and Marketing Analysis: Lumira empowers sales and marketing teams to effectively analyze customer data, sales performance, and marketing campaigns and visualize results through bar charts, pie charts or geographic maps to identify customer segments, analyze product sales or optimize marketing strategies.
Financial Analysis: Financial professionals can make use of Lumira's data visualization capabilities to gain a better understanding of financial information. By creating visualizations that monitor expenses and revenue, examine profitability ratios, improve decision-making capabilities, and gain the information to help them make better decisions.
Implementation and Support: SAP Lumira is readily installed and customised by SAP consulting partners with SAP technology competence. Their advice may include data modelling, visualisation design, integration with other SAP solutions, and integration of Lumira with other SAP solutions. Furthermore, SAP offers substantial training resources as well as continuous support services to its users, assuring the successful adoption and continued usage of Lumira.Furthermore, SAP provides online tools that provide customers with all of the information they require for an easy experience with Lumira.
Lumira assists supply chain managers in optimizing their operations by providing crucial metrics like inventory levels, order fulfillment rates, and transport costs. By using interactive dashboards and drill-down functions, supply chain executives can discover bottlenecks in their operations while optimizing the inventory levels to improve the logistics process and simplify logistics processes.
SAP lumira discovery
SAP Lumira Discovery Edition is SAP's on-premise solution for self-service business intelligence. As a data analysis and visualization tool designed for self-service use, it allows users to easily manipulate, visualize, analyze, and share their data. They are being targeted explicitly at data analysts and those just entering business intelligence for the first time.
SAP Lumira Discovery Edition was introduced as Visual Intelligence before being rebranded to SAP Business Objects Lumira in May 2012. It quickly established itself within SAP's business intelligence product portfolio as the premier tool for self-service data analysis and visualization scenarios. Since its debut, SAP Lumira Discovery Edition has grown into an indispensable resource supporting users who desire immediate exploration without IT involvement while sharing insights through stories. Now that SAP has released its SAP Lumira 2.0 product family, it's time to delve into all its details.
SAP Lumira, the discovery edition, is here to help! Integrated within the SAP BI ecosystem, the SAP Lumira discovery edition allows access to SAP BW, HANA, and local user data sources – users can even add their local user data! Furthermore, users can utilize this data by building customized visualizations or stories using SAP Lumira Discovery Edition and sharing it via the BusinessObjects BI platform for storage/sharing of documents created using it.
These terms seem daunting when all you need is to analyze a text file every week. No worries; SAP Lumira Discovery Edition can be used in standalone mode without connecting to enterprise data warehouses or BI platforms.
SAP lumira vs Power BI
Finally, the best alternative for your company will be chosen by your specific expectations and needs.Power BI is a good choice for businesses looking for a user-friendly BI product with a broad feature set. SAP Lumira is an excellent choice for businesses that use SAP's other business applications and want a more tightly connected BI solution.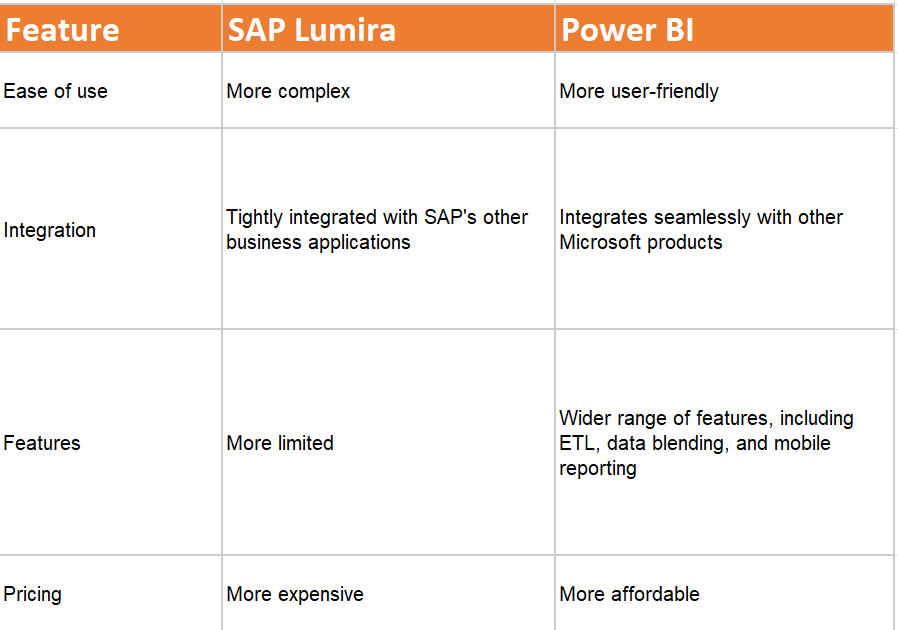 What is the difference between Lumira and Web Intelligence?
SAP Lumira and Web Intelligence are two business intelligence (BI) technologies from SAP that allow users to create interactive dashboards and reports. Nonetheless, there are some notable distinctions between them.
Lumira is a modern and agile BI solution for self-service data exploration and visualization. When generating interactive dashboards and stories, it provides users with drag-and-drop capabilities, many data visualization options, and the ability to embed dashboards into other apps. Lumira also works closely with SAP HANA and S/4HANA business applications.
Web intelligence is a more common BI tool that generates static reports. It comes with a variety of reporting capabilities, including report templates and the option to export reports in multiple formats and schedule them to be emailed or published online. Web Intelligence is widely used and supported by a thriving community of users and developers.
Which tool is right for you?
Your unique demands and requirements will define the best instrument for you. While Web Intelligence may be better suited to producing static reports, Lumira may be better suited to data analysis and visualization. Additional factors to think about while choosing between Web Intelligence and Lumira include the following:
Technical expertise: Because Lumira is more complex than Web Intelligence, you'll need some background in data analysis and visualization to use it effectively.
Budget: Lumira is more expensive than Web Intelligence.
IT infrastructure: If you already use SAP's other business tools, Lumira may be a better fit because it is more strongly connected with them.
Finally, the easiest method to determine which tool is best for you is to experiment with both Lumira and Web Intelligence to discover which one you prefer.
Conclusion:
SAP Lumira is essential in data visualization skills, aiding enterprises in realizing the true value of their data. Lumira's user-friendly interface, extensive visualization options, and advanced analytics capabilities enable users to gain valuable insights, collaborate effectively, and make informed decisions by analyzing, making decisions about, collaborating on, and collaborating across various business functions – providing businesses with a competitive advantage in today's rapidly changing digital environment. By engaging with competent SAP consultants, they may use SAP Lumira to fully leverage data power for a competitive cutting-edge digital landscape.
You might also like the below articles.