SAP C/4HANA is a cloud-based suite of SAP applications that helps businesses connect with customers in ways that weren't possible with older CRM software. It's built from the ground up to work seamlessly across different channels and devices, allowing the organization to keep its customers engaged throughout the buying cycle. SAP portfolio that enables businesses to manage their entire customer-centric solutions, including marketing, sales, and service. It allows you to focus on creating value for customers by leveraging your business's analytics, data, and insights.
This blog will focus on SAP C/4HANA in the digitization Era and how it impacts businesses' interactions with customers compared to the CRM module offered by SAP, it is a custom solution that is more effective and efficient.
Introduction of SAP C/4HANA
SAP C/4HANA is a cloud-based suite of ERP software designed to help you deliver your customer experience. It's a reimagining of CRM software, focused on customer engagement and loyalty.C/4HANA provides companies with a single source of truth for customers—one that's always up-to-date, secure and seamlessly integrated with other systems in the enterprise. The result: improved alignment across teams, simplified processes and increased speed to market, sales & service throughout the customer journey.
With SAP C/4HANA, We can create a digital business environment that is both scalable and flexible. The suite of software allows you to take advantage of the latest technologies and tools in the enterprise market, Sales & Service. SAP C/4HANA is a solution that helps businesses of all sizes transform from customer relationship management (CRM), to a new generation of customer experience solutions, designed to enable end-to-end customer engagement within the digital economy.
What does C4 HANA stand for?
In SAP C/4 Hana the "C" Stand for Customer and 4 for the 4th Generation and HANA is nothing more than an SAP HANA.
What is SAP C/4HANA?
SAP C/4HANA is a cloud-based application suite to rethink customer relationship management (CRM) and transform the customer experience landscape. The "C" in C/4HANA stands for "Customer," while the "4" represents the suite's four fundamental pillars, which are:
SAP Marketing Cloud:
This component provides enhanced capabilities to marketers for analyzing consumer behavior, delivering personalized campaigns, and driving targeted marketing activities that resonate with customers on a deeper level.
SAP Commerce Cloud:
formerly SAP Hybris Commerce, helps organizations to build seamless and personalized omnichannel shopping experiences, promoting customer loyalty and driving sales growth.
SAP Sales Cloud:
Previously known as SAP Hybris Sales Cloud, this module provides intelligent sales automation capabilities to sales teams, allowing them to communicate with clients more effectively, close deals faster, and accelerate revenue growth.
SAP Service Cloud:
This component focuses on providing excellent customer service by equipping support teams with the resources they need to provide fast, personalized, and efficient service experiences.
Revolution in Customer Experience (CX)
SAP C/4HANA is the new, improved SAP Customer Experience (CX Suite), which can help you connect with customers in new ways that aren't possible using older CRM software. Please see the C4 Hana portfolio listed below.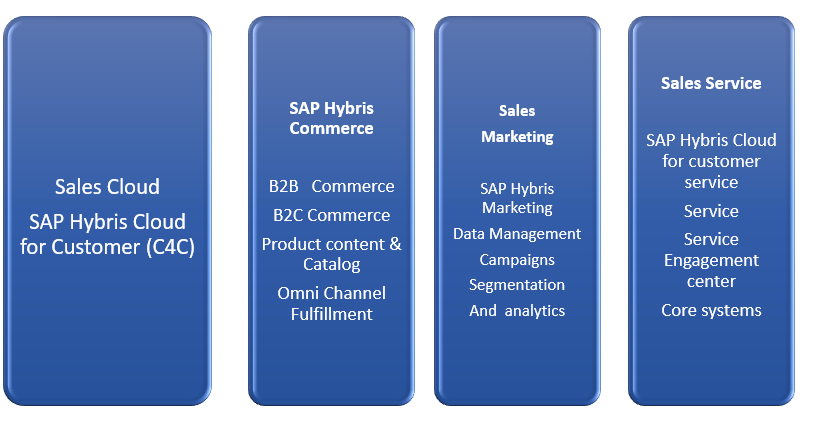 Digital transformation is a new reality that is changing at an unprecedented rate. It is transforming how we communicate, buy and sell, entertain ourselves, work, collaborate, and interact with customers. Keeping up with changes and seizing opportunities is a challenge for IT and business leaders. The current challenge is how can businesses swiftly redesign their client interactions ..?
Digitally connected customers will expect to deliver more personalized, faster, and better experiences. They will also unfollow if businesses fail to meet their expectations or deliver on promises. Customers expect you to interact with them immediately when it is essential to them and with contextually relevant, personalized content relevant to their needs. This can usually be done via their mobile device. Customers expect a consistent experience across all channels and are less willing to tolerate delays, incontinence, or fragmentation.
SAP C/4HANA allows companies to build brand loyalty and long-term competitive differentiation. Customers will experience a trusting, simple, personal and helpful customer experience. SAP C/4HANA, a modern cloud suite that integrates with other cloud services, empowers businesses to provide complete customer experience management. It combines customer data, ML technology, and microservices to enable real-time, intelligent customer engagements across all sales, marketing and commerce channels. In other words, SAP C/4HANA provides a single, modular cloud solution to manage customer experience using a unified data model.
C/4HANA, a cloud-based application suite focused on customer experience, is available in the cloud. It reimagines CRM software and includes self-help, social network, and mobile support.
SAP Customer Experience Suite: What They Are
C/4HANA consists of five applications: Marketing (including Customer Relationship Management), Sales (including Prospecting), Service (including Service Management), Commerce (including Commerce Cloud), and Customer Data Platform – also known as "the data warehouse," which gathers all pertinent customer data in one location for easy access by all personnel inside a business. SAP C/4HANA includes the following cloud solutions as C4 Hana portfolio.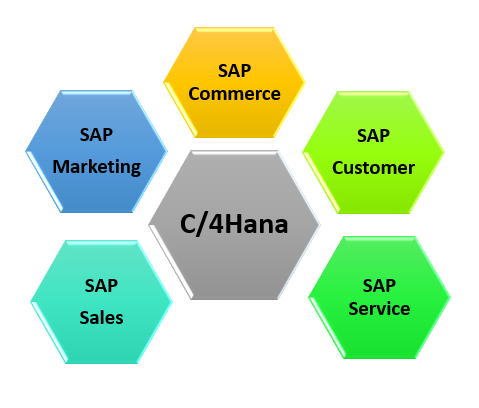 The SAP Customer Experience Suite, C/4HANA, has five clouds to optimize and cover all your front-office operations.
Marketing Cloud
Sales Cloud
Commerce Cloud
Service Cloud
Cloud for Customer Data
Let's now dive deep into each SAP C/4HANA offering.
C/4HANA– Marketing Cloud
This solution will help Businesses master modern marketing. A flexible, robust solution is required to analyze large amounts of data to give real-time experiences and ensure that what Businesses is doing works. Marketing success is dependent on data being used, not just collected. SAP Marketing Cloud's core feature is a customer profile built from data from your entire business and every interaction between you and your customer. Its marketing team can reach out to clients through customised website campaigns, emails, digital advertising, sales triggers, phone calls, or push notifications on mobile end devices. It also allows them to keep track of these activities.
Planning campaigns and strategies is dependent on data-driven decisions. However, it can be challenging to make informed decisions when budgets and campaigns are not easily accessible. SAP Marketing Cloud combines all data in one place, making it simple for everyone to work together, review, and comment.
SAP Marketing Cloud uses ML to accurately measure the impact of marketing campaigns and reveal what converts customers into buyers. Analytics and data visualization shows you what is working and needs to be improved, helping you make sense of campaigns and allowing you to react quickly. You can track success and what you have spent to get the information you need for your next campaign.
C/4HANA– Commerce Cloud
Combining the solution with SAP Commerce on-premise is possible. It offers a full e-commerce platform, including management of product content, orders, personalisation, and experiences. It is a one-stop shop that gets rid of new or numerous applications that can't be incorporated. It is simple to use and doesn't need IT support.
Additional capabilities are available through particular accelerator extensions that cater to specific Industry Solutions such as financial services, travel, and telecommunications.
The accelerators will customize you, so there's no need to spend time and money on complicated customization. It assists in connecting to and integrating with SAP Commerce commercial channels. Organize orders, catalogues and content, and customer experiences,It is easy to get products online by coordinating approval and creation processes. This can all be adjusted to immediately provide highly targeted, personalized content to your audience.
C/4HANA– Sales Cloud
The sales team should meet with clients and generate leads. In today's customer-focused industry, sales staff shouldn't do basic duties like forecasting or updating spreadsheets. The SAP Sales Cloud solution powered by AI enables salespeople to concentrate on fostering relationships. For accuracy and relevance, the 360-degree view of the client is built using data from every department within your business. Sales are provided with the knowledge they need to close deals, from generating leads to doing so. It has a customised user interface and is accessible on all devices. In order to help you sell more rapidly, it automates the proposal and quote process. This information provides you with more information to close customer deals.
SAP Sales Cloud facilitates the integration of lead and opportunity management. Order management, sales planning, and quotation management.
C/4HANA– Service Cloud
For top-notch customer service, motivation is essential. You have a unique opportunity to speak with clients directly thanks to the SAP Service Cloud solution. Customers demand always-on, round-the-clock service through the channels they utilise. Combining automated responses, human agents, and community-based help across all channels can meet this expectation..
The SAP Service Cloud is accessible through all channels. No matter how a customer contacts you or whether they move channels, they always have the same experience. The chatbot solution offered by SAP Service Cloud handles routine questions and provides effective solutions. This enables your team to address difficult queries and allows you to offer 24-hour support. Their position is elevated from call taker to trusted counsel as a result. Agents have fast access to the data they require to address customer issues without making them wait. It is the ideal synthesis of human talent with AI effectiveness.
Customers can be made aware of their service needs so you can adjust your staff accordingly. Service professionals are equipped with the skills and information needed to respond to client needs quickly. With the help of crowdsourcing, building an on-demand service network, and crowdsourcing, SAP Service Cloud's field service management features, you can enhance service performance and satisfy customer expectations.
C/4HANA– Customer Data Cloud
You need to be connected to your customers in order to acquire insight into their data. The basis for that connection is SAP Customer Data Cloud. Building trust requires a combination of transparency, security, control, and trust. Customers demand control over the use of their data, access to it, and the ability to see it. With a self-service centre where users can access their data and choices, SAP Customer Data Cloud improves accessibility for consent management.
By handling data privacy and protection, SAP Customer Data Cloud enables you to design customised customer experiences that will forge enduring bonds between your brand and your target market. Building a connection that benefits both parties requires trust between the customer and the brand. Two of the most important areas where trust is crucial are data and privacy.
Customers know that they have complete control. Customers can rest assured that their data is secure and authenticated. Access is also made easy by consistency across channels. This allows you to convert casual visitors into customers. The registration process is quick and easy. At first, you will only need to provide the essential information. Customers must establish a relationship with the brand before they hand over any more information.
Businesses must adhere to increasingly stringent regulations for data protection. The most major change to data privacy in decades is the General Data Protection Regulation (GDPR). This offers a chance to increase client trust and enhance their experience. Customers have access to and control over all of your data from one place. Then, customised experiences can be delivered using this profile. Compliance is a competitive advantage that is advantageous to all parties.
Conclusion
The new and improved SAP Customer Experience (CX) Suite, SAP C/4HANA, can help your company connect with customers in ways that older CRM software could not. C/4HANA is a cloud-based software suite centered on the customer experience. It's a CRM software reimagining features like self-help, social networking, and mobile support.
What is the difference between S 4HANA and C 4HANA?
SAP S/4HANA is a next-generation enterprise resource planning (ERP) system that is built on SAP's in-memory database technology, SAP HANA. It is designed to help organizations streamline their business processes, improve efficiency, and make better-informed decisions. SAP S/4HANA includes modules for financial accounting, sales and distribution, materials management, production planning, and other business functions.
SAP C/4HANA is a suite of customer experience (CX) applications that are designed to help organizations better understand and engage with their customers. It includes solutions for customer relationship management (CRM), marketing, commerce, sales, and customer service. SAP C/4HANA is built on top of the SAP Cloud Platform and is available as a cloud-based solution.
While SAP S/4HANA and SAP C/4HANA are both products from SAP, they are designed for different purposes. SAP S/4HANA is an ERP system that helps organizations manage their internal processes, while SAP C/4HANA is a suite of CX applications that helps organizations engage with their customers. Both products can be used together to provide a comprehensive solution for managing an organization's business processes and customer interactions.
What is the difference between sap c/4hana and salesforce ?
SAP C/4HANA and Salesforce are both customer relationship management (CRM) systems that are designed to help organizations manage their customer interactions and relationships. There are, however, some significant differences between the two products.
 
One major difference is that SAP C/4HANA is a suite of customer experience (CX) applications that include solutions for CRM, marketing, commerce, sales, and customer service. It is built on top of the SAP Cloud Platform and is available as a cloud-based solution. On the other hand, Salesforce is primarily a CRM system, although it also offers other customer-facing applications such as marketing automation and customer service. Salesforce is also available as a cloud-based solution, with various pricing plans and customization options.
 
Another difference between the two products is their target audience. SAP C/4HANA is geared towards large enterprises, while Salesforce is more suitable for small to medium-sized businesses. SAP C/4HANA is also more expensive than Salesforce, with a higher upfront cost and ongoing maintenance and support fees.
 
Ultimately, the choice between SAP C/4HANA and Salesforce will depend on the specific needs and budget of your organization. Both products can be effective solutions for managing customer relationships, but they are designed for different audiences and offer different features and capabilities.
You might also like the below articles.