We're excited to give you all the information you need about SAP BusinessObjects(BO), a potent business analytics solution. We'll go over its fundamental ideas while giving you the direction, clarifications, and recommendations you need to appreciate how vital it is for businesses all around the world. This blog article aims to unite all users, including experienced SAP consultants who want to gain a deeper grasp of BO and BI users who want to learn more about the platform. To completely understand all of its possibilities, from the very fundamentals to the smallest particulars, start learning about it right away!
Introduction BusinessObjects
Utilizing company information effectively is essential in today's data-driven business environment, making SAP BO the perfect tool for gathering crucial information and reaching well-informed decisions. This article will discuss SAP BO several features for assisting businesses in maximizing the value of their data.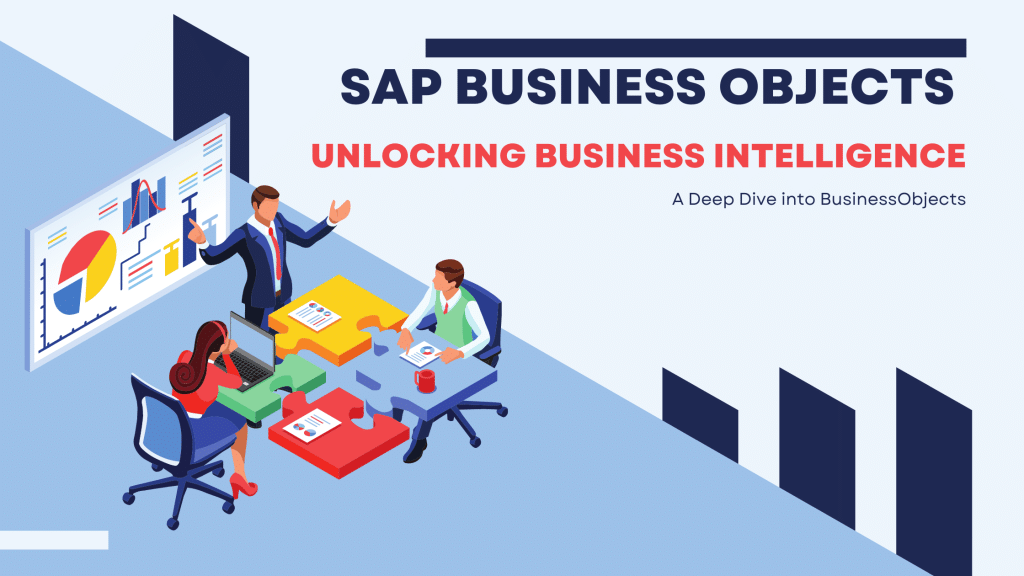 Understanding BusinessObjects
What is BusinessObjects?
SAP BusinessObjects is a business intelligence platform that helps organizations collect, analyze, and visualize data in order to make better decisions. It is a collection of data integration, data warehousing, reporting, analysis, and dashboarding software applications.
Businesses may evaluate, analyze, and exchange information with the help of BO, which is essentially a collection of business intelligence tools. For the development, administration, and distribution of dashboards, reports, and other analytics, BO provides centralized platforms.
BusinessObjects comprises several key components, including:
Users can easily connect data sources via universes. Ad hoc reports or analyses are no longer required. Users can quickly build various interactive reports on the web using a simple drag-and-drop interface and drag-and-drop tools provided by Web Intelligence. This report-creation tool is appropriate for people with varied levels of education and technical competence. Crystal Reports is a reliable report-creation application. Crystal Reports creates professionally created reports that are precisely planned and presented. Crystal Reports provides a number of sophisticated features that aid in the construction of more complex reports, including as cross-tabulations and subreports, as well as the ability to build conditional formatting. It is possible to construct visually appealing dashboards that provide information to users.
Integration of data SAP BusinessObjects may incorporate data from several sources, including as relational tables and databases, as well as cloud-based applications.
Data warehouse: The data warehouse in SAP BusinessObjects can store information in a single central database for easy analysis and access.
Reporting:SAP BusinessObjects can generate a wide range of reports, such as scorecards, dashboards, and report-based ad-hoc requests.
Analytical:SAP BusinessObjects is capable of a wide range of analytical tasks, including prediction, data mining, and statistical analysis.
SAP BusinessObjects is an advanced platform. It is, nevertheless, a strong tool that will assist enterprises of all sizes in making better decisions. If you are considering utilizing SAP BusinessObjects, seek installation and setup assistance from a qualified SAP BusinessObjects partner. SAP may be used by BusinessObjects to create interactive dashboards that present data.
Key Benefits of Using Business Objects
Including BO in your business intelligence strategy has a number of advantages, such as:
Improved Decision Making :Faster and better-informed decision-making is made possible by BO real-time access to accurate, current information. Users may quickly discover patterns, identify outliers, and acquire insightful information thanks to intuitive reporting and analytics features.
Enhanced Collaboration: Organizations can encourage team cooperation by centralizing data and reports in BO. Users can collaborate with others by exchanging reports, dashboards, and insights. This encourages data-driven discussions and unites everyone around shared objectives.
Self-Service Capabilities: BO equips business users with the tools they need to access and analyze data without the help of IT. Users may independently build ad hoc reports, study data, and respond to business concerns with the help of straightforward tools like Web Intelligence and Explorer, saving time and money.
Flexibility and Scalability: BO can adapt to the needs of any size organization. No matter how big or small your business is, BO has a scalable and adaptable solution that can handle your expanding data needs.
SAP BusinessObjects is a difficult platform, but it is a strong tool that will help businesses of all sizes make better decisions.
Setting up business objects
Before you can start utilizing BusinessObjects, you must first build the platform and then modify it to match the needs of the business. The basic actions to take are as follows:
Create BusinessObjects on dedicated servers or a cluster of servers during the initial stage of installation and configuration. Configure the platform's security settings, create user access, and identify data sources.
Creator of the Universe: Universes provide the foundation for BusinessObjects by providing a very simple language layer that simplifies data access. Create universes that fit the criteria of the data model as well as the operational needs of your firm. After you've constructed the Universes, you may develop dashboards and reports with tools like Web Intelligence, Crystal Reports, and the Dashboard Designer.
To stay on top of a competitive market, ongoing education and improvement are essential. To be a BusinessObjects specialist, you must constantly improve and learn. Here are a few pointers to help you better grasp BusinessObjects.
Gaining Understanding Additional educational resources: SAP offers a variety of BusinessObjects training materials to assist you deepen your understanding and remain abreast of the most recent advancements in technology. Do you have experience with these tools?
Participate in communities, forums, and other forums. Join communities or forums along with other websites that users operate. You can join forums or communities that members of the community manage. Participate in discussions and interact with fellow SAP BusinessObjects Consultants and clients by joining forums or groups. Join groups that were created especially for SAP BusinessObjects Consultants and users. Receive ideas from other members, debate the latest techniques, and get expert advice to aid you in your training!
Experiential education The abilities required to use business-related instruments form the basis of learning. Investigate real-world issues by taking into account potential scenarios. Learning through experience allows you to expand your knowledge while also enhancing your skills.
Conclusion
It is vital to recognize that learning BusinessObjects is an ongoing process. The capabilities of BusinessObjects will become clear as you gain experience working with them. It is vital to keep up with your education, research, and applications so that you can make sound business decisions. You're looking for new possibilities, whether you're a beginner or experienced SAP consultant. If this is the case, BusinessObjects gives you an unlimited number of opportunities to collect essential information that is critical to the success of your firm!
You might also like the below articles.