Do you wish to become more knowledgeable about SAP Crystal Reports but are unsure of where to begin? We've got you covered, so don't worry. The principles of SAP Crystal Reports will be explained in this article in a style that is easy to understand even for readers with intermediate comprehension skills. The lecturer gives the impression of having been there and done that.
SAP Crystal Reports convert virtually any data source into interactive, actionable information that can be accessed both online and offline through portals, apps, and mobile devices.SAP can manage all of your organizational data effectively. Although this data is stored in the SAP system and can be viewed on SAP GUI screens, we may still want to produce reports from the system.
An effective business intelligence tool for producing interactive and visually appealing reports in Crystal Reports. We will go through every crucial component of Crystal Reports in this manual so you can create polished and educational information for your company. Due to its simplicity in obtaining data from numerous sources and effectively displaying it for audiences of any size, it has grown in popularity among enterprises of all sizes.

What are SAP Crystal Reports?
SAP Crystal Reports can help us analyze data by creating richly designed, pixel-perfect, and multi-page reports based on virtually any source of data and delivered in more than a dozen different formats.
SAP Crystal Reports is a business intelligence tool that generates reviews of each sap and non-sap information resource. it allows the user to create reports with amazing visualizations and incorporate new business requirements into reports to lessen dependence on them. It also gives the developer the ability to make reports.
Types of tools for business intelligence
When we use it for printing and presentation purposes, it's called Crystal Reports.
Dashboard-Dashboard reports are created for Chat, and Pie chat, Dashboard is not designed for detailed data. They are designed for high-level KPIs.
Web Intelligence: Web intelligence is an interactive tool that allows users to filter, modify the query, and add more dimensions.
Analysis-Users for future forecasting, such as sales forecasting
Business Object explorer-allows users to make a search query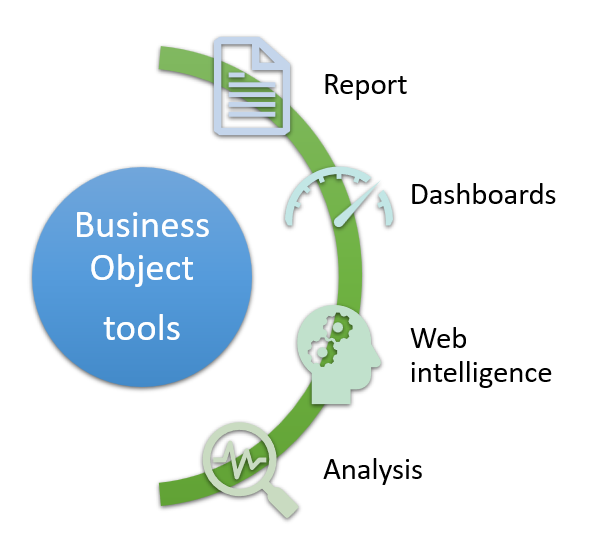 SAP Crystal Reports: An Overview
Here, we will cover the basic concepts of this data reporting tool and its relevance to businesses. To begin, download the latest edition of SAP Crystal Reports from our official website
Before using the tool, we must understand BI's basic idea.BI is a design and development discipline and science for acquiring business intelligence from diverse unstructured and semi-structured data sources..The reason behind this is that BI aims to gather as much information as possible for analysis and execution. It is designed to process data and provide actionable insights, and the tool allows the user to produce reports and statistics based on the information.
SAP Crystal Reports is a business intelligence tool that can produce reports based on analytical data that are derived Data sources from SAP and other sources of information that aren't Oracle, SQL Server, MySQL, XML Data Source, Microsoft Excel, and other SAP applications. The data gathered by this tool can help companies in the creation of sophisticated reports and making precise and profitable decisions based on reports.
SAP Crystal Review can connect to any data source, including relational databases like Oracle, OLAP information sources like BW, or XML records. We can create a simple record, or you may also use a complex or specialized tool of crystal review to create improved-level reports for end-users. It is mostly used for pixel-perfect reporting for higher management.
The Advantages of Crystal Reports
Flexible and custom-designed report – We can create fast, high-quality, highly formatted, perfect-pixel revies by using SAP Crystal Reviews, which have a top-quality design interface and efficient workflows
Aggregations
Output formats in various formats
Multiple data sources
Summarizing data
It can be connected to various data sources.
Rapid logins and authorization syncing using SSO
Template Standardization
Multiple Export Formats
Interactive report generation that is automated.
It is able to connect to various data sources.
Reports are created with attractive tables and charts.
highly customizable and easy to customize.
It's fairly simple to learn using the design of the reports. even for those who don't have a lot of understanding of databases.
The ability to reuse the report's components.
Reports can be designed to print (can easily manage pagination).
report from different data sources without the need for the use of a data warehouse.
Exploring the Features
With so many features, Crystal Reports helps you create insightful reports and enhance your decision-making processes. Here are some salient features:
seamless interaction with many data sources.
Direct linkages do away with the requirement for auxiliary layers like Universes.
Simplified SAP HANA integration for enhanced reporting.
powerful report design capabilities.
flexible development of apps.
simplified the process of preparing and delivering reports.
web-based administration to make control easier.
a user-friendly navigation system.
the ability to manage and organise data efficiently.
connections to external data sources in real time.
support for several data sources.
Features like OLAP (pre-processed cube representation) and ROLAP (SQL-layer querying).
The Purpose of Crystal Reports
Learn the Interface
Learning the interface is the first step before using SAP Crystal Reports in business. This tutorial can be very useful for people unfamiliar with SAP Crystal Reports.
To use SAP Crystal Reports software, you must have a Microsoft SQL Server running or an Oracle database installed on your system. We can either choose to install these on the same computer that you are using to work or on a separate computer to save the work in an appropriate place. Many third-party software packages are available to install these on the same system for different purposes.
Create a Data Source
Crystal Report helps you to connect to multiple data sources, which include:
HANA view
Relational Connection
SAP BEx Query
Excel Spreadsheets
The first step is to create a source in SAP Crystal; We can connect any data source by Clicking on Source> Open-source Data Source. We can also select the previously used conventions we want to employ. Choose the database, table, or column type in the data source by clicking the drop-down menus. Use the forms provided to enter data in the Source, then click the Create button. Make database connections to create your database. In the Source Add the columns or table, then select Create report. After you've set up the data source, choose the report type.
For more information about reporting, you can also refer to the free README file in the root folder of the Source to find out how to create a reporting engine.
Designing a Report
It is a good idea to begin a session by preparing the data model for the report. The data model should be dynamic and able to support new information about your business. This will allow you to generate different reports with the same data model with minor changes. You must also be able to create multiple reports with one model.
Additionally, you must define specific business requirements for each business line report, i.e., SD, MM, Operations, etc. Based on these specifications, the Product Owner and team members from the QA team will create this report. These reports will be automatically generated in a certain format, and the users can access these reports from the interfaces mentioned earlier.
Viewing Reports
SAP Crystal Reports generates reports based on Tableau, Excel, and Microsoft Access. When viewing a report, users can interact with each element in the report. Hovering, clicking, dragging, and other interaction options are available. The data is aligned into the view using different connectors. Users can download files, emails, and web pages as PDF files.
SAP Crystal Reports includes a PivotTable and Dataset Viewer for SQL Server for more sophisticated users. These functions help businesses visualize large datasets and make critical business decisions without leaving the data center.
Analyzing Reports, There are several types of reports available on SAP Crystal Reports. SAP Crystal Reports offers two types of reports: web and desktop
Conclusion:
In summary, Crystal Reports is a flexible business intelligence tool that can generate exciting reports for organizations of any size. Crystal Reports enables users to create interactive reports that provide insight into operations and promote wise decision-making thanks to its extensive features and customization choices. Consider this tool if your organization needs dependable tools like Crystal Reports for decision support objectives.
Here are some more articles that you could like to read.
You might also like the below articles.