The term SAP BW on Hana refers to the use of BW software on top of the HANA database. This article will cover capability, explore all of the essential characteristics of HANA database technologies, and employ BW as a model tool to aid in analysis and data modeling.
what is sap bw used for
SAP BW is the most commonly used enterprise resource planning (ERP) software in the world. It was created by SAP AG to help companies manage their business processes and information. The software is used by almost all businesses worldwide, including small and medium-sized enterprises. SAP BW provides a comprehensive business process management and integration solution for companies of any size. SAP BW has been integrated into many different products on the market, making it an indispensable tool for organizations of all sizes.
By consuming data from a Data Warehouse (DW) for statistical reporting and data analysis, SAP Business Warehouse (BW) powered by SAP HANA helps us speed up the data analysis process. BW software works with a wide range of databases, including Oracle, Microsoft, IBM DB2, Teradata, and others. BW on HANA recommends using HANA as the database for BW's data modelling capabilities, with no other database required.
What is the difference between SAP BW and SAP BW on HANA?
Let's go over what SAP BW is and what SAP BW on Hana is one by one.
What is SAP BW / BI used for?
SAP BW is a data warehousing tool for businesses. Transactional Data from all over the years can be consolidated into a single Datawarehouse, from which we can generate reports for various reporting purposes such as forecasting, Mis etc.
Using SAP BW to we can combine data from various systems and present it in a single report is possible. SAP BW integrates data from multiple sources, transforms and consolidates data Performs data cleansing, and stores data.
How does SAP BW work?
SAP BW also allowed us data modelling, Administration and staging space.The data stored in SAP BW is managed with a central tool called SAP Business Intelligence (BI) Administration Workbench. The BI platform is a platform for infrastructure as well as functions that include:
OLAP Processor
Metadata Repository
Process Designer and other functions
Business Explorer (BEx) is an analytical and reporting tool that can support query, analysis, and BI's reporting capabilities. Utilizing BEx the reporting functions, we can look at historical and current data to Different levels of analysis.
SAP BW is open-source, standard-based software that allows us to extract information from Different systems that can work with BI systems. It analyzes the data using various reporting tools, and This can be distributed to other systems.
Disadvantages of SAP BW
Before HANA was introduced, using SAP BW with Oracle or any other database was highly complicated. We needed to manage data and utilize Info-Cubes for reports and aggregations. This meant that you had to work SAP ERP, the SAP ERP system and an OLTP database, as well as a separate database that contained the INFO-Cubes necessary for aggregations, staging and reporting. Other difficulties that came with running SAP BW with third-party databases included.
These aggregations are now performed by the HANA layer, making the Administration of HANA much easier. Instead of having two databases, The HANA database handles both Transaction Processing (OLTP) and analytics Processing (OLAP). Also, as we already mentioned, HANA is faster because data processing is done in memory, which means there aren't any delays due to batching.
The activation step for Data Store objects, also known as DSOs, and various transformations work identically on HANA on other databases. However, the actual processing is transferred to HANA instead of BW's application server for other databases. This reduces the amount of data movement, making it possible to complete these tasks much more quickly with BW running on HANA.
Here are some disadvantages that we face when using SAP BW alongside other databases, such as Oracle, SQL Server, and IBM DB2.
Real-time Reporting
When we use BW in conjunction with other databases, we cannot do real-time reporting. Reports as real-time data are not from the database. The data is transferred into Business Warehouse in batches and therefore isn't available in real-time Data was transferred to the warehouse by collections, thus preventing real-time reporting. Insufficient capability to report in real-time.
Implementing structural changes
If we want to apply any structural modifications, it's hugely time-consuming and a difficult task because compatibility isn't available with other DB vendors. Implementing any structural change within Business Warehouse takes time-consuming structural modifications. Upgrades and enhancements were costly and often caused compatibility issues. Even the most basic structural changes could take between 2 and 12 months dependens upon requirement. The applications ran separately. Each application needed to be monitored and optimized independently, So it was time-consuming to tune performance. Due to the limitations of aggregation in SAP BW, we can not pull data at various levels of granularity.
Report Performance
We need to optimize the performance of our reports and tuning for every program & scenarios.
Compatibility
Data stored in Business Warehouse is aggregated and converted into the Report, and we can't access the data in different levels of granularity. HANA can be used to aggregate data at the moment the report is run.
What is SAP BW on hana
Before we get started with the details, it is an excellent idea to know the basics of SAP HANA
SAP HANA is an in-memory data platform that can be deployed in the form of an application that utilizes the capabilities available on current hardware to improve the performance of applications, lower the cost of ownership, and allow for new applications and scenarios. SAP HANA was designed to be run on multi-core CPUs with high-speed communication between processors and Terabytes in main memory. In SAP HANA, all data is accessible on the main memory. It eliminates the performance drawbacks that disks incur when they are used for I/O.
HANA database utilizes memory-based processing to provide the most rapid data retrieval speed, which can be attractive for companies struggling with large-scale online Transactions or timely forecasting and plan. Disk-based storage is the norm for businesses, and the cost of RAM is decreasing. So, memory-intensive systems will eventually replace mechanical, slow systems spinning disks will reduce costs for data storage.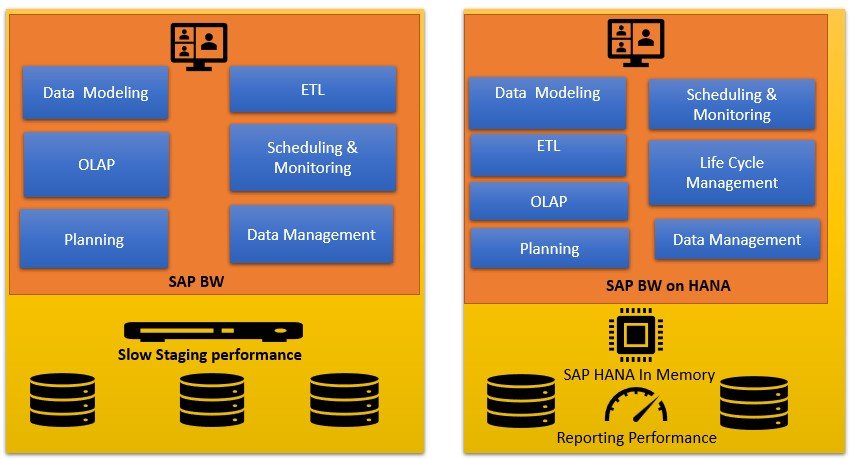 SAP Business Warehouse (BW) on HANA and consume data in the Data Warehouse (DW). SAP BW combines DW capabilities such as modelling and data integration with HANA's in-memory processing capabilities to boost the speed of data processing and capabilities for modelling. The complexity is decreased because transformations and DSOs can now be performed integrated into HANA. HANA environment. This allows for more efficient processing, enhanced speed of data loading, improved query processing, and additional reports features. The next-generation tool is compatible with other SAP and third-party solutions. It can also process geospatial, unstructured or Hadoop-based files. The new UI is much more user-friendly and user-friendly.
BW on HANA offers a wide range of reports and databases, which aren't possible using other databases. Things like DSOs and transformations are moved to the HANA database, which allows for quicker data processing, data loading, and query.Optimization and processing, extraordinary HANA capacity for modelling,
SAP BW on Hana Architecture
SAP HANA is responsible for carrying out critical tasks related to Data Warehousing, delivering excellent performance in analyzing reports. In the case of SAP BW being powered by HANA, All tasks are carried out with HANA optimization techniques for databases.The SAP BW on Hana architecture is as follows.
Optimized for data modelling: (InfoCubes)
Optimized Data Modeling Advanced DataStore Objects(DSO)
Optimized Data Modeling Composite Providers
Optimized Data Staging
Optimized Analytic Manager
Optimized Analysis Processes
What are the advantages of using SAP BW on HANA?
HANA in-memory database is more efficient than other commonly used databases such as Oracle, SQL Server, and therefore DW performs better when HANA powers it as the database.Excellent performance in the area of analytical reporting and data loading by HANA in Memory database capabilities.
All BW operations are executed in SAP HANA benefits of in-memory databases and calculation engines to speed up data processing. With HANA optimized objects, we can run sophisticated queries, thorough analysis, a large volume of data and efficiently aggregations. All current BI tools, such as BEx, Business Objects BI reporting tools, and Microsoft Excel, is directly supported through SAP BW on HANA.
SAP HANA offers excellent data compression. Tables are stored in columns. Needs less storage and therefore has less storage space and lower total cost of ownership (TCO). Business Warehouse Accelerator (BWA) is not required when making use of HANA under BW.
We don't require tables with aggregated data, and HANA can perform aggregations on the fly. It is a simplified method of the data modelling process by using memory-optimized objects.
In a nutshell, SAP BW on Hana improved the following functionality.
Query Performance is equal to or better than BW
The query performance is equal to or better than a scenario where SAP NetWeaver BW is used.Complex analysis and planning scenarios with unpredictable query types, high data volume, high frequency queries and complicated calculations are processed in high effectiveness, since read accesses are optimized in memory. The performance of queries on DSO objects is similar to the commission's performance on InfoCubes and InfoCubes.
Improved Data Load process on SAP HANA
The load processes of SAP HANA-optimized Data Warehouse objects can be handled with a high level of effectiveness.
Single instance maintenance
The SAP HANA database combines a traditional database with the SAP NetWeaver Business Warehouse Accelerator (SAP NetWeaver BWA), which helps to reduce infrastructure costs. Instead of database administration and additional SAP NetWeaver BWA administration, the SAP HANA database requires only one set of administration tools to manage monitoring, backup, and restore.
Simplified Data Modeling
Data modelling is simplified. Utilizing SAP HANA-optimized objects, it's not required to load the BW. Also, aggregates are not required when using the SAP HANA database. The column-based database architecture enables easier re-modelling, allowing you to delete characteristics from an InfoCube that still contains data. With the improved query performance on DataStore objects, loading data from a DataStore object into a downstream InfoCube can become unnecessary if the InfoCube is only created to improve query performance.
Significant compression factor
All InfoProviders that store data, as well as the permanent staging Area, use column-based storage (PSA). Because of its high compression rate, column-based storage requires less data to be processed. Performance can be improved further by using "SAP HANA-optimized" objects..
We hope we were unable to provide you with a fundamental understanding of SAP Business Warehouse (BW) and how SAP BW on Hana is improving Business Warehouse.
Here are a few more articles that will assist to understand new technology
.