SAP Solution Manager (SAP solman) is a tool that is accessible to all users. The sap solution manager application allows us to manage sap deployment. In this post, we will go over the advantages of SAP Solution Manager and how it can benefit to company or organization.
Introduction of SAP Solution Manager
SAP Solution Manager is a tool that anyone can use. This platform allows users to manage SAP solutions, which we will go over in this article. The ideas presented in this chapter will be used throughout. Understanding the components and their significance will give you the knowledge required to implement SAP Solman within your organization.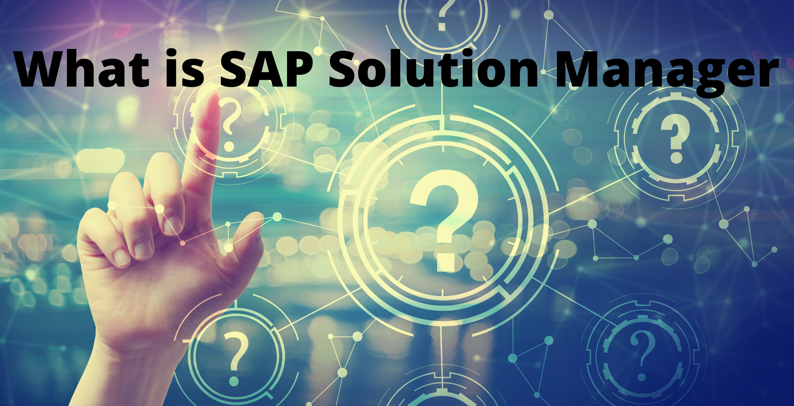 What is SAP Solution Manager?
The SAP Solution Manager is a platform that provides integrated support for a business solution's life cycle, from the Business Blueprint to production operation. The SAP Solman gives centralized access to tools, methods, and preconfigured content that an use during the evaluation, implementation, and operation of your systems.
It's a platform that lets users manage SAP solutions, such as implementing new features in existing systems or upgrading and maintaining existing systems.
What are the Benefits of SAP Solution Manager?
SAP Solution Manager is a tool that all kinds of users can utilize. It means you don't need to be an SAP expert in using the software. SAP Solman helps in the automation of SAP solutions and the deployment of SAP applications and supervises their performance. One of the most significant features of this program is that it offers assistance for business requirements by utilizing its helpdesk feature that allows users to receive quick responses to questions about their systems or software.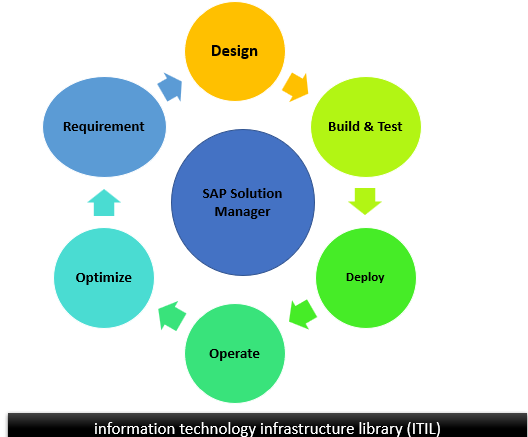 SAP Solution Manager supports throughout assessment and implementation. we can carry out the following tasks within the evaluation and implementation projects using the Solman.
SAP Solution Manager also has an authoring function. SAP Solman also provides an authoring tool to design your own templates for projects, which we can use in your implementation. This feature of the SAP Solution Manager is an ideal tool to assist SAP partners and businesses in performing the global rollout.
SAP Solution Manager provides content that speeds up the implementation process. Configuration details and a method-driven approach to speed up the plan, the configuration, and the final preparation stages. SAP Solman enables efficient project management and central control of implementations that cross components
Implemention
The global rollout of the toolset facilitates standardization of processes and harmonization between organizations and locations by offering proven techniques and all the functionality needed. It's easier to apply standard settings for local sites because settings for configurations don't need to be re-entered into local components.
Synchronization of custom settings
Synchronization of settings that you have customized -with SAP Solman, users will be able to maintain the consistency of your IT environment to be heterogeneous. It makes it easier to manage customization, less error-prone replicating of custom settings, and more straightforward checks for consistency. SAP Solution Manager reduces manual synchronization by automatically distributing custom settings across multiple systems simultaneously and centrally managing all requests for synchronization settings.
Testing
Testing Tests SAP Solman speeds test preparation and test execution. It gives one point of entry to the entire landscape of the system and facilitates the centralization of test materials and results that support cross-component tests.
IT and application support
Support for applications and support desks integrated into SAP Solman helps you handle incidents more efficiently and facilitates the settlement of support charges. Centralized management of support messages assists in making the support team more efficient.
Solution monitoring
Solution monitoring SAP Solution Manager performs centralized monitoring in real-time of business processes, systems, and interfaces. This makes it easier for administrators to manage. It is also able to monitor intersystem dependencies. Monitoring proactively helps to avoid situations that could be critical, as well as automatic notifications that allow rapid response to problems.
Service level management and reporting
Service-level management and reports SAP Solution Manager SAP Solution Manager allows easy creation of service levels and offers automated reporting. Service reporting is available for every system in the solution landscape and provides an integrated report with all the information needed to make the right strategic IT decisions.
Service processing
Service processing SAP Solution Manager offers appropriate service recommendations and provides SAP Support services. This includes SAP Safeguarding, which can help manage risk for technical issues; SAP Solution Management Optimization, which enables you to make the most of your SAP solutions; and SAP Empowering, which allows you to control your SAP solutions.
What are service offer by SAP soultion manager
SAP Solution Manager SAP Solution Manager offers services and ensures that operational processing is being performed
Utilize remotely SAP services and track their status .
Setup services and processes for business, develop and monitor issues, gain an a comprehensive overview of the solution, control service levels
Administration and system monitoring
Monitoring of business processes software updates Documents that are Best Practice as well as software management services
integrated message processing to support your internal support team as well as extended remote assistance provided by SAP
Who Should Learn SAP Solution Manager?
SAP Solution Manager is a tool that all different users can use.The most important thing to remember about this software is that it's not just for SVPs and IT professionals, but also business analysts and project managers. You don't need to be an expert to use SAP Solution Manager effectively. The interface will make sense regardless of your level of expertise in the system, which makes it easier for everyone involved—including you!
SAP Solution Manager is a tool used by all users, from engineers to managers and even end users. It is so popular among the corporate world because it gives you an overview of your entire software development life cycle (SDLC). It allows you to see exactly what each stage of the SDLC involves, including how much time it takes to complete each task and how much money and effort it costs.
This makes it easier for everyone involved in any given project or project phase; they will know what needs done when they need done and where their efforts should be focused during each stage of development or testing. This helps keep projects on track while reducing wasted time spent on tasks that aren't necessary anymore since those projects have already been completed successfully at some point in time before now!
Conclusion
SAP Solution Manager is one of the most popular tools that you can use to manage your SAP system. It will help you to create and maintain your system, monitor performance and find problems before they become serious issues.
You might also like the below articles.