SAP Solution Manager(Solman) is an integral part of the system landscape. SAP introduces SAP Solution Manager 7.2 encompasses the entire cycle of an IT system running on-premise, hybrid, or in the cloud. In this article, we discuss the new features of SAP offering with SAP Solman 7.2 that aids both the functional and technical SAP consultants from all levels to understand and follow easily. We will also provide some insight on why to switch towards SAP Solman 7.2. SAP Solution Manager can help assist you in your SAP S/4HANA transformation and its numerous processes
Introduction of SAP Solution Manager 7.2
SAP Solution Manager 7.2 is an essential component to aiding any business planning to shift towards SAP S/4HANA. SAP solman 7.2 manage and oversee the End-to-End business processes of the SAP system. The non-SAP system too could be an integral part of this business process. In terms of technical aspects, we employ SAP Solution Manager in order to control the licensing of systems and monitoring of the system, as well as early alerts for reports, change control, and other things that solution managers handle. SAP Solution Manager can be used to defend ITIL procedures, and Solution Manager has been verified as ITIL compatible for 15 core functions like Availability Management as well as Capacity Management Change Management, and others.
Because it is vital for each SAP Consultant to possess an impressive knowledge of SAP Solution Manager. It is essential that every technical consultant needs the ability to set up and set up SAP Solution Manager, as this has become a mandatory requirement across the entire SAP landscape.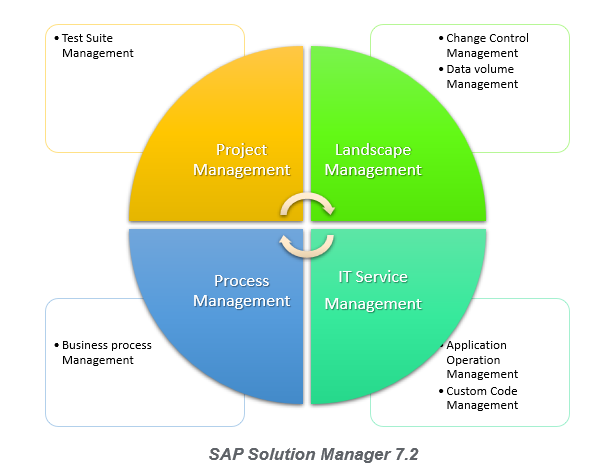 What new features does SAP Solution Manager 7.2 include?
SAP constantly received feedback from customers that some areas were Solution managers that were not as good. In the previous version, it was hard to record business processes that used Transactions SOLAR01 and SOLAR02.
Customers' SAP Landscapes are continuing to change and get more complicated. With the advent of new SAP software components that are being implemented both on-premise and in cloud servers, SAP Solution Manager is the only tool in the market to integrate the entire set of SAP Software components fully. From gathering requirements to creating tests, deployment, and building, SAP Solution Manager provides the level of transparency needed to allow SAP customers to discover and rectify operational processes that slow down their operations and create unnecessary flaws in the production environment.
SAP has redesigned its user experience that's more efficient and speedier and includes a number of improvements to usability that are integrated into Solution Documentation Testing Suite, Change Request Management and Application Operations. SAP solman 7.2 covers the entire life cycle of an IT solution running on premises, in a hybrid environment, or cloud.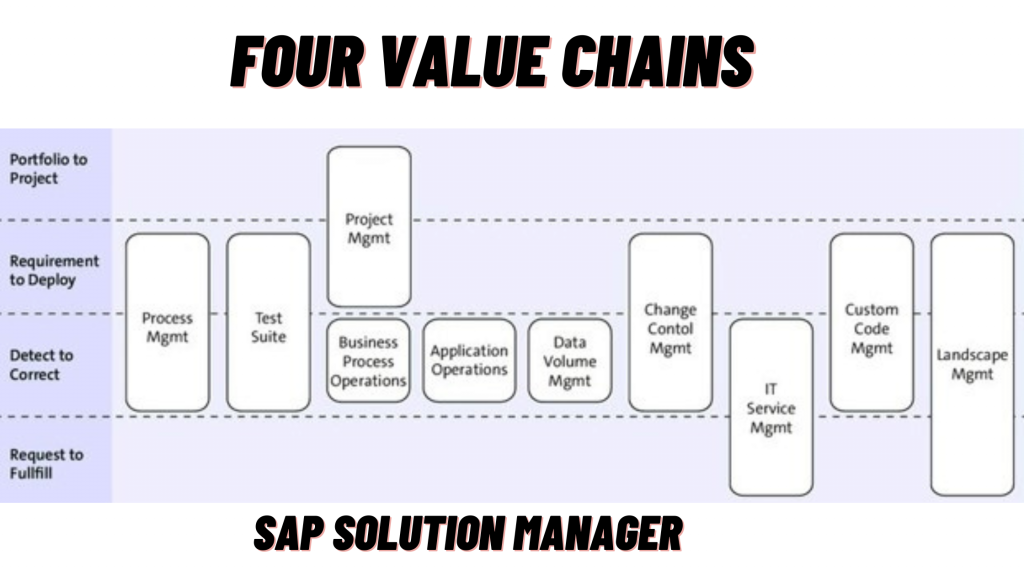 SAP EarlyWatch data. If you're using SAP EarlyWatch reporting running in the SAP Solution Manager software at present and you are not satisfied, it is highly advised to upgrade up to SAP Solution Manager 7.2 in order to save this data. The information utilized for SAP Early Watch reporting includes data on programs and transactions (both custom and created by customers) that have been run in a production environment all the time you've been using SAP Early Watch reports.
SAP EarlyWatch data can also be utilized with Custom Code Lifecycle Management (CCLM). It is important to understand the specific custom code used in production, so you can know what custom code is able to be eliminated. The removal of custom code that is not used will simplify the upgrade process, including the migration process to SAP S/4HANA.
Scope and Effort Analyzer (SEA) SEA This is important data if it's time to analyze the impact of upgrades using Scope and Effort Analyzer (SEA). This tool helps evaluate three, six, or 12 months of system usage about the upgrade version and, more precisely, identifies the scope of testing.
Exclusively available using SAP Solution Manager 7.2, SAP has created visual business process models for most SAP S/4HANA business processes in Solution Documentation. These models help accelerate the SAP S/4HANA migration, allowing IT business analysts to look at every business process in SAP S/4HANA and then adapt the business process templates for your business.
In SAP Solution Manager 7.2, SAP has increased the reuse of documentation for processes, allowing customers to create a single step and reuse it for multiple business processes. Process models incorporate swim lanes to facilitate SAP the development of security roles. It is easy to create multiple versions of your business processes using branches (more on later).
SAP Solution Manager 7.2 with tools for managing portfolios and projects which connect to Requirements Management and Test Suite as well as Change Request Management (ChaRM) which provides real traceability of requirements and the structure to stop any unapproved changes to support the execution of the approved requirements.
SAP Solution Manager provides the following services:
SAP Business Process Operations
SAP Business Process Operations comprises the most crucial application-related areas to ensure the steady and efficient operation of the most important business processes to satisfy the requirements for business.SAP Business Process Operations consists of three steps
Monitoring of interfaces and business processes
Job scheduling management
Data consistency management
Performance optimization of business processes
Improvement of business processes
Landscape Management
Landscape Management involves the establishment of new systems, as well as the modification of existing ones. It needs these tools
SAP Engagement and Service Delivery
Guided self-services , guided SAP-delired services, as along with SAP EarlyWatch Alert are available in the SAP Engagement and Service Delivery work center. Plans for service, issues management and expert-on-demand capabilities are available to facilitate collaboration with SAP support. Service reports for remote and on-site services are recorded and are categorised for each software or solution
Requirements Management
SAP Solution Manager contains new capabilities for managing requirements which will enable the installation and maintenance of the entire IT system, that also includes modifications to software. Business and IT organizations can benefit from the extensive capabilities of requirements management to manage the scope of their software as with all the associated changes.
Change Control Management:
Change control management is responsible for coordinating every change across the entire landscape of the system to avoid conflicts and ensure that they don't interfere with the current business. This increases the security and reliability of the system's infrastructure minimizes risk, and decreases the overall operating costs.
IT Service Management
The service desk of SAP Solution Manager provides the SAP tool for managing issues efficiently across business unit of the customer, customer IT, SAP, and SAP partners. The service desk features an open, bidirectional interface for transferring and receiving incidents from other ticketing systems. This is a possibility when a portion of the customer's IT is outsourced or assigned to service providers that have its own support desk.
Application Operations
Application operations within SAP Solution Manager comprises all features required for central monitoring of alerts, analysis and management in SAP Solutions, independently of the type of system or technology behind it. Templates that are preconfigured allow for a fast beginning with integrated reporting. You can choose to utilize preconfigured standard reporting or design your own customized customer reports.
Custom Code Management
The distinctive Custom Code Management System designed by SAP provides you with a full knowledge of how to easily and successfully manage and manage your custom code.
Test Suite Management
Modifying SAP solutions through changes that are triggered by SAP or initiated by customers requires an analysis of follow-up of the change's impacts, as well as integration tests. End-to-end integration testing allows you to discover how SAP software updates impact the business processes essential to your business and also perform the necessary end-to end integration tests by using tests run using software like the SAP Solution Manager test capabilities. The solution allows you to create central procedures to analyze the impact of changes and also organize and run tests on end-to-end business processes by using test suites , such as SAP Solution Manager. SAP Solution Manager testsuite.
Conclusion
The SAP Solution Manager 7.2 supports you in all phases of the evaluation and implementation. If you're already an SAP customer, the right time to upgrade and implement SAP Solution Manager 7.2 is now. For those who are brand new, now is the best moment to become an SAP customer, now that SAP has improved its ITIL-certified software within SAP Solution Manager 7.2 to aid you in the deployment and maintaining SAP landscapes
You might also like the below articles.