If you're working with SAP, then you're using the processing power of the world's largest software company to run your business. Handling units (HU) in SAP can be a difficult chore, but it can be made a lot easier with the correct tools. Thankfully, there are plenty of options out there to suit your needs, so it's important to choose the right one for your specific needs. By choosing the right handling unit software, you can manage your complex processing tasks with ease, and keep your business running smoothly. We'll talk about how to better manage handling units in SAP.
Introduction to Handling Units in SAP
Handling units are particularly essential in SAP, but what do they really mean? Handling units in SAP are simply jobs that require preprocessing or other particular duties before being delivered. The most common HU is work that originates from your firm and is processed once it arrives at the customer's premises. An order form placed on your e-commerce website is an example of this type of event.
Handling units allow for tracking the movement of the entire handling equipment as well as the materials they carry instead of monitoring each item individually.
When the logistics process is built around handling units, the movement of goods processing becomes easier and this, in turn, improves the logistics process in general. This simplified process includes the current packing function used in the warehouse and the shipping process within Warehouse Management. The Warehouse Management system can be expanded in this case.
Handling Unit – Definition
The Handling Unit (HU) refers to the SAP word used to describe a container (pallet or container truck, container) and is the physical arrangement of packing material (e.g. pallet, carton, shrink-wrap, container, truck) items (to be transported, stored or used).
Each handling unit in SAP is identified by a unique number. The identifying number contains all of the relevant information.
Use of Handling unit
Handling Unit Management (HUM) can be utilized to represent packing-based logistical structures within SAP R/3.With SAP Warehouse Management, one can utilize handling units for processing warehouse movement, Putting the stock away, picking it up, or transferring it are just a few examples.
Handling units can be designed at the storage facility, labeled, and also selected for existing delivery.
Handling units in SAP let you uniquely identify packages, like pallets, within the warehouse as well as throughout your supply chain. This is in addition to EAN 128 and SSCC18 labeling. The handling units are nestled and packed with various substances or batches.
How SAP Handling Units Can Benefit Your Business
Using SAP HUs to make your business run smoothly can help improve a number of different aspects. By using SAP systems in this way, you will increase the quality and efficiency of service that you provide throughout your company's supply chain. As mentioned earlier, running an effective system involves many different elements, including staff planning, database management tools, and processes that involve both suppliers and recipients. Handling units in SAP offer all these great features at relatively cost-effective prices.
The goal of handling units is to make the logistics process easier.
The operations of a business are not dependent on specific products, but rather on bundles comprising certain combinations of products. In the SAP system, the tangible units will be represented as handling units.
Once a HU is created, the data contained in it may be utilized in subsequent processes. In addition, handling units in SAP can be transferred across the logistics system and passed on to suppliers involved in the supply chain. In the event of a requirement, they can also be changed.
Handling Units: Technical Background
These are constructed on the basis of shipping units.
Incorporate the business process across every application for logistics.
They do not need document references and are not dependent items (unlike transportation units).
These units are connected to storage units, and the HU with the highest level corresponds with a storage unit. The WM system will automatically generate storage units for handling units.
The management of WM can be done in interim storage areas such as the GR or GI zones..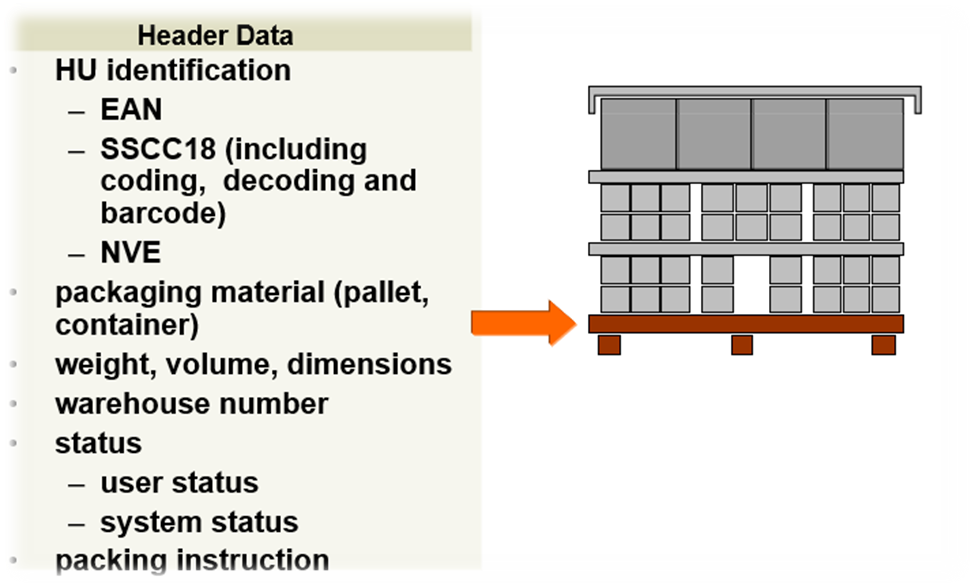 handling units in SAP contain below Item Data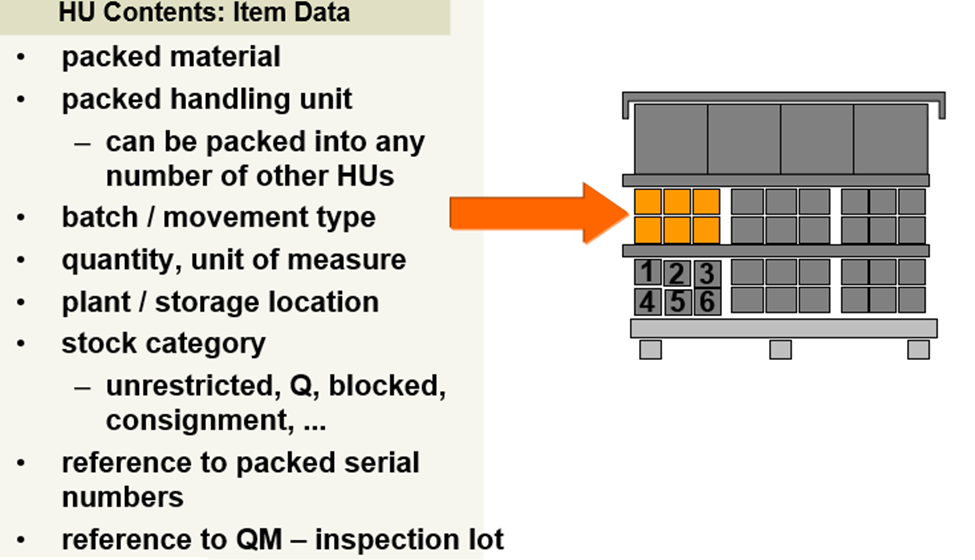 handling units and inventory management.
Below are some things to think about when it comes to inventory management.
In SAP, a handling unit is an inventory-management entity.
You may control your processes by packing stock at the storage location level with Handling Unit Management. The stock classification of the stock being packed is known to the handling unit.
All stock in storage facilities managed by HU is packed. Only those storage facilities that are managed by HU can ensure that the total amount of HU stock is equal to the stock that is in the IM storage facility.
Moving goods in storage facilities managed by HU is only feasible if the unit handling the stock that holds the goods to be posted is identified.
If handling units are modified Unpacked stocks are then posted to non-HU-managed storage areas. The packed stocks are sent to HU-managed storage areas.
Handling Units – Overview of Processes
The vendor communicates information regarding when HUs will arrive through the EDI (inbound shipment).
Inspection of quality and releases takes place on the basis of handling units that are delivered.
Putaway away and receipt for goods postage (in any order)
Material posting changes, transfer of stock from handling units
Production and verification by using handling equipment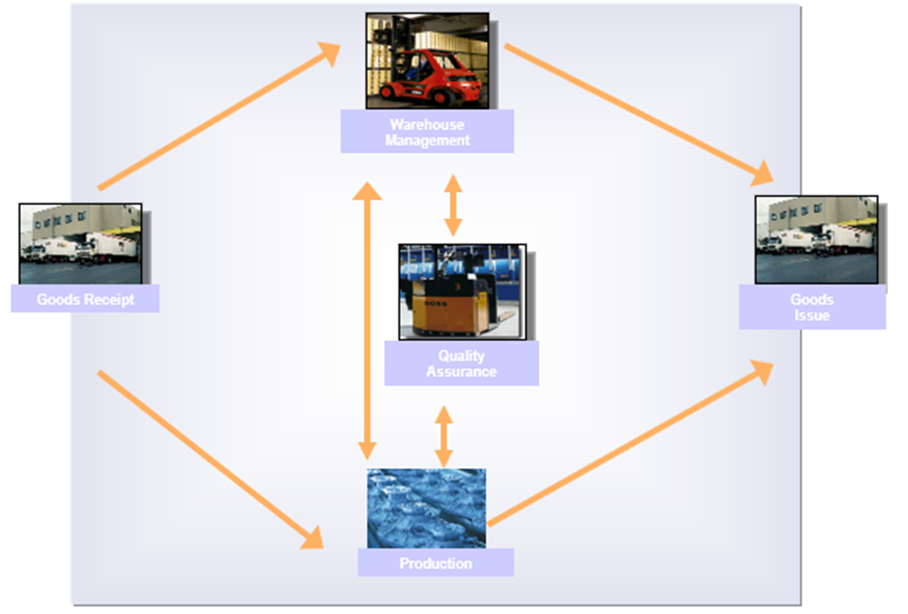 The handling unit identification allows the movement of packages and goods without having to mention the material or the quantity. The goods movement could comprise:
Pick, put away, stock transfers inside Warehouse (using Warehouse Management)
Material posting is moved to a new storage location
Posting changes to the stock category
Issue of goods and receipt of goods for production
Deliveries are the result of material movement caused by postings. The applicable Hus allocated to these deliveries is present. This implies that all types of movements are encouraged.
Handling Unit – log History
All documents pertaining to handling units in SAP are kept at the HU's highest level. These records could include:
Inbound and outbound deliveries
material documents
Work orders
Pick processes
The history lets you follow your HU throughout the entire process
to document process steps
for informational purposes
What is the difference between HU & Storage Units
| | |
| --- | --- |
| Handling unit | Storage Units |
| The handling unit may have a hierarchy | Know the storage quant |
| Know the serial number | include the information for all HUs that are nested |
| The material used to pack the item | are automatically generated by the Handling units |
What is the difference between HU & Storage Units
Storage Unit and Handling Unit Characteristics
Storage units are dealt with by warehouse management. The handling unit is referenced by each storage unit built from a HU.
The HU can be observed in the stock overviews.
The highest packing level of the HU, the storage unit level, is evaluated..
Lower-level HUs are not readily visible in WM stock overviews.
The impacted lower-level handling units or serial numbers must be documented when picking partial quantities of a storage unit.
Definition of the Packing Hierarchy
Which material group of packaging materials can be put into which type of packaging material?
How to Monitor the Handling Unit
Locating the HUs-Transaction code is HUMO
If you're looking for an HU-related object (such as a material, plant, etc. ), the top or first HU in the packing hierarchy can be displayed.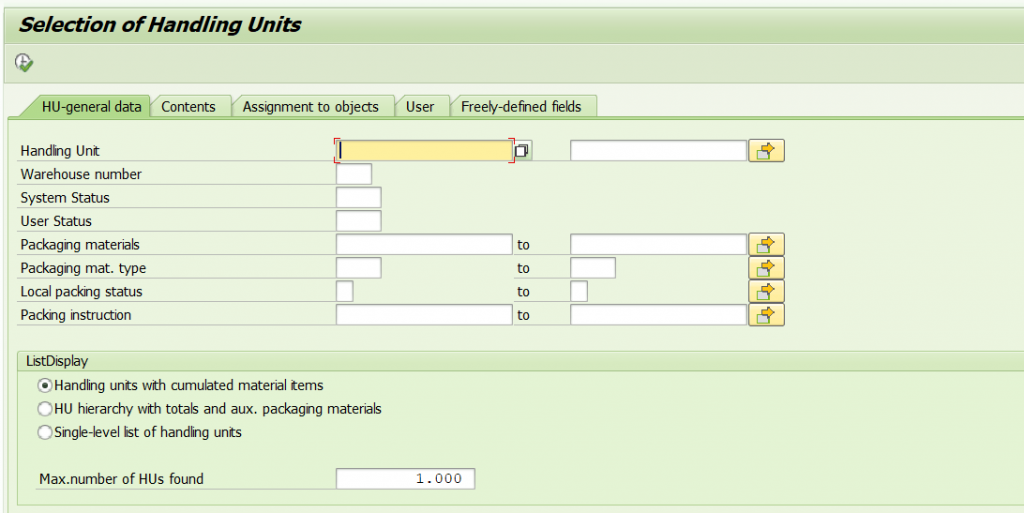 In addition to the ALV functions, there are further handling unit-specific functions:
Delete HUs
View / Edit HU Content and Hierarchy
Displaying a HU's history
Making adjustments to unrestricted, Q, or blocked stock, or to a new storage location
The HU's Object Reference:
The HU's object reference ensures that a HU that is currently being used in another procedure is not processed by mistake.:
This handling unit is part of a shipment that is being shipped out.
A sales document is a packing proposal.
Currently, this handling unit is confined to inbound deliveries.
This HU represents a shipment. HU
There is no document reference for this handling unit. It's an unassigned HU that doesn't have any stock information.
There are no document references for this handling unit. It was made in repeated manufacturing, and the reporting of goods receipts has yet to happen.
A work order for product problems posting has been assigned to this handling unit.
This handling unit was designed for a work order involving the posting of goods receipts.
There is no document reference for this handling unit. It's a non-assigned HU that has stock data on it.
Handling unit transaction code sap
SPRO Menu –>>Logistics –>> Central Functions –>> Handling Unit Management

Handling Units Creation/Processing
Create/Change/Repack-General (HU02)
Packing Station in the Warehouse (HUPAST)
Pack Work Orders (COPAWA/COWBPACK)
Using HU Monitor (HUMO)
Handling Units Display Functions
Stock overview using MMBE
Handling Units Monitor-HUMO
Display HU -HU03
Delivery, shipment, material papers, and other handling components, both inbound and outward (HUIBD, HUOBD, HUTRA, etc.)
Handling Units' Goods of Movements
Goods Movements (VLMOVE)
The stock category/storage location is changed from HU Monitor to Storage Location (HUMO)
Using HU Numbers (HU03)
For Inbound Delivery (HUIBD/VL33N)
For Outbound Delivery (HUOBD/VL03N),
Components for Work Orders (HUCOWA)
Finished Product for Work Order (HUCOWE)
For shipment (HUTRA / VT03)
Putaway, Picking, and Stock Transfers at WM HU (LT09)
Handling Units Master Data
Packing Instructions for HUs (POP1 – POP4)
Packing Instruction Determination Records (POF1 – POF3)
Output Conditions for HUs (VV61 – VV63)

In SAP, handling units and batches are integrated.
The batch has been identified by the handling unit.
A single batch could be found in multiple Handling units.
Several batches can be stored in a single HU.
For quality and recall purposes, the batch is the suggested object.
There are no requirements for the HU.
handling units and serial numbers.
A handling unit is a container that holds a collection of goods.
A serial number is a number that distinguishes one piece of a substance from another.
During its lifetime, a serial number may transit through numerous HUs, but it is only active in one.
Serial numbers are entered while creating or modifying a HU (repacking, picking).
At the moment of goods issue posting, serial numbers are copied into the delivery.
Only with the help of handling units can a delivery split with serial numbers be completed.
Overview of the Goods Issue
Goods issue process with handling units
Creating and assigning pick handling units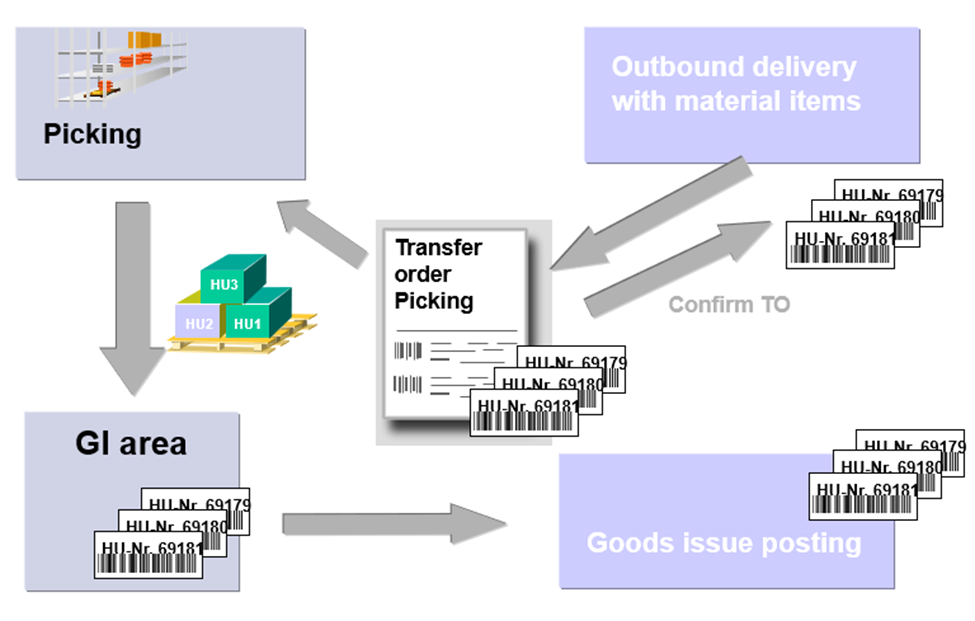 Packing in the Process
Various actions can be started while packing in the packing dialogue as below listed
Look up HU (position).
Messages are shown and assigned.
Assign an identification number in accordance with SSCC 18.
Assign a unique serial number to each HU item.
Check out the serial number profile.
The totals of used packing materials are displayed.
For the handling unit, there is a display storage unit.
The packaging material's main display material
Create a start screen (tab strip or tree display) that you like.
Packing instructions in SAP
As a result of the packing strategy, Container utilization at its best transportation security, In-house automated transfer, Minimizing costs
The supplier and customer agree on packing guidelines.
Supplier requests, etc. Proposals are generated as part of the packing data production process. Packer's guide (text, graphics)
requests from the manufacturer, Check the provided handling units against the packing instruction's requirements.
Packing instructions are used as a target bill of material for a HU (master data). The format of a packing instruction

One type of packing (e.g. pallet)
substance or several materials.
Materials for supplementary packaging

Packing instructions that are nestled

Instructions for packing can be nested.
Upper-level packing instructions can use sub-packing instructions many times.
In this blog, we covered a broad range of topics related to handling units in sap. We discussed different scenarios and how the handling unit would be impacted in those cases. So, whether you are an experienced user or are just starting out, we hope you found what you were looking for! If not, please leave a comment below and we'll be more than happy to help you out!
You might also like the below articles.
Check out the exclusive deal on Amazon