We were looking for relevant reports that would be delivered to users or clients for internal reports and reporting purposes, but we couldn't find the right navigation path to reach the standard reports. Thus, this paper will assist newcomers in learning about the SAP S_ALR standard report and the navigation path.
SAP has created a large number of standard reports in order to solve the essential advantages of the clients and avoid customized improvements. Even We have often received requests from customers to produce records of basic SAP reports.
What is SAP S_ALR tcode /reports in SAP | SAP S_ALR meaning
SAP S_ALR are standard reports that anyone can utilize for reporting purposes. These reports cover a wide range of application areas, including SD, MM, and FI. These reports can now be launched from the command line, saved to a favorites list, and authorized separately.
There are thousands of SAP S_ALR reports available in an R/3 version that can fetch data in ALV report format and are highly useful for a management information system (MIS), but there were certain limitations on the SAP S_ALR report because this was built on standard tables.
The S ALR tcodes generate sequential numbers that are utilized when SAP moves old report trees to Area menus and adds new report capability.
Now, if you have a client-specific demand, it is always a good idea to replicate an existing report and alter it to meet the needs of the business.
SAP provides a custom transaction to determine the list of Standard Reports accessible for each module. Let's explore how we identify the list of the standard report; each module has a list of Standard Reports available.
Navigate to SAP1 Transaction code as below :

For this example, we have selected the Sales and Distribution module. Drilling down will separate it into submodules and a set of typical reports available in Standard SAP.by select Create a shortcut on Desktop or add to Favorites for easy to navigate
Similarly, Now we want to find it out the list of the standard of SAP S_ALR report or transaction code for G/L account reporting purpose.Go to the table TSTCT and enter the S_ALR* & *G/L* as below it will give you the list of transaction code /reports.

Press execute ,the following SAP S ALR transactions will be display as below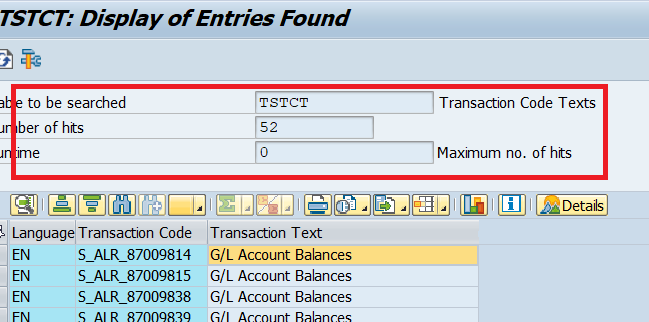 If you wish to download files, click download. We hope this article helped you with SAP S_ALR reports. Here are a couple of interesting articles you should read.