Today, we'll learn a little bit more about SAP Afaria. SAP Afaria is a device management application for mobile devices. It assists large organizations in connecting mobile devices such as cellphones and tablet computers to the workplace network while also simplifying information technology (IT) Contents Page
What is SAP Afaria
Afaria is a solution for managing mobile devices (MDM), that allows mobile applications, to be secured and managed. Afaria allows you to remotely connect to Afaria-enabled mobile devices in order to configure the device and install essential software. Afaria is part of SAP's Mobile Secure package, which also includes Mobile Docs and Mobile Afaria.
Afaria can manage devices for companies and employees alike. Afaria supports Android, iOS, Windows, Windows CE, Windows Mobile, Windows Phone, and Windows with MDM client (Windows DM) devices.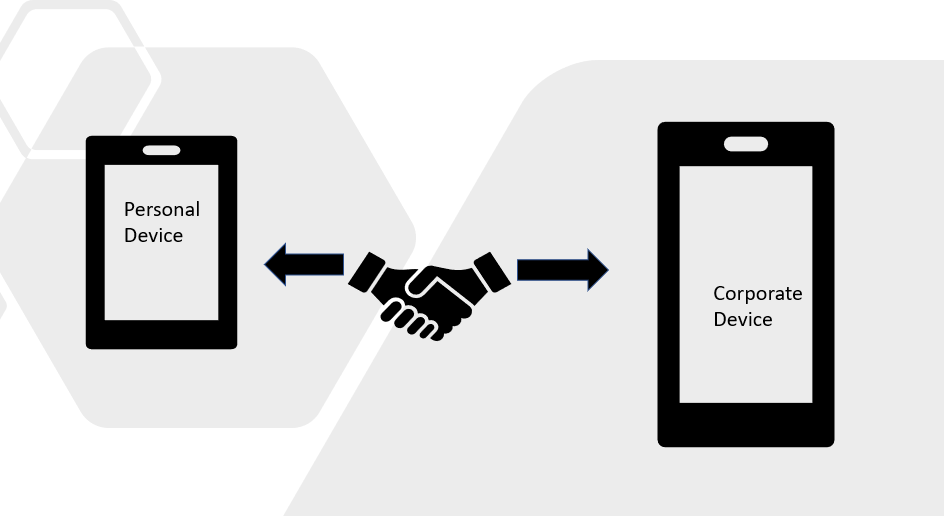 What is SAP Afaria Capabilities
Data and devices must be kept safe. Afaria includes a variety of security mechanisms and technologies to safeguard enrolled devices.E g, makes use of your network's existing security infrastructures, such as Active Directory and LDAP, to ensure that only users known to your network may access it. Afaria also uses certificates to secure connections between Afaria and the other device.
Afaria can protect critical company data by utilising the device's security capabilities, such as password enforcement or encryption. Afaria can also be used to remotely lock lost or stolen devices and even "delete" business data from them.
It also configures devices in compliance with company policies. Afaria enables you to configure and manage device attributes and settings to guarantee that your mobile devices are properly configured for your network. ActiveSync settings such as connection and synchronisation parameters can be managed by Afaria.
Mobile applications can be controlled. Afaria can be used to ensure that all devices are running the most latest versions of all relevant software. Afaria simplifies the distribution, installation, and maintenance of mobile applications, both internally generated and publicly available on app stores such as Apple's App Store or Google Play.
Since Afaria can install programmes files, replace missing or corrupted files, and remove or roll back applications, all users will always have the most up-to-date versions, updates, and settings.it also Manages company assets and generates mobile device usage data. Afaria allows us to view device inventory, which includes who is using the device, what software is installed, and what settings are pre-configured.
.Image Provided by SAP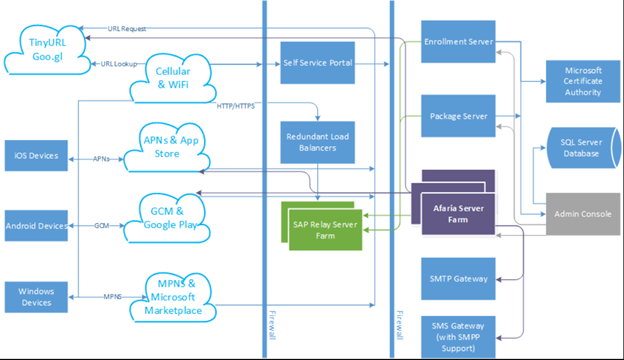 Afaria Architecture
Afaria is a software-as-a-service distributed mobile device management solution. The key components are the Afaria Server, the Afaria Administration Console, the Enrollment Server, the Package Server, and the Afaria database.
Afaria is compatible with both Microsoft SQL Server and SAP SQL or anywhere databases. Database server software is not included with Afaria. See Afaria Components for more information.
The Afaria technology is very scalable. Afaria can be installed on a single server ("standalone") for small deployments, or distributed across numerous servers for larger setups. In this system, Afaria may synchronize data across distributed servers that may be housed in different locations. Any server with which the client communicates has the same capabilities.
For large deployments, many Afaria Servers can be installed in a farm setup. In this such case, the first Afaria Server you install is the "master" server; subsequent Afaria Servers are referred to as farm servers. The master server can communicate with numerous farm servers to execute load balancing and support hundreds of thousands of distant connections with managed devices. Afaria Clients can connect to any server on the farm and use the channels assigned to them. a big number of clients joining at the same time, this can be used as a load-balancing solution.
A Distributed Server environment consists of a collection of Servers that function independently and in different physical locations, and whose operation is controlled wholly or partially by a single Master server. Distributed Afaria Server farms provide for the local use of an isolated Afaria database containing logging, inventory, and alerts data for only the server that they support.
In a Distributed Afaria Server setup, the source Server (or master) is the server where all management tasks are created, updated, and maintained. These policies are replicated to the target Servers, and clients can connect to any server in the farm to execute the specified policies.
This provides a load-balancing option if you have a large number of clients scattered across multiple geographies. Clients in groups can connect to a local server, avoiding the WAN's communication and congestion delays.
An Afaria Server Farm provides the shared use of a centralized Afaria database that contains logging, inventory, and alerts data for all Afaria Servers on the farm. A dynamically selected machine in the Server farm runs the alerts rules engine and alerts notification, as well as inventory change detection for all Servers.
Afaria components
Afaria Server: Communicates with MDM-managed devices, applies configuration policies and collects inventory data.
Afaria Administration console: A web-based Afaria user interface that allows you to configure Afaria, manage devices, and report on TEM and inventory.
Enrollment Server: Manages Afaria device registration and provides management payloads to iOS devices. The registration server and the Afaria Host should be installed on the same server.
Bundle Server: Provides Afaria application bundles to devices while also maintaining certificates and device provisioning data for third-party applications that use it. The gateway server does not serve commercial software to devices.
Self-Service Portal: Allows end-users to enrol their devices in Afaria administration and obtain device information, as well as perform commands such as password reset. Enrollment in the portal is optional, and it allows users to instal application policies with package server assistance. The Self-Service Portal is intended for deployment inside the enterprise firewall, using an Internet-facing Microsoft Forefront Threat Management Gateway case in the DMZ configured to take device connections and forwards traffic to the inner portal.
SMS Gateway: Handles SMS messages like outbound notifications and remote wipe requests. The SMS Gateway makes use of Cygwin merchandise libraries and tools from Cygnus Solutions, as well as other open-source resources. The SMS Gateway is not required for Afaria to function. The SMS gateway is used by Afaria to send outbound alarms, remote wipe controls, Open Mobile Alliance (OMA) provisioning and host notification messages, and any other Afaria communication that is configured for SMS routing.
Relay host: An intermediary for Internet HTTP and HTTPS connections to a portion server, such as the Afaria server or the registration server. The relay is optional, although it is strongly recommended for improved business network security.
Certificate Authority: certification authority definitions are assigned to the registration and bundle servers to support the registration of devices or to ease certificate provisioning for application onboarding.
E-mail Server: for Access Control for corporate e-mail, an optional attribute, the server hosts the access control PowerShell service, which researches the Afaria server to get present access control policies, and provides that data to the email proxy in the DMZ. For Access Control for hosted e-mail, email hosting is on the Internet and doesn't include an e-mail server at the enterprise.
We hope you found this article helpful in understanding the sap mobile device management. Here are a few articles you should read.