If you're searching for a comprehensive e-commerce solution that can assist in expanding and flourishing your business online, SAP Commerce Cloud is the perfect platform. It provides a wide range of features and tools to create and manage your online store, from product listings to customer management. This post will explain what SAP Commerce Cloud is and how it may help your organization.
Commerce Cloud has a variety of features that allow you to customize the shopping experience for your customers. By using its built-in segmentation and targeting tools, you can offer personalized promotions and discounts, recommend products based on customer behavior, and more. The platform's flexibility is one of its main advantages. Whether you're new to e-commerce or have an established business, it can adapt to meet your requirements. With its modular architecture, you can easily add or remove functionality as necessary, so you only pay for what you use.
Commerce Cloud's ability to integrate with other systems is another essential feature. For example, you can integrate it with your CRM system to manage customer data and marketing campaigns or with your ERP system to streamline your order fulfillment and inventory management.
SAP Commerce Cloud: An Overview of the Leading E-Commerce Platform
Commerce Cloud, previously Hybris, is a leading e-commerce platform for enterprises of all sizes. This cloud-based platform provides businesses with the tools they need to establish a strong online presence, improve client engagement, and increase revenue. In this post, we will look at what SAP Commerce Cloud is, how it works, and what advantages it provides enterprises.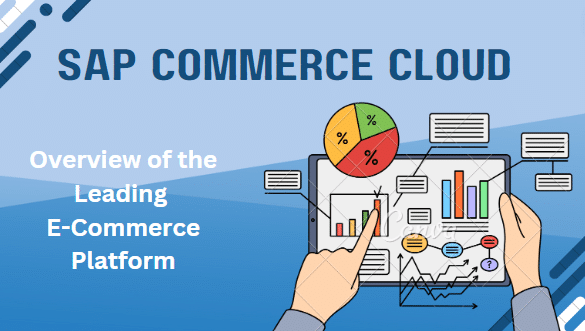 Commerce Cloud is a robust e-commerce platform that enables businesses to provide their customers with a smooth and personalized purchasing experience. The software provides the tools that organizations need to manage all aspects of their e-commerce operation, from order fulfillment to product administration.
What is SAP Commerce Cloud?
Commerce Cloud is an enterprise B2B e-commerce platform that helps businesses manage and set up online stores, marketplaces, and channels that sell B2B goods or services. Businesses can use its skills to provide clients with an interesting online shopping experience while ensuring a consistent experience across media. This platform may help businesses manage all areas of e-commerce sales and marketing online, including product administration, order monitoring, and customer assistance. Businesses can manage all aspects of their online business using Commerce Cloud, including marketing, order management, customer care, and product administration.
It offers tools for managing content, customizing, searching, and merchandising as well as product information. It has an order management system that offers up-to-date data on order fulfillment, stock levels, and status..
Commerce Cloud's ability to integrate with other platforms and systems, including SAP SAP ERP or SAP customer experience, is one of its most important benefits. Commerce Cloud is compatible with SAP ERP, SAP CRM, and other SAP systems. It offers APIs as well as third-party integrations.
What is the name of SAP commerce cloud?
Commerce Cloud is SAP's e-commerce solution. Formerly known by its previous name SAP Hybris Commerce, this e-commerce solution has now been rebranded to be part of SAP Customer Experience Suite (CX). Designed to offer businesses an adaptable and customizable e-commerce platform tailored specifically for them, with tools available for managing products, orders, and customers efficiently within an omnichannel environment.
How can SAP Commerce Cloud benefit your business?
SAP Commerce Cloud provides numerous advantages to enterprises, including the following:
Scalability:
SAP Commerce Cloud can scale up with your company, no matter how big or small. It can grow alongside you and help with your e-commerce operations.
Unified Shopping Experience:
SAP Commerce Cloud allows organizations to offer a standardized shopping experience across all channels – mobile apps, website storefronts, and social media. It helps firms increase revenue while reaching more customers. SAP Commerce Cloud allows businesses to deliver a smooth shopping experience across platforms like mobile apps, social media, and in-store; helping reach more customers while increasing revenue.
Increased Customer Engagement:
SAP Commerce Cloud provides organizations with the tools they need to connect with their consumers successfully and build long-term relationships, eventually improving customer loyalty and repeat transactions. Customizing each customer experience based on SAP Commerce Cloud to match preferences, behavioral patterns, and previous transactions can increase engagement, resulting in improved conversion rates and consistent buying.
Improved Analytics:
SAP Commerce Cloud features strong analytics capabilities that enable businesses to measure key indicators such as consumer behavior, sales figures, and website traffic – data that may help businesses make educated decisions and streamline e-commerce operations.
Enhanced Security:
SAP Commerce Cloud provides organizations with advanced security capabilities such as SSL encryption, firewalls, and intrusion detection to help protect clients' personal and financial data and avoid costly data breaches.
Efficiency
From managing products to order fulfillment, SAP Commerce Cloud provides businesses with the necessary tools to streamline their e-commerce operations. This can save time and money while improving the overall customer experience
How does SAP Commerce Cloud Work?
SAP Commerce Cloud provides organizations with a variety of tools for creating a compelling e-commerce experience for their customers, including:
Product Management:
SAP Commerce Cloud simplifies the management of product catalogs, including product information, pricing, and availability. Businesses may simply add, change, or delete products as needed, making inventory and pricing management much easier! Furthermore, SAP Commerce Cloud has product management capabilities for catalog management, as well as price promotions with support for a variety of commodities, including bundles.
Customer Management
Organizations can use SAP Commerce Cloud to manage customer accounts, preferences, and profiles. It also allows for consumer segmentation and targeting.
Order Management:
Order management tools in SAP Commerce Cloud include order processing, delivery, and refunds, allowing businesses to track orders from start to finish and assure timely and efficient product delivery to clients. Furthermore, SAP Commerce Cloud assists in the management of returns and refunds, including support for various payment methods and alternate order fulfillment options.
Customer Service:
Customer service management tools in SAP Commerce Cloud, such as ticket management, chatbots, and self-service portals, enable organizations to provide outstanding customer support while reducing response times and increasing customer satisfaction. SAP Commerce Cloud's self-service portals, chatbots, and customer support workflows all contribute to enhanced service experiences for its clients.
Marketing and Personalization:
Email marketing, social media marketing, targeted promotions, and targeted product suggestions are among the marketing and personalization options available in SAP Commerce Cloud. These features help firms increase client interaction while bringing more traffic to their e-commerce channels. SAP Commerce Cloud marketing solutions include personalized content recommendations, loyalty programs, and connections with marketing automation software.
Analytics and reporting:
SAP Commerce Cloud delivers analytics and reporting capabilities to assist firms in tracking e-commerce success and making data-driven choices.
Scalability and performance:
SAP Commerce Cloud is built to handle huge traffic volumes and respond quickly. It can be scaled up or down dependent on business requirements.
Together, these tools form the SAP Commerce Cloud, which offers a full range of services that businesses can use to enhance their online sales and give customers an outstanding Sales & shopping experience.
What is the difference between SAP Hybris and SAP commerce cloud?
SAP Hybris and SAP Commerce Cloud are two e-commerce platforms provided by SAP, yet each has some distinct differences. SAP Hybris is an omnichannel commerce platform designed for both B2B and B2C businesses and includes tools for managing product content, orders, customer care, marketing initiatives, and deployment either on-premise or via cloud deployment options – including customization features and integration with existing systems.
SAP Commerce Cloud, on the other hand, is a cloud-based e-commerce platform designed for B2B and B2C companies alike. This solution offers product management, marketing and customer support functions while also being integrated with SAP ERP and CRM systems. A key distinction between Hybris and Commerce Cloud lies in their deployment models – Hybris can be deployed both on-premises or exclusively available through the cloud.
Also, SAP Hybris has been rebranded to SAP Customer Experience (CX), now providing a range of customer engagement and commerce solutions, such as Commerce Cloud. As part of CX, Commerce Cloud can be considered part of Hybris and can even be seen as its subset; both platforms provide robust e-commerce platforms; however, they differ in terms of deployment approaches and product offerings.
Conclusion
As e-commerce continues to be a critical aspect of modern business, SAP Commerce Cloud is an essential tool for companies that want to stay ahead of the competition. Whether you're starting a new online store or looking to take your existing e-commerce business to the next level, SAP Commerce Cloud is a solution worth considering.
You might also like the below articles.