We often encounter various issues when dealing with real-time issues in different projects, so we'll go over the various SAP SD determinations. What is the basic configuration in Sales & Distribution? This will serve as a quick guide for all SAP SD Essential Configurations.
How item category determined in SAP SD?
Item category determination for Sales documents
SAP determines the item category automatically. The system considers four variables when determining item categories for sales Documents. Those are
Sales document type entry in the sales order screen
Item category group from the material master sales Org view configuration
Usage
Higher level item
How schedule line category is determined in SAP SD?
Any sales order line item must have one or more plan schedule lines. The system automatically determines the schedule line group by considering two factors:
Item category (of line item)
MRP type (in the material master)

 How does delivery type in SAP?
Delivery document defaulted in Sales Document type configuration as below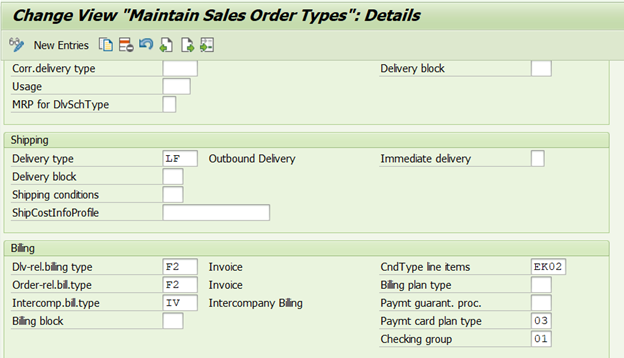 How is delivery item category determined?
System proposes delivery item category by the following configuration.System copy from the sales Document or it propose based on the below factors
Delivery Document type
Item category Group
Usage
High-level Item Category
How is shipping point determined in SAP?
A shipping point is a self-contained organisational entity that serves as a departure or receiving point for goods (movement). The inbound/outbound deliveries should/can be made from a single shipping point.
Delivery Plant
Shipping condition (Customer Master – Sold-to Party)
Loading group(Matrial Master)
How is Route determination in SAP
The route will be determined automatically by the system using the condition technique. Determination of the route involves means of transport and legs.Route can be determined for order. In Delivery document weight group play a vital role for Route determination
Using condition technique, the system automatically determines the Route The route is determined by the mode of transportation and the number of legs. For order purposes, a route can be calculated.
Departure zone of the shipping pt(Customizing)
Shipping condition(SP)
Transport group(MM)
Transportation zone of the Ship to party(General Data)

How is storage location determined ?
A storage location is a place in a plant where stock is kept.Storage location determination be the below factors
Shipping point
Delivery plant
Storage condition from material master

What is account determination?
SAP System posts revenue, discount ,tax values of each pricing element into respective G/L accounts. The system is use by condition technique to determine correct G/L account which call as account determination
How does SAP determine account determination?
System automatically determine account determination based on below configuration
Chart of Accounts
Sales Organisation
Customer Account grp (Payer Customer Master records )
Material Account grp (Material Master)
Account key
What is a business area in SAP?
SAP is software product capable of integrating multiple business applications in Enterprise Resource Planning (ERP), with each application representing a specific business area
How does SAP determine business area?
Business area determination happen based on following principles
Plant/Valutaion Area or
Sales area , else
Item division & Plant combination
What is delivery plant in SAP?
Delivery plant refers to the facility from which products are to be shipped to the consumer.If the plant has been maintained in one of the master records, the system will automatically propose it when processing a sales order.
Plant Determination in Sales Order
Delivery plants populate automatically when we create sales order .Plant Determination happen based on following preference principle from master data maintain in the system .System fetches Delivery Plant from Customer Material Info Record if Plant is not found at this level, if no records maintain then it will referrer 2nd & 3rd reference. If a consumer overwrites Plant at the sales document stage, this will now take precedence. The sequence of events will be as follows.
Customer Material Info Record
Customer Master data – Ship-to Party
Material Master data
What is Output determination in SAP
In SAP, using the condition technique, we can configure output for a specific document for which SAP follows the output determination procedure. The output of the document can be generated and sent by print ,e-mail, EDI & IDOCs
How output is determined in SAP SD?
At the level of the sales document, delivery, and billing, output is determined based on condition technique ,check out output determination .
What is pricing procedure in SAP SD?
In SAP SD ,Pricing procedure is help to determine correct prices in the sales documents. The pricing procedure gives the functionality to assign different types of calculations to different requirements. The pricing procedure used to determine all conditions in a single procedure where the sub-total finds a net amount.
How pricing procedure determine in Sales Order
Pricing Procedure determine based on below configuration from SPRO .
Sales Area( Sales Organization ,Distribution Channel & Division from the sales order )
Document Pricing Procedure set on Sales Document type
Customer Pricing Procedure set on Customer Master (Sold-to Party)
How Text determination in SAP SD?
System determine the procedure for determining the text of the sales document header or it can import it from the customer master. Text may be proposed in the sales document header during copying, or the text may be determined in the sales document based on below principle
Customer Material Information Record
Customer Master (General text, Accounting text, Sales text)
Material master text (Sales text or PO text)
How warehouse determine in SAP SD?
SAP Warehouse is an element of the organizational unit which used to store finished goods, semi-finished goods, scrap, tools and raw materials. It consists of a separate type of storage for the storage of a particular type of material.If Warehouse management has been implemented , system determine warehouse number based on below criteria
How is storage location determined in SAP?
System determine the location of the storage when the outbound delivery is created and copied into the delivery item. Otherwise, the storage location entered in the order item will be used for the outbound delivery.The system determines the location of the pick on the basis of a rule defined in the type of delivery. In the standard system, the following rules are shipped:
The location of the pick-up shall be determined on the basis of the shipping point, the delivery plant and the storage condition for the material as defined in the master material.
Plant
Shipping Point
Storage Conditions ( Material Master )
RETA and MARE: This rules are mainly used in commercial scenarios.
Plant
Shipping Point
Situation
We can also Implemented users exits to determine custom rule for storage locations determination
How picking determine in SAP ?
Picking means from where system pick up the Physical inventory . Storage rule also assignment to Delivery type. The location search is activated for each category of delivery item.
On bases of MALA rule (As above mention)
Delivery Plant
Loading Group
Storage condition(MM)
How is tax determined in SAP sales order?
Condition technique is widely use in various determination. System calculate taxes based on tax procedure assignment .In SD Taxes determine based on four Principle .
Departure Country from Shipping Point
Destination Country from Ship-To-Party master records
Customer Tax classification assign in the customer master
Material Tax Classification assign Material Master
How does credit check happen in Sales Order & Delivery Document ?
SAP Determine automatic Credit check at Sales Document Level or Delivery Document Level . Pre requisite will Credit Check Item Category should be activated
Risk category assign to Customer master records
Credit Control area
How Partners Determine in SAP
In SD , When we created a sales order system determined Ship to party, Bill to party,payer based on sold to party entre in sales order entry screen . System determines the partner based on the following configuration
Partner Function
Customer Account Group
Partner Determination Procedure
Hope this article helps you understand SAP SD Essential Determination.Here are a couple of other articles that you check
You Might Also Like the below articles