We recognise the significance of proper data management in today's digital world. This comprehensive tutorial will examine the SAP archiving process and provide specific configuration recommendations to help you speed up your data management activities. Follow the steps and implement the methods mentioned in this article. You can optimise data storage, system performance, and the efficiency of your SAP environment.
SAP Archiving of data refers to the transfer of data that is not active to a different storage space to free up space on storage devices and increase the system's efficiency. Archived data is stored for compliance, regulatory, or other reasons, but it isn't used frequently and does not have to be kept on costly storage devices with high performance. This article will discuss how to archive SAP data effectively.
Introduction of Data archiving
SAP Data archiving is the process of keeping data in a well-organized and easily accessible format for later usage. Data archiving is used to keep data in storage for lengthy durations, which makes it simple to access and utilize at any time. Data archiving is the process that recording and managing information so that it can be read and utilized at a later date. It is a way for organizations to reduce costs by cutting down on the need to reconstruct and replace resources for data.
SAP Data Archiving is a technique supported by SAP for reliably, securely, and completely removing business-complete application data from the database and storing it so that it can be accessed in the future. The process of copying data and supporting documents from an active system (SAP) to an external source (Open Text) for deletion and/or storage for later retrieval is referred to as "archiving."
There are basically 2 approaches suggested by SAP to archive data
The process of archiving can be an important step in protecting your data and preserving its integrity. archiving may also assist businesses in meeting the legal requirements of their respective business countries and preparing precise documentation of financial transactions. According to the SAP data archiving objects, there are specifics you need to keep in mind.
Accessing archived data following SAP data storage is crucial in the archiving process. Archiving SAP data isn't going to make sense when you don't have the possibility of accessing the archive. However, the quality of the display that is generated from the archive can be like the one you get from the data in the database. It is dependent on the SAP archive
The object being used, the transactions, do not display the data of the archive as users are used to. The information contained in archives is displayed, or certain transactions aren't able to read the archive. Furthermore, the alternatives to accessing archives aren't easy to use in many cases. In the end, customers may not be satisfied with the access to archives and may decide to opt-out of SAP data storage.
Archiving is the practice of systematically and/or electronically preserving data for future use. This preserves data regardless of whether it is currently being used or not, irrespective of the format in which it is stored. Archiving can be done manually or automatically.
Benefits of Data Archiving
Cost savings
Reduces the costs of memory, disk, and also administrative costs. Archiving data offloads it from primary storage systems, which can be expensive to maintain and upgrade. By moving this data to a less expensive storage option, such as cloud storage or tape, organizations can save money on storage costs.
Improved performance
Archiving data can also improve the performance of systems by reducing the amount of data that needs to be accessed and processed. This can be particularly beneficial for databases that have a large volume of data and may be slowing down due to the amount of data being stored
Compliance and regulatory requirements
Many industries have strict requirements around data retention, and archiving can help organizations meet these requirements by providing a secure, long-term storage solution for data that must be kept for compliance purposes
Ensure cost-efficient system upgrades and migration
system performance is enhanced as a result of faster response time
Reduce the cost of maintained and run of growing application infrasture
What is the best practice for data archiving?
Implementing a data archiving strategy requires careful planning and consideration of the data is archived, the storage options available, and the tools and processes needed to manage the archived data. It is important to have a clear understanding of the data retention requirements for an organization, as well as the resources and budget available for data archiving.
There are several best practices to consider when archiving digital data: There are a number of different data archiving solutions available, each with its own benefits and drawbacks.
hence It's important to choose the right solution for the specific needs of your organization. Proper data archiving can help ensure that your data is accessible and usable when you need it, years into the future.
Establish policies and procedures for accessing and using archived data. This will help to ensure that your data is used appropriately and in compliance with any relevant laws or regulations.
Regularly review and update your archiving strategy to ensure that it remains effective and meets the changing needs of your organization.
Regularly back up your data. Use a reliable backup method, such as an external hard drive or cloud storage, to ensure that your data is protected in case of a system failure or other disaster.
Steps for SAP Archiving Configuration
The transaction SARA is a standard SAP transaction and is utilized by the Maintenance team to manage archive jobs for the CCS. SARA provides the tools to manage, create and execute archive jobs, as well as view the status and results of each archive job.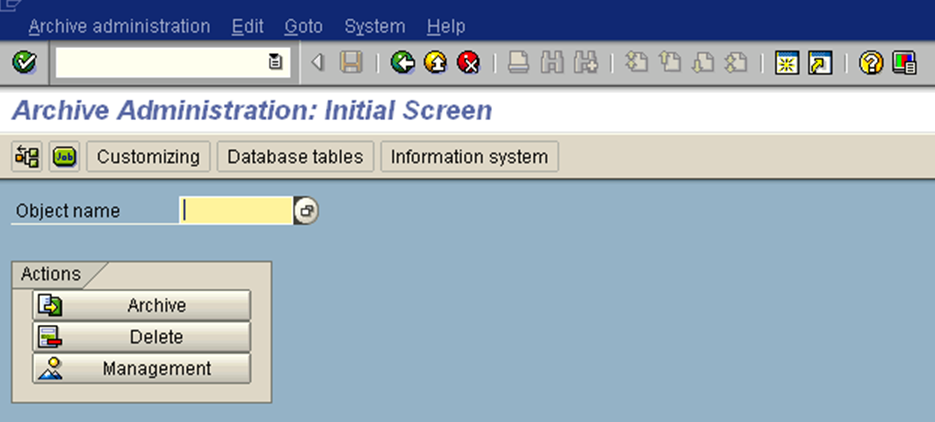 Before we begin SAP Archiving Configuration, we must first understand the process flow.
SAP Archiving Process Flow
The archiving procedure is divided into three main steps
Creation of archive files (Write)
In the writing phase, the data (including change documents and long texts) to be archived is written sequentially into newly created archive files. To guarantee that only documents in the online system are no longer required to be archived, a number of requirements must be met. The archiving programme examines the document header and line items to determine whether a document can be archived.
Delete from the database (Delete)
Data is read from archive files by the delete programme, which then removes it from the database.
Storage of archive files (Store and read)
The recently created archive files can then be copied to a tape or moved to a storage system. Manual or automatic triggers are both capable of initiating the removal of an external storage system. Before the delete phase, the data may also be stored.
Standard SAP programs and functions that support the archiving of transactional data using the standard archiving objects and database table reorganization are the foundation for the storage, retrieval, and management of the tablespace.
What are archiving objects
archiving objects is the central component of SAP Data archiving, archiving objects specifically which data is to be archived and how archiving objects direct the sap arching system to get the correct table associated with the specific business objects. The archiving object name can be ten characters long in length, Archiving object can be defined by transaction AOBJ
Archiving Object
There are many archiving Object supported by SAP, here are a few Examples of Archiving objects part of the current scope
SD_VBAK-Sales Document
SD_VBRK-Billing Document
RV_LIKP-Deliveries
SD_VFKK-Shippment cost
MM_EBAN-Purchased Requisition
MM_EINA-Purchased info records
MM_EKKO-Purchasing Document
MM_MATNR-Materials Mastera records
FI_DOCUMNT-Financial Accounting Documents
This article will discuss billing documents (SD VBRK). and the same procedure should be followed for other archiving objects supported by SAP.
Steps by step process for Archiving Object for SD_VBRK
Step 1:
Check the number of documents in table VBRK (the main table for this object). This table's input parameters is Created On and Created To, Based on the number of entries, you will get an idea of how many documents to be archiving

Step 2:
SARA is the transaction code. Give the object name SD_VBRK and then click on "Write"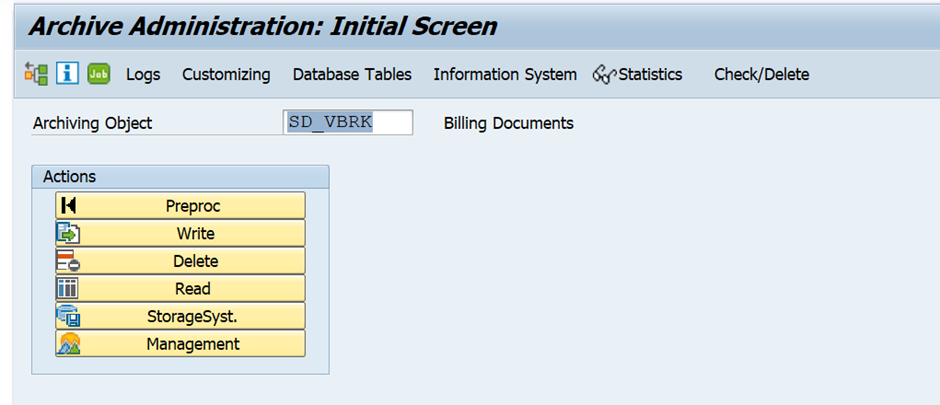 Specify the variant , if any variant already created in the system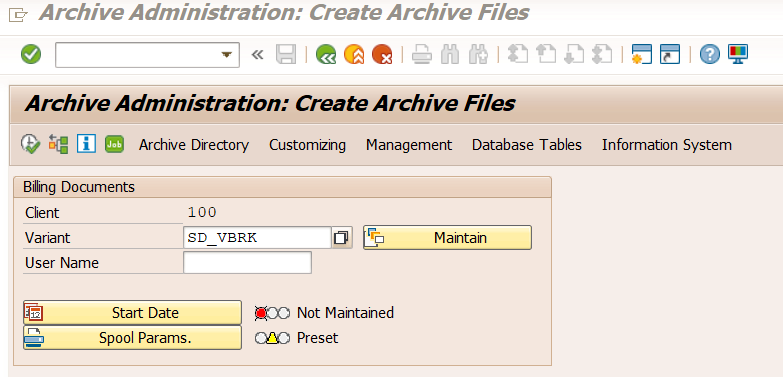 Step 3:
Give the variant name SD_VBRK (consists of the object name partially and the archiving year, month, and period) and then click on maintain.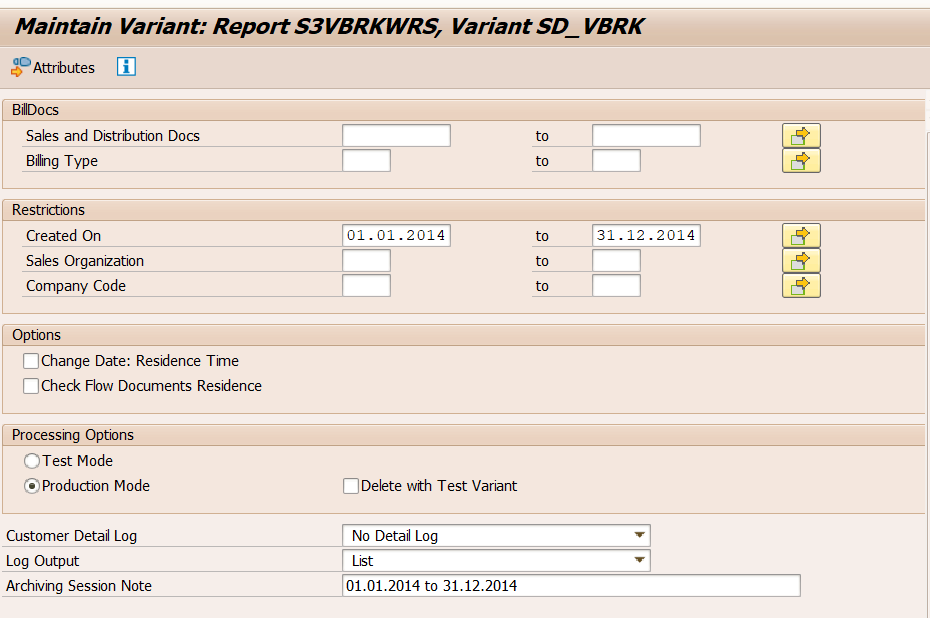 Step 4:
Specify the Document Created on and Created to values and select production mode. Maintain archiving session notes and Variant attributes and save the variant, Eg; 01.01.2014 to 31.12.2014
Step 5:
Give the variant names, and object names, and write the program name (eg: S3VBRKWRS)to the Basis team so that they run the job. Generally, they keep the job name similar to the variant name. Else you can specify as per the name convention followed in your project.
You can use Jobs scheduling tools to schedule automated Batch Jobs at regular intervals so that automated document archiving activity occurs without intervention.
Step 6:
After the job runs successfully, check the number of documents in the primary table, in this case, VBRK, to see how many documents were archived. The number of documents archived will equal the total number of documents in the table prior to archiving minus the number of documents remaining (open documents). SARA can also be used to check this.
Input the object in SARA and click on "statistics".
Give the date on which the archiving job ran and press enter.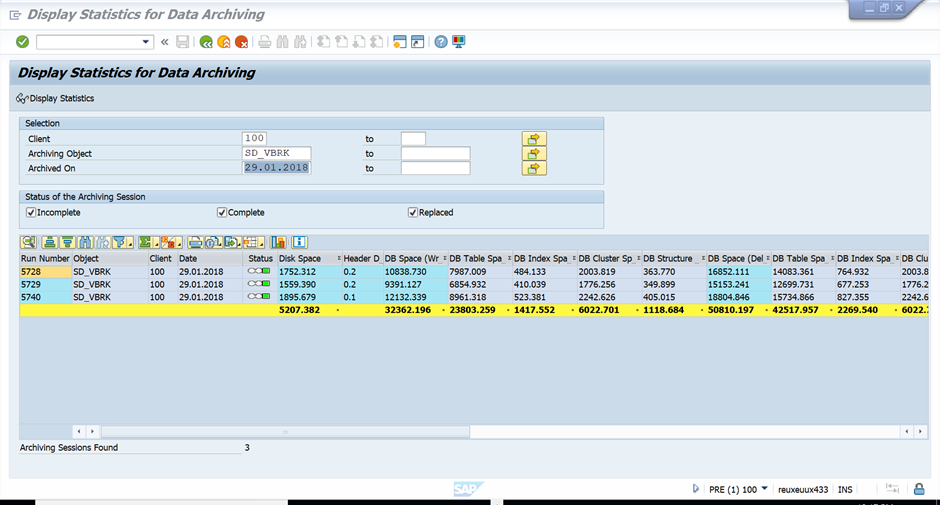 "Written Data Objects" is the number of archived documents.
Step 7:
Selection of archiving files from the system against the archived documents. Go to transaction SARA ->Management.
Select the file name form the displayed list below

Step 8:
Validation of archived documents against archived files. In this case, go to transaction SARE and check the archived Billing documents.

Select the relevant archive file and enter other parameters (ex: Billing doc type ) and execute.System will display the archived document details against the file generated
To view an archived billing document. Double-click any of the displayed documents. Select Billing Document
Click on continue
If the document comes from an archived database, the system will display it as shown below.

Transaction code ALO1 allows you to display documents object by object.
Choose Billing document, then click Execute. Choose between Search DB, SAP AS, and Archive.
The system will display archived and unarchived billing documents.
Conclusion
In conclusion, data archiving is a critical step in ensuring the long-term preservation of information. By systematically storing data, organizations can ensure that important information will be available when it is needed most. Archiving should be an ongoing process, not a one-time event. Organizations can take steps to ensure data archiving by using technologies such as snapshots and backups. Additionally, training employees on data archiving is essential for ensuring that all important information is press
You might also like the below articles.