Staying competitive in today's fast-paced business environment requires companies to use every advantage. SAP S/4HANA Cloud is one such powerful technology tool that can help businesses stay ahead of the competition by taking full advantage of modern tools such as its latest version
S/4hana Cloud Upgrade Schedule can streamline operations, increase efficiency, and gain a competitive edge; however, upgrading can be daunting for some organizations that may be uncertain of its benefits and how best to plan an upgrade schedule that maximizes the potential for your company. We will examine both sides of upgrading, with S/4HANA cloud as an upgrade process, including the benefits of upgrading and planning an upgrade schedule that maximizes your company's potential!
At our company, we understand the significance of keeping pace with technology's rapid evolution. That is why we are dedicated to providing accurate information regarding SAP S/4HANA Cloud updates and their impact on business processes. This article will cover details regarding their cycle and benefits, how it could transform them, and other areas.
Understanding S/4hana Cloud Upgrade Schedule
SAP S/4HANA Cloud Releases are designed to deliver the latest enhancements and innovations to your business, ensuring that you have access to the most advanced capabilities. With the new update cycle, releases will be delivered regularly, empowering you with continuous improvements. Each release will be assigned a specific version number, such as "2208," signifying its uniqueness and relevance.
SAP S/4HANA Cloud Releases
SAP S/4HANA Cloud is a cloud-based ERP solution that assists organisations in optimising operations, increasing efficiency, and lowering costs. Releases will now be released twice(February and August) a year under the new update cycle, and each release will be named after the year and month of its release. The first release in 2022, for example, will be branded "2208(YYMM).
New SAP S/4HANA Release Strategy
SAP S/4HANA 1511 has received seven updates since its initial release. The following dates will be released: 1610, 1709, 1800, 2020, 2021, and 2022. The most recent SAP S/4HANA version 2023 2023, due in October 2023, is commonly regarded as the preferred release for compatibility with previous software versions and next-generation technology.
Every year, SAP will release two Features Package Stacks (FPS) and new revisions of SAP S/4HANA. all the way up to and including SAP S/4HANA 20. With three feature packages or more, the current version of SAP S/4HANA will switch to a two-year release cycle. Updates will no longer be made annually as they were in the past, but rather every two years.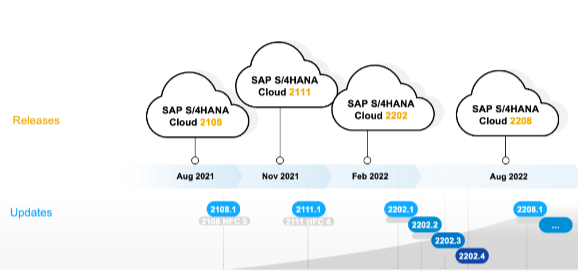 Image credit-SAP
With the introduction of SAP S/4HANA 2023, a pivotal point in the evolution of the system has been reached. By giving them the ability to offer an even wider selection of services, best practices, and process optimisation to both current and potential customers, it will enable businesses to realise the full potential of an intelligent enterprise.
Customers may find it easier to upgrade and maintain the S/4HANA environments by upgrading to SAP S/4HANA 2023. The enhanced environment makes the transition to the cloud easier and enables companies to go on uninterrupted product development.
New SAP S/4HANA Maintenance Strategy
Customers who use SAP S/4HANA 1709, SAP S/4HANA 1809, or SAP S/4HANA 1909 will be eligible for an extended maintenance option for these versions and related add-ons, which will be available beginning January 1st, 2023, and running through December 31st, 2025.
Customers with these versions can now upgrade directly to SAP S/4HANA 2023, eliminating the time and cost of an interim upgrade.
In SAP S/4HANA 2023, the duration for which the release is subject to regular maintenance is growing from 5 to 7 years.
You have an appealing proposition when you combine SAP's expanded service to SAP Business Suite 7 with their commitment to using the SAP S/4HANA platform through 2040. So customers can make the most of how their businesses operate while protecting their investments currently in place and unlocking all the potential for technology and innovation in this process.
More details in the SAP note 3246630 Extended maintenance is available to SAP S/4HANA 1709, SAP S/4HANA 1809 and SAP S/4HANA 1909.
How to Prepare From SAP S/4HANA Cloud Updates
Every SAP S/4HANA Cloud release will include a wide range of enhancements and new features that will help businesses improve their processes and achieve better results in business. A few of the most significant features and enhancements companies can anticipate from the SAP S/4HANA Cloud release include:
AI-powered features:
SAP S/4HANA Cloud releases will utilize AI-powered capabilities to aid businesses in automating routine tasks, decrease errors made in manual processes, and boost the quality of their decisions.
Specific to the industry
Every release will include specific features for each industry to help companies meet the needs and requirements of their field.
Improved user experience
SAP S/4HANA Cloud releases will concentrate on improving the users' experience by making it simpler and more user-friendly for users to finish their work.
An SAP S/4HANA Cloud Cloud upgrade schedule is as is:
February March is updated to the most recent release on the first weekend following the RTC date. August The Production and Starter systems are updated, starting at the end of the third weekend following the RTC date.
RTC is a shorthand for the word "release," which refers to a Train Cycle, which is the period that lasts for six months when SAP introduces updates and new features for S/4HANA Cloud. The first weekend in each RTC cycle is an opportunity for maintenance, during which SAP makes system updates.
Customers using a 3-system environment (Quality Production, Quality, and Starter) will need to take steps to prepare for the upgrade. The steps comprise:
Test their data and applications in the quality system to make sure the applications and data are fully compatible with the latest version.
Moving any data altered or added in the past since the last upgrade into the production system.
Instructing their users about the new capabilities and functions of the latest release.
SAP offers the following number of resources to assist customers through the process of upgrading which include:
Upgrade Guide: This document gives complete instructions on upgrading the S/4HANA Cloud.
Update FAQ: This guide provides answers to frequently asked questions regarding the process of upgrading.
Support for Upgrades: SAP offers support to customers in need of assistance with the process of upgrading.
You can go to SAP's website for more details on SAP's S/4HANA Cloud upgrade schedule. SAP website. Here are additional details on the upgrade procedure:
The process of upgrading is generally completed within two weeks.
During the upgrade, users can no longer access their S/4HANA Cloud account.
SAP will offer customers prior notice of the schedule for upgrades.
Customers with any queries regarding the upgrade procedure should contact SAP support.
This SAP S/4HANA release schedule for 2023 is as below:
Release 2023 – October 2023
Feature Pack 1 for Release 2023 – April 2024
Feature Pack 2 for Release 2023 – October 2024
Feature Pack 3 for Release 2023 – April 2025
End of Mainstream Maintenance for Release 2020 – October 2025
Each version will now be supported for seven years following release, up from five years in earlier editions, starting with SAP S/4HANA 2023. This means that users will be able to enjoy a longer productive duration of use for the application, which will increase the return on investment.
Alongside the feature packs, SAP will issue several updates and patches to SAP S/4HANA 2023 throughout the year. These updates will fix any known security or technical issues and may also introduce new functionality or features.
This SAP S/4HANA Release program is variable. Therefore, checking with SAP for the most current information is always recommended.
Here are a few of the most important attributes and improvements that are likely to be available in SAP S/4HANA 2023:
New cloud-native capabilities will help customers take advantage of and implement SAP S/4HANA in the cloud.
Improved security features to secure customer information.
Automated and new analytics capabilities will aid customers in making better choices and enhance your business process.
Better integration to the other SAP products to give a more complete perspective of business.
SAP S/4HANA 2023 is an important release that will offer customers several new enhancements and features that can aid them in improving their business. If you are considering switching to SAP S/4HANA, consider making plans now.
SAP customers SAP will have more options regarding what and when they can improve their systems as a result of SAP's recently launched S/4HANA release maintenance plan that aids customers in creating smarter businesses. Below are the key features
The two-year cycle of release begins with SAP S/4HANA 2023.
7-years of maintenance per release, compared to five years in earlier releases.
Maintenance extended Extended maintenance SAP S/4HANA 1709, 1809 and 1909 releases.
Maintenance for an extended duration is included at no extra cost with RISE when you purchase SAP (or) SAP HANA Enterprise Cloud subscriptions.
Conclusion
The most critical actions to guarantee your system is up to date and running smoothly are regular system updates, staying up to speed with the newest updates, testing the latest updates before installation, working with an experienced SAP partner, and accessing the SAP Learning Hub.
Companies that use SAP S/4HANA Cloud can benefit from the most latest technology innovations and developments, streamline their processes, and increase efficiency while lowering costs. SAP S/4HANA Cloud is worth investigating if you want to stay ahead of the competition and generate superior business results. We hope you enjoyed this article and found it beneficial in ranking your website.
Frequently Asked Questions (FAQs)
What are the implications of SAP S/4HANA Release 18 for businesses?
Businesses will appreciate the latest SAP S/4HANA release, featuring enhanced customer experiences, enhanced analytics, automated automatization, and seamless integration capabilities – providing organizations with enhanced capabilities to streamline processes, make data-driven decisions more effectively, and gain competitive advantages.
How can the latest release make users more comfortable?
The latest edition features a user-centred design and interface that emphasize simplicity and customization, shortening learning curves while increasing user productivity.
Does the new release allow for seamless interoperability with different systems?
Yes, the latest SAP S/4HANA release enhances integration capabilities. This enables organizations to connect disparate applications, systems, and data sources more seamlessly, improving collaboration, minimizing silos, and maintaining data integrity.
Are SAP S/4HANA solutions appropriate for certain sectors?
SAP S/4HANA can meet the specialized needs of industries across many different categories and offers industry-specific capabilities to address them. No matter your field—manufacturing, finance, retail, or another—SAP S/4HANA offers solutions tailored specifically for you!
You might also like the below articles.