Are you searching for an efficient solution to manage your enterprise content seamlessly? Look no further than OpenText VIM. In this article, we'll explore the myriad benefits of OpenText VIM and how it can streamline your content management processes. Read on to discover how this powerful software can transform your business.
What is Opentext vim?
OpenText Vendor Invoice Management (VIM) is a complete software solution that helps firms optimize and streamline their invoice management process. With the growing volume of vendor bills and the requirement for fast invoice processing, OpenText VIM offers several capabilities that automate and improve the invoice lifecycle.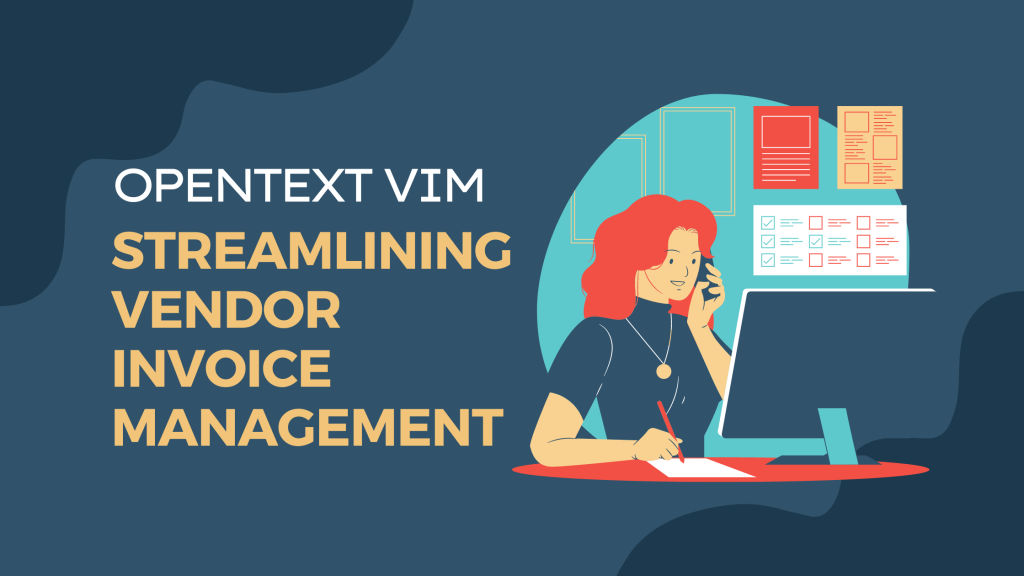 Benefits of OpenText VIM
Increased Efficiency:
OpenText VIM helps manual processes become more efficient through automation and removing the requirement for manual data entry and validation This reduces mistakes and time and improves the overall efficiency of managing invoices as an entire entity. This allows businesses to pay more bills using less resources.
Processing and approval times are reduced:
OpenText VIM can simplify invoice approval through its automated processes and approval routing capabilities which eliminate delays and bottlenecks to speed up payment processing as well as stronger relations with vendors.
Increased Precision and Compliance:
OpenText VIM's validation rules help to make sure that invoices adhere to predefined standards, such as purchase orders or contract requirements. This ensures data correctness, lowers the quantity of duplicate or fraudulent invoices, and ensures compliance with financial regulators.
Savings on costs:
OpenText VIM assists organizations in lowering invoice processing costs by automating manual processes and eliminating errors, resulting in lower operating expenses since fewer manual tasks and paper processes are required to be completed manually or physically stored. As a result, physical storage space expenses are reduced.
Improved visibility and control:
OpenText VIM makes the invoice management process transparent in real-time for businesses, enabling them to monitor invoices, approve processes and uncover performance data – thus improving control and providing proactive decision-making that improves cash flow management and streamlines procedures.
Key Features of OpenText VIM
Automating Invoice Receipt
Automated invoice management systems can be quite impactful for accelerating invoice processing and reducing accounts payables (AP) expenditures. Many compelling features in invoice automation include intelligent capture and the digitalization of invoices, dynamic workflows, e-invoicing, electronic data interchange (EDI), and others. The digitalization of invoice receipts is a major factor in managing invoice processing times and their associated costs. For example, processing invoices that you receive through business networks or via email is much faster than processing paper invoices.
Image by OpenText | SAP
Enriching Invoice Data with Machine Learning
At the end of inbound processing, the DP document's header and line-item fields should contain all relevant values from the source invoice. Prior to verifying these details against master data and logistics, a process called data enrichment is performed. This involves populating SAP-specific fields unknown to the supplier. Enrichments can be simple, such as table lookups or fixed-value assignments. More complex enrichment involves statistical analysis or machine learning, like suggesting cost assignments based on configurable fields or tax codes based on percentages. SAP Invoice Management offers a modular approach to data enrichment, grouping logic modules for easy configuration and assignment to standard invoice types.
Checking Invoices with Business Rules
Automated invoice management systems have a significant impact on accelerating invoice processing and reducing accounts payable expenditures. The verification of invoice details can be fully automated using preconfigured business rules, which come in three types: fixed value checks, table field checks, and dynamic function module checks. This chapter explains how to set up and determine which business rules to run, as well as how to create custom rules. The goal of AP departments is to achieve straight-through processing (STP) without exceptions, leading to lower average costs per invoice. However, business exceptions are inevitable during invoice processing, and SAP Invoice Management by OpenText needs to be configured to address and manage these exceptions to maintain process efficiency.
Assigning Tasks Through Business Roles
Identifying the appropriate users for specific tasks is crucial in process automation. SAP Invoice Management by OpenText facilitates task assignment by utilizing business roles. This chapter introduces preconfigured roles, guides the creation of new roles, and demonstrates their utilization in invoice management.
While touchless processing is an achievable goal with SAP Invoice Management, it is often a gradual digital automation process. Achieving this goal requires sophisticated software and active involvement from accounts payable (AP) experts. The desired level of maturity necessitates personnel training the system and acquiring new skillsets. Therefore, involving the right individuals during the design phase is essential. These individuals, including super users, understand the necessary stakeholders involved in finalizing and posting invoices. They will likely assume key roles within SAP Invoice Management. Once the key users are identified, the next step is defining them within the system.
Posting and Parking Invoices
The posting of SAP invoice documents is a critical aspect of the SAP Invoice Management process, whether for purchase order (PO) or non-PO invoices. The goal of accounts payable (AP) departments is to streamline and enhance the efficiency of invoice processing and payment through IT technologies, aiming for a straight-through-processing (STP) model. Under the STP model, invoice exceptions are eliminated, and minimal human intervention is required from invoice receipt to final payment.
However, achieving 100% STP in invoice processing is challenging due to various complex invoice and business exceptions. Not all PO or non-PO documents can be automatically posted in the background. Certain business requirements, like specific country tax codes, may not be supported in the standard SAP Business Application Programming Interface (BAPI), leading to workflow blocks in SAP Invoice Management and preventing automatic background posting of SAP documents.
Approving Invoices without Purchase Orders
In SAP Invoice Management by OpenText, document processing (DP) prepares invoices to become SAP documents. However, non-PO invoices require an approval process before posting. This chapter explains how to handle approvals, including different strategies and necessary configurations.
Non-PO invoices require additional scrutiny as they lack a corresponding purchase order. Invoice verification involves checking if the goods and prices match expectations and ensuring correct cost allocation. As invoice amounts increase, more scrutiny and required approvals are typically involved. Manual non-PO approval processes are error-prone and can result in lost invoices, making them time-consuming and challenging to manage. SAP Invoice Management provides visibility into the invoice processing status and the next approver in line. It also offers features for handling vacationing approvers and implementing fail-safes for departed employees. With SAP Invoice Management, you can control authorization for approvals, the number of approval levels required, and the overall approval strategy. Let's start by exploring approval strategies.
Reporting and Compliance
This chapter focuses on the reporting functionality of SAP Invoice Management by OpenText, which provides real-time visibility into invoice statuses, resource expenditures, and process improvement data. The chapter introduces powerful data visualization tools and explains how the add-on's functionality helps meet compliance requirements.
Using SAP Invoice Management, you have access to comprehensive data about every invoice processed through the system, including details on agents, business rules, actions, approvals, and more. The potential of this data is immense, and the chapter poses questions on how to leverage it effectively.
The reporting capabilities of SAP Invoice Management offer significant advantages for data-driven insights and decision-making. The chapter discusses utilizing the collected data, standard reports, key performance indicators (KPIs), and analytical tools. By the end of the chapter, readers will be equipped to utilize the reporting features to streamline processes, gain insights, justify enhancements, and meet compliance needs
Deployment Options
The SAP Invoice Management application is an add-on to SAP ERP or SAP S/4HANA and can be deployed in various ways. After installation, it can be run on the SAP system regardless of its location. To fully utilize its functionality, two external services are required: a secure content repository for storing invoices and supporting documents, and an information extraction service for converting PDFs or scanned documents into appropriate header and line-item fields.
These additional components, including SAP Invoice Management, can be deployed on-premise, in a private cloud managed by SAP or a certified partner, in a public cloud managed by SAP, or in a hybrid deployment where the on-premise installation is connected to the content repository and information extraction service running as Software as a Service (SaaS) in a public cloud.
Choosing the right deployment option depends on several factors. Existing licenses may offer better terms than new cloud-based licenses. Information security considerations come into play, particularly when involving stakeholders outside the corporate network, such as mobile approvals or supplier self-service access. Network latency can be a concern in locations with poor network quality, potentially impacting business-critical applications. Additionally, the new invoice management application may increase server load if users excessively leverage self-service and reporting capabilities.
For net new SAP customers, running SAP S/4HANA in a private cloud environment is a common choice. SAP S/4HANA provides deep technical integration and allows code deployment and functionality enhancement close to the data. Supporting services like the content repository (SAP Archiving and Document Access Core by OpenText) and information capture solution (SAP Information Capture Core by OpenText) are available through the OpenText Cloud Platform (OCP), provisioned as multi-tenant solutions.
In an ideal scenario, SAP's cloud provisioning team connects these services to the private cloud environment, enabling a quick start to an invoice management project without the need for IT infrastructure. Content repositories often contain sensitive files, so the archive connector encrypts files before archiving using a customer-exclusive key.
Alternatively, all components can be installed separately on-premise or in a hyperscaler-managed environment. A hybrid deployment, combining on-premise and cloud components as needed, is another viable option. Stateless services like capture can be hosted in a multi-tenant cloud solution, while critical content repositories might be kept on-premise.
Regarding communication with the capture service, in the on-premise installation, the machine learning data model is stored directly in SAP Invoice Management tables. In contrast, the multi-tenant cloud service stores the data model in the cloud, eliminating the need for communication with an SAP backend server.
End users can work through the SAP GUI or SAP Fiori UX. Additionally, specific Windows-based installations can be distributed to selected power users, including Enterprise Scan (a scan client for paper invoices), Validation client (for high throughput capture validation), and Single-click entry plugin (providing point-and-click capability within SAP GUI).
Overall, the deployment options for SAP Invoice Management offer flexibility and adaptability to suit the unique requirements of different organizations.
What is the process type in Opentext VIM?
A process type in OpenText Vendor Invoice Management (VIM) is a preset configuration that controls how an invoice is handled by the system. It specifies the order in which the rules, validations, and processes are used during the workflow for processing invoices. The process type in VIM offers a standard method for handling invoices based on particular business needs and aids in ensuring consistency and effective processing.
What is VIM workplace in sap?
For processing invoices, keeping track of them, handling exceptions, and reporting, VIM Workplace in SAP Vendor Invoice Management offers a centralized and user-friendly interface. It improves efficiency, increases visibility and control over invoice-related operations inside the company, and streamlines the invoice administration process.
Conclusion:
The best way to streamline your enterprise content management procedures is with OpenText VIM. Improved document management, simpler processes, greater collaboration, and strong security,
In conclusion, OpenText VIM is a strong tool for automating the handling of vendor invoices. Businesses may automate tedious activities, increase productivity and accuracy, and get better control over the full invoice lifecycle by utilizing its extensive capabilities. Cost reductions, quicker processing, enhanced compliance, and more visibility into invoicing management operations can all be attained by implementing OpenText VIM. Your organization can run to its best capacity with the help of this software. Start using OpenText VIM right away to see how it can completely revolutionize your company.
You might also like the below articles.