In this post, we'll explore the SAP BRIM. BRIM means Billing and Revenue Innovation Management components within a comprehensive SAP solution. SAP BRIM leads the transformation from subscription-based models to product-based models. We'll attempt to outline the core components of SAP BRIM; then, we will shed some light on SAP BRIM and subscription order management. Models can help companies that can shift to a flexible consumption model can reap tremendous benefits, from a predictable revenue stream, with more profit margins and a higher level of customer loyalty due to the ongoing customer relationship. This is in addition to the costs of changing to the flexible model.
Introduction of BRIM |Billing and Revenue Innovation Management
In the current business, climate digitalization allows the development of custom-designed goods and services, which must be introduced to the market swiftly. It is essential that new products that have personal pricing models can be developed quickly enough to offer services and create fast-moving potential business prospects for (possibly) an enormous number of customers.
SAP BRIM (Billing and Revenue Innovation Management) is a flexible billing solution for high-volume consumption industries. It is utilized to simplify the invoice and billing process. It can be used to create flexible consumption models and can be employed in various sectors, including financial services, telecommunications, logistics, utilities, media, and public transportation.
SAP BRIM (Billing and Revenue Innovation Management) The traditional billing method has been replaced and transformed. BRIM lets your company control the billing process in a flexible, effective, and faster way, as well as operation larger amounts of transactions without sacrificing the integration of billing systems. SAP Billing and Revenue Innovation Management (BRIM earlier know as SAP Hybris Billing).
SAP BRIM also offers peripheral solutions, such as SAP Convergent Mediation through Digital Route, SAP Flexible Solution Billing, SAP Revenue Accounting and Reporting, and SAP Entitlement management & many more. These are implemented according to the business needs and are incorporated into the leading SAP BRIM solution.
Technology is evolving at a rapid pace that is driving a whole new era of digital change and innovations. To keep up with technological disruptions and achieve competitive advantages in the new economic system, Many companies are experiencing significant changes. These changes will fundamentally alter their strategy for business. One of these is the transition to a different method of managing revenue and billing: flexible consumption. Businesses that switch to the flexibility of consumption will gain the advantages, from a steady stream of revenue with better profit margins to a greater level of loyalty among customers due to the ongoing customer relationship.
Notion of flexible consumption and the motives that drive companies to adopt this business model, particularly in the media & entertainment industry, technology and Telecommunication sector.
This new model of business is supported through Cloud computing technology. Provides a variety of services. Cloud computing allows customers to be flexible in how they consume and pay according to their preferences and needs. In the simplest sense, flexible consumption alters the existing products and products or services in different layers of usage and then sells these bundles to consumers who are and then, based on the quantity of consumption.
Business Drivers for SAP BRIM
Let us now look at the Business Drivers for SAP BRIM..There is a huge need to make the change from SAP BRIM by going through the most critical business drivers. The Subscription-Based Model model business model modifications and the advantages of implementing these changes are significant for many businesses.
whereby SAP BRIM helps with the development of a master agreement that will serve as the foundation for other downstream processes, as well as a uniform design for a business and pricing model.
The SAP BRIM solution offers benefits
Here are some of the quick benefits provided by SAP BRIM.
Develop new business models to ensure that Organisatiopn can provide an improved experience for their customers.
Make money from subscriptions and use-based services instantly.
Profit sharing with partners network.
Reduce the time and effort required to manage high-volume sales procedures.
Where is SAP brim used?
On the Contrary to the consumption-based model, companies using subscription-based models offer access to their services and products at a set price that is paid periodically (weekly, every month, monthly, quarterly, or annually.). The term "subscription" refers to a type of business model requiring customers to pay a recurring fee each time they access a product or service. The term "subscription economy" is used to describe the multitude of companies that offer subscriptions to customers, like Netflix, Amazon, etc.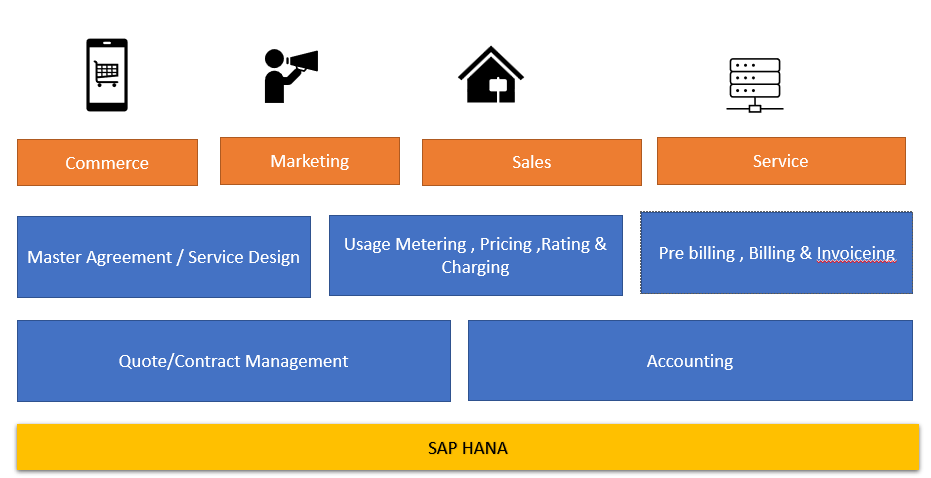 The growing popularity of subscription services is pushing businesses to redesign and refocus their product and service portfolios to meet this market demand in addition to the habits of consumption of customers. This means that businesses are required to redesign their offerings as well as their corporate infrastructure, which creates demand for SAP BRIM.
SAP BRIM Components
SAP BRIM, previously known as SAP Hybris Billing, is a comprehensive solution designed for large-volume consumption companies. SAP BRIM enables the various consumption models .The system is a modular system designed to streamline the processes running through the business lifecycle, including development sales, distribution, and billing.SAP BRIM aids in the administration of revenue recognition and management by providing various tools to analyze revenue. The four main components of the solution are as follows:
SAP BRIM, subscription order management
SAP Convergent Charging
SAP Convergent Invoicing
Contract Accounts Receivable and Payable
Together, these components assist with the administration of the design of business models to manage orders. Monitor usage metering, the pricing of transactions, and billing invoicing; handle the receivables and payables, as well as royalty payments. as well as commissions; and offer assistance.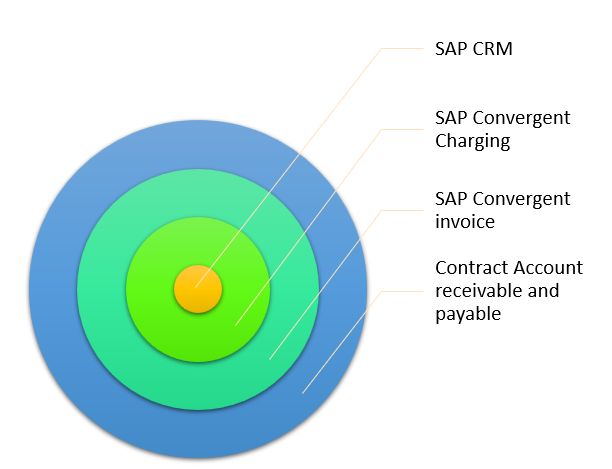 Subscription Order Management
SAP BRIM subscription order management is integral to the complete SAP BRIM solution. It is a business procedure developed by SAP to pay for regular usage of rights and the consumption of charges based on the actual amount of usage that can be measured. It was developed to serve as an additional feature relying upon SAP CRM as the SAP CRM core. In SAP S/4HANA 1909, it was incorporated into SAP S/4HANA.
SAP BRIM, subscription order management, uses SAP CRM as its primary software to provide customers with the services they purchase and consume. SAP CRM is primarily used to link customers and services. While SAP CRM provides several standard features, however, they're not part of SAP BRIM,
SAP BRIM subscription order management utilizes the one-order framework accessible within SAP CRM. Therefore, it will use the standard procedure for sales orders with all the required requirements for a sale process maintained within SAP BRIM and subscription order management at varying levels.
A business procedure within the telecom industry in which the consumer is charged a monthly cost for the privilege of using the telephone service for a month regardless of the number of calls or data used in the month. The fee is typically charged in advance. Furthermore, the actual usage, which includes calls, SMS, and data usage–is measured and then billed at the time of the next billing cycle in arrears. The same billing and business model could be used for other industries that use this model.
SAP Convergent Charging
SAP Convergent Charging has been designed to provide flexibility in pricing in charging customers. In SAP, Convergent Charging charges are generated by a rating and charging event, which is then paid to the subscriber . Also, SAP Convergent Charging is an engine that calculates the nature of charges, including regular, one-time, or charges based on usage.
SAP Convergent Charging uses the study outlined in modeling within SAP Convergent Charging. This is executed with the SAP Convergent Charging tool as the core. The tool's core is a user interface with visual graphics which allows you to build and manage various types of objects like subscriber accounts, contracts for provider prices, plan for change plans, and many other things. The tool comes with pre-defined functions and components to create the objects; there is no need to code.
SAP Convergent Charging can be described as a versatile and flexible system, with the primary function being to assess charges and generate and rate rating transactions. A rating (calculated) transaction resulting from convergent charges is a billable item. It is used to charge customers. In SAP Convergent Charge, "customer" refers to the subscriber account. Regarding Contract Accounts Receivable and Accountable (FICA), the term "customer" is called a business associate.
SAP Convergent Charging provides three types of charges: one-time or recurring charges and usage. For instance, in telecommunications, the one-time fee can be an activation cost, or a recurring fee could include a monthly fixed cost that includes unlimited text and voice messages. For usage charges, it could be a data plan, where consumed data records are produced according to customers' consumption. If the environment has been integrated, records of consumption are received from multiple sources and then redirected to SAP Convergent, charging for billing and rating. SAP Convergent Charging generates invoiceable items in FI-CA to facilitate bill processing and invoicing.
Through web services, SAP Convergent Charging integrates with SAP BRIM, subscription order management, and FI-CA systems. Additionally, it can interface with non-SAP systems by using the web service or Java APIs to evaluate events' usage. Not only that, but SAP Convergent Charging takes a decision tree method to carry out the charging and rating of subscribers. Numerous configuration elements are used for the performance of the task of rating and charging,
SAP Convergent Invoicing
The role of SAP Convergent Invoicing within SAP BRIM is to consume the billable items after they have been transferred to SAP Convergent Charging. When these items have been passed down to an SAP Convergent invoice, it will manage the upload of consumption details, storage of billable items, aggregation of billable items, invoice generation, and invoices to the client.
Invoicing with SAP Convergent Invoicing is part of SAP Billing and Revenue Innovation Management (SAP BRIM) that provides extensive capabilities to assist businesses with their processes right from the beginning and keeping consumption/usage records up into billing and invoicing. The SAP Convergent Invoicing is tightly connected to Contract accounts Receivable as well as Payable (FICA).
Configure SAP Convergent Invoicing can be found through Transaction SPRO under :SAP Customizing Implementation Guide ->> Financial Accounting ->> Contract Accounts Receivable and Payable. The business-related functions that are related to the SAP Convergent Invoicing,
The SAP Convergent Invoicing is a part of the CTC (consume-to-cash procedure). It allows you to manage and store the consumption data that is rated by the SAP Convergent charging system natively. The records of rated consumption are also referred to as billing items and are subject to the process of billing and invoicing, including posting receivables to the FICA
Contract Accounts Receivables and Payables
Contract Accounts Receivable and Accounts Payable (FlCA) It is the final element that is part of SAP BRIM. The financial backend allows sub-ledger accounting posts designed to meet the demands of the various industry solutions in which businesses must deal with many customers (in this instance, subscribers) and many transactions.
Contract Accounts Receivable and Payable (FI-CA) allows sub-ledger accounting for receivables and payables, usually in industries requiring massive processing of business transactions and business partners. It also provides the necessary capabilities to manage accounts receivable and payable (e.g. open item management and balance display) and features such as the dunning process and interest calculation.
BRIM Integration with Other Solutions
SAP BRIM is a complete solution suite. However, there are instances where companies only implement specific SAP BRIM components. SAP BRIM works best to be the most effective across different industries when all or most of its components are utilized together with other applications. This is why companies usually adopt SAP BRIM and other software to create an SAP CRM-based ecosystem that provides an all-inclusive solution.SAP BRIM is integrated with other applications like SAP Convergent Mediation through DigitalRoute, SAP Customer Financial Management and other applications.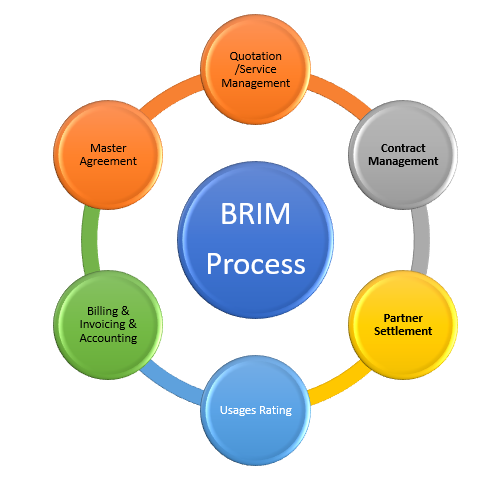 Conclusion
SAP BRIM is a powerful solution that manages subscriptions as well as other revenue sources that are recurring. It is particularly helpful for high-volume billing environments which require flexible configuration of products and a quick timeline to market. SAP BRIM helps in the management of the business model design. It manages contracts and orders and billing as well as invoice processing. It is able to manage receivables as well as payables and offers support for financial customer support. SAP BRIM provides flexible options to simplify the invoicing process for sap utilities industry solution.
I wish you well in using and learning from this article. If you're looking in learning more about the ways that SAP BRIM can add value to your business, Please Check out SAP BRIM book from Amanzon's:
sap billing and revenue innovation management
You might also like the below articles.
(adsbygoogle = window.adsbygoogle || []).push({});