SAP Flexible Real Estate Management (RE-FX) is a game changer. With its extensive capabilities and flexibility, companies can maximize the value of their property by streamlining lease management, carrying out financial analysis, centralizedizing property operations, boosting efficiency, and reducing the risk of real estate investment to get the best profits from their investments. SAP REFX is the next generation of real estate management. take advantage of it now to keep ahead of the curve in the competition in a highly competitive marketplace!
As part of our effort to provide you with comprehensive knowledge about SAP RE-FX, SAP RE-FX stands for Real Estate Management – Flexible Real Estate Management and is part of SAP's enterprise software solutions. This guide is the definitive source to help you understand and optimize the usage of SAP RE-FX to control property portfolios within an SAP environment efficiently.
Simplicity is vital in the intricate world of managing extensive real estate holdings. With SAP Real Estate Flexible Management (RE-FX), companies can significantly streamline their real estate management processes. RE-FX is a fully integrated management software for various real estate transactions. This module is compatible with both the SAP ERP and SAP S/4HANA platforms. Whether it involves property acquisitions, sales, rentals, or billing, RE-FX provides a comprehensive solution to map out and manage all real estate operations.
Real estate professionals are aware of the importance of complying with regulatory regulations. SAP RE-FX helps you comply through automated compliance check-ups and generating audit-ready reports so that you're always prepared for audits or inspections.
Introduction SAP RE-FX
SAP RE-FX (or SAP Flexible Real Estate Management) is a unified software program that helps firms manage real estate. Through features such as lease management and accounting/financials for each property they control, Re-FX provides organizations of all sizes with an efficient means of controlling their holdings; from buying/selling/renting/billing services provided, RE-FX serves as a comprehensive platform to support real estate management processes and transactions.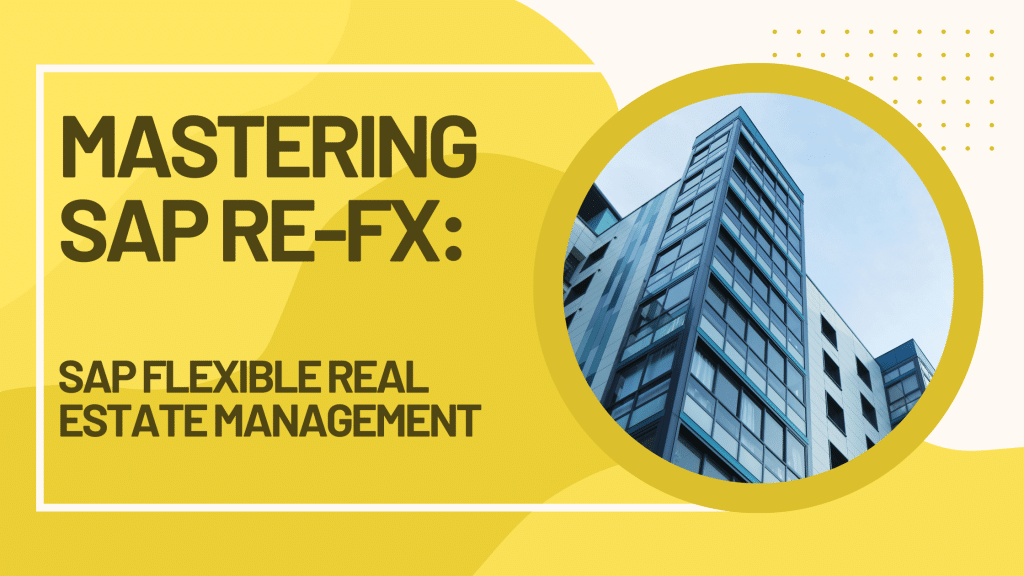 SAP RE-FX Functionality at a Glance
SAP RE-FX also integrates with other SAP modules, such as Asset Management and Controlling, to provide a full view of real estate data. This enables businesses to make more informed judgments about real estate purchases. Real estate management is dependent on the efficient supervision of real estate portfolios, while ensuring that you control and manage real estate-related business transactions is equally important, such as monitoring cash flows from tenants (rent and service charge settlements or deposits) and extensive area management.
Management of master data: Develop and manage master real estate data like properties, buildings, and rooms.
Management of contracts: Manage all real estate contracts, including rentals, leases, and maintenance contracts.
Space management: Monitor the use of space in real estate and manage room reservations.
Lease-in management:Control the leasing process of real property from a third party.
Controlling: Examine the costs of real estate and their profit.
Reporting: Prepare reports on the real estate properties contract, costs, and other assets.
SAP RE-FX Architecture
Real estate management is structured into two distinct perspectives within master data management: the architectural view and the usage view, often referred to as the "two-view model." This dual approach offers a flexible means of handling diverse real estate properties. through which the users can handle the real estate aspects:
Architectural View:
This involves recording the architecture of each real estate unit, be it a floor or a shop in a building. It focuses on individual real estate components in the context of inventory management. The Architectural View is an informative view that allows you to connect with other design software like CAD and determine the dimensions of space, which are then converted into the Usage View. The Architectural View depicts the actual framework for the architectural design of a property, which considers any changes in time related to the use of the property. You can determine the architectural features of rooms and fixed units without establishing rent objects for each room or space.
Usage View:
View of use view used to handle usage is responsible for all settings in which SAP postings are made. This depicts the actual utilization of the real estate portfolio as entered in the architectural view. It provides a holistic view of the rental contracts underlying the real estate. Details like terms, conditions, contract parties, and options are displayed here.
What advantages come with utilizing SAP RE-FX?
SAP RE-FX boasts numerous advantages, such as SAP RE-FX has many benefits, among them: Here are some of the benefits of using SAP RE-FX:
Streamlining Lease Management Solutions for Greater Efficiency
Lease management is an essential aspect of real estate operations, and SAP RE-FX can greatly streamline this process. Businesses can effectively oversee lease contracts from negotiation and creation all the way through renewal and termination thanks to automated workflows and document management – simplifying each lease's lifecycle while meeting compliance and mitigating risks along the way.
Comprehensive Financial Analysis can be achieved through comprehensive analysis.
SAP RE-FX provides businesses with powerful analytical capabilities for the financial analysis of real property investments. From tracking rental income and expenses, to creating detailed financial reports, businesses are empowered with the knowledge to make better informed decisions to increase returns from their real estate portfolio investments using this powerful software solution. Key performance indicators tracked with SAP RE-FX include rental yield, occupancy rates, and profit, allowing users to maximize returns from real property investment portfolios.
Centralized Property Management systems allow centralized services for property administration.
SAP RE-FX allows companies to streamline their property management processes, eliminating the need for multiple disconnected systems and manual procedures. Businesses can effectively manage property information such as maintenance schedules, property details, and service requests through one centralized approach, saving time on administrative burden while increasing collaboration among all parties involved.
Flexible Analytics and Reporting Solutions
Business software called SAP RE-FX offers sophisticated analytical and reporting tools to give users access to real-time data on the operation of their properties. Businesses may track the performance of key indicators more simply and more quickly to meet their real estate strategy goals with the use of customizable dashboards and reports. The comprehensive insights offered by SAP RE-FX enable businesses to identify patterns immediately, make wise decisions, and continuously raise the bar for property operations quality.
SAP RE-FX's advantages and benefits in real estate asset management It provides your company with efficiency and effectiveness in its operations and financial management, which will significantly increase the efficiency of financial and operational management. SAP RE-FX offers several benefits in managing real estate assets.
Key Features of SAP RE-FX
SAP RE-FX property management relies on a two-view model consisting of architectural and usage views. Architectural views focus on documenting real estate objects like floors and shops within buildings, while usage views show actual usage information such as lease agreements and all the related clauses, conditions, contract partners, and alternatives that apply. SAP RE-FX essential capabilities
Simplified Operation
Real estate object management
You can access a dual-view of master data. It includes an architectural view and a usage view to construct an architectural model building register, building informational model Create and manage all kinds of real estate property such as business entities and land, as well as building rental units spaces, rentals, and objects Take care of real estate properties which are owned by third partiesManagement of contracts
Portfolio Management
Portfolio Management You can effectively manage your real estate portfolio by looking at the occupancy rates, utilization of space, and performance information within your portfolio. You are utilizing this data to guide you in making well-informed decisions to maximize the value of your real estate investment.
SAP Contract and Lease Management in RE-FX
Control all contracts related to your property portfolio in real estate, which includes lease-in, lease out, customer and vendor contracts Service contracts Affix the rental of any number of objects from various business entities or building codes to a single contract through room reservations and long-term seating arrangements Find vacant rental properties and locate suitable buyers for these rental properties, or vice versa. Space optimization and management
SAP Contract and Lease Management, built upon SAP RE-FX, provides complete administration and management of lease contracts. It covers the entirety of a lease's duration while recording and administering both its contracts as well as associated components.
SAP Contract and Lease Management is an integral part of the SAP RE-FX module, offering comprehensive administration and contract management for leases. This solution covers the entire lifecycle of leases and their corresponding components.
Key functions include recording contract components like terms, leased objects, payment methods, termination, and extension options. It caters primarily to companies acting as lessees in leasing agreements.
Active Lease Agreement Management
SAP Contract and Lease Management (CLM) involves proactive management of lease agreements. It allows for the tracking of terms and conditions within lease contracts, ensuring compliance and rapid identification of leasing responsibilities.
Compliance and Reporting
Compliance with IFRS 16 and ASC 842
SAP RE-FX can assist in meeting accounting standards such as IFRS 16 and US GAAP ASC 842 compliance, by performing initial appraisal of contract components as well as valuation techniques for rights of use, depreciation techniques, lease obligations and depreciation techniques. Furthermore, additional features exist for amending contracts and revising valuations.
The solution supports compliance with the new lease accounting standards, IFRS 16 and US GAAP ASC 842. It calculates and posts lease valuations in adherence to these standards for both real estate and equipment leases
The module is designed to meet the latest accounting standards such as IFRS 16 and US-GAAP ASC 842. It facilitates initial valuation of recorded contract components and automated subsequent valuation of right-of-use, incorporating relevant depreciation methods. Additionally, it handles subsequent valuation of leasing liability through repayment and interest expense postings. The system also addresses contract modifications in line with IFRS 16.
Lease Administration
Lease Administration SAP REFX facilitates efficient lease administration by monitoring essential dates, rent payments and maintenance requirements.
Increased Financial Transparency
Real Estate Accounting
Real Property Accounting With SAP REFX, you have complete control over your real estate finance. It offers comprehensive accounting capabilities that allow you to keep track of expenses, revenue and profits for every property you own.
Informed Decision-Making
By leveraging the reporting functions within SAP CLM, you can make well-informed lease management decisions. These reports provide insights into various aspects of lease agreements, helping you optimize your strategies and operations.
Integration
SAP REFX integrates seamlessly with the various other SAP modules, offering the same workflow and efficiency across your business.
Document Management features allow you to control all correspondence and documents that are related to real estate business procedures
Localization
Integration with Financial and Controlling Modules
SAP RE module is closely integrated with the Financial (SAP FI) and Controlling (SAP CO) modules. These integrations play a pivotal role in the configuration and functionality of the real estate management module.
SAP FI Integration: The Financial module (SAP FI) integration ensures that financial transactions related to real estate management, such as rent payments, invoices, and financial reporting, are seamlessly synchronized with the organization's financial records.
SAP CO Integration: The SAP CO) integration allows for the coordination of cost-related tasks in real estate management. This interface guarantees that real estate operations expenditures are appropriately recorded and distributed, assisting in budgeting and financial control.
SAP S/4HANA Integration
S/4HANA SAP The focal point for efficiently and swiftly acquiring data, validating, appraising, and disseminating leasing contract information is Contract and leasing Management. In order to make lease management responsibilities easier, it also does valuation calculations that generate financial posts. With this comprehensive solution in place, leasing administration is a practical method that streamlines procedures by employing a common approach.
Integration of Commercial and Technical Real Estate Management
SAP RE-FX offers exceptional integration, providing businesses with a full view of both commercial and technical real estate management processes. Maintenance costs for commercial rental properties are easily transferred to tenants through operating cost settlement, and SAP RE-FX enables the smooth administration of real estate assets while optimizing portfolios based on information-driven choices to boost efficiency and return on real investment in real estate.
Complex Scenario Handling
SAP CLM's ability to precisely compute and pay rent in free or step-rent times makes it particularly handy when managing lease terms and conditions.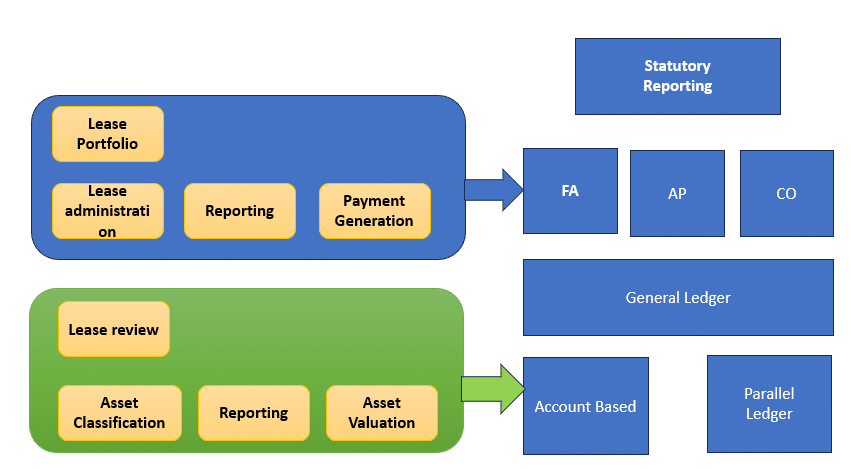 SAP real estate Management process flow
Conclusion

In order to manage real estate assets effectively in today's complicated business climate, SAP RE-FX is a requirement. It gives you an edge over the competition. Speak with a SAP expert right now for more detailed information and suggestions on the deployment process.
Businesses can manage the commercial and residential real estate processes with the help of SAP Real Estate Management (SAP RE), which provides an effective solution. Real estate object management, contract administration, leasing-in credit, space optimization procedure, and centralized business processes are some of its capabilities. The SAP FI and CO module connections ensure that financial components are fully linked into a real estate management system, allowing for greater efficiency, more precise tracking, and more informed decision-making inside the system.
You might also like the below articles.